2022 NSIC Season Preview
August 26th, 2022 9:00am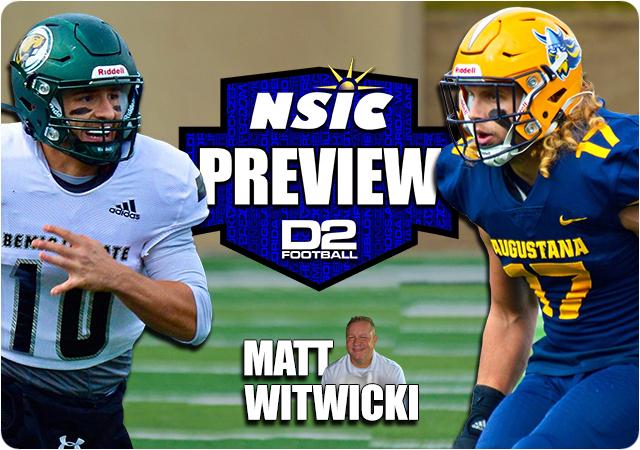 Augustana Vikings
2021 Record: 9-3
Offense: 38.3ppg
Defense: 21.4ppg
O: The Vikings return the offensive line from a very good 2021 group. The running back room is deep and talented, and a lot of production in the passing game is back (wide receivers that is). Look for wideout Logan Uttecht to continue his path at becoming a household name in the NSIC, along with his fellow WR Devon Jones. This a duo that combined for 18 scores a year ago. The Vikings must replace four-year starter Kyle Saddler at quarterback, but his likely heir Casey Bauman (Montana State transfer) has a huge upside with a 6-6 230lb athletic frame and lively arm. In the event Bauman hasn't gained full command of the offense, I'd expect Saddler's 2021 backup Conner Neill to take the snaps early this fall. Neill hasn't taken much in the way of meaningful snaps nor has fellow returnee Thomas Scholten, but both seem to have the trust of Coach OJ.
D: Augie brings back most of a defense that was 2nd in the conference in points allowed but needs to replace the outstanding play of defensive tackle Logan Swanson. Star performers such as Eli Weber, T.J. Liggett, Peyton Buckley, and Grayson Diepenbrock should position the Vikings to have the NSIC's top defense. No other team in the league possesses the experience and playmakers at each level of the defense seen by the Vikings.
Outlook: A year ago I felt Augustana was the best team in the Northern Sun, but couldn't beat Bemidji State a second time once the playoffs came around. The Vikings undoing was allowing the big play in the passing game against BSU while having their scoring output cut in half versus the first encounter. I think the loss has stuck with the Vikings and they'll shore up holes in the secondary. The outcome of the pending quarterback competition and the play they get from that position will really shape their results against the other top teams this season. Augie has most of the key pieces in-place and knows 'what they have'. Impressively the Vikings have kept their coaching staff intact (which isn't common at the D2 level) and has the makings to be the top team in the NSIC.
Prediction: 10-1
Bemidji State Beavers
2021 Record: 10-3
Offense: 34.2ppg
Defense: 31.6ppg
O: The Beavers return veteran gunslinger Brandon Alt, who was among the most prolific passers in D2 a season ago. His top target Brendan Beaulieu returns, and the Beavers get back the top rusher in the NSIC in 2019, Jalen Frye, who missed the 2021 campaign due to injury. The offensive line was young a season ago but returns all five starters and is poised to strike better balance between the run and the pass. Alt should have plenty of weapons, but the Beavers will miss the electric playmaking abilities of Malik Williams, who really came up big in wins over Augie, USF, and UMD.
D: While the Beavers played well in the playoff win at Augie, they struggled mightily in their 55-6 blowout defeat at Colorado Mines. The Beavers defense struggled more in 2021 than in years past, but got key stops in games with USF, UMD, and Northern to keep them in the playoff hunt. Bemidji State welcomes back key players in the front seven from injury and it should be the strength of the unit. New DC Marcus McLin has experience coaching in the secondary at UMD and will need to clean things up in the back end to avoid having high scoring affairs again in 2022. Expect backer Zollie Kaplan to become a household name after having a strong junior campaign with 18.5 tackles for loss.
Outlook: BSU had its most celebrated football campaign in recent history, but with all the returning firepower it shouldn't just be a one-year thing. Head Coach Brent Bolte has won over 70% of his games since taking the reins with the Beavers and it would seem he's got them poised for another strong season.
Prediction: 9-2
Sioux Falls Cougars
2021 Record: 8-3
Offense: 32.5ppg
Defense: 20.3ppg
O: The Coo returns most of a strong offensive line that allowed them to lead the conference in rushing yards per game. They have the top running back tandem in maybe all of D2 with bell cow back Thuro Reisdorfer and emerging speedster Landon Freeman. USF must replace a good portion of the receiver room to allow second year starting quarterback Adam Mullen a chance to move on from being a game manager. That said, I'd expect to see USF allow Mullen a little more freedom in his second campaign under center, with greater command of the offense. Grad transfer Ethan Wittenburg, who led Winona State with 624 receiving yards in 2021, should give the Cougars a boost. He will be flanked by Carter Slykhuis, who became an integral part of the Coo passing game as the year progressed. Hayden Mace takes over play-calling duties as he adds Offensive Coordinator duties to his role as offensive line coach but don't expect this zebra to change its stripes. The Cougars will continue to be a run first offense especially given the weapons they have in the ground game.
D: USF was tops in the NSIC in scoring defense and fifth in yards per game allowed a year ago. While there are notable losses in the secondary, the defensive line has strong depth and will be among the best in the conference. In what's become a pass-happy league, the Cougars back half needs to have new additions step up in short order.
Outlook: A season ago Sioux Falls lost the opener to Bemidji State and a one-sided contest at Northern. As a result, the Coo had to dig themselves out of an early 2-2 hole, which proved to be too much as the squad narrowly missed out on the postseason. This time around USF opens with three straight squads that were under .500 in 2021. The Cougars should head into weeks 4 and 5 (UMD, Augie) riding high, but potentially untested. Overall, I feel USF might be the most physical team in the NSIC at the point of attack but will need to produce enough points against the league's best to make the playoffs in 2022.
Prediction: 9-2
Minnesota Duluth
2021 Record: 9-3
Offense: 32.6ppg
Defense: 25.0ppg
O: A season ago the Bulldogs experienced a slew of injuries at the quarterback position to pass-catchers, but still were able to duck-tape things together when needed and make the postseason. While I feel like I've talked about signal-caller John Larson for countless seasons in this column, his storied career has come to an end and it's time for the next era of UMD football. A pair of experienced arms will battle for the starting role under center, with Logan Graetz the big-body pocket passer and Garrett Olson the most athletic option. I can see both guys playing on a weekly basis until/if one of them takes the job and runs with it. There's talk of possibly one of the younger arms getting a look but I'm not ready to take the bait on that right now. Armani Carmickle has developed into one of the top deep threats in D2 and do-everything tight end Zach Ojile and others return from injury to bolster the UMD offense. The Dogs return much of their offensive line but will miss the production of Cazz Martin, who ran for over 1,000 yards in 2021.
D: Linebacker Brad Dati anchors the defense after leading the squad in tackles and tackles for loss a season ago. Dati is all over the field defensively and once again needs to be a leader for a unit that lost longtime starters. UMD has plenty of guys in the back half that've started games, with a total of 6 returning starters on D, but will be younger upfront.
Outlook: For the first time in what feels like forever, UMD enters the season not being the favorite in the NSIC North. This has every bit as much to do with BSU improving as it does anything. However, UMD will certainly have revenge in mind when taking the field with the Beavers this time around.
The Bulldogs got pretty good quarterback play last season when John Larson was injured and with him gone it will be large shoes and production to fill. The offensive side of the football is a veteran group overall and should still be able to have success against most of the league. The defense is of greater concern for me and early contests with physical clubs like Mankato and USF will be stern tests. Overall, I feel the Bulldogs vie for a North division title but fall just short in 2022.
Prediction: 8-3
Minnesota State Mavericks
2021 Record: 6-5
Offense: 40.0ppg
Defense: 22.8ppg
O: The Mavs led the conference in scoring a season ago, but I view that as a slightly misleading stat as they racked up numbers like 68, 58, 58, and 52 against the worst teams in the NSIC, while being held to 10 points against UMD and 16 at Winona. Moving past the scoring numbers, the Mavs had a strange year offensively. MSU was still solid at running the football, but against the better teams in the conference they weren't able to count on their running game like they had in years past. The Mavs were then forced to the air more than they prefer. MSU threw for more yards than typical, but that came with mixed results and some untimely turnovers. I'm looking for Mankato to reestablish the downhill running game with a healthy Caleb Sleezer and better offensive line play. Sleezer only started 5 games a season ago but went over 100 yards twice. Charles Coleman had come on for the Mavs in the second half of the season but is no longer on the roster. QB Hayden Ekern showed some bright spots in the passing game and can also run better than average for a signal-caller. WR Jalen Sample asserted himself as a dangerous downfield threat.
D: While most people focused on the key offensive losses of names like Gunn and Zylstra the volume of key departures for the Mavs on the defensive side of the football were equally problematic. In very uncharactistic fashion, the Mavs struggled with mightily with offenses such as NSU, USF, and Augustana. MSU tried to reload with good athletes, plenty of transfers, but things just didn't gel. This year the Mavs once again have new bodies arriving, along with the return of oft-injured star Chance Bowen at end. If Bowen can return to form, he can give MSU a difference maker. The defense will need to show improvement or the Mavs run the risk of a second "rebuilding" year, which is alarming news with a program that doesn't hover around .500 very often.
Outlook: With OC Colin Prosser going back home to Wayne State to lead the Wildcats offense, Todd Hoffner has decided to once again put on his play calling hat and take over those duties. Hoffner was an OC at South Dakota and also did this role early in his MSU coaching tenure. He loves a team that is physically imposing, controlling the action at the line of scrimmage with a power running game.
The Mavs might be the hardest team for me to diagnose in 2022. Their modern history suggests they'll be back at the top of the standings. My gut feeling is MSU will have a bounce-back year but runs the risk of not being quite as polished offensively as top foes such as Augie and BSU. I expected MSU to get better as the 2021 campaign went along. Instead, the Mavs lost 3 of their last 4, allowing 45 points in consecutive weeks at home. This implies the rebuild could be greater than expected. The litmus test will be early for MSU, starting the year with games at Bemidji State, hosting Duluth, and then on the road at Northern.
Prediction: 8-3
Winona State Warriors
2021 Record: 7-4
Offense: 30.3ppg
Defense: 24.2ppg
O: The Warriors are embarking on a new era with longtime head coach Tom Sawyer retiring and Brian Bergstrom (former DC at SDSU) taking over. "Bergy" quickly recruited rising star Isaac Fruechte from Northern State to run the Warriors new look offense. Fruechte is from nearby Caledonia and wants to implement his high-flying offensive attack that produced a near league-best 38ppg in 2021. NSU threw the ball all over the yard to the tune of 323ypg. While I'm expecting the defensive minded Bergy to strive for greater balance offensively, they'll have to find out who their starting quarterback is since Owen Burke's time in Winona has come and gone. Trevor Paulsen (Junior-Marion, Iowa) enters camp as the likely starter, a player that was praised by his head coach for his ability to process information quickly and his leadership. The new signal-caller has a fair number of experienced players offensively to aid him, with the brunt of the production in the running game returning and weapons like Sawyer Maly and Tyler Anderson (returning from injury) at wideout. The Warriors have some spots to replace on the offensive line and most of the coaching staff is new as well. I don't think Fruechte will have quite as many explosive athletes as he did at Northern with but I do believe he's got more depth in Winona and the offense will be interesting to watch develop as the year continues.
D: The Warriors return a good amount of experience at the point of attack, highlighted by the top sacker in the NSIC, Carter Duxbury. WSU will be anchored at backer by their leading tackler in '21, Clay Schueffner, while the backer and secondary group won't be quite as experienced as the defensive line. While nearly the entire Sawyer staff has been turned over/found jobs in other locations, Co-DC Brian Curtin stayed put and has helped Bergy with the transition. Spencer Erickson joined the staff back in March 2022 from SDSU and will collaborate with Curtin on the defensive approach.
Outlook: I'm not entirely sure what to expect out of Winona. Coach Bergstrom is a proven winner from his days with the Jackrabbits to the time he called the defense at Augustana. He's surrounded himself with a good-looking coaching staff and now just needs to get things to mesh with a group of players he didn't recruit, for the most part. If Bergy can get solid quarterback play and an explosive element in the offense, I feel his defense will be better than worse. I'm not ready to say Winona is ready to jump into the top 4 of the league but I think they might be closer this year than most might expect. Their schedule is softer toward the front and ends with USF-Augie-Mankato. Don't be shocked if Winona State is in the playoff mix until the end.
Prediction: 7-4
Northern State Wolves
2021 Record: 7-4
Offense: 34.2ppg
Defense: 31.6ppg
O: Northern State shocked the rest of the conference a year ago with a high-powered offense that almost qualified for the postseason. However, Winona State was able to lure their OC Isaac Fruechte closer to home and the keys have now been turned over to a coach that was quarterbacking Mankato in the D2 national championship the season before last. Wild, I know. Ryan Schlichte was heavily courted to return to Mankato upon the departure of the Mavs OC but showed great loyalty to Coach Schmidt who took a chance on him after his playing career wrapped up. The first order of business for the offense is replenishing the offensive line, which looks like it could be pretty young in 2022. The O-Line was greatly depleted by two players transferring to D1 and a few others graduating. The QB spot is a battle between Michael Bonds (Miami of Ohio) and Anthony Vespo (Missouri Western). While Bonds seems to be the frontrunner coming into fall camp, I wouldn't be surprised if Vespo gets snaps as well. Dakota Larson gives the Wolves a reliable target in the passing game, but top performer Dewaylon Ingram is no longer with the Wolves, so there's some real production to fill. WR Hunter Derize grad-transfers in from the University of Idaho and should help the Wolves.
D: A season ago the defense seemed to be a pain-point at times, losing high scoring contests with teams like Mary, Bemidji, and UMD. NSU allowed a league worst 473ypg and some of that can be attributed to the attacking style of their offense, but separately they allowed 6 yards per play, among the worst in the conference. At the point of attack NSU has some high-profile transfers from D1, along with Collin Olla-Chatman, who was an all-league player for Quincy University in the GLVC. Nate Robinson and Brennan Kutterer both return at backer, the two top tacklers for loss a year ago. The back half could very much be a question mark as the '22 campaign begins with new bodies stepping in.
Outlook: Coach Mike Schmidt made a splash a season ago with wins over USF and Winona State, while almost pulling off a stunner in week one at Mankato. However, the Wolves aren't going to surprise anyone anymore and now are tasked with reloading after many key components of their 2021 success are no longer around. My fear for Schmidt and the Wolves is they ended last year like they were running out of gas with the playoffs within their grasp. Last August I think Schmidt and company knew better who they were and what they had than this time around. It seems there's plenty of things kinda up in the air. I think the Wolves will generate a lot of excitement again in Aberdeen, but I don't think they'll be as explosive offensively and the defense will be somewhat unproven.
Prediction: 6-5
Wayne State Wildcats
2021 Record: 7-4
Offense: 32.5ppg
Defense: 26.1ppg
O: As 2021 wrapped, head coach John McMenamin left the Wildcats to take an assistant position with the Green Wave of Tulane. Former star WSC wideout and OC Logan Masters is the new head coach and is tasked with trying to repeat the successful season of a year ago. Fortunately for Masters, he's returning the savvy Nick Bohn at quarterback. Bohn is an efficient signal-caller who takes good care of the ball and is also a runner who gets chunk yards. Anthony Watkins is back in the running game which gives WSC an explosive player out of the backfield. Mason Lee returns at wideout but othwerwise the Wildcats lost about 75% of their receiving production. The offensive line returns a few starters and is fairly young overall.
D: LB Alex Kowalczyk was one of the top tacklers in the NSIC a season ago. Jaylon Scott and J'Von France are two other top returning contributors but losses on the line could make the 'Cats open to the ground attack.
Outlook: Wayne State had a near playoff run in 2021 thanks to huge wins at UMD, vs Winona, and at MSU Mankato in consecutive weeks. In all 3 contests they got down early and stormed back to win. I'm not sure I have them winning those same matchups this time around. I feel Coach Mac lit a fire under the squad during COVID and like NSU, they aren't going to surprise anyone again. I think most teams in the NSIC would love to have Nick Bohn as their signal-caller but I'm not sure the Wildcats have the depth that the teams I have ranked above them do. Between the O-Line, the D-Line, and replacing key production at wide receiver, I just don't have WSC repeating the great season of 2021.
Prediction: 5-6
University of Mary Marauders
2021 Record: 4-7
Offense: 34.7ppg
Defense: 36.4ppg
O: Last season was incredibly memorable for Mary fans thanks to the Marauders air attack and the eye-popping numbers put up by wideout Danny Kittner. 128 grabs and 1,723 yards. Are you kidding me? As I stated a year ago, Kittner deserved far more serious consideration for the Harlon Hill Award than he received. We haven't talked about his quarterback Logan Nelson yet, who oh-by-the-way led the NSIC in passing yards while also completing 65% of his throws. Wow! These guys both return but they graduated the Robin to Kittner's Batman, Luke Little and his 20 scores. I have faith that Coach Bagnell will keep this engine humming during the 2022 campaign with 9 starters back.
D: Clearly a pain point for the Marauders for each of the last few seasons. UMary was among the worst in the conference, 13th in yards allowed and 12th in points given up. The Marauders return key players in the back half such as Ty'Rese Gibson and Tylen Small, who should help bolster the secondary. Mary needs to be better at the point of attack and does have some transfers coming in. Devon Charles and Nate Eschleman will be among the top tacklers on the squad.
Outlook: Mary returns a good number of key defensive contributors to the point that I almost feel compelled to pick them to finish higher. There is still a long way to go when comparing the defensive numbers to the teams in front of them. I fully expect Mary to be prolific offensively again but I'm bumping the Marauders just 1 win over a year ago.
Prediction: 5-6
MSU Moorhead Dragons
2021 Record: 5-6
Offense: 24.7ppg
Defense: 25.0ppg
O: A year ago I wasn't sure how good the Dragons would be given their offensive inexperience. QB Tommy Falk played well as a frosh and finished the year with 2,874 passing yards and 20 scores. He should be a rock going forward for a team that throws the ball a lot and supplement the pass with the running game. In talking to head coach Steve Laqua, he cited the need for more production, "Some teams have a 1,000-yard rusher, I'm not sure we rushed for 1,000 feet!" While Laqua likes to joke around, his point is well taken since MSUM was dead last in rushing yards with 59ypg and just 2.2 yards per tote. Moorhead seems to understand the offensive success comes from the quarterback getting rid of the ball quickly and having their skill positions operate with the ball in space. The line needs to iron-out some things again this year and the Dragons need to replace all-time leading receiver Grady Bresnahan. Younger players must emerge to make this engine go. Ryan Bieberdorf will be leaned on heavily as he's coming off a 59-catch campaign including 7 touchdowns.
D: Moorhead was better a year ago, allowing the squad a chance to win all but a lopsided defeat to Augustana. The unit was 5th in the conference in points allowed (better than when I've done my preview in years past). With a fair amount of production returning, the defense might very well be the strength of this squad.
Outlook: Tenured coordinator Rob Hunt has left the program to pursue interests outside of football, but overall MSUM still returns an experienced staff. Steve Laqua has continually found a way to get more out of his team than most onlookers would expect. He's won no less than 5 games in a season every year since 2015. This fall I'm concerned for MSUM because of how the schedule rolls out. The Dragons start with USF-Augie-Winona-UMD within the first 5 weeks. I fear they'll dig a hole and run the risk of keeping bodies healthy against a physical slate of football teams. Following that stretch I think there's plenty of contests in which they'll be favored but withstanding that initial month will be a great challenge. Coach Laqua will likely prove me wrong, just as he's done plenty of times in the past.
Prediction: 4-7
Minot State Beavers
2021 Record: 2-9
Offense: 18.5ppg
Defense: 40.5ppg
O: A season ago the Beavers started off in abysmal fashion, losing by an average of over 40 points per contest, scoring a total of 20 points the opening month. Since then, they turned to a new signal caller in Dawson Macleary, who threw for 170 yards per game. He needs to work on efficiency though as he threw 16 picks vs. just 8 touchdown passes. Minot got strong production from 1,000-yard rusher Ali Mohamed. The Junior ball carrier was near the 100-yard mark in all but one contest the second half of the year while reaching paydirt 10 times. Wideout Peyton Lamoureux (700 yards receiving) returns along with former signal-caller Ben Bolinske now manning the slot, allowing him to make plays in-space. The offensive line returns 3 starters.
D; Stopping opponents has been an ongoing sore spot since Minot joined the conference in 2012. MSU was last in the conference against the run and needs to improve on the 5.5 ypc allowed a year ago. The line lacks depth but the Beavers backers and secondary will be the strength of the group. Knylen Miller-Levi had da standout season at corner a year ago, landing him on the first team All-Conference in the North.
Outlook: Speaking with Coach Aldrich weeks ago he mentioned immediately that "we are finally getting old." For seasons the Beavers have felt like a younger team trying to find its way, but it seems they are over that hump. Last year the squad had 24 season ending injuries which is certainly hard to recover from, let alone achieve weekly success. I'm still concerned about the Beavers at the point of attack but think they have more weapons than in the past. If there's a lower third in the league, I have them as the best squad in that grouping this season. I'm not sure the schedule-makers have done them any favors with Winona-USF-Wayne right out of the chute, but I'm expecting this club to look a step above a season ago.
Prediction: 3-8
Concordia Golden Bears
2021 Record: 1-10
Offense: 14.7ppg
Defense: 36.5ppg
O: After having 5-6 and 6-5 campaigns, the bottom fell out for the Bears in 2021, finding the pay window only once. CSP lacked experience at quarterback which resulted in a handful of guys getting reps and starts. Conner Cordts, a frosh a season ago, appears to be the future for Concordia at the position. While he didn't have eye-popping stats, he was able to complete 58% of his passes for 6 scores and 1 interception, despite being under duress. Expect Southern Illinois transfer Jaylen DeVries to be in the mix as well, with both players offering an athletic skill-set. Jaylin Richardson should once again see a healthy portion of the carries but expect to see real competition from transfers for starting spots at the skill positions. The offensive line still has some things to figure out and the Bears will need to be better upfront as CSP was second-to-last in running the football.
D: In the recent past the Golden Bear D got after people and put stress on the opposing offense. In 2021, CSP was last in the conference with only 5 picks, while being near the bottom of the league in sacks. Giving up 36ppg has not been the norm in St. Paul. Certainly, key losses like Chris Garrett (L.A. Rams) contributed to the drop off. Rhett Sheehan (DB-3 INT's) and Andrew Egnarski (LB-68 tackles-5 sacks) need to lead the Golden Bear resurgence, but unfortunately, they only return 6 starters.
Outlook: Coach Shannon Currier indicated that last year the Bears really expected to battle toe-to-toe at Winona State in the opener. Instead, they were down 30-3 at half. Given the heightened expectations created by two seasons of beating teams like USF and Bemidji State, the Bears now are trying to get off the canvas and return to the days of being a challenge for top squads. Looking at the roster it feels like CSP is still finding its way with a group that hasn't played a lot together. Concordia starts the season with Augustana, then gets USF in week 3. While I'll be keeping an eye on the quarterback situation, overall, I think CSP will take some time to gel.
Prediction: 1-10
Southwest Minnesota State Mustangs
2021 Record: 2-9
Offense: 14.7ppg
Defense: 36.5ppg
O: Under Cory Sauter the Mustang offenses were typically prolific. Unfortunately, in 2021 that came to a screeching halt, as SMSU tied for a league worst 14.7ppg. It did seem the Mustangs were hit by COVID year departures more than any other team in the conference, which left them roster scrambling as the '21 campaign approached.
With new head coach Scott Underwood getting back into profession after a few years away (St. Cloud dropping football program after 2019 season), I'm expecting he and his OC Doug Patterson to seek better balance between the run and pass than the often pass-happy approach seen in Marshall under Sauter. The Mustangs return one of the better rushers in Jesse Sherwood, who ran for 809 yards in 2021. SMSU will be figuring out the signal caller role in camp, but when I spoke with Scott Underwood he quickly mentioned the dual threat abilities of Justus McComb (redshirt freshman) from El Cajon, CA. McComb is undersized at 5'11, but shows good agility and played in a high offense that threw the football a lot. He will compete for the starting role with former Northwestern Wildcat Zac Krause. Krause didn't play any games for the Big 10 school, but broke high school passing records in Olathe, KS. At 6'4, he has a different frame than his rival, but can also move pretty well with the ball in his hands. I could see both getting time under center as things work themselves out. The line doesn't currently have great depth but will be capable with the first group.
D: A former DC, Scott Underwood will be very involved with this unit, and this is clearly an area where betterment is needed. The squad returns one of the top linebackers in the NSIC in Onte Burns, the leading tackler for the Mustangs a season ago. Burns has been a rock for the SMSU program, last year drumming up 106 stops, tops in the conference. While the goal being set forth by the new staff is simply improvement, SMSU starts the season with an inexperienced group where depth will be a concern. The Mustangs weren't last in points allowed or yards per contest, but they were last in yards per play at 6.6.
Outlook: I view SMSU, CSP, and UIU in a similar light. I think they can beat each other but I'm not sure I see them beating anybody else. I don't see improvement occurring record-wise immediately for Coach Underwood and his staff, but in year one of a rebuilding project I wouldn't simply define the season that way either. Expect this staff to get the building blocks for future success going in 2022 and may very well develop weapons that will help them into the 2023 and forward. This is very much a process in Marshall and with all the roster turnover in recent years this staff needs some time to get things cooking.
Prediction: 1-10
Upper Iowa Peacocks
2021 Record: 1-10
Offense: 17.5ppg
Defense: 35.7ppg
O: The Peacocks offense struggled in 2021 but returns 7 starters. Former OC Ben Curran stayed with the program through signing day before departing. Tim Morrison will take over the offense after working with the offensive line in 202. Morrison logged 10 seasons with D2 power Grand Valley State University as an assistant and offensive line coach. Expect Morrison to establish a physical presence in the running game. The Peacocks bring back all of their running room, highlighted by 600-yard rusher Willie Camacho. Marcus Orr returns for his sophomore campaign at quarterback. Orr showed signs of hope for the Peacocks, throwing for 15 scores with just 6 picks. Wideout will be reliant on a combination of freshman and transfers, but things will still need to shake out a bit there.
D: The Peacocks have a large percentage of their roster as underclassman, and the defense is very raw and young. Head Coach Jason Hoskins will be very involved on this side of the ball as the line will have some freshmen and could be a question mark. The departure of high-motor Elite 100 DE Erik Hansen will certainly be difficult shoes to fill in Fayette. At backer RJ Knaack had 4.5 tackles for loss, and needs to anchor the unit. In the back half the Peacocks are young and need to improve on a near league worst 6 interceptions in 2021.
Outlook: While viewing UIU similarly to SMSU, I have the Peacocks behind the Mustangs simply because they have a slightly tougher schedule and also have a lot of unknowns on defense. I do like the efforts to establish an offensive identity this season and I'll be interested to watch the progression of young signal-caller Marcus Orr. Considering how young UIU still is, this year looks like a season for future growth within the program.
Prediction: 1-10