Anchor-Bone Classic: No. 1 versus No. 2
October 14th, 2022 9:00am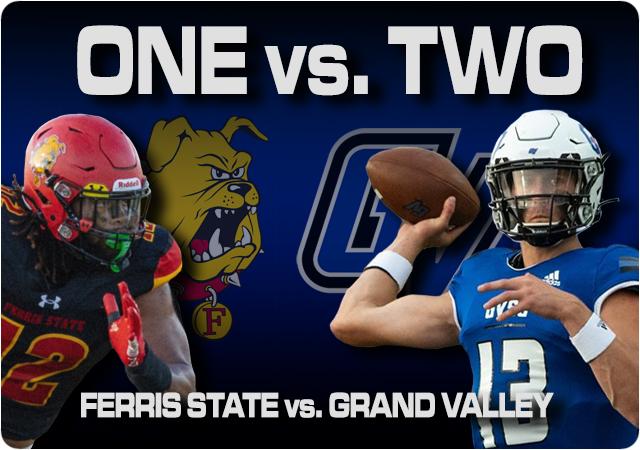 On Saturday afternoon at Top Taggert Field on the campus of Ferris State University, the first and second ranked teams in the country will meet in what will unquestionably be the game of the year in Division II. A full month of the season will remain after this week's game, but championship standings and positioning for upcoming regional rankings are on the line. The victor also earns the bragging rights in what has become an intense rivalry. This is a special game to have in the middle of the season and that warrants some addition coverage. Whether you have been around D2 for decades or this is your first season folllowing, here are the important details you need. Also please remember to read Tony Nicolette's column for his full assessment of this game and Chuck Bitner's national column for his take on exactly what is at stake.
Background
Ferris State and Grand Valley are both members of the Great Lakes Intercollegiate Athletic Conference (GLIAC), which is currently comprised of seven teams, all in the state of Michigan. The campuses of Grand Valley State in Allendale and Ferris State in Big Rapids are separated by just 65 miles. Over the past 20 years, the programs have earned a combined five national championships from eight championship game appearances. The rivalry, which extends far beyond the football field, has become know as the Anchor-Bone Classic, paying homage to each school's nickname, Lakers and Bulldogs.
Grand Valley, a program that won four national championships between 2002 and 2006, holds an advantage in the all-time series history with a record of 29-22-1. In more recent years, the series has been dominated by defending national champion Ferris State. The Bulldogs have won 10 of the past 12 meetings including the last six in row.
Setting the scene
From Tony Nicolette's GLIAC Week Seven Column
Well, the game everyone wanted is before us. #1 vs. #2 happens infrequently enough as it is, but with the way teams often regionalize their schedules in D2 and perhaps play only conference opponents it becomes even more rare. The rankings are one component of interest to this one, as are the conference and regional implications. Add in the rivalry factor, and regular season tilts in D2 don't get a whole lot more intriguing than this.
From Chuck Bitner's national column
A lot of events are sensationalized and over-hyped in the modern-day media, but once in a while something comes along that is worth all the attention we can give it. Saturday afternoon's Anchor-Bone Classic in Big Rapids, Michigan is one of those events. This is the game of the year in the D2 regular season. Nothing else will come close to the significance it will have this weekend and at the end of the season. It's not often you get a #1 versus #2 matchup in the regular season in any division of college football. This is special. It is a conference game. It is a rivalry game. A BIG rivalry game. It will probably determine a conference championship and a top seed in the playoffs.
Game Information
Location: Ferris State University, Big Rapids, Michigan
Stadium: Top Taggart Field
Kickoff time: 1:00pm, eastern
Broadcast: FloSports (subscription required)
Radio: Listen
Ferris State Resources
Team social media: @FerrisFootball
Five players to watch
#0 QB Mylik Mitchell
#1 WR / KR Marcus Taylor
#12 DE Caleb Murphy
#6 LB Konnor Near
#12 QB Carson Gulker
Season to date: The Bulldogs opened the year facing three playoff teams from 2021 in the first month of the season. They hosted Central Washington, then traveled to North Carolina to face Lenoir-Rhyne. Following an off week and a visit from NAIA member Waldorf, Ferris took on former GLIAC rival and defending GMAC champion Findlay. GLIAC play opened last week with the dramatic win at Saginaw Valley State.
Grand Valley State Resources
Team social media: @gvsufootball
Five players to watch
#2 RB Tariq Reid
#13 QB Cade Peterson
#17 WR Jahdae Walker
#41 LB Abe Swanson
#92 DL Jack Gilchrist
Season to date: The Lakers kicked off the year facing the top two teams in the RMAC in weeks one and two. They prevailed at home in a thriller against Colorado Mines, then traveled to face Colorado State-Pueblo. The Lakers then walked through Lincoln in a non-Division II matchup before opening GLIAC play with wins at Wayne State and at home over Saginaw Valley. They stepped out of conference again last week with a long trip to Massachusetts to play American International.
D2Football Staff picks
The crew on Inside D2 Football assessed the matchup last Sunday night. The questionable status of Ferris State QB Mylik Mitchell is big variable in how we view this game.
Matt Witwicki
Pick: Grand Valley
I don't think Ferris is as explosive as they were a year ago. Mylik Mitchell may be coming back, but there is going to be some "getting used to" in game play with him back in the lineup. I think Grand Valley's defense will be good enough and I like that they have multiple guys making plays on offense. Realistically, this is a coin-flip game. Ferris has won their title, I think it's Grand Valley's turn this year.
Devin Albertson
Pick: Ferris State
As much as I want to take Grand Valley, I think there is still something about this matchup that can't be quantified with numbers. Ferris State is a team that might lose the turnover battle, have 200 yards in penalties and still find a way to win. They're just that talented.
Justin Polizzi
Pick: Grand Valley
I got to see Ferris State play in person earlier this year. I think they have a few vulnerabilities that were exposed in the Saginaw Valley game. I've been high on Grand Valley all year and I'm picking them to win on the road.
Kris Ferguson
Pick: Grand Valley
I think Grand Valley has revenge on their mind after last year. This is the game they have circled on the calendar and I like Grand Valley for the win.
Chuck Bitner
Pick: Grand Valley
Ferris State may not be as dominant as they were a year ago but it has been good for them. Winning has not been easy but they have overcome a lot of adversity this year. That will serve them well this weekend, as it did last week at Saginaw Valley. That said, I believe Grand Valley is on course to win a national championship this year and getting past Ferris State is part of that journey. I believe Grand Valley is going to win, but I also believe this will not be the only time they meet this year.
Tony Nicolette
Pick: Ferris State
There is definitely a logic that says that Ferris seems to have an edge in these games. They're riding several impressive win streaks at the moment in general, but the six straight decisions against the Lakers is the run that may mean the most here. They come in 'knowing' they can win. But is that enough when the toughest team they'll have faced this year comes in with something to prove? You got us. There may not be a better example of a Coin-Flip Special for quite a while. Heads Ferris, Tails GV: It's heads.
Guest picker - Wayne Cavadi
You can read Wayne's full preview of the Anchor-Bone Classic at ncaa.com and follow him on Twitter @WayneCavadi_D2
Pick: Grand Valley
I think both defenses have the stud to make things difficult and it will come down to which offense makes the least (if any) mistakes. Because of Cade Peterson's and Tariq Reid's experience, especially in this rivalry, I think GVSU has the slight edge.