Around the Nation - Week Five Preview
September 29th, 2022 10:00am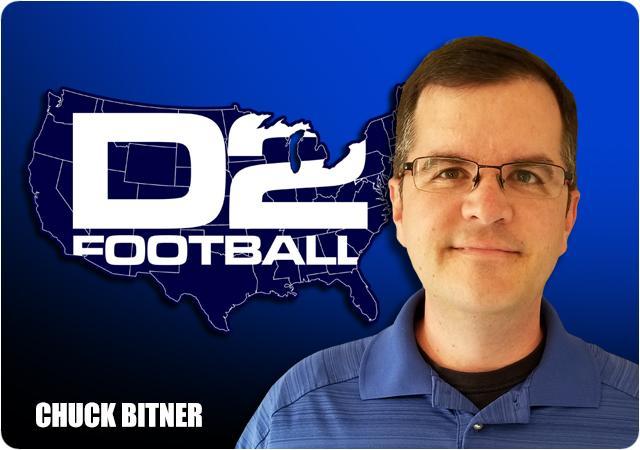 Week five will have a lot of work to do following a very exciting and dramatic week four. If you missed the recap on last Saturday's action, here are a few ways to get caught up.
Interview with Ouachita Baptist coach Todd Knight (4:40)
Interview with Sioux Falls coach Jon Anderson (17:30)
Top 25 results (33:00)
Picks for Week 5 (1:06:00)
As we steam into week five, its hard to believe we're nearing midseason already. By the end of this weekend, many Division II teams will already be halfway through the schedule and next week's action will officially push us past the midpoint. Over the next couple of weeks, we'll start to get a clearer picture of who the contenders are in each region and begin identifying top candidates for the Harlon Hill Trophy. Much more to come on both of those topics in about two weeks.
For now, let's focus on the games in front of us. We'll have some bonus football on Thursday, Friday and Sunday as hurricane Ian has forced games in North Carolina, South Carolina and Georgia to be rescheduled. Here is the full list of rescheduled games. All were previously set for Saturday.
Thursday
5:00 Tusculum at Barton
7:00 Limestone at Mars Hill
7:00 Chowan at Fayetteville State
7:00 Elizabeth City State at Johnson C. Smith
Friday
2:00 Wingate at Erskine (edit – this game has been moved back to its original Saturday date)
3:00 Lenoir-Rhyne at UVA Wise
3:00 Catawba at Emory & Henry
Sunday
3:00 Kentucky State at Savannah State
Week Five top games
Limestone (3-1) at Mars Hill (2-1) Thursday, 7:00
Note: Due to hurricane Ian, this game has been moved from Saturday afternoon to Thursday evening.
At the start of the season I would not have pegged this as a battle of unbeatens in D2. Each team has one loss, but both are to Division I opponents. Since losing the opener to Gardner-Webb, Limestone has done something the program has never done before…win three straight games. The Saints' program only dates back to 2014, but a three-game winning streak had never happened before. Last week's win over UVA-Wise was also the first on-campus football game in school history. Running back Tre Simmons celebrated the occasion by setting a new school record with 320 rushing yards in that contest. He was named D2Football player of the week for his performance. I am eager to see how he and a Limestone offense averaging 476 yards per game can do against a good Mars Hill defense. I love what this Limestone team has been able to do this early in the season. They have earned the attention they are starting to receive. But I am betting on the Mars Hill defense to keep the scoring in the mid-to-high 20s and come out on top.
Benedict (4-0) at Fort Valley State (4-0) 2:00
In a critical game of SIAC East division foes, unbeatens Benedict and Fort Valley will square off on Fort Valley's homecoming weekend. I've had a chance to see each team in nationally televised broadcasts on ESPNU and believe this has potential to be most competitive top game of the weekend. Benedict has an outstanding defense and have allowed no more than 14 points in a single game so far. Defensive end Loobert Denelus is a problem, with five sacks and three forced fumbles in four games. But with the homecoming crowd behind them, I think Fort Valley will get the running game rolling with Emanuel Wilson, who ran for 262 against Tuskegee and 144 against Bluefield State. I'll take the Wildcats over the Tigers.
#12 Slippery Rock (4-0) at IUP (3-0) 2:00
One of the best and most bitter rivalries in the northeast will be renewed this weekend with Slippery Rock traveling to Indiana, PA to take on IUP. The annual Coal Bowl between IUP and Cal has the name, but this matchup has the history. And the hate. Slippery Rock had some of the most talent-rich offenses in the country the past few years, but I had expected a slight dip from the offensive side of the ball this year. That has not been the case at all. The Rock hit the ground running and has shown no signs of drop-off. I think they will be fine against a physical IUP defense. I'm interested in seeing how good the Rock defense is. The metrics through four games are very impressive, but being realistic, they've faced four unimpressive offensive teams. They will get their first real test of the season from an offense that might be the most talented in the region. The IUP backfield of QB Mak Sexton and RB Dayjure Stewart has been impressive and the receiving duo of Duane Brown and Hilton Ridley is as good as any I've seen in the first month of the season. I think IUP wins at home as long as they protect the ball. One problem area has been interceptions. Sexton has thrown five in three games. The number for Saturday needs to be zero. If it is, I like IUP.
Wayne State (Neb.) (4-0) at Winona State (3-1) 2:00
The Key to the City game isn't the only critical matchup in the NSIC South division this weekend. Wayne State and Winona are still in the thick of the divisional race as well. Neither has faced the top tier of competition in the conference yet, but with both programs under first year head coaches, they couldn't have asked for better starts. There isn't much to differentiate these teams. To date, they have very similar resumes. Wayne State is a more balanced team. They have the better offense and QB Nick Bohn is the most efficient passer in the NSIC. The Wildcats win third down, offensively and defensively and that will be the difference in a road win for Wayne State.
#16 Valdosta State (3-1) at #21 Delta State (4-0) 7:00
After four straight road games to start the season, Delta State will finally get to stay on campus for the weekend. The Statesmen will host GSC rival Valdosta State in their home opener. Both teams are 1-0 in conference play but not exactly on equal terms. Delta State upset #6 West Florida on the road while the Blazers had a very close call with a Shorter program that hasn't won a GSC game since 2015. Valdosta State has been vulnerable to the rush and we saw it again last weekend with Shorter finishing the day with 235 yards on the ground. Delta State may not have the downhill style of approach to exploit that weakness, but they should be able to adapt and use their size advantage. The Statesmen average about 315 pounds across the O-line. I like Delta State to go to 5-0.
#18 Saginaw Valley (4-0) at #2 Grand Valley (4-0) 7:00
There are a lot of things I could talk about with the Battle of the Valleys game, but I think it comes down to one thing: Can Saginaw Valley run the ball on the Lakers' defense? The Cardinals have one of the top five rushing offenses in the nation, averaging 299 yards per game. That attack is led by three different players that have more than 200 yards for the season. I'm encouraged by how well the Cardinals ran the ball against Bowie State, which is a defense I hold in high regard. But the Grand Valley defense will clearly be their toughest test so far. The Lakers have the 11th best rush defense in the nation, allowing about 68 yards per game.
I like Grand Valley to win, but I expect a close game. Saginaw Valley is no one-trick pony. They run the ball well but also stop the run even better than their counterparts. In terms of total yards, they are a top 10 defense nationally and they know how to play Grand Valley. I'll take the Lakers at home, but won't be surprised if this is a 20-17 kind of game.
Black Hills State (4-0) at South Dakota Mines (3-1) 8:00
The 137th Black Hills Brawl rivalry has some major implications this year. Black Hills State is 4-0 for the first time since 1970 and rival South Dakota Mines is 3-1 overall and 2-0 in the RMAC for the first time since joining the conference. The campuses for these schools are only 60 miles apart in the Black Hills National Forest region of western South Dakota. Both teams still have many tough games ahead, but the winner of this meeting is going to come out of it with a lot of momentum. The teams are evenly matched but I like the passing combination of QB Jayden Johannsen (322 passing yards per game) and Jeremiah Bridges (142 receiving yards per game) to make the difference for South Dakota Mines. If its close in the fourth quarter, Black Hills kicker Coleman Chapman could be a weapon. He is perfect for the season and has hit three field goals over 40 yards in distance, with a long of 52.
Game of the Week
#25 Sioux Falls (4-0) at #9 Augustana (4-0) 2:00
The game of the week takes us to Sioux Falls, South Dakota where cross-town rivals Sioux Falls and Augustana will meet in the Key to the City Game. This is always a game of the year type of event for both schools, but as members of the same division in the NSIC, this year's meeting of 4-0 teams also makes it a battle for first place (along with Wayne State, who could also come out of this weekend 5-0). A theme for this week has been rush defense and both teams in this game excel in that department. I think the team that can force the other to throw more than they want to will be the winner. Both have capable passing threats but Sioux Falls has as many interceptions as touchdown passes and Augie is playing with a backup quarterback. I think Sioux Falls wins with the consistent rushing of Thuro Reisdorfer (121 yards per game) but it's a toss-up. Should be a fantastic rivalry game.
Off the Grid Game
Tuskegee (2-2) at Clark Atlanta (1-3) 5:00
Each week I try to shine a spotlight on a game that has no bearing on national rankings or playoff standings but has some elements of intrigue. This week's game is Tuskegee at Clark Atlanta. The interesting aspect of this game is current Clark Atlanta coach Willie Slater. Coach Slater is in his first season with the Panthers. His new job in Atlanta comes after a highly successful 16-year tenure at Tuskegee. Slater finished his run at 'Skegee with an overall record of 123-47 with seven SIAC championships. Slater was silently dismissed after a 3-8 season in 2021 and replaced by former assistant Reginal Ruffin, who had been leading the Miles College program. Willie Slater would be the last person to make any of this about himself, but from an outside perspective, it's an interesting date on the calendar. Tuskegee is a better team and should win this by a few scores, but expect the Clark Atlanta players to give this everything they have.
Questions, suggestions, comments, complaints? Email me at [email protected] and follow me on Twitter @D2Chuck.
Also remember to catch Inside D2 Football Sunday nights at 8pm, eastern. Please subscribe to the channel while you're there.