Around the Nation - Week One Preview
August 31st, 2022 7:00am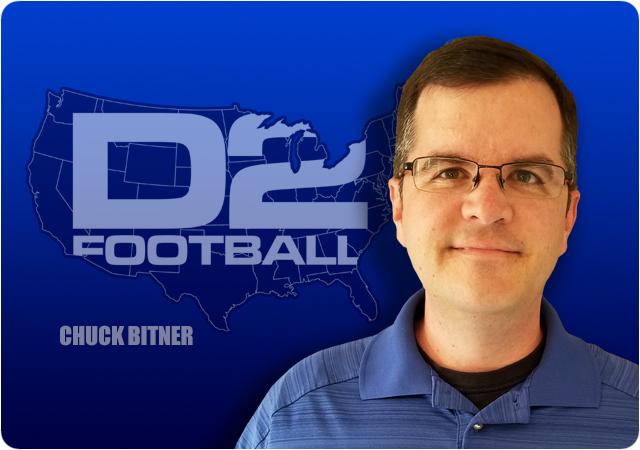 What is your favorite holiday? It's a frequent question for small talk. An ice-breaker. Something you ask of a new co-worker or someone you're seeing on a first date. The common answers are predictable. Christmas, for the festive atmosphere. Thanksgiving for the family time. Halloween, for the creative decorating and costumes.
When I am asked this question, I always respond instantly and flatly…Labor Day.
Yup. Labor Day is my favorite holiday. It has been for years. If you're reading the column, you get it. You would understand it's because of the overwhelming sense of joy at having five days of nearly endless amounts of college football drama. Like Christmas, the opening weekend of college football is almost like it's own season. Especially for Division II. We see more out of conference games in week one than we'll see all season and this year, some of those matchups are as good as it gets.
In case you missed my preseason rundown of all 15 conferences, you can find that here. On a quick personal note, I'll repeat part of the introduction from that column. If you've been around D2 for a while, you may know that I've spent the past 12 seasons volunteering for D2Football, with the past 10 as a columnist for the PSAC (2012-2016) and the SAC (2017-2021), with occasion coverage of the Mountain East. This year, the team has asked me to focus on a column from a national perspective to highlight top stories and matchups from around the country.
Before looking at some of top matchups this week, here is some additional preseason material you need to check out. Also please remember that we have a columnists for nearly every conference so please check out their articles for more on all of these games and everything else happening in their respective conferences.
This week, we have many games worthy of a national spotlight. Here are a few them…
All times referenced are eastern time
Thursday
#11 Notre Dame at Ashland 6:00
This game may be slightly under the radar as Ashland is unranked, but I won't be surprised if this is one of the best matchups of the weekend. The same teams met in the opener last year on Notre Dame's home field with the Falcons prevailing in overtime. The series moves to Ashland this year and while NDC comes in with the national ranking and high expectations, I believe Ashland has what it takes to pull off an upset. The Eagles welcome back starting quarterback Austin Brenner who missed the second half of 2021 with injury as well as GMAC defensive player of the year LB Michael Ayers. I think Ashland is going to contend for the GMAC title this year, but in week one, Notre Dame should be slightly ahead. The Falcons have the leadership of one of the winningest QBs in college football. Chris Brimm is 41-5 as a starter and he has the running back duo of Tyris Dickerson and Idris Lawrence at his disposal. The pair combined for 1800 yards and 16 TDs a year ago. I'll take NDC to win a close one on the road.
Minnesota State at #16 Bemidji State 7:00
In a change of fortunes for these NSIC programs, Bemidji State enters the season as a ranked team while Minnesota State is unranked in week one for the first time in a long time. The Mavericks are coming off an uncharacteristic 6-5 season while Bemidji was 10-3 with a share of the NSIC championship and a first round playoff win. Despite the opposite directions their seasons went in, Minnesota State did hand the Beavers a 45-24 loss in week three. This year, the meeting will be at scenic Chet Anderson Stadium in Bemidji. I think getting the Mavs in week one works in Bemidji's favor. With Harlon Hill candidate QB Brandon Alt and Elite 100 receiver Brendan Beaulieu back, the Beaver's offense should hit its stride right away, while the Mavs may need some time to come together. The Beavers also expect to have an improved defense with the experience returning. This may be one of the higher scoring of the top matchups this weekend, but I like the Beavers at home.
#9 Harding at East Central 7:00
Harding was selected as the preseason favorite to win the GAC but the road to the title has a very challenging start for the Bisons. Four of their first five opponents finished the 2021 season with seven or more victories, including East Central. On the road with a new starting quarterback and different supporting cast at running back is not ideal. But even if there are some early struggles offensively, the Harding defense will be able to buy time. The Bisons' D was among the best in nation against the rush last year and a lot of talent returns on that side of the ball. This game should be a little tighter than last year's shutout by the Harding D, but I do like the Bisons by double digits in what would be their tenth straight win over the Tigers.
#7 (NAIA) Keiser at #2 Valdosta State 7:00
Valdosta State opens the new season and new era under head coach Tremaine Jackson with a visit from a top 10 NAIA program. Keiser, from West Palm Beach , Florida, plays in the NAIA's Sun Conference. Over the past three seasons the Seahawks have accumulated a record of 27-5 with three trips to the NAIA playoffs. This is a good football program and they have a slight leg up on the Blazers as they opened their 2022 season last Saturday with a 44-7 drubbing of Warner (who faces West Florida on Saturday.) The Seahawks new starting QB Shea Spencer had a fabulous debut, hitting 22 of 28 passes for 323 yards and 3 TD. The Keiser defense surrendered almost nothing on the ground and not much more through the air. I don't think Keiser will have the depth of talent to match Valdosta and be in it for 60 minutes (very few D2 or NAIA teams do) but I won't be surprised if the first half is a bit of a struggle for the Blazers.
Central Washington at #1 Ferris State 7:00
If you're the defending national champion, everyone wants to give you their best shot and the Ferris State Bulldogs have welcomed some impressive competition into the ring. In addition to their GLIAC schedule, the Bulldogs lined up non-conference meetings with Central Washington, Lenoir-Rhyne and Findlay, all playoff teams in 2021. For their part, Central Washington comes to town with LSC patches on their jerseys for the first time as new associate members for football. The most interesting aspect of this game may be quarterback play. Central's Quincy Glasper and Ferris State's Mylik Mitchell were both highly successful in part time starting roles last year but now take on the role of QB1 for their respective teams. Glasper has the tougher job going against the Ferris defense on their home field. In the only previous meeting between these teams (2019) the game was competitive through three quarters but the Bulldogs had command from the start and road a 28-point fourth quarter to a 62-28 win. I expect something similar on Thursday, with a slightly closer final margin.
Fort Hays and #4 Northwest Missouri State 8:00
The Bearcats got into a tight battle in the opener at Fort Hays in the season opener a year ago. Northwest got out of town with a 15-7 victory in that one. I won't be shocked if this year's meeting is also very low scoring. I've seen enough Northwest Missouri State football over the last 15 years to not be concerned with what they have coming back from the previous year on defense. They will be one of the best defenses in the country, as they always are. Offense could be a different story though. Replacing the production of RB Al McKellar is a huge task and it remains to be seen how they will utilize two senior quarterbacks, each with signifcant starting experience. There are a few things to iron out, and a handful of impact transfers to integrate, so it may take a game or two. This may be closer than records would indicate but Northwest should pull away a bit late in the game.
Game of the Week
#3 Colorado Mines at #5 Grand Valley 7:00
This is unquestionably the game of the week and could turn out to be one of the best and most anticipated matchups of the entire season. Both programs are coming off great performances in 2021. Mines had one the best years in program history, earning a share of the RMAC title and capturing the super region four bracket. The Orediggers visited Valdosta State in the semifinals and came within one play of advancing to the national championship. Grand Valley finished the regular season 9-1 and won a first round playoff game. Unfortunately for the Lakers, their only two losses came at the hands of GLIAC rival Ferris State.
Both programs have many reasons to believe that they exceed what they accomplished in 2021. Most of the talent and leadership from those teams is back. Mines has most of its offense intact, led by Harlon Hill Trophy candidate RB Michael Zeman, QB John Matocha and Rimington Award winner Matt Armendariz (nation's top center). They'll be a formidable match up for Grand Valley's defense, which returns nearly all of its starting lineup from 2021, including LB Abe Swanson. The Mines offense was very adaptable last year and very adept at figuring out how to maximize what was working for them on any particular day. That will be a key to victory on Thursday night. The Mines defense will also have to hit mid-season form right away. They were among the national leaders a year ago in points allowed (14.71 per game). Grand Valley has quarterback Cade Peterson back under center for his second season as a starter. He had a good year in 2021 and with his supporting cast, I am expecting him to take the next steps towards being an elite player on the national level.
I'm very, very high on Colorado Mines this year. I think they will win the RMAC and be positioned for another deep playoff run. But I am just as high on Grand Valley. I have the Lakers as my preseason pick to win the National Championship. I think they will be very hungry and have a lot prove. Lubbers Stadium should be a standing room only crowd, creating a hostile atmosphere for the visitors. Should be a fantastic battle but I think the Lakers win it.
Saturday
Findlay at Ohio Dominican 12:00
Findlay kicks off their GMAC title defense and new era under first year head coach Kory Allen (who has elevated from interim to permanent head coach in early August) with a difficult conference road trip to Ohio Dominican. Findlay won last year's meeting in a game that went to OT tied at 14. The Oilers were picked to repeat as GMAC champs but they do have some holes to fill, most notably at quarterback. The Panthers also have some major gaps, with new starters at quarterback and running back. I think this will be another low scoring game between these conference rivals and the home field will make the difference for Ohio Dominican.
#18 New Haven at #12 Bowie State 1:00
Saturday's only matchup of ranked teams will be an early kickoff in Bowie, Maryland. This will be a fun meeting of two of super region one's conference champions from last season. This is the bottom half of a home-and-home series that started last year in New Haven. Bowie State won that meeting 27-13. The Bulldogs defense dominated the day, holding New Haven to just 193 yards of offense and scoring a defensive TD to take the lead late in the third quarter. The loss and the poor offensive showing on their home field is still not sitting well with the Chargers and they are determined to pick up a win on Bowie State's home turf. That has proven to be a tough task in the last several years. The Bulldogs protect their house. But the Chargers have a very experienced roster with 26 graduate students, the most of any D2 program. Combine that with the turnover in Bowie State's roster and coaching staff since last year, and I think it adds up a rare victory by the visiting team at Bulldog Stadium.
CSU-Pueblo at Midwestern State 7:00
Neither team enters this game ranked in the D2Football top 25, but Midwestern was just on the outside and Pueblo, though coming off a 6-5 season, was slated #2 in the preseason RMAC poll. For the Thunderwolves, this is the beginning of what may be the toughest four week stretch that any team will face until the playoffs. Following this outing with Midwestern State, CSUP returns home to face Grand Valley, then opens conference play with consecutive games against 2021 RMAC co-champs Western Colorado and Colorado Mines. There is always a sense of urgency in college football, but I have to think that schedule has the Thunderwolves completely dialed in for game week prep. You can always count on Pueblo to have a tough defense, but the offense bogged down against good teams last year. They cannot let that continue but I fear it might against a good Midwestern team. The Mustangs, led by veteran QB and LSC offensive player of the year Dillon Sterling-Cole, will be able to take advantage of the home field and score just enough to win a one-score game. The result of this game could have major implications for super region four rankings by the time we get to October.
#15 Western Colorado at West Texas A&M 8:00
Western Colorado takes a national ranking on the road to Canyon to face unranked West Texas A&M but despite that, the Mountaineers may be the underdogs. WTAMU had a horrible start to the 2021 campaign but rebounded to win five of the last six, including wins over eventual LSC champ Midwestern State and playoff participant Angelo State. The strength of the 2022 Buffs team should be the offensive line. They return all five starters from last year's team, which will be a huge help to returning QB Nick Gerber and running back Jarrod Compton. Western Colorado has their top playmakers back on offense in RB Josh Cummings and QB Connor Desch. But it's not a very explosive offense and I think it will be tough to muster enough points to win this contest on the road against a West Texas team that might be a lot better than most people think.
Chuck's Off the Grid Game
Catawba at Livingstone 6:00
You may be asking why this one made the list. Fair question. Each week I hope to give some love to a game that doesn't have any rankings or championship implications but may have some intrigue. This is the first of those matchups. Livingstone hasn't had a winning season since 2015 when they played only nine games and finished 5-4. Catawba has had more success but have been through a couple of lean years. I'm shining a spotlight on this one because local rivalries are fun and this is one of those out of conference games that needs to happen. Despite being separated by less than two miles in the town of Salisbury, NC, the schools have surprisingly little history. They have met only fourteen times and not since 2013. One of the reasons is the series is very one-sided. Catawba has won all fourteen previous meetings and in years they were a playoff contender, this meeting didn't help them. But two D2 teams in the same town should play each other. Catawba should run that streak to 15 and it won't move the needle on the national landscape at all, but I'm still happy to see this game happening.
Enjoy your opening weekend activities and don't forget to tune into Inside D2 Football on Sunday evening at 8:00pm, eastern.
Questions, suggestions, comments, complaints? Email me at [email protected] and follow me on Twitter @D2Chuck.