Around the Nation - Week Seven Preview
October 13th, 2022 4:00am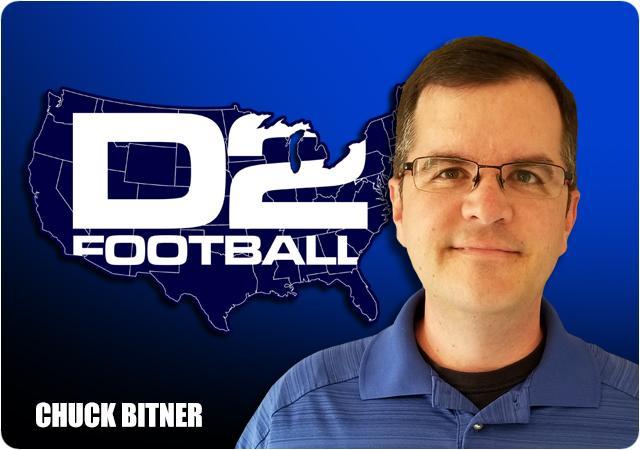 Week seven already. We are officially past the halfway point of the Division II season. Conference championship races are starting to take shape and it won't be long until we start to look at contenders for the post season. It's still a little early to break down all the metrics used for the regional rankings but it isn't far off. We are also beginning to see separation among the players best positioned to be Harlon Hill Trophy candidates. I'll have my own list of top candidates to share in the coming weeks but if you want to know a little more about the nomination and voting process, our crew dove into that in the most recent edition of Inside D2 Football. That conversation begins at around the 52 minute mark. Also, check out the interview with West Florida coach Pete Shinnick at the open of the show. Before looking ahead, be sure to catch up on last week's action in the Week Six National Roundup.
#1 versus #2 in The Anchor-Bone Classic
Before I go further, I have to start setting the stage for #1 Ferris State hosting #2 Grand Valley. A lot of events are sensationalized and over-hyped in the modern-day media, but once in a while something comes along that is worth all the attention we can give it. Saturday afternoon's Anchor-Bone Classic in Big Rapids, Michigan is one of those events. This is the game of the year in the Division II regular season. Nothing else will even come close to it in terms of significance, both on the day it is played and by the end of the season. It's not often you get a #1 versus #2 matchup in the regular season in any division of college football. This is special. It is a conference game. It is a rivalry game. A BIG rivalry game. It will probably determine a conference championship and a top seed in the playoffs. If this was an FBS game, the hype would have started last Sunday would last through the end of the game. It's that big. Think back to 2006 when #1 Ohio State and #2 Michigan met. It's that kind of game and nearly that kind of rivalry. Youwill want to see this if possible. If you can't, support it with clicks, likes, retweets, heart reacts…whatever you can do to show support and extend the reach for this D2 battle. It will be a good one. Read on for my breakdown of the matchup below.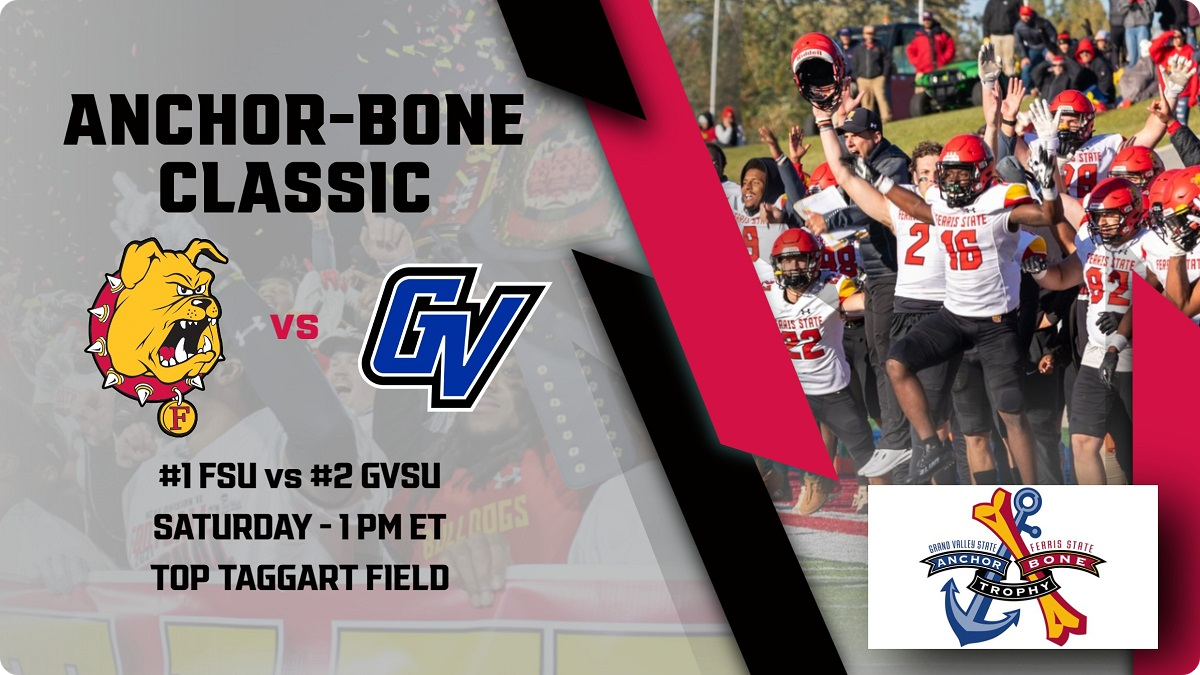 Graphic by Ferris State sports information
Undefeated
Since we're not quite ready to talk playoffs and Harlon Hill, mid-season is a good time to look at the big picture of who is enjoying an exceptional season. Fifteen teams have unblemished records as we head into week seven, irrespective of competition. Here is the short list of undefeateds, in alphabetical order.
Angelo State (6-0)
Ashland (5-0)
Benedict (6-0)
Davenport (5-0)
Delta State (6-0)
Ferris State (5-0)
Grand Valley State (6-0)
Indianapolis (5-0)
IUP (5-0)
Ouachita (6-0)
Pittsburg State (6-0)
Shepherd (6-0)
Sioux Falls (6-0)
Texas A&M-Kingsville (6-0, 4-0 D2)
Virginia Union (6-0)
If we only consider Division II competition (as the playoff selection criteria will) we could add Albany State at 5-1 overall but 5-0 against D2.
The GLIAC has the most undefeated teams with three. None of those teams have played each other yet but that will change this weekend with #1 Ferris State and #2 Grand Valley meeting.
Four conferences have no undefeated teams (MEC, NE10, RMAC and SAC).
Winless
On the opposite and of the spectrum, there are an equal number of teams we want to see in the win column soon. These are the teams that remain winless through six weeks.
Alderson Broaddus, Allen, American International, Concordia-St. Paul, Fort Lewis, Lincoln (Mo), Morehouse, Minot State, Seton Hill, Simon Fraser, Southern Connecticut State, St. Augustine's, Upper Iowa, Walsh, West Virginia Wesleyan, Winston-Salem State.
Five conferences have zero winless teams - GAC, GLIAC, GLVC, GSC, SAC. The NSIC has the most winless teams currently with three. The SAC is the only conference that currently has no undefeated teams and no winless teams.
On to the week seven schedule
The schedule isn't loaded with prime matchups but the ones we do have are as good as it gets. Three conferences (GLIAC, CIAA and SIAC) have contests that will be the game of the year in that league. There is a lot on the line in week seven. Let's take a closer look.
All games listed are on Saturday, kickoff times are in eastern time.
#15 Virginia Union (6-0) at Bowie State (4-2) 12:00
As many as four teams are still in play for the CIAA north division crown, but I believe this will be the game that decides it. That makes this the game of the year in CIAA regular season. Bowie State has won the last four in this series and eight of the last ten. However, in a role reversal from previous seasons, Virginia Union is the team with the unbeaten record and national ranking. It is interesting to examine which team has more at stake. The easy answer is Bowie State. At 4-2 the Bulldogs are still alive for a post season invitation but likely need to win the remainder of their games. Virginia Union could stumble this week but still have a good shot at playoffs. Despite that, I think there is more pressure on Virginia Union. A lot more. Virginia Union is a winning program. They have been for a long time. But they have not won the North division since 2007 and to claim the school's first CIAA championship since 2001, they must win this game.
While the pressure is on, I do like Virginia Union's chances. The Panthers are a very well-rounded team, ranking first or second in the CIAA in scoring offense, scoring defense, total offense, total defense, rushing offense and rushing defense. While passing may not be their primary choice of attack, they do lead the league in passing efficiency. This is a team without many weakness. Coincidentally, that has been their opponent's key to success for the past few years. One thing I will watching closely is third down. When I had a chance to see Bowie State in the season opener I was very impressed with the Bulldogs ability to extend drives by making plays on third down, particulary with the play of QB Dion Golatt, Jr. The Bulldogs and Panthers both convert third down into first down at a rate of 50% but one thing that stands out about Virginia Union is how infrequently defenses are even getting to third down against them. The Panthers have faced third down 66 times this year, far fewer than any other CIAA team including those that have played one less game. Jada Byers, who leads the nation in rushing, has a lot to do with that.
Betting against Bowie State at home is a bad decision but I'm going to do it. I think Virginia Union breaks through with a big win to keep their perfect season going.
Bentley (4-2) at Assumption (4-1) 1:00
New Haven has been the class of the Northeast 10 for the past year plus, and since dispatching Bentley two weeks ago, it has seemed a foregone conclusion that the Chargers will roll to a second straight conference title. But Assumption is still in the fight. The Greyhounds are 4-0 against Division II competition and 3-0 in league play. A win over Bentley this Saturday could potentially set up a battle for first place when Assumption and New Haven meet on October 29. All that said, I like Bentley this weekend. The Falcons have the league's top offense and a solid defense as well. Assumption has a great defense but the offense is limited. Assumption must run the ball to win but it's going to be tough against Bentley's run defense, which is tops in the Northeast 10 and ranks 8th nationally.
#23 Benedict at #14 Albany State 2:00
When the SIAC preseason coaches poll was released this summer Albany State was picked first in the East division, as expected. Slotted second was Benedict. I was a little curious about that since the Tigers were .500 a year ago but the coaches clearly knew that this was a team with a lot of potential. So far, that has proven to be true. Benedict is 6-0, the only team left unbeaten in the SIAC. For their part, Albany State remains perfect against D2 at 5-0 and 5-1 overall.
It's almost eerie how much these teams mirror each other. Offensive and defensive performances are very similar and other differentiators in close games like turnover margin are nearly equal. The game should be a defensive struggle featuring two of the top teams in the country in terms of points allowed. Benedict is third in the country in points allowed (8.2 per game) and Albany State is fifth (11.17 per game). Offensively, neither team is flashy. Both tend to involve a lot of players so while you won't see any names that jump off the stat sheet, each unit moves the ball for over 350 yards per game. I can see this result going either way. Albany State has more recent experience in this kind of game, but I feel like its Benedict's time. Tigers on the road by a single point.
Wayne State (5-1) at #18 Augustana (5-1) 2:00
I must admit that heading into last week I was not ready to buy into Wayne State. They had a great 4-0 start but three of those wins were over teams that are a combined 1-17 to date. After the game at Winona State fell apart I was afraid what we'd seen in the first month of the season was a bit of a mirage. But last week's 41-33 win over Minnesota State changed my mind. MSU is not a vintage Mavericks team but they are good and they've been finding ways to win. Wayne jumped out to an early lead and was in clear command from start to finish. It's hard to argue with an offense that can rush for 279 and pass for 271 against Mankato. That was a good win, and I think they may be catching Augustana at a good time this week. Augie is 5-1 but they have some injury problems that could really bog down the offense. RB Jarod Epperson has been out for a few games and starting QB Casey Bauman has been in and out of the lineup. I still like Augie as a team, but Wayne State is an attractive pick here.
#10 Colorado Mines (4-2) at South Dakota Mines (4-2) 2:00
Mines v. Mines takes center stage in the RMAC as two of the teams with the best nicknames in college athletics square off. The Orediggers and Hardrockers will fight for first place. Colorado Mines currently sits at the top of the league at 4-0 but South Dakota Mines is just a game back at 3-1. A Hardrocker victory would move them into a tie for first place. After falling in the Black Hills Brawl two weeks ago, I thought South Dakota Mines had peaked too early. But then they came back with an impressive road win at Western Colorado. The Hardrockers never trailed in that game and delivered an impressive offensive showing. That was led by QB Jayden Johannsen who is playing like a Harlon Hill Trophy contender in Super Region four. But he won't be the only on the field playing at that level. Oredigger QB John Matocha is one of the best leaders in country and has an incredible 16 touchdowns to 1 interception. I've said since the time Colorado Mines was 0-2 that they would win nine in a row, take the RMAC title and make the playoffs. I'm not ready to back off that position but it won't happen without some challenges. The difference in this game will be Colorado Mines' pass defense. They are the only team in the RMAC allowing less than 200 pass yards per game and they've only given up four passing TDs in six games. I'll take the Orediggers but it will be a fight.
#16 Indianapolis (5-0) at Saginaw Valley (4-2) 2:00
This a tough spot for Saginaw Valley. They've just played the top two teams in the country in consecutive weeks. They competed in both games and came within a fourth-and-goal stop of beating Ferris State last weekend. Those games were physical and emotional, and while the Cardinals battled hard, both resulted in losses. Now they must refocus for a non-conference tilt with undefeated Indianapolis. The analysis on this one is pretty simple. Both teams run the ball well and stop the run well. The team that plays their game better will win. UIndy brings one of the top players in D2 to the fight. RB Toriano Clinton is second in the country in rushing yards per game with 178. I don't think he needs that much for the Greyhounds to win, but he'll have to be north of 100. Saginaw has not allowed a 100 yard performance this season. This is a toss-up game. It is possible that Saginaw will be spent after the last two weeks, but I don't think that will be the case. I like Saginaw by a slim margin in a bounce back victory.
Game of the Week
#2 Grand Valley (6-0) at #1 Ferris State (5-0) 1:00
I set the scene above with what is at stake but now let's look at the matchup.
For Grand Valley to win, I think they will need to find success early getting the ball downfield to Jahdae Walker and Cody Tierney. The Lakers like to run the ball but Ferris is hard to run against. The receiver talent can help spread out the Bulldog defense and create some space for the running game to be successful. But throwing downfield means accounting for Ferris defensive end Caleb Murphy, who is the best defensive player in Division II. He leads the nation in tackles for loss and sacks. I think Grand Valley can throw with success against Ferris but they must have hats on Caleb Murphy.
For Ferris State to win, I think they need to keep this low scoring. Putting up points hasn't been a struggle for the Bulldogs but Grand Valley's defense is on a different level from anyone else the Bulldogs have played. The Lakers stand a good chance of forcing the Bulldogs to throw and if Mylik Mitchell is still out of the lineup, that will be a tough task. Points will be hard earned and that is going to put some pressure on the Ferris defense. It is possible that Mylik Mitchell will play but even as we get late into the week, that is still unknown. I hate to think the outcome rides on his availability to play, but it really may be that simple.
Ferris State may not be as dominant as they were a year ago but it has been good for them. They have worked through a lot of adversity this year. Winning has not been easy and that will serve them well this weekend, as it did last week at Saginaw Valley. That said, I believe Grand Valley is on course to win a national championship this year and getting past Ferris State is part of that journey. I believe Grand Valley is going to win, but I also believe this will not be the only time they meet this year.
Off the Grid Game of the Week
Northern Michigan (3-3) at Michigan Tech (2-4) 1:00
Each week I try to shine a spotlight on a game that will not impact national rankings or playoffs, but has some intrigue worth noting. We're staying in the GLIAC for this week's off the grid game, but shifting attention further north to the upper peninsula. Northern Michigan is right on the shores of Lake Superior in Marquette and Michigan Tech is basically in Lake Superior in the town of Houghton. They're about 100 miles apart but compared to the rest of their GLIAC foes, Tech and Northern are practically neighbors. For both teams, every away game is really away. For Tech, the closest road conference game other than Northern, is Ferris State and that's still an eight-hour bus ride. Michigan Tech has won 11 straight in this series and 16 of 19 since they began playing for the Miners Cup. History is on Tech's side but I'm going with Northern this year. They've got the better defense and I'm looking for some big plays from receiver Wyatt Davis who averages more than 20 yards per catch and has scored five touchdowns.
Enjoy the games this weekend.
Questions, suggestions, comments, complaints? Email me at [email protected] and follow me on Twitter @D2Chuck