Around the Nation - Week Six Preview
October 6th, 2022 8:30am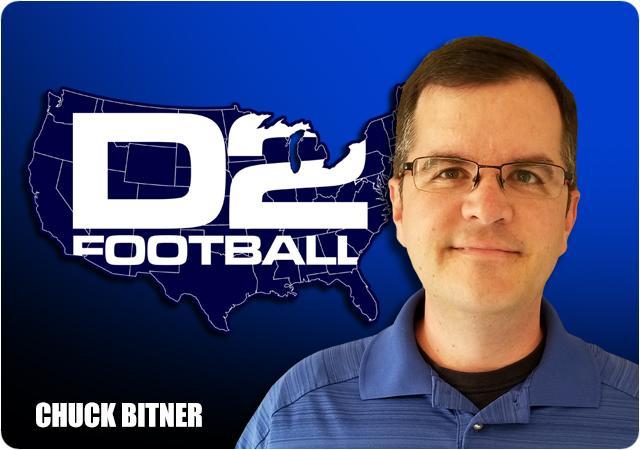 Week five delivered a handful of upsets inside and outside of the Top 25. Six undefeated teams entering the weekend suffered a first defeat and three Top 15 unbeaten teams lost to unranked opponents. All of this caused some major shifting in this week's Top 25 poll. Delta State was the biggest mover, jumping from No. 21 to No. 9 following a total dismantling of GSC rival Valdosta State. The 70-31 result was the second shocking defeat in four weeks for the Blazers who fell out of the rankings for the first time since 2017. Newberry and Washburn also toppled from the poll following losses to Carson-Newman and Emporia State respectively. Entering the rankings for the first time this season were IUP, Texas A&M-Kingsville and Benedict.
For the full recap on Week five, check out the Week Five National Roundup and Inside D2 Football, featuring a conversation with IUP coach Paul Tortorella. Before I completely move on from last week, I do want to revisit a couple of results from the Gulf South Conference and consider what they mean for the remainder of the season. First, its hard to get past the way Delta State carved up Valdosta State's defense. We know Valdosta's personnel is down a bit on the defensive side of the ball. We saw the evidence of that last year when they were pushed around by West Florida and Ferris State. This year's defense is probably not as talented as last year's so it will take time to rebuild the two-deep for the type of defense they want to run. This is shocking for Blazer fans, but the defense was not in great shape when the current staff took over so it will require some patience.
That doesn't mean the Blazers' coaching staff gets a pass. They were hired in large part because they are defensive minded coaches but what they have right now is the worst defense in the GSC. They allowed Delta State to score touchdowns on all 10 possessions that did not end a half. That's 70 points. It was only 12 months ago that Valdosta State won 55-0 in this same matchup. I don't care what has changed between then and now, this is a national championship caliber program. If Delta State had been playing a bad Division III team I would have expected one defensive stop. This week's game against West Alabama is going to tell us a lot about the Blazers and where the rest of the season is going.
The Blazers aren't the only GSC team that is reeling a bit. West Georgia lost at home to a tenacious Mississippi College team that rallied from behind and stole victory right out of their hands. It was one of those games where one team wanted it more and when they had their chance, they took it. West Georgia was a top 10 team with eyes on a deep playoff run. That can still happen but they have some serious self-reflection to do. And what about West Florida? I'm not sure what to think about them. For two weeks in a row they fell behind by two scores in the second half at home. They rallied to tie or lead in both and they did escape last Saturday with a win over North Greenville. But playing from behind has been a habit for nearly two seasons. What makes all this so interesting is that West Florida will be at West Georgia this Saturday night.
A few people have asked me this week who is going to win the GSC. The easy answer right now is Delta State. They've already taken care of West Florida and Valdosta State. But the way things are going this year, I will be surprised if they make it through the conference schedule unbeaten. The state of the Gulf South Conference is fascinating at the moment. It will be fun to watch things unfold over the next six weeks.
On to week six. Here are my selections for the top games this Saturday.
#20 IUP (4-0) at California (3-2) 12:00
The Coal Bowl, as this game has come to be known, is less than 15 years old but Cal and IUP have been playing each other for over 100 years. The all-time history is dominated by IUP but in more recent years, its been a different story. Since the Coal Bowl name was spawned in 2009, Cal U has accumulated a record of 9-4. That includes last year's victory at IUP which came just a week after IUP had knocked off its other rival, Slippery Rock. Here we are again in the same situation with the Crimson Hawks entering the contest fresh off a win at home against the Rock. It's easy to look at the records and think Cal's season isn't going the way it should, but both losses are on the road against Kutztown and Shepherd, in very close games. They sit at 3-2 but this is a team that is just a couple plays away from being ranked in the top 10.
There is a lot of talent I am excited to see in this game, especially at the receiver positions. IUP's Duane Brown and Hilton Ridley are one of the best receiving duos I have seen this year. Brown may be the best overall receiver in the country. But Cal's JaQuae Jackson is high on the list as well. He has quietly become one of the most productive receivers in the country, averaging 8 catches and 122 yards per game. Home field has meant a lot in this rivalry but I am going with the road team to win for a second year in a row. I like the trajectory of this IUP team right now, getting a little better each week. They are setting up to peak at the right time.
Limestone (4-1) at Lenoir-Rhyne (4-1) 1:00
Lenoir-Rhyne is a program with playoff expectations every year. As such, there are always a few games you can spot on the calendar as "big games." This was not supposed to be one of them. Frankly, until a few weeks ago this would have been one of those workout games where you have to show and play, but probably won't be challenged and should be able get a lot of young players on the field. That was before Limestone ripped off four straight wins – something the program had never done before. The Saints are getting it done with an excellent rushing attack and a rapidly improving defense. RB Tre Stewart is fourth in the nation in rushing yards per game and second in rushing touchdowns. They'll need a big day from him and they'll need the defense that frustrated Mars Hill for all 60 minutes last week. I still like Lenoir-Rhyne in this game because I think their defense is better than its getting credit for and the offense is making strides every week. They've settled in with Sean White at QB and he is doing a better job of getting the ball to his playmakers at the receiver positions. But this should be a good game. In five years spent covering the SAC, I had to dig deep sometimes to find anything positive I could say about Limestone's program. It makes me very happy to be talking about the Saints as a legit challenger to the top teams in the league.
#19 Indianapolis (4-0) at McKendree (4-1) 2:00
GLVC play gets started in earnest this week with the top two teams in the league colliding. UIndy is undefeated and McKendree is 4-1 with their only loss coming in week two to Delta State. This is a matchup of differing strengths, with UIndy being the best rushing offense in the GLVC (266 yards per game) while McKendree is the best passing offense (343 yards per game). Indy's Toriano Clinton and McKendree's Turner Pullen are the offensive weapons to watch for. Pullen is second in the nation in total passing yards and yards per game. Clinton ranks third in the country in rushing yards per game. They won't be on the field at the same time, so this likely comes down to the better defense. Mckendree is last in the GLVC in rushing yards allowed, so look for a big day from Clinton. The UIndy defense will allow some passing yards, but they have more INTs (7) than TD passes allowed (6). McKendree has the home field, but give me UIndy in this one.
#1 Ferris State at #25 Saginaw Valley State 2:00
Saginaw Valley has had a great first half of the season but they ran into the expected road block last week at Grand Valley. The rushing attack that had been producing 300 yards per game fell way short of that, with just 106 at Lubbers Stadium. They also hurt themselves badly with 11 penalties. Unfortunately things get even harder with a visit coming from top-ranked Ferris State. I feel like the Bulldogs have been a little out of sight, out of mind for the last few weeks. We've come to expect that anyone not ranked in the top 10 won't even compete with them, so we haven't given much attention to what they've been doing. Or what they haven't been doing, and what they haven't been doing is allowing touchdowns. They've given up one on the las three games and that didn't happen until the fourth quarter of a game that was far out of reach. It was only the third touchdown allowed in four games by the Ferris defense. During that time, the Bulldogs have used a rotation at QB as Mylik Mitchell has been nursing an injury. They'd like to have Mitchell back there, and its possible he will return this week. But Ferris has proven they can move the ball no matter who is taking the snaps.
The last time these teams met, it was a very strange affair that Saginaw could have won but I don't see that happening again. The Bulldogs' defense is too good and we saw last week that if the Cards can't run the ball, it will be an uphill battle.
Minnesota State (4-1) at Wayne State (4-1) 2:00
The NSIC South division is stacked. Sioux Falls leads the division at 5-0, followed by five teams at 4-1. Now that we're into divisional play, we'll start to see some separation. That begins this weekend with Minnesota State traveling to Wayne State. Wayne had a nice undefeated season going until last week's contest at Winona State fell apart. The Wildcats scored the first fourteen points of the game but then gave up 38 unanswered, including 24 in the fourth quarter. Winona's ability to frustrate one of the NSIC's top passers was a huge factor in the game. Wayne State's Nick Bohn hadn't thrown an interception all season, but Winona picked him off twice and limited him to 50% on 36 attempts. Bohn and the Wayne offense should have an opportunity to bounce back against a Mankato defense that is not a vintage Maverick unit. This year's Mav defense ranks right in the middle of the NSIC in scoring and total defense. All the numbers favor Wayne State in this game, but the Mavs haven been finding ways to overcome some of their deficiencies and finsh games. I like them to win this one on the road.
Bowie State (3-2) at Virginia State (4-1) 4:00
Divisional play begins in the CIAA this week with two of the top challengers in the north squaring off. Bowie State has rebounded nicely from losses in weeks two and three and still have a very good shot at a fourth straight appearance in the CIAA championship game. They'll be taking on a streaking Virginia State team that has won four in a row since the season opening loss at Lenoir-Rhyne. For anyone interested in the transitive properties of football, there are three common opponents: St. Augustine's, Livingstone and Shaw. Virginia State defeated all three. Bowie State lost to Shaw and struggled more than they should have with St. Aug. Both teams move the ball well. Each averages more than 430 total yards per game and sit first and second in the CIAA in total offense. I like Bowie State because I think they are a little more explosive offensively and QB Dion Golatt Jr. has been a miracle worker on third downs. Bowie State converts third downs at a rate of 50%. This game is the first opportunity for the Bulldogs to make it known the road the CIAA north title still goes through Bowie.
#11 West Florida (3-1) at #16 West Georgia (3-1) 6:00
As mentioned above, both of these teams had some puzzling results last week. The West Georgia loss to Mississippi College damaged my confidence a bit, especially defensively. I would have expected a 17 point lead to be safe in a home game but the Wolves didn't finish. The Choctaws' last three drives of the game netted 23 points. Think about that. Miss College got into the end zone five times on those three possessions. West Florida is a very different challenge, and one West Georgia might be better equipped for. The Argos need more consistency from QB PeeWee Jarrett but he does make plays in their offense and still has a very high ceiling that he hasn't hit yet. The running game with Shomari Mason is very reliable and the Argos also have a history of playing really well away from home. I'll take West Florida in what should be a very competitive game.
Western New Mexico (3-2) at #23 Texas A&M-Kingsville (5-0) 8:00
Texas A&M-Kingsville is enjoying its best season in a long time. The Javelinas are 5-0 overall and 3-0 in conference. Western New Mexico is playing good ball as well. They are 3-1 against D2 competition and coming off a really nice win over Midwestern State. Western New Mexico has the top passing offense in the LSC and they will need to add a few to their conference leading 13 TD passes. For the Mustangs to win, they have to outscore the Javs because I don't think they have quite enough defense to hold up to the TAMUK's balanced attack. Could be a high scoring affair but I think the Javelinas run their record to 6-0.
Game of the Week
#10 Northwest Missouri (4-1) at #6 Pittsburg State (5-0) 3:00
Bearcats v. Gorillas is always one of the most anticipated games of the D2 season, especially in the MIAA. This year's installment will be played on campus at Pittsburg State for the first time since 2018. While this is an intense rivalry, it has not always produced the drama we hope for. In the last ten years, only one meeting has been decided by a touchdown or less. That was last year's 20-19 game won by Northwest Missouri. It's also been relatively one-sided as Northwest has won seven of the last 10 meetings. But that's all in the past. This year presents a great opportunity for the Gorillas to end a three-year losing streak and at the same time, keep their perfect 2022 season going.
While this is truly a toss up game, I do believe Pitt State is the favorite. Northwest has struggled on offense for most of this season and last week's performance of 10 first downs and just 246 total yards was an ugly way to win. The passing game has had its moments but is inconsistent at best and seven touchdowns to six INTs is simply not good enough for a ranked team. That said, Northwest is built to win a lot 17-13 kind of games and that is what this one is likely to be. I have confidence in Pitt State's offense being able to do just enough to pull out a close win. The home field at Carnie Smith Stadium means something and it is likely to be a sell-out. the Gorillas will have a lot of confidence coming into the game. A lot will rest on the passing of Chad Dodson Jr. but I like the way he protects the ball and this game may be won by the team that makes fewer mistakes. I like the Gorillas by a field goal.
Off the Grid Game of the Week
UVA-Wise (1-4) at Emory & Henry (3-2)
Each week I try to shine a spotlight on a matchup that has no impact on national rankings or playoff positioning, but has some elements of intrigue. This week's matchup takes up to southwest Virginia to look at what should become one of the SAC's most important rivalry games. Although these teams are in the same region in Virginia, they don't have much history with each other. Saturday's meeting will be only the sixth all-time. That is because they have never been part of the same conference or classification. UVA-Wise was an NAIA program for many years before transitioning to Division II in 2013 as member of the Mountain East Conference. Emory & Henry was a Division III member until this year. Now both are members of the South Atlantic Conference and will play each other every year as contenders in the Mountain Division. I like Emory & Henry to continue their impressive inaugural season in D2 and take the first edition of this new rivalry.
Questions, suggestions, comments, complaints? Email me at [email protected] and follow me on Twitter @D2Chuck.
Remember to catch Inside D2 Football Sunday nights at 8pm, eastern for recap and reactions on all the weekend's top games.