Around the Nation - Week Three Preview
September 15th, 2022 7:30am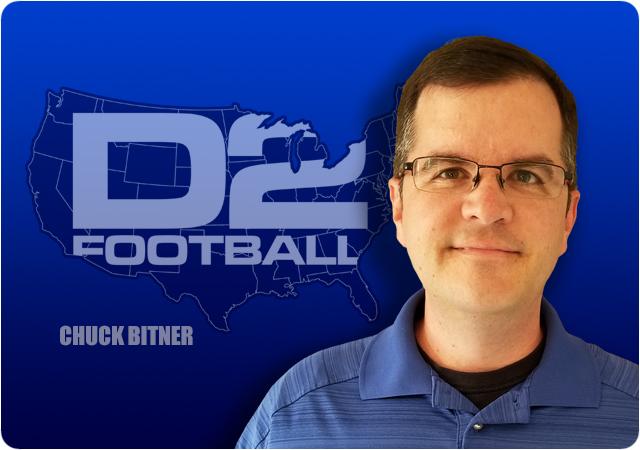 Week two of the Division II season was chock full of headlines, upsets and drama. If you missed the recap from a captivating weekend, here are a couple resources to get caught up.
Interview with Virginia Union coach Alvin Parker (begins at 8:00)
Interview with Augustana captain Eli Weber (begins at 45:50)
Week three picks (begins at 1:10:00)
Before I completely move on from week two, Virginia Union's upset of #2 Valdosta State is worth a little more discussion. Following the game, I felt the story to tell was the victory for the Panthers. That was the angle I wanted to explore and talk about, not the loss for Valdosta State. But now that we're moving forward, it is worth asking…how concerned should Valdosta State fans be?
The reality is we don't know yet. But if you are a Valdosta State supporter, I don't blame you if you are a little shell-shocked. The humbling loss to Ferris State in last year's championship game was tough to take, but that Ferris team may have been a once-in-a-decade kind of team. In retrospect, that game and the loss to West Florida in the regular season did reveal some problems that have resurfaced in the new year. The Blazers do not have an elite defense. Tackling was a huge problem in the national championship loss and we saw more of the same last week. They struggled to fill gaps and were far too late in getting hands on Virginia Union's Jada Byers. That had a lot to do with Byers rushing for over 300 yards. We saw the signs last year and improving the defense was a big factor in Valdosta's choice of Tremaine Jackson as head coach. Blazer fans will be hoping for an immediate fix, and I do think they'll get better, but you may have to be patient and give this coaching staff an opportunity to rebuild the depth of talent they need defensively.
That said, defense is not their only problem area. Ivory Durham is playing well but is not getting outside the pocket often enough where he kills defenses with improvisation. The Blazers are moving the ball but they are kicking too many field goals. They need to finish drives in the end zone if they're still going to contend in the GSC this year. These things can be fixed. They have one of the most dynamic players in the country at quarterback but the new coaching staff must figure out how they want to use his athletic ability. Give them a chance to work on it. Blazer nation is justified in being concerned, but I don't think you need to panic or bail on the coaching staff after two games.
On to week three…
On paper, the week three schedule doesn't look as good as week two, but college football has taught us to expect the unexpected. We will probably see something totally unpredictable from a game that's not even on the radar. And let's be honest, that is what makes the sport so enjoyable.
Week three notable games
Savannah State (1-1) at Benedict (2-0) – Thursday 7:30 eastern, ESPNU
Division II and the SIAC will get national exposure on Thursday evening as Savannah State at Benedict will be featured on ESPNU from Benedict's Charlie W. Johnson Stadium. Benedict is 2-0 with a lopsided win over Elizabeth City State and a shutout of Lane. Savannah State lost the opener to NAIA Southeastern but bounced back with a win over Edward Waters. The Savannah State offense has been a little sluggish, but redshirt Freshman Jadon Adams provided a much-needed spark in last week's victory. It remains to be seen if he will make his first college start this week. Regardless of who is under center, Savannah State must establish the run. That is their identity and with a passing offense that's good for barely 100 yards per game, they will have to live or die by the rush. That will be a tall order against a Benedict defense that has been good against the rush so far. This is an early season test for both teams to see how they measure up in the SIAC. I think Benedict is the more polished team right now. I like them to win, but the margin should be within one score.
California (1-1) at #5 Shepherd (2-0)
We're only two weeks into the season but Shepherd looks like they are in mid-season form. Harlon Hill winner Tyson Bagent tossed five TDs in the season opener but the Rams deployed a ground-heavy game plan last week against Edinboro. As a team, Shepherd rushed 357 yards with Ronnie Brown accounting for 278 and three TDs. It's difficult to prepare for an offense than can beat you no matter how well you game plan. But Garry Dunn and his staff at California are pretty good at game planning. They let one get away last week against an angry Kutztown team. This week it is the Vulcans that should be playing angry after giving up 17 unanswered in the fourth quarter. I think California is going to rebound and get a better performance from the offense. Veteran QB Noah Mitchell had a decent day in the loss at Kutztown but look for him to try to extend the field more this week. The Vulcans will need more chunk plays than they got last week and passing to set up the run may be the rout to take. Picking against Shepherd at home is bad business, but I'm taking the Vulcans in an upset.
IUP (1-0) at Shippensburg (1-1)
Shippensburg was among a list of PSAC teams that had a head scratching result in week one, but rebounded in week two. In the standings, that is. The Raiders got the win over Seton Hill 36-17 but the offense posted only 13 first downs and 230 total yards. Special teams and defense contributed TDs to aid in the victory. The season opener (a loss to West Virginia State) was even worse, with just 174 yards on the day. On paper this looks like a decisive win for IUP, but they barely got out of East Stroudsburg with a win after giving up a 20-point lead. That aside, IUP has more going for them right now and the offense, which was pretty good last week, will only get better with new QB Mak Sexton (Pittsburg State transfer) connecting with Elite 100 receiver Duane Brown. Brown snagged 12 catches for 207 yards and a TD, and also made a fabulous leaping catch to set up the game winning field goal. He's a special player worth watching in this one. If the Ship offense doesn't find some answers, IUP should win by two touchdowns.
Nebraska-Kearney (1-1) at #18 Washburn (2-0)
Heading into the season, I felt very confident in Nebraska-Kearny as a Top 15 and possibly even Top 10 team. I also felt very unsure about Washburn being ranked even though they were a playoff team a year ago. Two weeks into the season, I don't know what to think about either team. Things would be different if the Lopers had held onto the lead and beaten Pittsburg State last week, but they didn't. Now they're already playing from behind in an MIAA race that leaves almost no margin for error. It is very Likely they'll have to win the remainder of their games to win an outright MIAA title. I don't see that happening unless they can get some passing offense going. Standout QB TJ Davis is averaging just 64 yads per game with a 42.86 completion percentage. That isn't going to be good enough unless he completely busts loose running the ball. That makes this game very interesting. Washburn's defense wasn't great last week at Central Missouri as the Ichabods were outgained in total offense 481-445. But they did stand tall when it mattered most. Central Missouri had four possessions in the fourth quarter when it was a one score game. The Bods denied each drive. I'll take Washburn by a touchdown.
Western Colorado (0-2) at CSU-Pueblo (1-1)
Western Colorado began the season as a Top 25 program but remain winless after two tough road games at West Texas A&M and UT Permian Bason. The latter was an overtime loss. Unfortunately for the Mountaineers, the road doesn't get easier. They'll play away from home for a third straight weekend in their RMAC opener at CSU-Pueblo. The biggest question in this game is what is the true identity of each team's offense? The Thunderwolves opened with an impressive 59-27 win at Midwestern State, but managed only 10 points at home against Grand Valley. The Mountaineers posted only 6 points in their opener, but found a way to notch 31 at UTPB. The rushing offense has been lacking for Western Colorado without Elite 100 watchlist RB Josh Cummings in the lineup. It doesn't feel like Western has an identity this year and overall, Pueblo has more working for them. If the weather conditions are better this week, the passing attack we saw in week one should bounce back. The Mountaineers need a win in the worst way, but the Thunderwolves will be hungry after last week's humbling loss to Grand Valley and get the win.
Texas A&M Kingsville (2-0) at #12 West Texas A&M (2-0)
Texas A&M Kingsville is 2-0 for the first time since 2016. That's a good start to the season, but not something I am ready buy stock in yet. The Javelinas' opponents have been Division III Sul Ross and NAIA North American. Things are about to get a lot tougher. The Javelinas are 2-8 in their last ten meetings with West Texas A&M and have lost the last three in the series. They should bring a lot of confidence into this year's meeting but its hard to gauge how they will match up. The Buffaloes have faced better competition but last weekend's trip to Adams State was a closer game than it should have been. I think West Texas A&M will win this round and their balanced offensive attack is what gives me confidence. TAMUK has had some penalty problems in the first two weeks and they will beat the Buffs if they give up 100 yards in penalties, which is their average through two games.
Game of the Week
Indianapolis (1-0) at Tiffin (2-0)
The GLVC / GMAC scheduling alliance kicks into gear with the next two Saturdays featuring seven GLVC v. GMAC contests. This Saturday, all seven games will be hosted by GMAC schools, with next week's slate hosted by the GLVC members. The premier event among those 14 matchups is this one. Indianapolis was idle in week two, but was impressive in the opener, a 57-0 shutout of Saint Xavier, a respectable NAIA opponent. Tiffin drubbed an overmatched Walsh team in the opener and picked up a good win last week over Ohio Dominican. I like Tiffin at home and its because of their rush defense. They forced Ohio Dominican into a one-dimensional attack by limiting the rush to 1.9 yards per carry and just 38 total rush yards for the day. They have also been exceptional at getting off the field on third down. That said, they haven't faced a team as good as UIndy yet and they certainly have not had to game plan for an elite running back. The Greyhounds bring Toriano Clinton to the fight, one of the top rushers in the country.
The Greyhounds should want this one badly. They lost to Tiffin in week three last year and then dropped the following game to Ohio Dominican. Those back-to-back losses at home were the undoing of their playoff hopes. This should be a fantastic battle and it will be available to watch for free on GMAC Digital Network. Tiffin is a playing at a high level for this early in the season. I like the Dragon at home in a thriller.
Off the grid game
Southeastern Oklahoma State (1-1) at Southwestern Oklahoma State (1-1)
Each week I attempt to shine a spotlight on a game that may not impact national rankings or playoff positioning, but has some element of intrigue. This week's game is in the GAC. Why? Because Southwestern Oklahoma State beat Southern Arkansas at home last Saturday to earn the program's first win since November 2, 2019. The Bulldogs have high hopes for turning their program around and for inspiration, they can look directly to this week's opponent. Southeastern Oklahoma State was 1-10 in 2019 and after the cancelled 2020 season, shocked the GAC with a 9-3 record in 2021. Who's to say SWOSU can't do the same thing? QB Tylan Martin, a grad transfer from South Alabama, is playing very well and while the defense has work to do, they're doing a good job getting off the field on third down. It's too early to tell what their ceiling can be for this year, but I do think they will win more games. SEOSU should win this one though. SWOSU doesn't have enough of a rushing threat and the Savage Storm should force them to throw more than they might want to. I'll take the Savage Storm on the road, but very interested to see how well the Bulldogs match up.
Questions, suggestion, comments, complaints? Email me at [email protected] and follow me on Twitter @D2Chuck.
Also remember to catch Inside D2 Football Sunday night at 8pm, eastern.