Around the Nation - Week Two Preview
September 8th, 2022 5:00am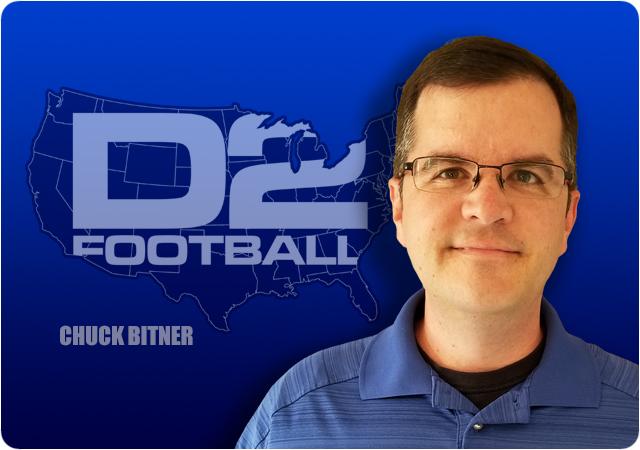 Week one of the D2 Football season delivered all that we wanted with drama, upsets and excitement inside and outside of the Top 25. The results delivered a shake up in the rankings, with four teams falling out of the poll after losses to unranked opponents. If you missed our recap of opening weekend on Inside D2 Football, featuring an interview with Grand Valley State coach Matt Mitchell, please check it out.
Week two serves up another great looking slate of games featuring four top-notch out of conference games and handful of early season conference matchups that will have major implications on league standings. The action starts early for the second week in a row with a handful of Thursday night contests in the MIAA and MEC.
Before I jump into the top games, I want to revisit a topic we have discussed on Inside D2 Football a handful of times. There are three conferences in Division II football that do not schedule out of conference games. The MIAA, GAC and NSIC all have closed scheduling, meaning every team's entire schedule is within the conference. I understand why they do it. It makes scheduling simple. The league office can give each team a schedule years in advance and they don't have to worry about scrambling to find games, negotiating logistics and financial agreements, etc. It saves them from all that hassle and there is a lot of value in that. But look at what they are missing out on.
The GLIAC, RMAC, LSC and others have owned all the story lines in the early part of the season because of the compelling out of conference games involving the likes of Grand Valley, Ferris State, Colorado Mines, New Haven, Midwestern State, Angelo State, Central Washington, West Texas A&M and CSU-Pueblo. Just imagine how great it would be for Division II if we could add names like Northwest Missouri, Pittsburg State, Ouachita Baptist and Minnesota State to the party. There are programs out there from other conferences like Bowie State and Southwest Baptist that work hard to challenge themselves against the best competition they can find. I can promise you Bowie State would not back down from going to Maryville, Duluth or Arkadelphia if they had the opportunity.
The MIAA, GAC and NSIC make it easy on themselves and I am sure they are happy with that. But the closed scheduling makes things harder for their fellow conferences that would really benefit from their availability. More importantly, those conferences are missing out on special opportunities for their student-athletes.
Here is the rundown of top matchups for week two.
Pittsburg State (1-0) at #12 Nebraska-Kearney (1-0) (Thursday, 8pm)
There are a couple of good match ups on Thursday night but this is the one that catches my eye. Nebraska-Kearney may just have what it takes to break through for an MIAA championship this year. The Lopers are led by Harlon Hill Trophy finalist TJ Davis who had a decent but unspectacular night in the opener against Missouri Southern. That game was closer than expected with the Lopers leading 10-7 after three quarters before securing the win with two fourth quarter TDs. The Loper defense played well. That was against a weak MSSU offense but I do think that D is pretty good. I need to see a little more out of Kearney's passing threat (4 yards per attempt) and a little more from Pitt's run game (2.4 yards per carry) before I'll be convinced either can seriously challenge for the MIAA title. This game will reveal some answers. I think it will be low scoring and I like Pitt State to pull off an upset on the road.
Saturday games
#20 Slippery Rock (1-0) at West Chester (1-0) 12:00
Slippery Rock had a lot of skill position talent to replace offensively heading into the new season, but last week's dominant performance over visiting Wayne State gave the appearance that the Rock offense will be just fine. QB Noah Grover, who started the final four games of 2021, looked very comfortable and Jacob Odom, a previous teammate of Grover's at D1 North Dakota, led the team with 8 grabs for 97 yards. West Chester has a good defense, led by Elite 100 LB Jackson Taylor, but The Golden Rams' offense is still a work in progress. They struggled with consistency and turnovers in the low-scoring victory over Bentley. It's a long road trip for the Rock but I think they get out of town with a divisional cross-over win.
#1 Ferris State (1-0) at #17 Lenoir-Rhyne (1-0) 1:00
Ferris State had to work for all 60 minutes to put away a gutsy and talented Central Washington team in the opener. I would stop short of saying it was a struggle. The Bulldogs were the better team and played well. It was slightly less dominant of a victory than it may have been a year ago, but a good win that should help them improve. The same could be said of Lenoir-Rhyne in their opener against visiting Virginia State. The Bears were the better team but Virginia State found ways to respond each time LR looked to take control of the game. Being at home makes this a winnable game for Lenoir-Rhyne, but I don't think they have the offensive punch to do it this early in the season. They still have to establish their identity, solidify the quarterback position, and they definitely need more from the rushing attack than last Saturday's 94 yard showing. Moretz Stadium should be packed and that is a great advantage for the Bears but I think Ferris will control the line of scrimmage and win by a couple of scores.
#11 Bowie State (1-0) at Saginaw Valley State (1-0) 1:00
I had a chance to see Bowie State in person last week and was very impressed. I had my doubts about what they might be this early in the season with the turnover they had in the coaching staff and roster but I'm just going to shut up about that now. It's no longer an issue. The defense looked every bit as good as a year ago and the offense, while still developing, has a lot to work with. These two played each other last season in Bowie and the Bulldogs limited the Cardinals to just 178 yards of offense. I think this year's Saginaw Valley team has a lot of potential but its tough to get a read after their opener against a severally out manned West Virginia Wesleyan. The Cardinals rushed for 372 yards in that game. Bowie allowed just 18 rushing yards on 30 attempts against a good New Haven team that was a conference champion last year. This is a great matchup that could go either way. Defense travels and I think Bowie State can do just enough offensively to pick up a big road win.
Ohio Dominican (1-0) at Tiffin (1-0) 1:00
Ohio Dominican delivered the first blow in the season-long bout for the GMAC title by defeating Findlay last Saturday afternoon. New starting QB Jake Byrd had a good debut, leading the offense to 428 total yards and DL Jaylin Garner led the defense with four sacks (a program single-game record.) Tiffin smoked Walsh on the road in the opener, but there isn't a lot to take away from that. The passing game could have been a little tighter but the run game was strong. That's where this game may be decided. If Tiffin can establish the run, I like their chances. But ODU punished Findlay's rushing attack and the Oilers finished with negative rushing yards. Another thing to watch for… ODU's offense was an incredible 17 for 21 on third down conversions against Findlay. This should be a battle and I can easily see it going either way, but I like the wave of momentum to carry Ohio Dominican to another big win.
Bemidji State (0-1) at #16 Augustana (1-0) 2:00
The two teams projected to win the NSIC's north and south divisions will square off in Sioux Falls on Saturday afternoon. These teams shared the overall NSIC title in 2021 and split a pair of meetings. The Vikings won the regular season meeting in week four while the Beavers took the first-round playoff win two months later. Bemidji needs this one after dropping the opener but they must player cleaner football. For their part, the Vikings need to be better this week as well. Their 28-14 win at Concordia-St. Paul wasn't exactly inspiring and the minimal production from the passing game was concerning. I think they'll need more from new starting QB Casey Bauman and to be fair, I think the game plan will be very different this week. The Vikings ran the ball 43 times against CSP but I'd expect to see more balance against Bemidji. With both teams working through a few blemishes in week one, I'll go with the better defensive team and that's Augie. I think their defense will be good for two turnovers and that will be the difference.
#7 Angelo State (1-0) at #9 Colorado Mines (0-1) 2:00
Mines lost the highly anticipated meeting with Grand Valley but I don't think they could have been more impressive. Battling back from 17 down in the second half in Lubbers Stadium is nearly unheard of. This is a team that absolutely deserved its lofty ranking and I dropped them no further than #6 in my poll…right behind Angelo State, who I have at #5. This is a very tough assignment for Mines to go back-to-back against opponents of this caliber but they seem like the kind of group that will embrace the challenge. The X factor in this game is Angelo State's Alfred Greer. He is one of the most exciting and explosive players in D2 and his 8.5 yards per carry last week proved that once again. I think Mines will rebound and the sense of urgency will help carry them to a win but its going to be a fun game to watch. I think it will look very similar to last year's super region four final, which Mines won 34-26.
#25 Ashland (1-0) at Findlay (0-1) 6:00
It's only week two but this is a do or die game for Findlay. Findlay was the preseason favorite to win the GMAC but after suffering a loss to Ohio Dominican in the opener, the Oilers now have their backs to the wall and must fight back against an Ashland team coming off an upset of highly ranked Notre Dame. That win was enough to propel the Eagles into the Top 25. Findlay's downfall in the opener was a total absence of a rushing threat. The Oiler's leading rusher netted just 27 yards and the team finished at -3 for the game due to sack yardage. That's a bad match up for an Ashland defense that stood tall against a very talented Notre Dame offense. The sense of urgency might make the difference for Findlay but I like Ashland on the road.
Minnesota Duluth (1-0) at #21 Minnesota State (1-0) 7:00
For a period of several years, if Duluth v. Mankato was on the schedule, it was the game of the year in the NSIC and usually had national Top 10 rankings in play. Entering this season, neither team was ranked in the top 25 or projected to win the NSIC. Things changed slightly with Mankato's victory at previously ranked Bemidji State last week. The win, fueled by defensive takeaways, propelled the Mavericks into the rankings and back into the conversation for an NSIC title chase. Duluth opened the season with 31-21 win at home over Southwest Minnesota State in a game that was more competitive than expected. The Bulldogs played well most of the night, but were tied with the Mustangs entering the fourth quarter. On Sunday evening's Inside D2 Football, I picked Minnesota State to win, but after some more time to think about it, I'm going with Duluth. If Bemidji had managed to minimize mistakes, they could have beaten the Mavs. I think Duluth will do exactly that.
Southeastern Oklahoma State (1-0) at #8 Harding (1-0) 8:00
One year ago, Southeastern Oklahoma State announced their presence to the rest of the GAC by upsetting a highly ranked Harding team 32-31. The Savage Storm had won just a single game the year before, but 2021 was a new era as they would go on to a 9-win season. Southeastern may still have doubters after a tight season opener they won in double OT over Arkansas Tech. The offense had a good night but the defense was inconsistent and allowed Tech to take the lead with a 21-point third quarter. They will have to be better this week as points will be hard to come by against a Harding defense that surrendered only 161 total yards to East Central. I think the Savage Storm will find enough success offensively to make this a toss up but I am a little concerned by the number of big plays allowed last week. Something to watch for…Harding had three TD passes in last week's win. They had five for the entire season in 2021. Will they already match that total in week two? I expect a close game but I think Harding wins it.
Game of the Week
#4 Grand Valley State (1-0) at #24 CSU-Pueblo (1-0) 8:00
They eyes of the D2 world were on Grand Valley last week as they hosted the Top 5 matchup. We have reviewed and discussed that game quite a bit, but did you see what Pueblo did to Midwestern State? After falling behind 7-0 early, the Thunderwolves reeled off 21 unanswered points within 10 minutes of game clock and never looked back on the way to a 59-27 win. QB Steven Croell established new program single game records with 396 passing yards and five TDs. The Wolves outgained Midwestern State in total offense 576 to 308. The most significant negative on the day was penalties. Pueblo was flagged 13 times for 110 yards. They cannot repeat that this week against the Lakers. I think this will be a great defensive battle. The aspect of this game that will interest me the most is Grand Valley's speed in the offensive skill positions against Pueblo's speed and discipline on defense. Against Mines, the Lakers had a hard time executing the receiver screens and jet sweep plays they like to run to get their receivers in space. Pueblo presents a lot of the same challenges but I think the experience from last week's battle helps. Should be another fantastic game but I have a feeling that last week's win over Mines might be the start of a special season for Grand Valley. I like the Lakers in a one-score game.
Chuck's Week Two Off the Grid Game
New Haven (0-1) at Southern Connecticut State (0-1)
Each week I attempt to shine a little light on a game that has no bearing on national rankings or playoff positioning, but otherwise, has significance. This week's game is New Haven at Southern Connecticut. The campuses for these two schools sit about four miles apart in New Haven, Connecticut. If you were in the mood for a brisk jog, you could start at Southern Connecticut's Jess Dow Field and make it to the blue turf at New Haven's DellaCamera Stadium in about 30 minutes, with a stop at the Yale Bowl along the way. (okay, I didn't run it but I made the driving tour as recently as this summer and all three really are that close). Another interesting thing about this game is that although they are members of the Northeast 10, this is not a conference game. It is the first of two meetings this year but only the November 12 date will count in conference standings. The Chargers have won 12 in row in this series and I think that streak will continue. Nothing earth shattering, but a fun rivalry in all sports that D2 fans should be aware of.
Questions, suggestions, comments, complaints? You can email me at [email protected] and follow me on Twitter @D2Chuck.
Don't forget to catch Inside D2 Football on Sunday nights at 8pm, eastern.