Division II Independents 2021 Season Preview
September 4th, 2021 8:53am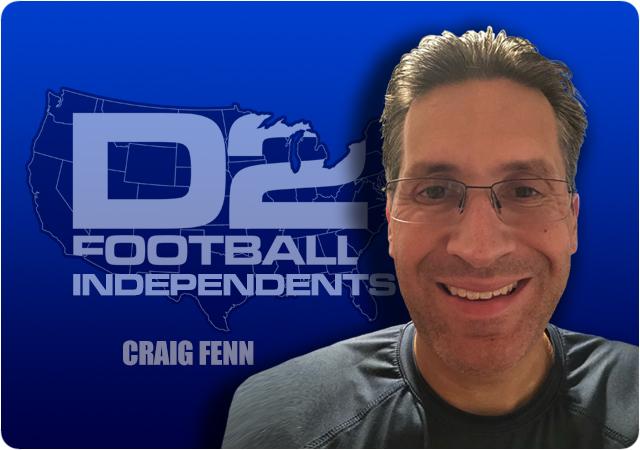 Hello all,
My name is Craig Fenn, and I am the new columnist covering Division II's Independent teams. I am a biology professor in Pennsylvania by trade, so writing about sports is a bit new. I am an alumnus of the University of New Haven, where I got to see some of the Chargers' best moments, including the 1997 playoff run that saw the Chargers becoming the smallest school to play for the Division II National Championship. We won't talk about how that ended, though. New Haven were barnstormers back then, playing anyone who they could schedule. But the future of Charger football was to be in a conference, and while those barnstorming days were fun, New Haven eventually couldn't afford it anymore and they dropped football in 2003. They re-booted the sport in 2009 when they joined the Northeast 10 Conference. For that reason, I'm usually on the Northeast 10 board, and Paul Falewicz's great work covering the Northeast 10 over the years is a model for what I hope to bring here.
However, there are still some schools that fly the Independent flag, even if it is temporarily. This year, Barton and Erskine play as Independents, but will join the SAC next year. Bluefield State, a former NAIA, WVIAC (now the MEC) and CIAA member, is the only true Independent this year, playing a mixture of Division II, NAIA, National Christian College, and club teams. Then there are the schools that are on the fringes (and whom I won't cover all that much), like Lincoln University in Oakland, California, who isn't an NCAA member, but will still play a mostly Division II schedule this year, and Post University in Connecticut, a CACC member who will play a JV schedule this year while transitioning from Sprint football to Division II. I will also cover the GNAC-affiliated schools here as well, so fans of Central Washington, Western Oregon, and Simon Fraser can get their fill.
Please note that some of the teams listed here have already played their first game, which has been noted in their descriptions.
OK, let's get to the Independent teams:
(Please note that additional information about Barton and Erskine is in Chuck Bitner's SAC preview.)
Barton Bulldogs
2021 Spring Record: 0-4 (1 win was an unofficial scrimmage)
Coach: Chip Hester (Second season, 0-4 record in one season at Barton and 70-53 overall in 12 seasons)
First Game in 2021: Sept. 4 versus Newberry (SAC)
Outlook: In the Spring 2021 season, they had two close losses to Erskine and Newberry while losing by wide margins to their strongest opponents in Lenoir-Rhyne and Wingate.They are still looking for their first official Division win since 1950, but they did win a scrimmage game this Spring against Louisburg.They will continue the learning process against their SAC-heavy schedule, but they return just about their entire roster from the Spring season and hope to make those advancements starting this Fall.Top returning players include quarterback Jaquan Lynch, who had 393 passing and 178 rushing yards this Spring.Running back Jordan Terrell earned the team's MVP with 280 rushing yards and three touchdowns.Kameron Johnson and Jackson Perrell are the team's top returning wideouts.
On defense, Barton looks to improve overall depth alongside lineman Dionte Osbey and defensive back Franklin Wheeler.
Schedule Highlights: Barton will play a mostly SAC schedule, with their toughest opponent coming at home on November 6, when they face league favorite and D2football.com #7 ranked Lenoir Rhyne.#21 Wingate comes to town on October 16.They will also face fellow Independents Bluefield State and Erskine this season, with the Bluefield State game being their Homecoming game.
Erskine Flying Fleet
2021 Spring Record: 1-6
Coach: Shap Boyd (Second season, 1-6 overall record)
First Game in 2021: Sept. 4 at Catawba (SAC)
Outlook: Erskine earned their first official win since 1951 when they beat Barton this Spring by a 30-28 score.Like Barton, they return most of their squad from the Spring season and have just six seniors.The top returning players are quarterback Craig Pender (1421 yards passing and 8 touchdowns) and wide receive Senika McKee (661 yards receiving and 3 touchdowns).
The defense is led by linebacker and leading tackler Brandon Lane, who had 40 tackles this past season and defensive back Jamal Barron, who led the team with two interceptions and was second on the team with 23 tackles.
Schedule Highlights: Erskine plays a less SAC-heavy schedule compared to Barton, with only two games against official SAC members Catawba and Newberry and three against SIAC members Savannah State, Allen, and Kentucky State.They also play fellow Independents Bluefield State and Barton.
Bluefield State Big Blues
2019 Record: No record
Coach: Tony Coaxum (First season, no record)
First Game in 2021: Sept. 4 versus Lawrence Tech (NAIA-MSFA)
Outlook: Bluefield State is truly a clean slate, not having played football since 1980.They are one of 12 new athletics programs programs added to the college in the past year.Before 1980, they were WVIAC and CIAA members, winning the Black College National Championship twice in 1927 and 1928.Even more so, 2021 is the first year Bluefield State has had resident students on campus in 52 years, so the entire university is undergoing a re-boot.The majority of the Big Blues' roster is made of freshman players, with Shreveport, Louisiana native J'Rell Joseph leading the way at quarterback.They will be looking to build experience and will likely deal with many growing pains.The Big Blues only have three juniors and no seniors on their roster.A similar pattern could be seen in second-year Division II football member Franklin Pierce, who went through a 1-10 first season in 2019 playing mostly underclassmen in the Northeast 10 Conference.Bluefield State will likely use a host of players to see who will fit best.
Head Coach Tony Coaxum comes from Division I Northern Colorado, where he was the defensive backs and special teams coordinator.Coaxum also has NFL experience, helping with special teams in Denver and Baltimore from 2014 to 2017.
Schedule Highlights: Bluefield State's 9-game schedule features four home games, including their season opener against NAIA Lawrence Tech.Their other home games include the UNC Greensboro club football team, Division II Fort Lauderdale, with Northeast 10 member Saint Anselm rounding out their season on November 13.They also play CIAA members Johnson C. Smith and Elizabeth City State along with fellow Independents Barton and Erskine.
Now, time for the GNAC:
Central Washington Wildcats (currently 1-0)
2021 Spring Record: 0-1 (a 59-3 loss at Montana) 2019 Record: 7-4 (5-1 GNAC, GNAC co-champions)
Coach: Chris Fisk (Second season, 7-5 overall record)
First Game in 2021: Sept. 2 at Eastern New Mexico (LSC), a 66-24 win
Outlook: The Wildcats are the unanimous pick to win the GNAC in 2021 after being co-champions in 2019. JJ Lemming, who threw for 322 yards and 5 touchdowns and rushed for 1 touchdown against Eastern New Mexico, will call the signals on offense. Running back Michael Roots transferred to CSU-Pueblo, so Tyler Flanagan and Cameron Daniels were the "next men up" to start the season. CWU shows much depth at wide receiver, with Darius Morrison, Tony Archie, Daniel Johnson, and JoJo Hillel each having more than 50 receiving yards in Week 1, with Morrison and Tai-John Mizutani each catching two touchdowns.
The defense is led by senior linebacker and GNAC First-Teamer Donte Hamilton, who had 7 solo tackles in Week 1, and defensive back Jahleel Breland, who led the team with 8 solo tackles and 4 assists. CWU has had some turnover on defense, particularly in the defensive backfield, where many transfers will be pushing for playing time.
Schedule Highlights: The Wildcats will play their home-and-home GNAC schedule along with their LSC alliance games at home on September 25 against D2Football.com #25 Angelo State and October 2 against Midwestern State, and at Eastern New Mexico (a 66-24 win on September 2) and Western New Mexico on November 6. The highlight of the Wildcats' schedule will be their visit to preseason #11 FCS Eastern Washington on September 11.
Western Oregon Wolves (currently 0-1)
2019 Record: 7-4 (5-1 GNAC, GNAC co-champions)
Coach: Arne Ferguson (Seventeenth season, 90-72 overall record)
First Game in 2021: Sept. 2 at D2football.com #8 Colorado School of Mines (RMAC), a 42-3 loss
Outlook: WOU is led on offense by junior quarterback Ryan Worthley, who threw for 222 yards and 1 interception in Week 1. 1000-yard rusher Omari Land returns in the backfield looking to repeat or improve those numbers. The Wolves will try to spread the ball around, with wide receivers Justice Murphy, Thomas Wright, Jarren Ford, Marquis Sampson all had between 36 and 70 yards receiving in Week 1, joined by running back Andrew Valladares, who had 32 yards receiving.
Defensive back Ryan Minniti was the Wolves' top tackler in Week 1 with 6 solo tackles and 4 assists. Linebackers Jaylin Parnell, Isaiah Abraham, and Kenny Brown were also busy in Week 1.
Schedule Highlights: WOU opened their season at the #8 ranked Colorado School of Mines in a tough 42-3 loss. Along the GNAC home-and-home series, WOU will also face LSC opponents Texas A&M-Kingsville, West Texas A&M, and RMAC member Chadron State. They are one of two GNAC schools (Central Washington being the other) to host the non-NCAA Lincoln University Oaklanders, who are also in their first year of football. WOU also visits Division I Portland State, who last had a 5-7 record in 2019.
Simon Fraser
2019 Record: 1-9 (1-5 GNAC)
Coach: Mike Rigell (First season, no record)
First Game in 2021: Sept. 4 at Idaho (FCS-Big Sky)
Outlook: Simon Fraser has struggled mightily since joining the NCAA in 2012, with 2012 being their best season with a 5-6 record.They have managed only 2 wins since 2014, with three winless seasons.Digging into my Northeast 10 background, their profile is very similar to Pace University, who struggled for decades before having two straight winning seasons for the first time in their program's history in 2018 and 2019.Mike Rigell was promoted from receivers coach/recruiting coordinator to replace Thomas Ford, who had a 2-18 record at SFU.7 players on the SFU roster are seniors, while 49 are freshman. On offense, Brandon Niksich is expected to start the season at quarterback, who will hand the ball off to running back Mason Glover and pass to Riley Morrison and Caelin Johnson.Sophomore Christian Butenschoen anchors a young SFU offensive line.
On defense, sophomore cornerback Jerrell Cummings is the leader of a defense that will likely start seven freshmen or sophomores in Week 1, including freshman Kimo Hiu at cornerback and sophomore Evan Currie at safety.
Schedule Highlights: SFU starts their season south of the 49th parallel with games at FCS Idaho (Idaho is 2-0 against SFU in the past) and Division III Linfield.Central Washington opens the brand-new SFU Stadium at Terry Fox Field on September 18, which also begins their home-and-home series against GNAC opponents.SFU hosts UT-Permian Basin on October 2 and goes to Angelo State on October 23 in GNAC-LSC alliance games.