GLIAC Week Eleven Column
November 9th, 2022 7:00pm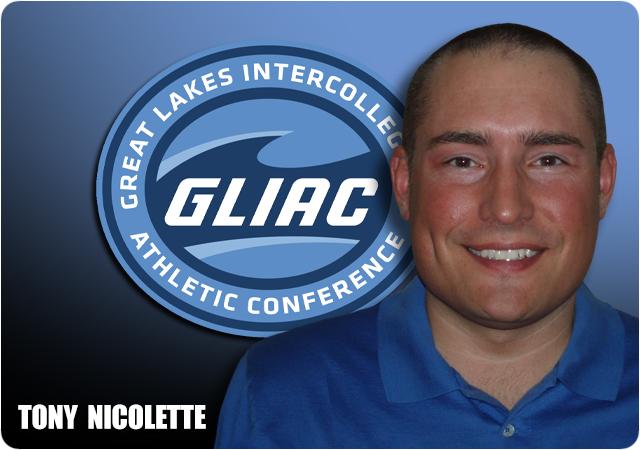 The final week is upon us. I know I sound like a broken record, but these things blow by us in such a hurry! Plenty still to be decided, as we have three teams with very real playoff aspirations. Those same three teams also have a GLIAC Title on their minds…but only one controls its own destiny. Let's take a look at Week 11.
Week 10 – Quick Openers
Michigan Tech 28, Hilldale 24
We had a hunch Tech would catch Hillsdale on one of the "downs" of their roller coaster season, and a pair of lengthy touchdown drives in the fourth quarter proved it so. Will Ark was splendid throughout, hitting 68% of this throws for 314 yards and three scores. The senior QB also ran in a fourth TD for good measure. Ethan Champney latched on to all of Ark's scoring tosses, and Darius Willis did damage all afternoon snaring 10 grabs for 150 yards.
Saginaw Valley 30, Northern Michigan 21
After NMU RB Tyshon King electrified the SuperiorDome crowd with his 80-yard run late in the first quarter, Saginaw Valley methodically worked their way to a 27-7 lead early in the fourth quarter. The Cards then withstood a late Wildcat charge to snag the win. Jairus Grissom continues to guide the SV offense effectively, and he was the top ground-gainer in a 277-yard rushing effort by the victors. In the losing cause, King had his second straight 100+ yard rushing day (121).
Grand Valley 42, Wayne State 14
Grand Valley held serve despite not being particularly effective on offense in the first half. The third quarter saw the Lakers explode for 21 points, and the lead was stretched out to 42-0 before Wayne got on the board a couple of times in the final six and a half minutes. GV QB Cade Peterson continued his solid play, leading the Laker ground attack and accounting for four total TD's (two rushing, two passing). The Grand Valley defense was dominant once again, holding an opponent to 42 rushing yards or less for the fourth time in their last five games.
Ferris State 28, Davenport 7
For two teams that typically move the ball like mad and score a lot of points, we really didn't see much of that here. Ferris did hit for about their average yardage-wise, but didn't find the end zone on offense until late in the second quarter. The Bulldog defense was tremendous, holding the Panthers to 183 yards of total offense and notching the game's first TD on an interception return. FSU QB Mylik Mitchell found the end zone on the ground for the first time since Week One, as he and Carson Gulker split time helming the offense. Marcus Taylor led the Bulldogs in carries, and notched his first 100-yard rushing game of the season (105).
Week 11 – Saturday, November 12
Northern Michigan (3-7) at Lake Erie (3-7)
After a 3-2 start, Northern Michigan had to believe they were on the cusp of a season that would place them firmly on the path to bigger things in 2023. But five long, cruel weeks later, the 'Cats are left disappointed with how quickly their winning record vanished. While they can't salvage a winning season they can at least finish with a victory, and they'll get their shot when they travel to northeast Ohio to visit Lake Erie College.
The Storm used to be in the GLIAC, but never really established much of a foothold in terms of football as they weren't able to notch more than three victories in any of their seven seasons of league play. After moving to the GMAC the results haven't been markedly different, and LEC enters this one with the same 3-7 mark Northern has. Surely, they also have the same desire to close out the season with a win. QB Gerald Gardner leads Lake Erie's attack, and he has thrown 22 TD passes on the wings of 288 passing yards per game. LEC struggles a bit in the run game only averaging 2.6 yards per attempt and around 75 yards per contest.
Despite allowing more than 30 points per outing, we see a real shot for the 'Cats here. LEC's defense has its own struggles yielding 34 per game, and opposing offenses have moved it a clip of 435 per outing. Tyshon King's big play ability could be on full display in this one, and we expect Zach Keen to have one of his better days throwing it. More important than the big plays might be King's durability between the tackles. Look for Northern to take the air out of things a bit and help their defense contain Gardner by limiting his chances. It's a long way to travel for a win, but Northern snags one to close out the slate.
#5 Ferris State (8-1, 4-1 GLIAC) at Wayne State (1-8, 0-5 GLIAC)
Both teams have played nine games thus far, and have dealt with injuries and youth throughout. Despite those similarities, the results are each other's inverses with Wayne coming out of the season worse for the wear. The Warriors have had their chances to snag a few more victories, including a stretch where they suffered four straight single-score losses…the final three of which all came on TD's scored by their opponents with less than 60 seconds to play. Finding a way to turn their fortunes just once could jumpstart their offseason, but to do it they'll have to foil the efforts of a team gearing themselves up for a playoff run.
In getting ready for the postseason, the Bulldogs are ramping up their practice of spreading the ball to as many contributors as possible. Mylik Mitchell saw action in just his third game of the season against Davenport, so look for his reps to continue to accumulate. The run-first Ferris offense has had at least nine different players carry the ball in back-to-back weeks, so getting multiple people the ball from varying looks will no doubt be something that continues here.
While Ferris can hit you with anyone, anywhere, we wonder if we might see an even greater emphasis on the pass in this one. Wayne continues to labor at the bottom of the league in pass defense, so the Bulldogs might look to cash in on that and get some more work in the pass game for a QB in Mitchell that has shown he can sling it but hasn't had his normal share of reps this season. Either way, with an outside shot at sharing a GLIAC crown and a chance to cement a home date in the playoffs, we don't see Ferris letting off the gas in any way here. As they did last week, Wayne will have fight early but that will wear thin as the game progresses. Look for Ferris to cruise to their ninth victory of the season.
Michigan Tech (4-6, 2-3 GLIAC) at Saginaw Valley (7-3, 2-3 GLIAC)
Saginaw Valley earned a 35-13 decision when these two met at the end of September to conclude a 4-0 start to their campaign. While the season's opening month was decidedly different for these clubs (Tech was 1-3 at that point), things have been remarkably similar for both since then: they share identical 3-3 marks over the last six weeks; they both beat former GLIAC teams in non-conference games; they both beat Northern and Wayne; they both lost to DU, Ferris, and GV. Spooky, yeah?
What's not similar is their preferred method for moving the ball. After Andrew Brito went down to injury a few weeks ago, the Cardinals have relied even more so on their ground attack. Jairus Grissom has lived the "next man up" mantra valiantly, particularly when we consider that he spent the bulk of the season prior to that as a wide-out. Tech, on the other hand, has been moving the ball through the air to the tune of 34 attempts for 251 yards per game over the last six. Two of their three wins came on Will Ark's pair of 300+ yard passing efforts this year, so when Tech succeeds it's usually when they can sling it around.
So what does that mean in this one? We actually think this game will be closer than Round One was. Saginaw's pass defense has shown tendency to be a bit leaky at times over the last few weeks, and while they will know what's coming (Tech has had games lately where they basically don't even try to run it) the Cardinals still have to stop it. What likely turns this affair is Saginaw's rushing attack being too much for Tech to overcome, as the Huskies allow a league-worst 185.9 yards per game on the ground. Not being able to stop the run doesn't bode well when your opponent's primary focus is to bludgeon you with it. While we do think the game will be more competitive this time around, we still see same result with the Cardinals coming out on top.
#1 Grand Valley (10-0, 5-0 GLIAC) at #23 Davenport (8-1, 4-1 GLIAC)
With the success Grand Valley has had over the years, a league title and a playoff berth have been a part of their Week Eleven talk track many times. This is decidedly new territory for their opponents, however, as Davenport's program is only in its sixth year of varsity competition. Beyond that, the GLIAC's Pre-Season Poll had the Panthers slated to finish last. Strapping it up for a chance to win a share of the conference and to earn a playoff berth might not have been a part of the plan for the Panthers to start the year, but they are certainly a part of the equation as they prepare for slate's final week!
While DU has earned each of its school record eight wins, notching their ninth won't come easily. The Panther offense struggled at Ferris last week, as the best defense they have seen thus far stifled nearly everything they tried. This Saturday, Grand Valley's defense will present no less daunting a task. The bulk of DU's success has come when Jason Whittaker has been comfortable, allowing him to zip the ball to his cadre of receivers. While GV's run defense (ranked fourth nationally) has been heralded all season, the Laker pass defense has grown increasingly stingy of late. Grand Valley has only been yielding 165 yards via the air over their last four games, and have logged 17 sacks in that same stretch. The Davenport O-line will have its second consecutive tall task in front of it, and how they perform may well tell the tale of the outcome.
Why so much pressure on DU's O-line? Well, because they may find themselves having to play catch-up. The Lakers sport a robust 41 points-per-game average, and they haven't been effectively slowed in weeks. Davenport has shown they can limit some of the league's better squads recently, and they will have to find a way to replicate that here. At all costs, the Panthers must find way to get stops in the middle of the field. If GV gets into the Panther red zone, their day will be a long one as the Lakers have scored TD's on each of their last 17 trips inside the opposing 20. The first half against Wayne last week was the only time GV has looked even remotely sluggish the past three weeks, so DU must find a way to similarly stifle the Lakers, keep the score tight, and give themselves a chance in a tight game in the second half.
While we definitely think the Panthers can and will make a game of this, we still believe they are simply overmatched. They looked that way a week ago, and the test is no less stern here. DU will keep it competitive, but we like the Lakers to outlast them.
Playoff Scenarios
OK, Gang. Per my usual, we'll conclude the final regular season column by taking a look at where things sit at the moment. I'll also offer what my pea brain thinks could happen moving forward.
Before we start, let's remind everyone that if you have questions around the basics of "how does this stuff work?", you'll get no better guidance than to read Chuck's article about the selection process. Another great way to learn the basics is take a gander at the video we have available that walks through the process. Plenty of great resources available so you to have to read my nonsensical droning.
At any rate, now that folks are up to speed in general, let's simply dissect the rankings as they look after Week 10's 'snapshot in time':
1. Grand Valley (9-0 D2) – It's pretty simple for the Lakers…they are in the field no matter what they do on Saturday. While they make the bracket regardless, the Lakers also have more control over their own destiny than anyone in the region as with a win, their resume cannot be caught or surpassed by anyone else. So, in simplest terms, a win and they stay on the one-line. A loss, and we can fathom rationales to put them on any of the top five lines.
2. Ferris State (7-1 D2) – Like Grand Valley, Ferris is in no matter what they do on Saturday. With that said, it's hard to know for sure where they will wind up should they win. Their SOS (strength of schedule) is unquestionably higher than anyone's in the region, but whether that final metric (which will be compromised by Wayne's 1-8 record being added this week) outweighs their loss and fewer D2 wins than the remaining unbeatens have is an open question. Our hunch is they win Saturday, and stay on the two. If they slide from the two, they should wind up with a home game at least.
3. Pitt State (10-0 D2) – The Gorillas are also in no matter what they do on Saturday. We also think that they will have a home game if they finish 11-0. Where they land is really predicated on how much emphasis the committee puts on Ferris's resume, and whether they continue to believe it is more impressive than PSU's. So, beat Fort Hays this week and stay in Pittsburg next week. Lose, and you still make the bracket…but the free-for-all of where you wind up begins.
4. Ouachita Baptist (10-0 D2) – The story for OBU nearly is identical to that of Pitt State's. Win and you have a game in Arkadelphia next week. Lose, and you're almost certainly still in the bracket but who knows where you'll play. The only difference between OBU's situation and PSU's is that an OBU loss would be to Henderson State. HSU would potentially have a claim to a spot in the rankings, and would have head-to-head over OBU should they wind up near each other. The Battle of the Ravine offers, perhaps, the greatest source of intrigue to the region's seed structure should the Reddies win. We don't think that an OBU loss would knock the Tigers all the way out of the bracket, but with the criteria written the way it is we can't definitively rule it out as an impossibility either. That's a novel in and of itself to try and explain the rationale, so let's just roll with OBU likely being in no matter what.
5. Davenport (7-1 D2) – We feel like Davenport is the last of the teams who is in no matter what they do. A win, and of course they are in. But, once GV's record is added to DU's SOS calculation, they will likely have the highest SOS of any of the teams we are 'projecting' to have two losses. They will likely have better metrics than Indianapolis, even if they finish with one win. They also have head-to-head over Truman, should the Bulldogs win their de facto play-in game against Indy (more on that in a minute). So, while the committee could find a way to move them around we just don't see a way that the metrics would leave them out. We feel like Davenport is in the bracket no matter what they do on Saturday.
OK, let's take a break here for a second. While we have seen stranger things happen, based on what we know about he process it's hard to believe that any of the first five teams will not be in the bracket on Sunday. Davenport would be the only one potentially at risk, but we feel like their risk is minimal.
There is one other guaranteed spot, and it belongs to one of the two teams that are currently on the six and seven lines:
6. Truman State (8-1 D2) – Truman plays Indianapolis (yep, the one right below us at seven) on Saturday. The winner is absolutely in the bracket. They would need a fair amount of help in order to move their way up to the four-line or higher in order to get a home game, but their place in the field would be secured. Now, of the two, Truman has the (we feel) the only real shot to make the bracket even if they lose. Like Davenport, their SOS will be much higher than any of the other two-loss teams under consideration, so on its face their case would be a strong one. Their only weakness at that point would be a loss to Davenport and a lack of wins over regionally ranked opponents and teams with records over .500.
7. Indianapolis (7-1 D2) – As for the Greyhounds, they have most of the same parameters as Truman: Win and you're in. A loss, however, and their resume is actually a bit less convincing than Truman's. While it's not impossible for them to be in either way, we tend to think a loss likely eliminates Indianapolis. Their SOS rating over the GAC and MIAA teams is solid, but not quite as high as Truman's.
OK, so we feel like we have the top six pretty well sewn up. From here down, we're now trying to figure out which of a host of potential two-loss teams finds their way to snagging the seventh and final spot. The loser of the Truman and Indy game is on this list, as are:
8. Harding (8-2 D2) – Harding's had a nice season, and is favored over Arkansas Tech. The problem the Bison have is that their resume has no way to improve. They can't make their case any better than it already is, and the worst that can happen to any of the teams above them is that they'll be in the line of two-loss teams being considered for spots…and they will nearly all have better cases to be in that HU does. Unless something really unexpected happens, we think Harding is almost certainly relegated to being on the outside looking in.
9. Emporia State (8-2 D2) and 10. Northwest Missouri (8-2 D2) – OK, we're going to lump these two together as they play each other on Saturday. It's pretty darn simple for these two: The loser is out. The winner isn't automatically in, but rather puts themselves in a spot that makes the committee have to go REALLY far down the criteria list to figure out where they wind up. We could see a scenario where they still stay down on the 8, 9, 10 line depending on what other teams do, and we could also see them working their way to the seven-line and having themselves a chip-and-a-chair next weekend.
Outside looking in: Henderson State (8-2 D2) – Like we mentioned when discussing Ouachita Baptist (currently on the four-line), Henderson is a real wild card here. If they lose to OBU, they're obviously out. But if they win…hoo boy, the committee has some fun on their hands. They'll then have to try and reconcile if the HSU's resume is strong enough, and if it is, where do they go? We think it's a long shot even if they win, but the Reddies can absolutely make this an argument-laden week or two ahead of us on the Message Boards if they beat OBU and are then left out.
Trying to predict what will happen isn't worth it so we won't bother. With that said, the consensus seems to be that Grand Valley, Ferris, Pitt State, Ouachita, Davenport, and the Truman/UIndy winner are all in.
After that, it's the Truman/UIndy loser, the Northwest/Emporia winner, Harding, and Henderson (if they beat OBU) vying for the final spot. Sounds like a ton of fun to us!

Enjoy this last week of the season, Gang. Per usual, it's been a fun season.