GLIAC Week Seven Column
October 12th, 2022 6:00pm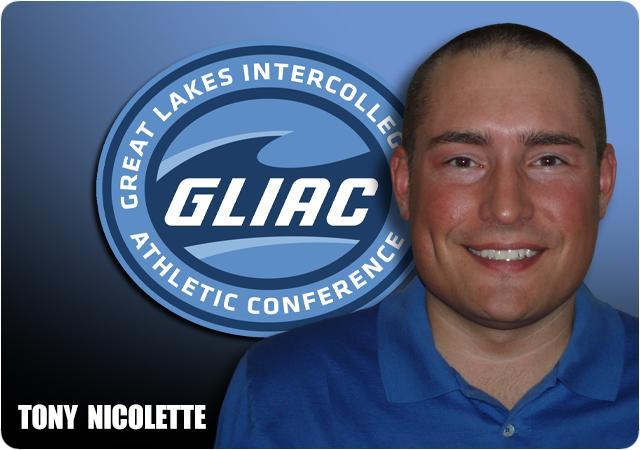 We warned everyone a few short weeks ago that the season goes by in the blink of an eye. Here we are now, already past the halfway point. Hard to believe, right? Lots of season remains, but with how interesting things have been it will no doubt go by VERY quickly. The intensity of this second half will be furious right from the jump, as fate has blessed us with the D2 Game of the Year right here in the GLIAC in Week Seven.
Week 6 – Quick Openers
Grand Valley 45, American International 3
The Lakers flew to Massachusetts and earned the expected result against NE-10 foe AIC. Tariq Reid had another terrific outing racking up 151 yards and three scores on only 11 carries. Jack Provencher only needed four totes to add a TD and 95 more yards to the 424 Grand Valley generated on the ground. Cody Tierney led the Laker aerial attack snaring three passes for 101 yards and a pair of TD's.
Michigan Tech 35, Wayne State 34
Despite being outgained and out-possessed, Tech found a way to be "whoever had it last" and snagged the win. Tech's largest offensive output of the season was led by Will Ark's 340 yards passing, more than half of which flowed through Darius Willis (9 rec, 183 yds, TD). Myren Harris turned in a monster effort for Wayne in the loss, logging 36 carries for 295 yards and two TD's. Kendall Williams also chipped in 121 yards and two scores for the Warriors.
Davenport 27, Northern Michigan 24 - OT
The other contest held in the U.P. this past Saturday was every bit the nailbiter as its counterpart. Davenport's Brandon Gielow knotted things with a 36-yard FG on the final play of regulation, and then nailed the eventual game winner on DU's OT possession to keep the Panther's unblemished. Jason Whittaker seems to find a different lead WR each week, and Sy Barnett was the guy in this one as he latched on to eight balls for 124 yards and a couple of TD's.
Ferris State 33, Saginaw Valley 28
This was a game of runs, as both teams logged stretches of scoring double digit points that went unanswered. It was also a game of penalties, as SV was hit for over 100 yards and Ferris was tagged for 200+. Ferris appeared to be on the cusp of putting this one away in the second quarter, before a series of turnovers allowed SV to gain control of things. Ferris finally used a pair of long fourth quarter drives to complete the comeback. Evan Cummins led the Bulldogs in passing and rushing, and DL Caleb Murphy's three sacks and five TFL's helped the Ferris defense keep things within reach in the second half.
Week 7 – Saturday, October 15
Wayne State (1-5, 0-2 GLIAC) at Davenport (5-0, 2-0 GLIAC)
These two clubs both made U.P. trips a week ago, and while Davenport managed to earn a win in theirs we definitely saw that progress is being made by Wayne. The Warriors took what the defense was giving them, and had a monster game running the ball. They actually built a pair of ten-point leads in the second half, but their struggling pass defense hurt them late as Tech was able to use a couple of big plays and then a last second drive to steal the result late.
Wayne's pass D being what it is presents a rather scary scenario when it comes to their trip to Grand Rapids on Saturday. Once Davenport switched to Jason Whittaker at QB, the Panthers have feasted on opposing pass defenses to the tune of 323 yards per game. As solid as that might be, DU has also been running it for 193 per outing in that same stretch. The offense has definitely been their story over the last few weeks, which poses a match-up issue for a Wayne State defense that is yielding league highs in both points and yards.
Despite this game looking a bit one-sided at first glance, we actually like this one to be competitive. As mentioned earlier, Wayne is showing signs of improvement and three of their last four losses were single-score affairs. This is a particularly young group, and as they mature through the season they are going to continue to be increasingly competitive. We think the defense is still too much of a liability to get the win here, but we don't see a runaway. Davenport stays perfect, but they'll earn it.
Northern Michigan (3-3, 1-1 GLIAC) at Michigan Tech (2-4, 1-1 GLIAC)
We trolls down here in the Lower Peninsula probably don't have a good grip on just how heated these Miner's Cup games actually are. This is a deep-rooted rivalry that extends to all other sports, but the football-based angst between the two schools started in 1920. That's a long history that much of D2 can't match! While Tech has won eleven straight in the rivalry, the last seven have all been decided by a single score. This is nearly always a "throw out the records" type of affair.
Tech produced its largest offensive output this past week in its last-second triumph over Wayne, but it took facing the league's softest defense to do it. The Huskies still have not had a game this year where they have rushed for more than 100 yards, and that lack of balance/output continues to be a concern. Northern brings an offense that is logging 130 more yards per game than the Huskies, and one has to wonder if that type of deficit (should it hold) will simply be too much to overcome.
Like any rivalry game, this one will be close. Avoiding the big mistake will be critical, and cashing in on your opponent's miscues is often the difference. While Tech's style of play tends to be more mistake-averse, we still don't know if their inability to consistently move the ball can be overcome. Tech seems to fare well in these tilts, but something in our gut says Northern figures out how to win this one. Like usual it will be close, but the Wildcats break the streak.
#16 Indianapolis (5-0) at Saginaw Valley (4-2)
After facing unbeaten teams in back-to-back games, the Cardinals are rewarded with…another unbeaten team. Lucky them, right? Former league mate and 16th-ranked Indianapolis pays a visit to Wickes on Homecoming, and the Cardinals are looking to get back into the win column and keep their playoff hopes alive after dropping the last two to Grand Valley and Ferris in succession.
In order to make that happen, they'll have to figure out a way to stop the UIndy ground attack. The Greyhounds are pounding the rock to the tune of 288 yards per outing and are led by RB Toriano Clinton. Clinton's 8.48 yards per carry average ranks fourth nationally, and he's currently second in the country in All-Purpose yardage. While UIndy's numbers have definitely jumped up in the run game the last couple of weeks after clobbering a couple of the country's worst run defenses, their lowest ground output on the season was 218 yards so they've been doing damage against pretty much everyone.
While we don't think UIndy has faced a defense the caliber of Saginaw's yet this year, one has to wonder if the cumulative effect of the last two games might not have an impact on the Cardinals. GV and Ferris present physically demanding tests. What's worse is both had decent success running the ball. If the blueprint is there for the Greyhounds to follow, and SV can't force UIndy to have to throw the ball (not their strong suit), this could be an uphill climb.
Uphill, yes…but not insurmountable. We just aren't sold on who UIndy has faced thus far. We've seen Andrew Brito have solid passing efforts, and the Greyhounds come in with a secondary that has proven to be leakier than many. Look for the Cardinals to come out slinging it, and use their short passing game to supplement their ground game. While this is a spot for a letdown in a lot of ways, something tells us the Cardinals see winnable games the rest of the way and will be dialed-in.
#2 Grand Valley (6-0, 1-0 GLIAC) at #1 Ferris State (5-0, 1-0 GLIAC)
Well, the game everyone wanted is before us. #1 vs. #2 happens infrequently enough as it is, but with the way teams often regionalize their schedules in D2 and perhaps play only conference opponents it becomes even more rare. The rankings are one component of interest to this one, as are the conference and regional implications. Add in the rivalry factor, and regular season tilts in D2 don't get a whole lot more intriguing than this.
Both teams have seen some adversity to reach the middle of the season unbeaten. Ferris has gone without its starting QB for the last month, and has seen a few of its key offensive players miss games here and there. They've faced multiple ranked opponents, and even had to overcome a fourth quarter deficit in one of their victories. Similarly, the Lakers have had a few games missed by key offensive and defensive contributors. They have also played multiple ranked opponents, and scratched out a win in a game that saw them trail into the final minutes.
The similarities don't end there. Both teams like to run the ball, and are proficient at it to the tune of each being ranked in the top 20 nationally in rushing. Continued success on the ground for either will be a challenge on Saturday, as both clubs are ranked 12th or better nationally in stopping the run. Both teams have balance, and churn out yards at more than 440 yards per game each. Ferris scores 40 points per game, while Grand Valley scores 41. Grand Valley yields more yards per game than Ferris, but allows fewer points. Both clubs are in the Top Nine nationally in points allowed.
Seen enough likenesses? No? OK, both clubs have used multiple QB's in every game this season. Ferris has eight different ball carriers with at least one rushing TD this year, and GV has five rushers who are averaging at least 25 yards per game. Ferris averages 226 yards per game passing, GV averages 234. Ferris has 24 sacks and has forced ten turnovers. GV has registered 18 sacks and forced 14 turnovers. Both teams have a victory in a one score game, and both teams have scored 33 points or more four times. That should be enough, yeah? Easy to see that both teams have been mostly dominant, and are awfully similar.
Where are they different? Well, there are a couple of spots. As mentioned, the Bulldogs have been without one of their best players in Mylik Mitchell for most of the season. Rumors abound he'll be available for this one, but rumors are just that until we see what happens. If he is available, and even if he's rusty, he likely brings a dynamic component and a "who knows what they'll do" to the Ferris offense that will make them even harder to defend. The other difference of note is ball security. Ferris is dead even on the year in turnover margin, while Grand Valley is +8. In a game like this with two teams that are so similar, giving away possessions is definitely something that can swing the game.
So, with things so even and similar, what happens Saturday? Boy, who knows? Where's Kreskin when you need him? There is definitely a logic that says that Ferris seems to have an edge in these games. They're riding several impressive win streaks at the moment in general, but the six straight decisions against the Lakers is the run that may mean the most here. They come in 'knowing' they can win. But is that enough when the toughest team they'll have faced this year comes in with something to prove? You got us. There may not be a better example of a Coin-Flip Special for quite a while. Heads Ferris, Tails GV: It's heads.