GLIAC Week Ten Column
November 3rd, 2022 9:00pm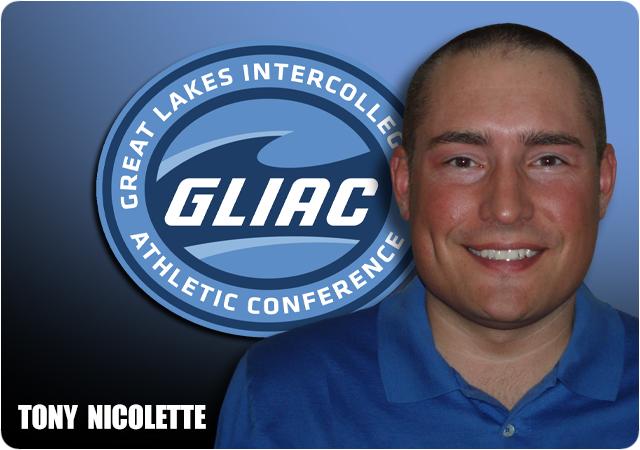 The GLIAC remains a three-team race with only two weeks to play. Multiple scenarios still abound for teams to share or win the title outright. Davenport plays the biggest role in all of this, as they tackle the other two teams in the race (Ferris and Grand Valley) over these last two weeks.
Last two weeks? Seriously? Already? Man, these seasons go by quick.
There are definitely some scenarios we will want to look at relative to GLIAC teams in the Regional Rankings, and where those teams could end up when the brackets are released. With that said, I have always taken the position of only writing about it for the final column of the regular season. The amount of movement is always too great during Weeks Nine and Ten to try and speculate on things, so be sure to check in next week for our thoughts on where things could shake out on Selection Sunday.
Week 9 – Quick Openers
Ferris State 56, Northern Michigan 20
Carson Gulker made his first collegiate start at quarterback in this one, but that hardly meant the Ferris offense wasn't fully operational. The redshirt freshman only played in the first half but still ran for 111 yards, and accounted for five total touchdowns (three rushing, two passing). Jesse Rivera helmed the Bulldogs after the break, and threw a TD of his own as the Bulldogs racked up 300+ via both the ground and the air. Tyshon King had a solid day in the loss for Northern, posting a pair of long scores on his way to 230 all-purpose yards.
Grand Valley 42, Michigan Tech 7
The last true road trip of the season for Grand Valley was machine-like, as the Lakers possessed the ball for more than 38 minutes and racked up 552 yards of offense. Jaylon Tillman (10 rec, 191 yds, TD) and Cody Tierney (5 rec, 106 yds, TD) both surpassed 100 yards receiving on a day where only three GV aerials didn't successfully connect. Another facet of the machine was the Laker defense which held the Huskies to only eight first downs, 42 yards on the ground, and 167 yards in total.
Davenport 29, Saginaw Valley 28
Saginaw Valley was without QB Andrew Brito in this one, but WR Jairus Grissom played well in his stead rushing for 154 yards and three TD's and throwing for a fourth. Unfortunately for the Cardinals, turnovers proved fatal as they gave two defensive takeaways almost immediately back to DU, and then had two more miscues give the Panthers short fields that they promptly turned into ten second-half points. Davenport bled the last 8:01 of gametime with a methodical drive to seal the result. Jason Whittaker threw for 307 yards and three scores to lead the Davenport offense, and he was aided by a physical, 102-yard contribution on the ground by Caleef Jenkins.
Week 10 – Saturday, November 5
Michigan Tech (3-6) at Hillsdale (5-4)
A traditional GLIAC rivalry will be renewed Saturday when Michigan Tech pays a visit to Hillsdale. Tech got the better of the Chargers by a 14-10 count in Houghton to open 2021, and HC is no doubt looking to return the favor. The Chargers have been riding through an up-and-down season this year, and are definitely "up" at the moment after having knocked-off previously unbeaten Ashland a week ago.
Both teams have always been about the quick, short passing game and a solid ground attack. This year's Hillsdale version of things is led by QB Luke Kessler, who has found WR Isaac TeSlaa 54 times already this season for over 1,000 yards. The Huskies will have their hands full keeping this duo under wraps. Statistically, the Chargers seem to be having the better of producing offensively on average, but there have been a few clunkers in there as well. Is the door open for the better-than-you-might-think Tech defense to force the issue?
Handicapping games featuring either of these two teams has always been a nightmare. They are quite similar in their approaches, and those approaches can actually be hard to forecast in terms of production. Predicting how well they'll perform is hard enough against other teams, and it's even worse trying to do so when they play each other! Will all of that said, we're going to take a flyer on Tech here. While Tech's offense has been less than spectacular at times, they have shown they can still generate points when given the chance and we have a suspicion that Darius Willis will prove a handful for the Hillsdale defense. Further, the Husky defense is much better than meets the eye, and our hunch is that they will give the Chargers fits. Ultimately, Hillsdale has been the least consistent team of the two this year, and something tells us the Husky defense will have a day and force this to be a "down" week for the Chargers.
Saginaw Valley (6-3, 1-3 GLIAC) at Northern Michigan (3-6, 1-4 GLIAC)
The Cardinals must have felt significant disappointment this past Saturday, as they held both a two-score lead against Davenport and the inside track to a playoff berth. But a few too many miscues, and an inability to get a stop at the game's end left SV on the wrong end of a tight affair. Now, with three losses, their playoff hopes are essentially gone. Be that as it may, an eight-win season is still a viable target and is a tremendous accomplishment. Will the Cardinals gather themselves and finish the season strong?
The first step in that endeavor is an excursion to Marquette to take on Northern Michigan. The Wildcats are coming off of back-to-back games against two of the nation's top five teams, and both contests saw Northern give up 56-spots. Those two games also exposed a leaky run defense, and while those two opponents are definitely more imposing in the pass game than SV one has to wonder if that is going to matter much here. Saginaw has enough ability throwing it regardless of who plays QB, so they will still pose a significant challenge for a Northern defense that has slid near the bottom of the GLIAC in most defensive categories.
This game actually may have more excitement to it than the records would indicate. Northern used a couple of big plays to tally some points against Ferris, and guys like Tyshon King are threats to score from anywhere on the field. Add in a Saginaw D that might be a bit hungover from being on the field for nearly 40 minutes last week, and we think the 'Cats have a bit more than a puncher's chance in this one. We'll still take SV, as either Jairus Grissom with another week of reps with the ones OR the return of Andrew Brito will make the Cards tough to defend. But don't be surprised if Northern puts up some points and finds themselves in a close one late.
Wayne State (1-7, 0-4 GLIAC) at #1 Grand Valley (9-0, 4-0 GLIAC)
These two faced off back in Week Four, with the Lakers notching a 48-9 victory at The Jewel. Wayne will visit The Shipyard in this one, and to say these two teams have taken divergent paths since their last meeting doesn't tell the whole story. Yeah, it's easy to point to GV having won every game since then and Wayne, well, doing the opposite. But a closer inspection of the Warriors reveals that each of their four losses in that span came by a single score, with the last three seeing their opponents score a TD in the final minute of play to seize victories. Wayne is improving, and their season is much closer to having multiple wins on the ledger than a passing glance might indicate.
If Wayne is going to rise up and finally earn another triumph in Week Ten, they'll have to find a way to keep GV's offense on the sidelines. Offensive balance of their own is likely their best bet to accomplish this. The Warrior defense allows more points and more yards than any team in the GLIAC, so getting stops against the GV offense is going to be tough. Wayne has always been a more productive bunch when they run the ball, but their last outing against GV was a sling-fest. While that approach did generate a fair amount of passing yardage (306 total), the lack of balance was noticeable as the Lakers out-possessed the Warriors by nearly eight minutes. The Wayne offense must run the ball effectively in this one if they're going to have a chance to limit GV's possessions and keep themselves in the game.
That all sounds good, but it's hard to see how that will happen here. The Lakers have certainly handled all comers thus far, but they've been particularly overwhelming against non-ranked opponents. In those five tilts, they've scored at least 42 and allowed no more than nine. That, in conjunction with this game pitting the league's most potent offense against its most porous defense, just doesn't indicate to us that the Warriors will find a win. Wayne will be spirited and physical coming off a bye, but we like the Lakers to remain unbeaten.
#19 Davenport (8-0, 4-0 GLIAC) at #5 Ferris State (7-1, 3-1 GLIAC)
For the second straight week (and the third time this season), Tony Annese will face off against a club helmed by a former assistant. Sparky McEwen was on the Ferris staff under Annese for five seasons, leaving his alma mater to take the job at Davenport. The Panthers have had a couple of solid years under McEwen, but 2022 has certainly been a break-out campaign by any measure. Last week's victory over Saginaw Valley extended their school record for wins in a season, and it also led to the Panthers making their first ever appearance in a Regional Ranking. Based on some of the early numbers we see, there is buzz that even if Davenport were to drop these last two games they would still make the bracket. But who wants to back their way in? DU has already cleared the first of the three major hurdles that conclude their schedule. How will they handle hurdle number two?
We'll find out Saturday in Big Rapids as the second of DU's three hurdles comes in the form of the defending National Champs. Despite injuries throughout the season to their top two signal-callers, the Bulldogs have continued to pose the same type of explosive threat that they always do. Carson Gulker had the starting honors this past week, and Mylik Mitchell has been back at practice so the Panther defense will be forced to prepare for multiple leaders of the Bulldog O. Of course, Ferris has tended to play guys interchangeably for most of the season, so DU was likely getting ready for that anyway. The problem we see here is that this is the first time all season the Panthers will be facing an offense that is more productive than their own.
That is why we like Ferris here. Make no mistake, Davenport will find some success moving the ball, but it won't come as easily as it has at other points in the season. Jason Whittaker will face more pressure and a better secondary than he has all year, so the challenge of trying to match the production and scoring that Ferris will generate is going to be a big one. And while the Panther D has done well for itself all year, only two clubs in the GLIAC move the ball more on a per-game basis than Davenport does…Ferris is one of them. While the Panthers have come from behind a few times this year, we think this is going to be the first game where pace is truly going to be dictated to them. It should be entertaining, but we think Ferris stretches things out over the course of the game and gets the win.