GLVC Preview Week Three
September 20th, 2019 4:30am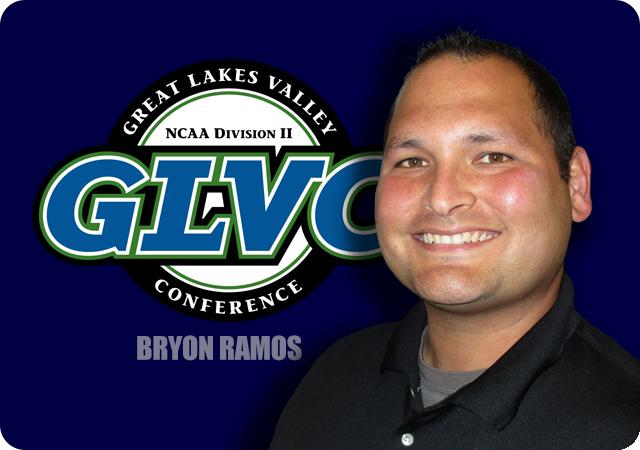 Week Two Review
With week two in the books, the identity of the GLVC is beginning to take shape. Overall, the conference finished the week with a 5-3 out of conference record, bringing them to 8-6 on the season. Three teams currently sit at 2-0. Two of the teams, Indianapolis and Truman are not all that surprising despite a tough out of conference slate. The third team Quincy, who was picked to finish 6th in the conference, has gotten off to a blazing start outscoring their opponents 72-24 in two road games to begin the season. Missouri S&T, William Jewell, and Southwest Baptist all sit in the middle of the pack at 1-1 while McKendree and Lindenwood are still searching for their first win at 0-2.
Week three should bring even more clarity as teams begin conference play with Indianapolis traveling to face off with McKendree, and William Jewell taking a trip to St. Charles for the first time in nearly a decade to meet up with the Lions.
Wayne State 12
Truman 35
Source: trumanbulldogs.com
What seemed to be destined to be a low scoring affair was broken wide open in the second quarter as Truman State rattled off 14 points in 11 seconds against the visiting Wayne State Warriors. After a 9-yard connection from Jaden Barr to Spencer Newell to extend the Bulldog lead to 10-0, Jordan Siegel stripped the ball carrier on the ensuing kickoff and returned it 28 yards for a touchdown. Barr would go on to score two more times in the game to finish with three scores (two passing, one rushing).
While Truman did break the 30-point mark, don't be fooled. This was an overall defensive slugfest with both teams only combining for 598 yards of total offense and 25 first downs. Truman's defense, however made the big plays forcing three turnovers as sophomore Bennet Swope recovered a Warrior fumble and freshman Ben Watson nabbed his first pick of the season after moving from quarterback to defensive back. Meanwhile, the Bulldog offense played a solid mistake free game; not turning the ball over and not giving up any sacks.
Quincy 34
Kentucky Wesleyan 16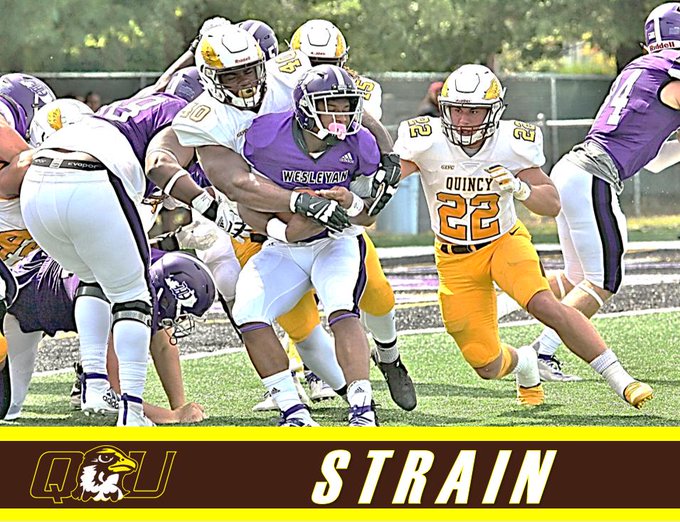 Source: Quincy football twitter
The Quincy Hawks moved to 2-0 on the season powered by a second half offensive onslaught and a breakout performance by their defense. Despite being down 10-7 at halftime, the Hawks ended the game with nearly 500 yards of total offense; 202 of those yards coming on the ground as they outscored KWU 27-6 in the second half. Meanwhile, the Panthers were only able to manage 45 yards rushing and turned the ball over five times.
Andrew Rund ended the game with 293 yards passing and two touchdowns. Jalen Griffin set the pace on the ground with 129 yards rushing on 21 carries and two touchdowns. Defensively, sophomore linebacker Marvion Harris had a spectacular day with 10 tackles, one TFL, and 2 interceptions.
Michigan Tech 24
McKendree 19
Source: mckbearcats.com
McKendree's disappointing start to the season continued as they played in one of only two close games on the GLVC schedule this week. After their week one defeat of Hillsdale, it was clear that Michigan Tech would be a much stronger foe than anticipated. MTU utilized a running attack that could best be described as persistent as they rushed the ball 48 times for 188 yards. This allowed them to dominate the time of possession, holding the ball for 36 minutes in the game. They also went 3 for 3 on fourth down conversions, allowing them to extend drives and keep possession.
At the end of the day, the Huskie's defense had notched four quarterback sacks including 1.5 by Nate LaJoie. For the Bearcats, redshirt freshman Turner Pullen continues his development as he tallied over 200 yards of total offense and two touchdowns.
West Texas A&M 49
William Jewell 21
Source: jewellcardinals.com
A spectacular first half must have had the Cardinal faithful excited as they entered halftime with a 49-21 lead over the visiting West Texas A&M Buffaloes. Three long first half William Jewell drives, all punctuated by touchdowns helped keep WTU off the field as they kept the ball for 22 minutes in the first half.
Unfortunately for the Cardinals, the Buffaloes quickly opened the third quarter with a 10 play 75-yard drive to tie it up at 21 and did not look back. WTU would go on to score the next 28 points as they put to rest any dreams of a 2-0 WJC start. William Jewell did have some impressive performances, namely their quarterback Will Schneider who turned in a gutsy performance with 295 total yards and three touchdowns. They also may have found themselves another receiving threat opposite of Jalik Jaggwe in junior Ishmial Mitchell who caught six passes for 108 yards and 1 touchdown.
Central State 3
Southwest Baptist 38
Source: sbubearcats.com
Southwest Baptist was able to wash the bad taste of a week one loss they felt they should've had by taking care of business against a Central State team that is struggling to find its rhythm early in the season. Quarterback Dylan Mountain had an impressive performance with 322 yards of total offense and three touchdowns. Curtis Cuillard was the beneficiary of two of those touchdowns passes as he caught seven passes for 76 yards. Overall the Bearcat offense rushed for 289 yards and went 6 for 6 in redzone chances. Meanwhile, the SBU defense held CSU to 309 yards of total offense and picked off the Marauders twice.
Midwestern State 28
Lindenwood 27
Source: Lindenwoodlions.com
This was by far the most exciting game of the weekend and I was lucky enough to attend in person. Lindenwood found themselves on the wrong side of a fast start for the second week in a row as Midwestern State raced out to a 14-0 lead in the first quarter. The Lions did themselves no favors with poor tackling, while the Mustangs looked sharp with quarterback Zach Purcell going 4 of 5 for 55 yards and Quinton Childs amassed 56 yards on 4 carries and 2 touchdowns; all in the first 15 minutes of the game.
Lindenwood eventually settled down and found their game, tying the game early in the 3rd quarter with some trickery as former LU quarterback turned wide receiver Najee Jackson found Payton Rose for one of his two touchdown receptions on the night. MSU appeared to be in position to take the game over after a short touchdown drive put them up 28-14. The drive was set up by a 66-yard fumble return by Zach Edwards. However, early in the fourth quarter the Lions forced a muffed punt that was recovered by long snapper Reid Williams and were given new life. Lindenwood would go on to score the next 2 touchdowns, but thanks to a blocked extra point found themselves down by one point. Still, they had a chance to take the lead late driving deep into Mustang territory with less than a minute left, when a Cade Brister fumble at the MSU 15-yard line was recovered by the Mustangs with 31 seconds left to play, essentially sealing their victory.
For the Lions, the special teams bug seemed to return with a vengeance after a spectacular performance in Cheney, WA the week prior. Place kicker Brett Garner had all three of his attempts blocked (two field goals, one extra point). Aside from that, the Lions dominated the box score out gaining the Mustangs 534 yards to 336, and doubling their first downs, 34 to 17. Cade Brister added to some already impressive season totals by throwing for 295 yards and 3 touchdowns and gaining 91 yards on the ground. The Lions defense also did their job, holding Zach Purcell to a pedestrian 16 of 27 passing, 181 yards, and only 1 touchdown. Despite this, a seasoned and salty Mustang squad found a way to steal the tough road win and advance to 2-0.
Hillsdale 21
Indianapolis 48
Source:athletics.uindy.edu
Hillsdale and Indianapolis renewed some old bad blood as they battle to a score of 7-6 about midway through the second quarter. Once the dust settled the Greyhounds would go on to outscore the Chargers 35-7 over the next 20 minutes of game time.
Indianapolis continued its offensive roll with TJ Edwards leading the charge going 17 for 23 with 3 touchdowns. Al McKellar and Clinton Toriano did their usual thing combining for 318 total yards rushing. Overall, the Greyhounds out gained the Chargers 369 yards to just 52 on the ground. The Indianapolis defense held Hillsdale to a measly 2.6 yards per carry for the game. Michael Dennison set the tone for the Greyhound defense with two sacks and Joe Lambright contributed with two TFLs.
Azusa Pacific 17
Missouri S&T 51
Source: minerathletics.com
The S&T Miners were likely eager to get back home and have another shot at proving that last year's performance was no fluke. Questions surrounded their offense about how they would score points without Tyler Swart. The answer was delivered loud and clear as they dominated the Cougars from start to finish.
The Miners totaled 670 yards of offense as Brennan Simms threw for 277 yards and three touch downs. S&T also had their three-headed monster in the backfield rolling as Payton McCallister, Aaron Moya, and Deshawn Jones tallied 251 total yards on the ground. Defensively as a unit, the Miners held APU to a 2.9 yards per carry average. They also racked up three sacks, while holding them to 4 of 12 on third down conversions.
Week Three preview
Indianapolis at McKendree
When it rains it pours, and unfortunately, it's a monsoon in Lebanon, IL. After a couple of tough non-conference games to open the season, the Bearcats will welcome the defending conference champ Greyhounds. Indianapolis has gotten off to slow starts in their first two games, finding themselves trailing before eventually running away and winning easily.
I wouldn't think the Chris Keevers is comfortable with this formula and will have his team ready to use seize an opportunity to start fast and put their opponent away early. Unfortunately for McKendree, that's exactly how I feel this one will go. With McKendree's struggling offense facing off against one of the better defenses in the country, look for big games from Al McKellar and Toriano Clinton as Indianapolis will likely look to shorten a game as they should have this one wrapped up by halftime.
Indianapolis 55
McKendree 14
Wayne State at Quincy
The Wayne State defense has been reeling since their week one loss to Slippery Rock, surrendering 62 points. Giving up 35 points to Truman State's offense is an indication they still haven't quite figured it out. If Wayne State has eyes on ending their slide, they'll need to outscore a Quincy offense that's been on a roll. While the Hawks did perform admirably last week, I wouldn't expect the Warriors to give them the ball 5 times like they did to Truman.
I don't think this one will every really be in doubt, but it might seem like a game for a little while as the Warriors will find the Hawks defense a little easier to deal with than the Bulldogs of last week. Unfortunately, Quincy is brining a little more offensive firepower and should end up running away with this in the 2nd half.
Wayne State 21
Quincy 44
Southwest Baptist at Kentucky Wesleyan
For the second week in a row, the Panthers will be hosting a GLVC team. SBU won't likely give KWU as many problems as Quincy did offensively as they're little more married to the run and not as versatile as the Hawks. However, they should still be able to move the ball consistently against a Panther defense that's struggled to defend the run.
Last week, KWU gave the ball away 5 times which helped Quincy pull away in the second half. Rarely do teams have back to back performances like that and I don't expect for it to happen this week. I think KWU takes better care of the ball and can find enough of a rhythm offensively to keep the ball away from the Bearcats. However, I don't think it will be enough to outscore SBU. Dylan Mountain will again put up good numbers, and the offense will have an overall good day. SBU does just enough defensively to squeak out a win.
Southwest Baptist 27
Kentucky Wesleyan 24
Miles at Missouri S&T
While the Miners may have found their offensive grove last week against Azusa Pacific, the Miles defense will be a challenge on a whole new level having given up only 5 net yards rushing on the year. S&T will certainly test that statistic with their trio of talented backs, but they may have to rely on Brennan Simms to be the driver of the offense this week. If that's the case, I'd expect the S&T offensive output to take a step back this week. Simms is a capable quarterback, but like most quarterbacks, he's better with a run game. Occasionally, you'll have a guy that can carve up a defense without the threat of a running game. We just haven't seen Simms enough yet to know if he can do that. This week should tell us a lot about him.
Defensively, I'm concerned about the ability for the Miners to slow down a potent Miles running game that has already rushed for 482 yards in just two games. Hopefully the S&T defense has figured things out since the ENMU game and won't allow Miles to control the ball for long stretches at a time.
In the end, I think that S&T handles a more traditional running attack better and we find out that Simms is talented enough to carry this offense when he needs to.
Miles 23
Missouri S&T 33
William Jewell at Lindenwood
This will be Jewell's first trip to Lindenwood in 9 years. Overall, this has been a competitive rivalry. However, Lindenwood has had the upper hand in the twilight of the NAIA days of both programs. William Jewell has proven it has talent enough to compete well, and perhaps even beat some good teams. They'll have a chance to keep this close with some nice weapons on the offensive side of the ball. Unfortunately, I think this Lindenwood defense is only going to get better as they get more accustomed to Eric Inama's scheme. Once they settled down last week, they held a very good MSU offense in check.
William Jewell will find ways to get points on the board with big plays early but won't be able to keep up with Cade Brister and company, who are proving to have one of the more dynamic offenses in the conference. Look for a more consistent performance from the Lion running game against a Jewell defense that gave up over 5 yards per carry last week.
William Jewell 20
Lindenwood 35
Valparaiso at Truman
These division one non-scholarship games are always so hard to predict. My best bet I feel is to look at Truman's 34-20 win from last year and look at what's changed. The Bulldogs won that game with a tried and true formula. Running the ball and stopping the run.
Jaden Barr is still there to run the ball.
The Truman defense might be better than it was last year.
I see this being another game where Truman's defense rules the day as they set the tone and give the ball back to Jaden Barr and the offense in positions where they can succeed. Valpo will probably put up big passing numbers, but it will be out of desperation and could spell their doom as the Truman pass rush could help force turnovers. This will be pretty close throughout the game, but the Truman defense will eventually suffocate the Valpo offense and force them into making multiple mistakes.
Valparaiso 19
Truman 27