GLVC Week Nine Preview
October 28th, 2021 1:00pm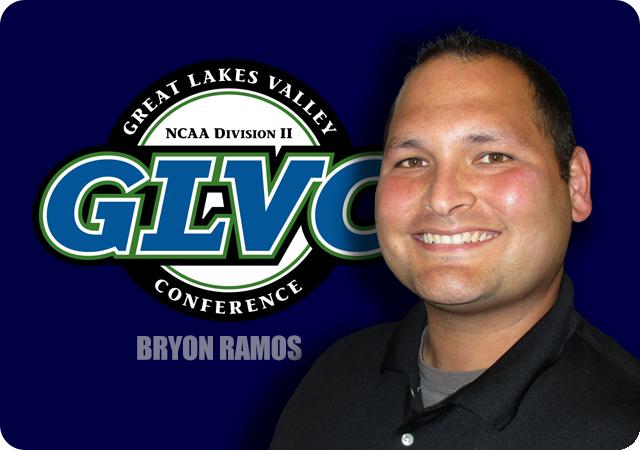 Conference Standings
| | | | | | |
| --- | --- | --- | --- | --- | --- |
| SCHOOL | CONF | CPCT. | OVERALL | PCT. | STREAK |
| Lindenwood | 4-0 | 1.000 | 6-2 | 0.750 | W6 |
| Indianapolis | 3-1 | 0.750 | 5-3 | 0.625 | W1 |
| Truman State | 2-2 | 0.500 | 6-2 | 0.750 | W1 |
| Missouri S&T | 2-2 | 0.500 | 4-4 | 0.500 | W2 |
| McKendree | 2-2 | 0.500 | 3-5 | 0.375 | L1 |
| Southwest Baptist | 2-2 | 0.500 | 3-5 | 0.375 | L1 |
| Quincy | 1-3 | 0.250 | 3-5 | 0.375 | L3 |
| William Jewell | 0-4 | 0.000 | 0-8 | 0.000 | L8 |
Super Region 3 Rankings
| | | | |
| --- | --- | --- | --- |
| 1 | Ferris State | 7-0 | 7-0 |
| 2 | Harding | 7-1 | 7-1 |
| 3 | Grand Valley State | 4-1 | 5-1 |
| 4 | Lindenwood | 6-0 | 6-1 |
| 5 | Northwest Missouri State | 6-1 | 6-1 |
| 6 | Henderson State | 7-1 | 7-1 |
| 7 | Nebraska-Kearney | 7-1 | 7-1 |
| 8 | Ouachita Baptist | 7-1 | 7-1 |
| 9 | Washburn | 6-2 | 6-2 |
| 10 | Southeastern Oklahoma | 6-2 | 6-2 |
Week Eight Recap
Missouri S&T 37
McKendree 31
If this game had a win probability chart, the last 10 minutes would've looked like an EKG in a-fib.
With both teams tied at 31 with less that 10 minutes to go…
McKendree's 32-yard go-ahead field goal attempt was blocked.
Missouri S&T drove down to McKendree's 6-yard line, then fumbled with less than five minutes to play.
Turner Pullen's pass attempt was intercepted by Cameron Clemons with less than three minutes to play.
Gideon Niboh put the Miners up by six with 1:40 to play with a 12-yard sprint to the endzone.
The extra point was no good.
The Bearcats can't extend the game tying drive and turn the ball over on downs with only 54 seconds to play.
Game over, right? Not so fast my friend….
After two kneel downs and a Niboh run for -1 yard, the Miners have fourth down with only three seconds left on the clock.
Luke Hertzler receives the snap and tries to scramble to his left to run out the clock but slides down with one second left. McKendree ball at the S&T 24-yard line with one :01 remaining.
Pullens' pass to the end zone sails over Steven Towns' head
Game over? Nope! Defensive pass interference! Move the ball to the 12-yard line.
The Bearcats with one last shot get an untimed down from the twelve. The center snapped the ball low to Turner Pullen who then heaved a desperation throw to the corner of the endzone to 6'5" tight end Jace Kennedy, but the pass was just out of his reach.
Finally, game over…. Seriously.
Turner Pullen ended the game with 408 passing yards and three touchdowns, but also threw three interceptions, including the costly fourth quarter pick to Cameron Clemons. Clemons also recorded four pass break ups, five passes defended and three tackles and was honored with GLVC defensive player of the week for his efforts. The Miners were led offensively by sophomore running back Gideon Niboh, who until this game had served mostly as a returner.
Southwest Baptist 24
Lindenwood 48
Cooper Callis threw for 145 yards and two touchdowns in the first quarter as Lindenwood once again started this game with one of their trademarked slow starts against a fired up Bearcats team and found themselves down 14-3 after one quarter. The Lions finally woke up in the second quarter and found ways to score in all three phases of the game including a 51-yard punt return by GLVC special teams' player of the week Spencer Redd and a 32-yard interception return by Jordan Perry. After being down 17-10 with less than 10 minutes to go in the half, the Lions rattled off the next 35 points. Cole Dugger, who was filling in for a hobbled Cade Brister, finished the day with 228 yards of offense and three touchdowns, while Drew Seers was all over the field recording 19 total tackles on the game.
Lions' Special Teams is Finally Special
Something I've noticed as this season has progressed is Lindenwood's significant improvement in the special teams' phase of their game. The kicking game had been somewhat problematic since the Lions moved to D2; this coaching staff has done an admirable job turning it around into one of the strengths of this team. It was commonplace for Lindenwood fans to hold their breath on extra points and field goals a few years ago. In the four years prior to Stugart's arrival the Lions were 85% on PATs. In the four years since his arrival, they are 95%, including 32/33 this year. And of course, there's Spencer Redd, who is one of the best return men in the country. Currently Redd ranks eight in the nation for kickoff returns and seventh for punt returns. Redd does an incredible job of creating something out of nothing; but if you give him something, you're in trouble. One of the factors that led to his punt return for a touchdown was that the Bearcat punter was forced to kick a line drive because he was rushed after a slow snap from their long snapper. The Lions have had zero issues with snaps over the past three seasons thanks to St. Charles native Reid Williams. Williams made a name for himself just down the street at St. Charles West High School, where he was the only player in program history to play every position on the offensive side of the ball; so naturally he would settle in at long snapper for his college career. Williams spent his freshman season at Central Arkansas before transferring back to his hometown to help the Lions. Since then, Williams has been flawless at a position where notoriety is generally a bad thing. But Williams has in fact caught the eye of some scouts due to his .70 snap time and incredible accuracy which is on par with some of the best long snappers in the NFL.
Indianapolis 70
Quincy 21
Like the Lions, the Greyhounds got out to a sluggish start with their first five possessions of the game ending in punts or turnovers. Finding themselves down 7-0 after the first quarter, UIndy flipped a switch and outscored the Hawks 70-14 for the remainder of the game. The Greyhound running game was hitting on all cylinders finishing the day with 425 yards on 60 carries and seven touchdowns. Toriano Clinton broke the 200-yard rushing mark for the third straight game and for the fourth time this season.
William Jewell 0
Truman State 52
The Bulldogs dominated this one from start to finish, as they held the Cardinals to only 250 yards of total offense while amassing 463 yards of their own. Cody Schrader assumed his usual role as the team's work horse running for 172 yards and three touchdowns. Defensively, Truman State sacked Jewell quarterbacks seven total times, three of them coming from freshman linebacker Ulysses Ross.
Week Nine Preview
Saturday 10/30/21
*Game of the Week*
Indianapolis at Missouri S&T
Missouri S&T is a talented squad, and they showcased their offensive depth in their last game as Sophomore running back Gideon Niboh shined in his opportunity to carry a significant offensive load and the performance of Josh Brown when Breon Michel was held to only one reception. While their quarterback situation remains a bit of a mystery, there's no doubt that the Miners can put up some points. However, they've struggled mightily to stop the run against their tougher competition. While S&T held Arkansas Baptist and William Jewell to a combined 41 yards on 71 carries, the rest of the teams on their schedule averaged over 200 yards per game on the ground. This could be a recipe for disaster for S&T against a rushing attack led by the nation's leading rusher Toriano Clinton. Clinton has score nine touchdowns and is averaging 237 yards per game and 11 yards per carry over his last four games. I imagine that the S&T talent will find a way to put up points on a defense that's been a little up and down all year, but I can't see a scenario where the Miners can solve the Toriano Clinton problem and keep the Hounds from running away with this one.
Indianapolis 43
Missouri S&T 27
Quincy at Truman State
Quincy has the unenviable task of having to face off against the number one and two running backs in the nation in back-to-back weeks. That just doesn't seem fair. Meanwhile, the Bulldogs got back into the win column last week by bullying around an overmatched Cardinal squad. The Hawks will be looking to prove that their perceived improvement from the beginning of the year was no fluke as they still have a chance at finishing with a winning record if they can win out. Quincy knows if they're going to scrap their way to a win it's going to be on the back of their offense, who will have to face off against one of the better defenses in the conference coming off a shutout. The Bulldogs play sound defense but have given up some points to offenses with talent that can get behind them. The Hawks have a pair of big targets in AJ Hardin and Eugene Witherspoon that could pose a problem for the shorter Bulldog defensive backs. Ultimately, the Truman State offensive line and Cody Schrader will be the deciding factor of how this game turns out as I don't expect that Quincy will be able to slow him down.
Quincy 28
Truman State 44
McKendree at Southwest Baptist
This may be the most competitive contest of the week and is honestly the hardest one for me to pick. I see similarities in both teams in that they both do several things very well, just very inconsistently. Neither defense has been impressive as of late, but they seem to find ways to move the ball on just about everyone they play. In the end, I must give the edge to McKendree who seems to have a more balanced attack in averaging almost 200 yards per game on the ground, while SBU just lets it fly.
McKendree 42
Southwest Baptist 41
Lindenwood at William Jewell
Perception is reality, and the perception in this league is that the Lions are a team that plays to the level of their competition. This can be seen in the IPR; even though LU sits atop the conference undefeated, UIndy has a higher IPR because they dominate lesser competition. Lindenwood's IPR performances against lesser competition is relatively modest. However, their two best games in terms of IPR have been against UIndy and Truman State; they ranked as two of the highest ratings in the conference this season. I don't by any stretch of the imagination expect this game to be in question by the fourth quarter, but I would not be surprised to see the Cardinals hanging around within a score or two in the third quarter before the Lions step on the gas and put it away.
Lindenwood 38
William Jewell 18
Power Rankings
Lindenwood- Still in the driver's seat after a complete team victory.
UIndy- The UIndy record books are getting a facelift this season in terms of rushing yards.
Truman- Shut outs are good for the defensive soul.
Missouri S&T- Gideon Niboh and Josh Brown have entered the offensive chat.
McKendree- Turner Pullen gives the Bearcats a chance to win any game. Unfortunately, he finds himself having to overcome too many mistakes, some of which he caused.
SBU- Cooper Callis seemed unstoppable in the first quarter last week. The Bearcats need to find a way to keep that energy throughout the game.
Quincy- Burn last week's game film and move on. The Hawks still have a chance for a successful season.
William Jewell- The Cardinals are looking to just hold on so that they can get to a real offseason and real rebuild.
Influence Performance Ratings
UIndy remains atop the IPR across all categories thanks to their domination of bad teams. The Hound's average IPR vs. losing teams is about .35 while Lindenwood's is about .06. Conversely, the Hound's IPR against winning teams is .09 while the Lions' is .15.
Total IPR
| | | |
| --- | --- | --- |
| 1 | Uindy | 0.24 |
| 2 | LU | 0.14 |
| 3 | Truman | 0.13 |
| 4 | McK | -0.06 |
| 5 | SBU | -0.08 |
| 6 | MoST | -0.08 |
| 7 | Quincy | -0.17 |
| 8 | WJC | -0.33 |
Offensive IPR
| | | |
| --- | --- | --- |
| 1 | Uindy | 0.24 |
| 2 | LU | 0.17 |
| 3 | Truman | 0.10 |
| 4 | Quincy | 0.06 |
| 5 | MoST | 0.06 |
| 6 | McK | -0.01 |
| 7 | SBU | -0.03 |
| 8 | WJC | -0.37 |
Defensive IPR
| | | |
| --- | --- | --- |
| 1 | Uindy | 0.24 |
| 2 | Truman | 0.16 |
| 3 | LU | 0.11 |
| 4 | McK | -0.10 |
| 5 | SBU | -0.13 |
| 6 | MoST | -0.22 |
| 7 | WJC | -0.29 |
| 8 | Quincy | -0.41 |