GLVC Week Ten Preview
November 4th, 2021 12:00pm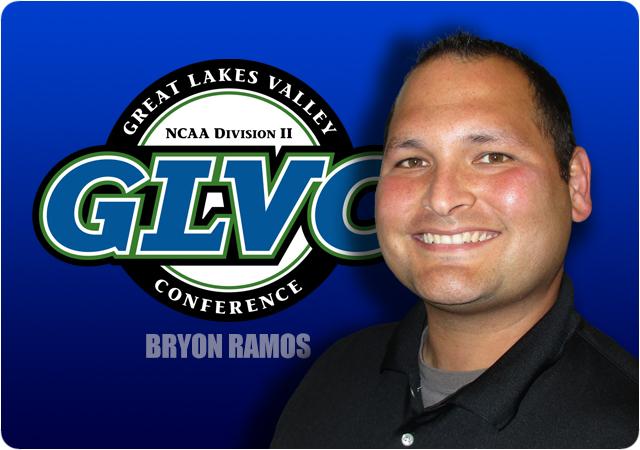 Conference Standings
| | | | | | |
| --- | --- | --- | --- | --- | --- |
| SCHOOL | CONF | CPCT. | OVERALL | PCT. | STREAK |
| Lindenwood | 5-0 | 1.000 | 7-2 | 0.778 | W7 |
| Truman State | 3-2 | 0.600 | 7-2 | 0.778 | W2 |
| Indianapolis | 3-2 | 0.600 | 5-4 | 0.556 | L1 |
| Missouri S&T | 3-2 | 0.600 | 5-4 | 0.556 | W3 |
| McKendree | 3-2 | 0.600 | 4-5 | 0.444 | W1 |
| Southwest Baptist | 2-3 | 0.400 | 3-6 | 0.333 | L2 |
| Quincy | 1-4 | 0.200 | 3-6 | 0.333 | L4 |
| William Jewell | 0-5 | 0.000 | 0-9 | 0.000 | L9 |
Super Region 3 Rankings
| | | | |
| --- | --- | --- | --- |
| Through Games NOV. 1, 2021 | | | |
| REGION/RANK | SCHOOL | IN-REGION RECORD | DIVISION II RECORD |
| SUPER REGION THREE | | | |
| 1 | Ferris State | 8-0 | 8-0 |
| 2 | Harding | 8-1 | 8-1 |
| 3 | Grand Valley State | 5-1 | 6-1 |
| 4 | Northwest Missouri State | 7-1 | 7-1 |
| 5 | Lindenwood | 7-0 | 7-0 |
| 6 | Henderson State | 8-1 | 8-1 |
| 7 | Ouachita Baptist | 8-1 | 8-1 |
| 8 | Nebraska-Kearney | 7-2 | 7-2 |
| 9 | Southeastern Oklahoma | 7-2 | 7-2 |
| 10 | Washburn | 7-2 | 7-2 |
Week Nine Recap
Indianapolis 28
Missouri S&T 31
As much as Miners fans will want to highlight their teams' accomplishments in their first ever win over the University of Indianapolis, it's impossible to write the story of this game without highlighting the fact that the Greyhounds lost their top two running backs early on. Losing Clinton meant losing the engine that powered the UIndy offensive machine. The Hounds looked like a shell of themselves without their Harlon Hill candidate gashing the defense for chunk plays. Despite being without their best player, UIndy did find themselves with a three touchdown lead early in the 3rd quarter largely built on an opportunistic defense setting them up with short fields. Jeremiah Lee had the Hounds' best day offensively hauling in four catches for 100 yards and a touchdown. However, UIndy struggled to move the ball with any consistency and ended the game with only two drives longer than 50 yards. The Miners would eventually figure things out offensively and rally for 24 unanswered points. Wide receivers Breon Michel and Josh Brown carried the load combining for 15 receptions, 290 yards, and three touchdowns. A neutered Greyhound offense was powerless against S&T's defense and could only watch as the Miners took the lead for the first time with less that three minutes to go in the game and hold on to win it.
Quincy 28
Truman State 49
The Bulldogs jumped all over Quincy out of the gates and took a 28-0 lead into halftime on the back of four Nolan Hair touchdown passes. Hair finished the game connecting on 80% of his passes for 325 yards and 5 touchdowns. The Quincy offense found some rhythm in the second half powered by big plays from Tionne Harris and AJ Hardin, however the Bulldogs kept pace ahead of the Hawks to cruise to a comfortable victory. Cody Schrader ended the day with 119 yards rushing and a touchdown, making it his seventh straight 100-yard game, and eight on the year.
Lindenwood 53
William Jewell 10
Cole Dugger looked to be filling the void of Cade Brister just fine during the first half as the Lions scored the first 27 points of the game. In fact, Dugger was on his way to seemingly record-breaking numbers having surpassed the 300-yard mark and throwing for five touchdowns all before halftime. Unfortunately, he took an awkward shot to the lower body as he released the ball on a roll-out and had to leave the game. The Lions had to turn to their wide receiver Alex Faddoul to take snaps for the remainder of the game. Faddoul was originally recruited to play quarterback for the Lions but hasn't taken snaps as a QB since 2019. Lindenwood went on and cruised to a victory thanks to their defense who held Jewell to only 29 rushing yards. Robert Giamo finished with 143 rushing yards on 10 carries.
McKendree 45
Southwest Baptist 42
In the battle of the Purple Bearcats, it was the matchup between two of the top quarterbacks in the conference with Cooper Callis facing off against Turner Pullen. Neither signal caller disappointed as they ended with nearly identical stat lines. Pullen connected on 24 of 42 passes for 323 yards and four touchdowns, while Callis hit on 28 of 35 for 324 yards and four touchdowns. SBU led for most of the game, building a double-digit lead three separate times before McKendree would claw their way back within a score. It wasn't until late in the fourth quarter that McKendree was finally able to take a lead thanks to Pullen's fourth touchdown pass of the day. For the second week in a row, McKendree found themselves in a game that came down to the wire as SBU drove down to the McKendree 2-yard line with less than 30 seconds remaining. On fourth down, Head Coach Robert Clardy opted to go for the win rather than kicking a field goal to tie, but Cooper Callis' attempt to Isaac Scroggins fell incomplete allowing McKendree to take over possession and run out the final seconds.
Week Ten Preview
Saturday 11/6/21
*Game of the Week*
Lindenwood at Missouri S&T
This game has potential to be way more competitive than both teams' records might indicate. S&T is averaging 33 points per game vs. D2 competition and is 4-2 when scoring 30 points or more which they have done for three straight games. The emergence of Gideon Niboh in the running game and Josh Brown catching the ball presents even more problems for opposing defenses against an offense already loaded with skill position talent. Meanwhile, Lindenwood's defense hasn't allowed an opposing team to reach the 30-point mark since week three against Kentucky Wesleyan. On a team overflowing with offensive talent, it's easy to overlook a solid defense that has undoubtedly won them several games. My feeling is that they may have to step up in a big way again against the Miners with so many questions floating around the health of the Lion quarterbacks. Lindenwood's defense leads the conference in interceptions (13), which could pose an issue for the S&T offense as their quarterbacks have combined for 13 interceptions this year. The last game between these two teams went into overtime after Lindenwood blocked S&T's game winning field goal attempt as time expired. I expect this game to be similar in that in won't be won by more than one score.
Lindenwood 36
Missouri S&T 29
Southwest Baptist at Quincy
I'd expect some fireworks in this contest with two of the highest-powered passing attacks in the league matching up against two of the most porous defenses. I noticed in Quincy's last game that their top receiver, Eugene Witherspoon didn't play. Witherspoon is one of the best wide receivers in the conference and arguably the most dangerous big play threat. If he is out, it could hamper the offensive output of the Hawks, and they'll need every point they can get against Cooper Callis and company. In their last four games, the Bearcats are averaging 40 points per game. Callis continues to lead the league in passing averaging 326 yards per game and 27 touchdown passes. If you're a fan of scoring, this will be a fun game to watch.
Southwest Baptist 43
Quincy 40
Truman State at McKendree
The Bulldog defense will be a great test to see if Turner Pullen is truly returning to form. However, Truman State still has hopes of a bowl game in their future but will need to take care of business in their final two games. The Bulldogs have gotten back on track in their last two games after the disappointing loss against Southwest Baptist, which squashed any outside chance they may have had at a playoff berth. Over the last two games, the Bulldogs have scored 101 points. The Bearcat defense will present a little more of a challenge, but in the end the Bulldogs should win this one by a couple of scores.
Truman State 38
McKendree 24
William Jewell at Indianapolis
Toriano Clinton was in the midst of a special season before exiting the game due to an ankle injury last week. I don't expect that the UIndy coaching staff is in a hurry to have him back against William Jewell. Even without their top two running backs, I expect that the Greyhounds will be able to lean on transfer Kellen Porter to find plenty of open running lanes. Backups should get plenty of game experience as this should be over by the third quarter.
William Jewell 12
Indianapolis 51
Power Rankings
Lindenwood- The Lions got past the first game of a three-game stretch to end the season against teams they should beat. If LU doesn't lose focus, they are probably locked in this spot.
Truman- I'm sure the coaching staff for Truman isn't happy about giving up 28 second half points vs Quincy and will be looking to tighten things up for the stretch run.
Missouri S&T- A great win for the Miner football program puts them into the top three.
UIndy- Stretching back to last spring, it's hard to find a team hit harder at the skill positions than the Greyhounds.
McKendree- The Bearcats have potential in the next few years to move into the top half of the conference.
SBU- The Bearcats are fun to watch offensively. Callis deserves consideration for conference OPOY.
Quincy- The Hawk offense is good enough to compete with the top dogs in this conference. If they can improve on defense, this could be a dangerous team.
William Jewell- Two more games until a real rebuild can begin.
Influence Performance Ratings
UIndy still tops the total ratings thanks in part to their domination of lesser teams, and the consistency of their defense. However, LU has closed the gap significantly in the past couple of weeks. The Lions defense has posted a .22 rating since their game vs. KWU, which means they have held their opponents to roughly 80% of their normal total production. It's an overlooked reason as to why the Lions are in position for another playoff birth.
Total IPR
| | | |
| --- | --- | --- |
| 1 | Uindy | 0.20 |
| 2 | LU | 0.16 |
| 3 | Truman | 0.12 |
| 4 | MoST | -0.03 |
| 5 | SBU | -0.07 |
| 6 | McK | -0.08 |
| 7 | Quincy | -0.16 |
| 8 | WJC | -0.34 |
Offensive IPR
| | | |
| --- | --- | --- |
| 1 | LU | 0.18 |
| 2 | Uindy | 0.18 |
| 3 | Truman | 0.10 |
| 4 | Quincy | 0.09 |
| 5 | MoST | 0.09 |
| 6 | SBU | 0.01 |
| 7 | McK | -0.01 |
| 8 | WJC | -0.38 |
Defensive IPR
| | | |
| --- | --- | --- |
| 1 | Uindy | 0.23 |
| 2 | Truman | 0.15 |
| 3 | LU | 0.14 |
| 4 | SBU | -0.14 |
| 5 | McK | -0.15 |
| 6 | MoST | -0.15 |
| 7 | WJC | -0.29 |
| 8 | Quincy | -0.42 |