GMAC Week One Preview
September 1st, 2022 9:00am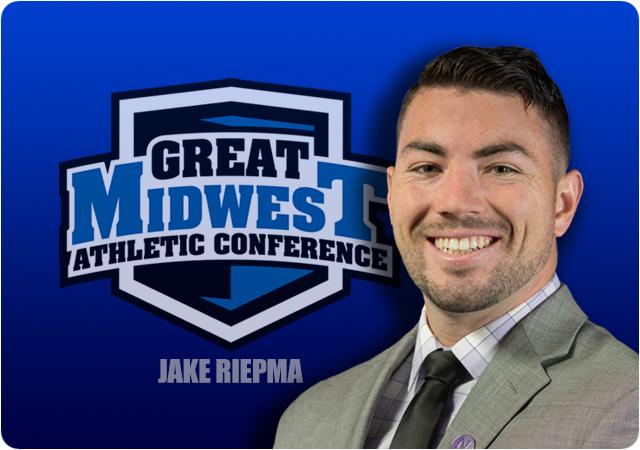 Septemer 1, 2022
2022 GMAC Week 1 Preview:
Allow me to reintroduce myself my name is… no, not Hov', oh, H to the O-V. I'm not Jay-Z, sorry to disappoint.
My name is Jake Riepma and I've covered D2 football for D2football.com dating back to the 2018 season when I started as a rookie fresh out of graduate school covering the GLIAC.
Thrilled to be back this year to cover the GMAC as my alma mater, the Northwood University Timberwolves, have joined several other fellow private institutions of higher learning in making the transition from the GLIAC to the GMAC.
You can still expect the same hot takes on team uniforms (ask Ferris State fans about that) and of course wall-to-wall coverage of all things Great Midwest Athletic Conference Football. And yes, I'll squash it from the very beginning -- I'll still bleed Northwood blue in this column, just as I did in the GLIAC.
Why you ask? Very simple – I played at Northwood from 2011-2015 and my late father, Pat Riepma is the all-time winningest coach at Northwood University. Northwood football is part of my DNA, but regardless, I will always aim to cover the conference to the best of my ability with a little bit of razzle-dazzle and hopefully you'll laugh a time or two while reading about your favorite GMAC school.
GMAC fans – I know full-well I am a rookie to this conference, but rest assured I have played a college football game against the vast majority of the teams comprising this great conference with the exception of Lake Erie and Kentucky Wesleyan. The rest of these fine institutions were members of the GLIAC at some point when I played for Northwood from 2011-2015.
But ENOUGH about me already, it's football season and that has me pumped up and ready to roll!
The GMAC Preseason Poll has pegged the Findlay Oilers as top dawgs and why not – The black and orange went 8-3 last year and 6-1 in conference play while advancing to the NCAA Division II playoffs. This year Findlay narrowly missed out on being ranked in the AFCA 2022 Division II Preseason Top 25 Coaches' poll having come in at 30th in the country. What a way to start the official Kory Allen era in Findlay – with a bullseye on their back! I'm sure they wouldn't want it any other way in 'Flag-City-USA.' Allen was officially named the program's next head coach on August 11th after taking over on an interim basis back in April after Rob Keys announced his departure. Allen is obviously no stranger to the program having been with Findlay for the past 16 seasons. The Oilers return their top rusher in Derek Lynch and their leading tackler from a year ago in Grey Brancifort and I expect them to continue to keep things rolling under Kory Allen in 2022.
Right behind the Oilers in the poll are the Tiffin Dragons who are poised for another big year after finishing the 2021 campaign at 8-3 but in disappointing fashion with a loss to Findlay in the GMAC Championship game, breaking Tiffin's two-year run. The Dragons have comprised an impressive run under head coach Cris Reisert going 23-5 since joining the Great Midwest as a full member in 2018. In that time, TU has gone 17-2 in the GMAC. I anticipate another big year in Tiffin for the Dragons.
The Ashland Eagles slide in at third in the conference having received two first place votes and 52 points overall. Sixth-year quarterback and two-time GMAC offensive player of the year Austin Brenner is poised for a break-out year after suffering a season ending injury midway through the season a year ago. Brenner has compiled an impressive resume over the course of his career at Ashland dating all the way back to 2018 when he earned the GLIAC Freshman of the Year award. Lee Owens enters his 19th season at the helm, and speaking of impressive resumes, Owens' includes 127 wins in 18 years at Ashland and the AFCA Division II Region 3 Coach of the Year and GLIAC Coach of the Year after the Eagles' breakout season in 2017. Given the wealth of returning talent at Ashland, I expect the Eagles to make some noise in 2022.
The Panthers of Ohio Dominican roll in at number four in the conference and yet again, another GMAC squad who received votes in the AFCA Preseason Poll and are just outside the top 25. ODU joined the GMAC in 2017 and has gone 29-8 in conference since. The Panthers will have its hands full straight out of the gates opening with preseason favorite Findlay followed by a clash with the Dragons of Tiffin the following week. Head coach Kelly Cummings enters his seventh season at the helm after serving as the defensive coordinator since the 2013 season.
Fresh off an athletic department – wide rebrand are the Hillsdale Chargers at number five in the poll. An institution that also holds a place close to home as my late father once starred for the Chargers at quarterback in the early 80's. I have always had the utmost respect and admiration for Keith Otterbein as his record and tenure at Hillsdale and beyond speaks for itself including most recently the 2018 GMAC Coach of the Year and the Super Region 1 Coach of the Year after the Chargers put together a remarkable undefeated regular season to earn a GMAC title and win an NCAA playoff game for the second time in school history. Now entering his 21st season as head coach, Otterbein and the Chargers are eyeing a return to GMAC prominence, despite waving goodbye to the iconic Charger bolts. Sad day.
Up next are the newcomers! The Northwood Timberwolves were tabbed sixth in GMAC preseason poll as NU gets set to embark upon this new chapter in program history. Make no mistake about it, although I bleed 'Northwood blue', I can admit it has been tough sledding as of late for my beloved institution of higher learning. The last few years have been brutal: 1-9 a season ago and 1-10 in 2019. As any optimist would, I'm all in on Northwood turning it around in 2022 with a breath of fresh air in a new conference and a ton of returning talent on both sides of the ball. Head coach Leonard Haynes is back for his seventh season at the helm and feels good about the direction things are going in Midland. Week one will be interesting as Northwood takes on Kentucky Wesleyan in a non-conference clash, we'll see right from the jump what this Timberwolf team can bring to the table in 2022!
Speaking of Kentucky Wesleyan – the Panthers are slotted right behind the Timberwolves at seventh in the poll – KWC is coming off a 3-8 season a year ago, which according to kwcpanthers.com was a 'deceiving' record. Bill Parcells once famously said, "You are what your record says you are." In honor of Coach Parcells, we'll take that quote into consideration here and go ahead and confirm the Panthers were in fact, 3-8 in 2021.Tyrone Young moves from defensive coordinator to head coach and enters his first season leading the Panthers. Under Young's tutelage, the Panthers' defense was a force in 2021 ranking second in the GMAC in defensive efficiency. Young is the seventh head coach in program history. Quarterback Wiley Cain eyes a bounce-back season after missing last year due to injury. Kentucky Wesleyan will be on the road taking on Northwood in a compelling week one matchup.
Rounding out the preseason poll are Lake Erie and Walsh who both tallied 16 points in the poll. The Storm are coming off a 5-6 mark in 2021 while the Cavaliers finished 2-9 a year ago. Walsh won just one conference game a year ago, but it was against Lake Erie while the Storm tabbed two GMAC victories. Walsh returns eight of its top ten tacklers for head coach John Fankhauser who is in his fifth season. Lake Erie has a new head coach in D.J. Boldin who previously served as an Offensive Assistant and Wide Receivers Coach in 2021 for the Storm.Boldin came to Lake Erie College after two seasons at his alma mater, Pahokee High School in Florida. At Pahokee, Boldin served as the Head Football Coach and was featured in the docuseries "4th and Forever: Muck City."
Now that we've covered a little preseason mumbo-jumbo – let's dive into the most compelling part of the column – the picks! That is if you're still reading, because let's be honest here, this has been a lengthy piece and most people don't have the time or patience to power through 'til the end.
Those that are still here – thank you. We're almost to the finish line!
It should be noted, just as Kirk Herbstreit doesn't pick the game he's calling when conducting the picks segment on College Gameday, I too will not be picking the games I'm on the air for – so as the play-by-play voice for the Northwood Timberwolves, I will not be picking Northwood's games in this column.
Week 1:
Thursday:
Ashland vs. No. 11 Notre Dame College – For the second consecutive year, Ashland opens with an extremely tough opponent in Notre Dame College. In 2021 in South Euclid, Ohio, the Falcons outlasted the Eagles in overtime, 42-35. The all-time series between AU and NDC is tied at 1. On Nov. 10, 2012, the Eagles took care of the Falcons at home, 65-0. For Ashland, earning a win in an opening game against a nationally ranked opponent is certainly no small task, but I believe Lee Owens' squad is up for the task. In a year in which AU is eyeing redemption with a healthy star quarterback in Austin Brenner, I'm going to put my eggs in the Ashland basket in week one and pick the Eagles to come out on top at home. Ashland in a nail-biter over a tough Notre Dame College team.
Saturday:
Ohio Dominican at Findlay – The Oilers are tabbed the conference best for a reason – I'll take Findlay to earn a hard-fought win. ODU will be fine and bounce right back, but a tough draw opening up with UF.
Kentucky Wesleyan at Northwood – the pick is N/A given my role with the Timberwolves. That said, I am anxiously anticipating this matchup as these teams were picked within one point in the preseason poll and on paper seem relatively evenly matched.
Tiffin at Walsh – No surprise here, no funny business – The Dragons cruise to victory.
Hillsdale at Lake Erie – The Chargers have vengeance on the mind in hopes of redeeming themselves after last year's 33-14 defeat at the hands of the Storm. D.J. Bolding looks to send a message to the rest of the GMAC in his first game as head coach, a lot of compelling components to this game – give me the savvy Otterbein lead Chargers to earn a victory in a close one.
There's your week 1 slate my GMAC friends!
My Winners: Ashland, Findlay, Tiffin, and Hillsdale
My Losers: Ohio Dominican, Walsh, and Lake Erie.
Happy football season to all! Looking forward to seeing where I was wrong in week one and blogging about the action on the gridiron all season long!
It goes without saying, but I'll say it anyways – I love interacting with readers on social media – especially the twittersphere – send your comments to @Jake_Riepma and lets have some fun!