HBCU Legacy Bowl Features CIAA, SIAC Talent
February 23rd, 2023 6:00am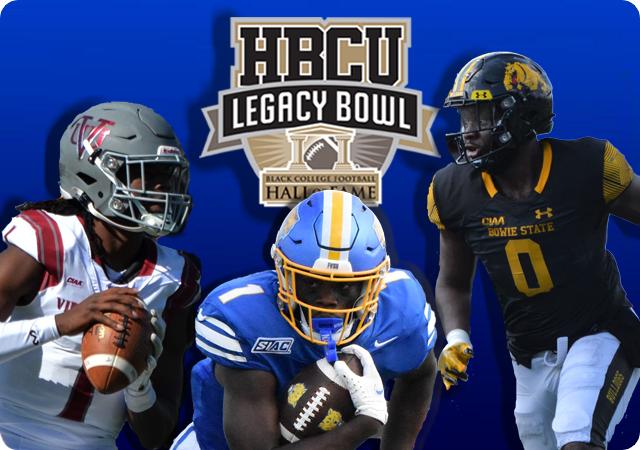 The second annual HBCU Legacy Bowl will be held on Saturday, February 25 in New Orleans. The HBCU Legacy Bowl was founded as a platform to showcase draft-eligible talent from HBCUs at all levels of college football. The week-long event which includes a combine, practices, career fair and the game, is expected to be attended by scouts from all 32 NFL teams. Division II is well represented with a total of 36 players invited to the event, with 20 from CIAA institutions and 16 from SIAC schools.
Bowie State led all Division II teams with six players invited. 2022 playoff participant Virginia Union followed with five selections. SIAC Champion Benedict is represented with four players while CIAA Champ Fayetteville State and SIAC member Fort Valley State will each have three players participating.
The SIAC contingent includes four of the five first team All-SIAC offensive linemen from the 2022 season. Three of those players, Tyler Pritchett, Henry Mitchell III and Maurice Campbell, are from Benedict. The trio is also joined by Fort Valley State's Emmanuel Boone. 2022 SIAC MVP and offensive player of year Emanuel Wilson (Fort Valley State) will be among the top skill position players in the game. Wilson led the SIAC in rushing, scoring and total offense. On the defensive side of the ball is 2021 SIAC MVP and defensive player of the year Stephan Pierre from Albany State. He was also a first team All-SIAC selection in 2022, along with Lane's Andrew Farmer who led the league in tackles for loss. Farmer was drafted earlier this week by the USFL's Michigan Panthers.
From the CIAA, two of the top quarterbacks in 2022 will be present. Bowie State's Dion Golatt, Jr. led the CIAA in passing yards, while Virginia Union's Jahkari Grant was tops in QB efficiency. The two players tied for most TD passes in the league with 18. Also joining the backfield is 1,000 yard rusher Darius Hagans from Virginia State. Hagans was selected by the New Orleans Breakers in the USFL draft. Defensively, the CIAA's leading tackler in 2022, Kai Gray from Lincoln, will see action at defensive back. The defensive front will be formidable with Bowie State's Joshua Pryor and Ellison Jordan joined by Virginia Union's Ronald Johnson and Damontay Rhem. Fayetteville State will have a pair of specialists in the game including K Elton Andrew who connected on the 43 yard game winner as time expired in the CIAA championship.
The full list of Division II players participating can be found below. The second annual HBCU Legacy Bowl will air live on NFL Network on Saturday, February 25. Kickoff is scheduled for 4:00 pm, eastern.
Learn more about the HBCU Legacy Bowl
Division II player participants
| | | |
| --- | --- | --- |
| CIAA | | |
| Quinton Bobo | OL | Bowie State |
| Raymond Boone | DB | Bowie State |
| Dion Golatt, Jr. | QB | Bowie State |
| Ellison Jordan | DL | Bowie State |
| Joshua Pryor | DL | Bowie State |
| Morgan Scroggins | WR | Bowie State |
| Juanya' Majette | LB | Elizabeth City State |
| Elton Andrew | K/P | Fayetteville State |
| Brandon Barnes-Brown | DB | Fayetteville State |
| Jacob Young | P | Fayetteville State |
| Kai Gray | DB | Lincoln (Pa) |
| Tyrese Bobbitt | OL | Shaw |
| Jaleel Scroggins | DB | Shaw |
| Darius Hagans | RB | Virginia State |
| Zion Johnson | LB | Virginia State |
| Darian Bryant | OL | Virginia Union |
| Jahkari Grant | QB | Virginia Union |
| Ronald Johnson | DL | Virginia Union |
| Demetrius Mann | DB | Virginia Union |
| Damontay Rhem | LB | Virginia Union |
| | | |
| SIAC | | |
| James Hawkins | DB | Albany State |
| Stephen Pierre | LB | Albany State |
| Maurice Campbell | OL | Benedict |
| Henry Mitchell | OL | Benedict |
| Tyler Pritchett | OL | Benedict |
| Olajuwone Smith | DB | Benedict |
| Malik Johnson | CB | Central State |
| Devon McCoy | WR | Clark Atlanta |
| Tyler King | RB | Edward Waters |
| Emanuel Boone | OL | Fort Valley State |
| Tyler Moore | DB | Fort Valley State |
| Emanuel Wilson | RB | Fort Valley State |
| Jai Nunn-Liddell | DB | Kentucky State |
| Andrew Farmer | DL | Lane |
| Woodly Appolon | LB | Tuskegee |
| Taureen Taylor | RB | Tuskegee |
By Chuck Bitner, National Columnist
Questions, suggestions, comments, complaints? Email me at [email protected] and follow me on Twitter @D2Chuck