MIAA Announces Preseason Polls
July 26th, 2022 12:00pm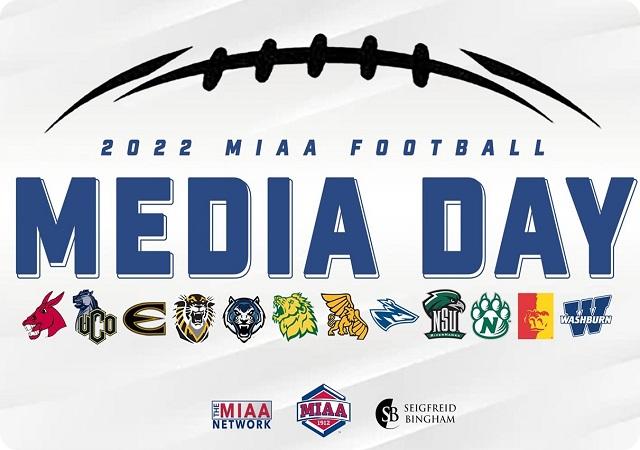 KANSAS CITY, Mo. – The Mid-America Intercollegiate Atheltics Association announced its 2022 MIAA Football Preseason Polls during the MIAA Media Day on Tuesday, July 26 in Kansas City. Defending MIAA champions Northwest Missouri was tabbed No. 1 in both the coaches and media preseason poll.

COACHES POLL
In the coaches poll, Northwest Missouri earned 119 total votes and the majority of first-place votes with 10 for the top spot in the poll. Nebraska Kearney earned one first-place vote and totaled 104 points to finished second. Pittsburg State tabbed the remaining first-place vote and finished third with 100 points. Washburn claimed the No. 4 spot with 98 points and Fort Hays State rounded out the top-five with 76 total points.

Emporia State was slated No. 6 while Central Missouri and Missouri Western finished in a tie for seventh. Central Oklahoma was selected ninth, Missouri Southern is ranked 10th, Northeastern State 11th and Lincoln concluded the 2022 MIAA Coaches Poll in 12th.
MEDIA POLL
The Bearcats also topped the preseason media poll for the 2022 season. Northwest Missouri collected 22 first-place votes to total 296 points. Nebraska Kearney was ranked second by the media with 263 points and one first-place vote and Pittsburg State was tabbed third with 237 points and a first-place nod. Washburn also received one first-place vote and 226 points while Fort Hays State completed the top-five with 180 points.

The Hornets also finished sixth in the media poll while the Griffons of Missouri Western clinched the No. 7 spot while Central Oklahoma was tabbed eighth and Central Missouri ninth. Missouri Southern, Northeastern State and Lincoln complete the media poll.