National Championship Preview
December 15th, 2022 3:00pm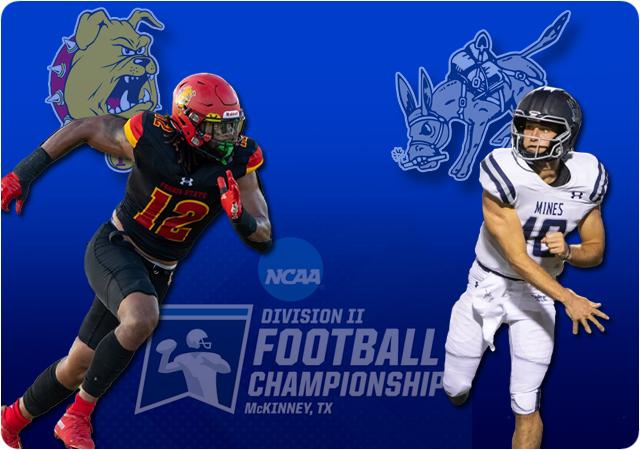 The 2022 Division II Football season comes to a conclusion on Saturday afternoon. Will we have a repeat champion or a first-timer for the second year in a row? Let's look at our national finalists and the matchup.
By Chuck Bitner, national columnist
Before I go on, I must insert a plug for the National Championship Pregame Show. Join us live at 11:30am, eastern on Saturday for our preview, discussion, analysis and interviews.
Ferris State Team Profile
Nickname: Bulldogs
Location: Big Rapids, Michigan
Conference: Great Lakes Intercollegiate Athletic Conference (GLIAC)
Coach: Tony Annese, 10th season (114-17)
Championship game appearances: 2018, 2021, 2022
National Championships: 2021
2022 Accomplishments
Super Region Three Champions
Highest strength of schedule among playoff teams
Gene Upshaw award winner (Caleb Murphy)
Harlon Hill Finalist and Ted Hendricks Award finalist (Caleb Murphy)
Path to the playoffs
Week 1: Central Washington (W, 36-20)
Week 2: at Lenoir-Rhyne (W, 27-5)
Week 3: IDLE
Week 4: Waldorf (NAIA) (W, 69-3)
Week 5: at Findlay (W, 38-7)
Week 6: at Saginaw Valley (W, 33-28)
Week 7: Grand Valley State (L, 22-21)
Week 8: Michigan Tech (W, 28-20)
Week 9: at Northern Michigan (W, 28-20)
Week 10: Davenport (W, 28-7)
Week 11: at Wayne State (W, 40-14)
Round 1: Davenport (W, 41-7)
Round 2: Pittsburg State (W, 17-14)
Quarterfinals: at Grand Valley State (W, 24-21)
Semifinals: West Florida (W, 38-17)
Five Players to watch
#0 QB Mylik Mitchell
#1 RB / WR Marcus Taylor
#6 LB Konnor Near
#12 DL Caleb Murphy
#12 QB Carson Gulker
About the Bulldogs
A year after breaking through with the program's first national championship, the Bulldogs are back with a chance to repeat. Their path to the title this season was a little bit different. It's natural for a team that had as much success as the 2021 Bulldogs to become the standard by which future teams are measured. Last year's team was so dominant that there really were very few challenges along way, including through the postseason. The 2021 Bulldogs won their four playoff games by an average score of 52-16. That's a shade more dominant that this year's 30-15 average, which is still pretty darn good for postseason play. The thing about a playoff tournament is you don't have to be a thoroughly dominant team to win it. You just have to win the next game in front of you, and that's what Ferris State has been doing.
The Bulldogs also look like they are peaking at the right time. After battling injury since week one, starting QB Mylik Mitchell has looked the healthiest and most effective he has been since the end of last year. The offense is showing the diversity and explosiveness that they are known for and the relatively green offensive line that started the year has now played 14 games as a unit. The defense has given up more then two touchdowns in a game only once in the last six weeks and that one occurrence only happened because Grand Valley started a drive at the two-yard line.
The optimistic viewpoint
Nothing about this week is new for Ferris State. It's all routine at this point and I really do think that help. As much as coaches want to spin a championship as just another game, it is not. Being through the national championship game week before takes away all the unknowns. It also helps having an offensive line that is quickly maturing into the dominant unit from 2021 that they were tasked with replacing. This group has gutted out tough playoff wins against Pitt State and Grand Valley and also blown out good teams like Davenport and (in the second half) West Florida. However this game plays out, they will be prepared for it and respond appropriately.
The pessimistic viewpoint
The offense struggled against the defenses of Pitt State and Grand Valley. Mines has a really good unit as well. They lead the country in sacks for a reason. That could be a problematic especially in third down passing situations.
Colorado School of Mines team Profile
Nickname: Orediggers
Location: Golden, Colorado
Conference: Rocky Mountain Athletic conference (RMAC)
Coach: Brandon Moore, 1st season (13-2)
2022 Accomplishments:
RMAC Champions
Super Region Four Champions
13 consecutive wins
Overcame 0-2 start to advance to national finals
Harlon Hill Trophy finalist (John Matocha)
Gene Upshaw and Rimington Award finalist (Matt Armendariz)
Path to the Playoffs
Week 1: at Grand Valley State (L, 25-22)
Week 2: Angelo State (L, 30-27 OT)
Week 3: at Adams State (W, 84-10)
Week 4: CSU Pueblo (W, 45-17)
Week 5: at Chadron State (W, 45-17)
Week 6: Colorado Mesa (W, 48-21)
Week 7: at South Dakota Mines (W, 48-20)
Week 8: Black Hills State (W, 38-0)
Week 9: at Western Colorado (W, 30-20)
Week 10: at New Mexico Highlands (W, 54-16)
Week 11: Fort Lewis (W, 80-0)
Round 1: CSU-Pueblo (W, 45-24)
Round 2: Minnesota State (W, 48-45)
Quarterfinals: at Angelo State (W, 42-24)
Semifinals: Shepherd (W, 44-13)
Five Players to watch
#3 WR Max McLeod
#10 QB John Matocha
#40 RB Michael Zeman
#46 LB Nolan Reeve
#78 OL Matt Armendariz
About the Orediggers
We've been saying it all year, but Mines has proven that they are a team on a mission. They fell just a few plays short of being in this same position one year ago. The goals since the semifinal loss at Valdosta State in December, 2021 have been to win the RMAC, get back to the playoffs and make the next step towards a championship. And here they are. That doesn't mean it was easy. In fact, the possibility of making the playoffs was in doubt following an 0-2 start to the season. Thirteen straight wins later, Mines is on the brink of earning the school's first national championship and becoming just the second RMAC program to take home the Division II title.
It's been a long journey to get here, but their season really can be summarized best by looking at their post season performances. They were simply better than RMAC foe CSU-Pueblo, outlasted Minnesota State, showed more heart and desire then Angelo State and were more athletic than talent-rich Shepherd. They were able to prevail in those games because they are a team that can win many different ways in any kind of game. That will be important in this game because Ferris State can take a team out of its comfort zone very quickly.
The optimistic viewpoint
Mines can win this game because they are as fundamentally sound as any team in the country. They play disciplined football, minimize mistakes and force you to out-play them. Momentum is on their side and so is the sense of purpose and sense of urgency they have played with all year. They are loaded with offensive talent, including the top quarterback in the country this year, three exceptional wideouts and a running back that was a Harlon Hill finalist a year ago. They have experience and leadership at nearly every position.
The pessimistic viewpoint
To beat Ferris State, you must be able to match up with them at the line of scrimmage. That's where Mines will be at a little bit of a disadvantage. They have to hold up against the run and make the Bulldogs throw the ball more than they want to. That's going to be a very tall order.
Statistical Comparisons
Note: scoring, total yards, rushing and passing are represented as per-game averages. Third down percentage, red zone and sacks are season-long totals.
When Ferris State has the ball

Bulldogs Offense

Orediggers Defense

35.4

Scoring

18.27

427

Total yards

303

217

Rushing yards

85

210

Passing yards

218

41%

3rd down %

29.17%

59 of 70

Red zone

33 of 39

24

Sacks

69
When Colorado Mines has the ball

Orediggers Offense

Category

Bulldogs Defense

46.67

Scoring

14.6

484

Total yards

230

162

Rushing yards

72

321

Passing yards

158

46.34%

3rd down %

23.90%

63 of 66

Red zone

21 of 26

29

Sacks

60
How I see it
I think this game comes down to defense. Mines needs to look at what they did to Shepherd last week. They found ways to get heavy pressure on one of the most elite quarterbacks Division II has seen in recent years and it resulted in the worst game of his career. The pressure produced sacks, turnovers and other mistakes Shepherd does not often make. That is exactly what Ferris will try to do to Mines because they do that to everyone. Thanks to record setting sack leader Caleb Murphy and others, Ferris usually have the personnel to apply pressure without gambling with blitz packages. Mines does have strong O-line so expect to see Ferris bringing pass rushers from a lot of different directions. The Bulldogs will get some sacks, that is inevitable. But Mines must make them pay for bringing pressure. The Orediggers have a corps of receivers that can win one on one battles and make contested catches. The trio of Josh Johnston, Max McLeod and Mason Karp have totaled 204 catches for 3,465 yards and 36 touchdowns. That's a lot to account for on every snap for the Ferris defense. Mines will definitely try to establish a rush with Michael Zeman but Ferris is so hard to run against and I just don't see that working unless they can move the ball through the air first. And I'm skeptical that the underneath pass game can work. The Orediggers need to get the ball beyond the sticks to those three receivers and that will start opening other options.
When Ferris has the ball, I expect them to work the run game and negate the pass rush by throwing as little as possible. They have a size advantage at the line of scrimmage and to reinforce what I mentioned earlier, this is not a rookie offensive line anymore. They've now played more then a full season together. I think we will see a lot of Carson Gulker and when he is in their game, there is no guess work around what they're going to do. Ferris makes you out- execute them and even though Mines has a strong run defense, it is very hard to stop them from running the ball right at you. West Florida had some success early, winning first and second down. But Ferris was still setting themselves up with makeable third downs and picked them up running plays that anyone in the stadium could have predicted. I think we'll see a lot of that and then a lot of jet sweep type of plays that were so effective last week with Marcus Taylor. This is how Ferris can combat Mines' relentless pass rush and nation-leading sack count.
I think Ferris can be successful with that strategy but that doesn't mean Mines will be helpless to stop them. They can play some defense and I they are a lot more explosive offensively then any team Ferris State has seen this year. I think we'll scores in the high 20s to low 30s. A shootout is not out of the question but both defenses are going to get their share of stops.
Who am I picking for the win? Watch the Inside D2 Football National Championship Pregame Show on Saturday to find out. We will go live 90 minutes before kickoff.
Questions, suggestions, comments, complaints? Email me at [email protected] and follow me on Twitter @D2Chuck.