NE10 2021 Season Preview
August 29th, 2021 12:00pm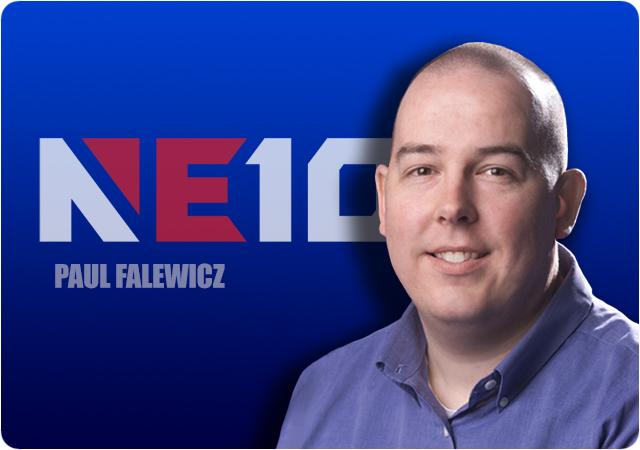 Do you remember where you were on November 16, 2019, at 5:02 PM? That was the ending time of the last NE10 game between Southern Connecticut and Pace played before a little pandemic canceled the 2020 season.
657 days later, football is back and nine teams in the league will be ready to go. They have been working out and hitting each other since that last game of the 2019 season. They lost their spring practice for 2020, had a canceled 2020 fall football season, and were not able to pull off a spring football season for 2021. But all are ready for the 2021 football season and a lot of questions surround the upcoming season.
It has nothing to do with the pandemic. It has to do with not playing against any competition in 657 days. Some players have not played competitive football in nearly two years. No matter how many reps you get in practice or with your teammates in the offseason, nothing prepares you for the full contact you experience during game action.
Some of the incoming freshmen might have played in high school and will have more experience on the field than any of the returning upperclassmen in the league. That is going to play a major factor in the success of every team in 2021.
Because of that, I am not going to have a preseason ranking of the teams. I just don't know how teams are going to fare in 2021 until they hit the field. Sure, you can call me chicken, but I have been called worse in the past.
It is going to take a couple of weeks of games before any team in this situation will know if they have a solid team capable of winning the league. Coaches and players will have high hopes going into the season for themselves and they should. But they have not faced an opposing team in a long time and if everyone were honest, they will not know how everyone on the field will react until the helmets and shoulder pads hit another team's helmets and shoulders pads.
So instead of my usual preseason predictions, I am going to list the teams that can win the league and the teams that can play the role of spoiler alphabetically. It doesn't mean that the other list of teams can't win the league title. It means that they are a bigger unknown right now. All of the records for the teams are from the 2019 season.
Here are the five teams that I feel have a chance to lift some hardware on November 13th.

Assumption University Greyhounds (6-4, 5-3 NE10)

Coach: Andy McKenzie, 4th season (12-8)

Opening Game: September 4th at Kutztown

Game to Watch: September 18th vs. Pace
When we last saw the Hounds
Assumption controlled their own fate to win the 2019 league title. But a loss at home to New Haven and then on the road to St. Anselm, Assumption finished tied for third and was not happy. They will look to erase the heartbreak of 2019 and use that as fuel for the 2021 season.
2021 Keys to Success
Assumption will always be able to score points. The offense is high-flying and moves the ball up and down the field with ease. It will be the defensive side of the ball that will define their success. If the defense can make plays and not spend a lot of time on the field, it will mean that Assumption will be in a position to win week in and out.
Bentley University Falcons (6-4, 6-2 NE10)

Coach: Bill Kavanaugh, 8th year (31-32)

Opening Game: September 3rd vs. West Chester

Game to Watch: September 18th vs. Stonehill
When we last saw the Falcons
Bentley was hoisting the 2019 league hardware. A victory over New Haven in their first league game of the season turned out to be the difference. Despite losing four of their first five games to open the season, a victory streak of five in a row helped the Falcons win the league title. Three close games and then two blowouts pulled off an improbable turnaround.
2021 Keys to Success
They have the most experienced quarterback in the league. He has a lot of weapons surrounding him so the offense should be one of the top units in the league. The difference will be the defense. When Bentley wins a game, it is their defense that is making plays and getting off the field on third down. If the defense can play with confidence, Bentley will be there to hoist some hardware in November.
University of New Haven Chargers (7-3, 6-2 NE10)

Coach: Chris Pincince, 8th year (42-23)

Opening Game: September 4th vs. Franklin Pierce (non-league)

Game to Watch: September 18th vs. Bowie State
When we last saw the Chargers
New Haven won their final four games of the 2019 season. They finished in a tie for first place but lost the tiebreaker to Bentley for the conference title. They were 6-0 in day games in the league but were 0-2 in games played under the lights. That was the difference between winning another league title
Keys to Success in 2021
The Chargers will need to be consistent from the first whistle to the final one. They have the talent to win the league and will only do so if they are able to play well for 60 minutes each game. They will be tested because everyone picked up their game when they play the Chargers. But if the defense is dominant, it will give the offense a little bit of time to work off the rust and put the football into the end zone on a regular basis.
Pace University Setters (6-4, 5-3 NE10)

Coach: Andrew Rondeau, 8th season (18-45)

Opening Game: September 2nd at East Stroudsburg
Game to Watch: October 9th at Bentley

When we last saw the Setters
Pace just finished a second consecutive winning season and was starting to make some serious headway to being an annual contender for the league title. The roster had plenty of solid contributors and they were not the pushover of the past. A tough stretch in October pushed them out of contention for the league title but they were years ahead of prior seasons.
2021 Keys to Success
The offense has one of their most dynamic players in school history back. He transferred to play spring ball and is back for one final ride as a Setter. He can win games with his arm and his legs. He has a bunch of playmakers back in the fold so if the offense can click early and often, Pace will be in the mix for the league title.
Stonehill College Skyhawks (6-4, 5-3 NE10)

Coach: Eli Gardner, 6th year (19-21)

Opening Game: September 4th vs. Bloomsburg

Game to Watch: September 18th at Bentley
When we last saw the Skyhawks
Stonehill had a solid 2019 season. They were one game away from finishing in a tie for first place that they would have lost the tiebreaker. But it was a solid turnaround for a team that struggled in 2018. Three league losses by a total of 16 points were the difference for the Skyhawks.
2021 Keys to Success
The offense has a lot of key players back in the fold. They should have the best backfield in the league and a quarterback that is seasoned. For the Skyhawks, it will be their defense. They need to be able to pressure the quarterback and finds ways to create turnovers. If the defense makes plays and the offense can pick up where they left off in 2019, Stonehill will be in contention when the leaves change.
Here are the four teams that I feel will play the role of spoiler in 2021. They have some talent on the roster and can beat anyone any given Saturday.
American International College Yellow Jackets (4-6, 3-5 NE10)

Coach: Kristofer Kulzer, 2nd year (0-0)

Opening Game: September 2nd at Millersville

Game to Watch: September 25th vs. Bentley
When we last saw the Jackets
AIC was playing their final game under long-time coach Art Wilkins. He called it a career after the 2019 season with over 150 career victories, five league titles, and two playoff appearances. On the field, the Yellow Jackets won two of their final four games and improved from one win in 2018.
2021 Keys to Success
Off the field, AIC football has dealt with the loss of several teammates. They had a season lost due to a global pandemic. They have a new football coach. They have every reason to get down, but the Yellow Jackets have always responded to adversity. They will have low expectations outside of their locker room in Springfield so they will need to band together to prove everyone wrong. The defense will make plays and it will be the offense that needs to exceed expectations. If they have a strong offensive line and control the clock, they will be in games this year.
Franklin Pierce University Ravens (1-10, 0-8 NE10)

Coach: Russell Gaskamp, 3rd year (36-48 overall)

Opening Game: September 4th at New Haven
Game to Watch: September 25th at St. Anselm
When we last saw the Ravens
It was the first season of football and as expected, there were struggles for Franklin Pierce. They were able to get their first victory in school history, but the end of the season saw a tough finish. They were shut out in the final three games and a bunch of growing pains felt.
2021 Keys to Success
The Ravens have a young team. Not a lot of the players on the roster have a lot of collegiate football experience. They open at a perennial league contender and the season gets tougher from there. Franklin Pierce will continue to grow and mature as the season goes along. It is not about the wins and losses but more about getting better week after week.
St. Anselm College Hawks (4-7, 4-4 NE10)

Coach: Joe Adam, 6th year (8-33)

Opening Game: September 4th at Merrimack

Game to Watch: October 9th at New Haven
When we last saw the Hawks
They were putting on a clinic in a blowout victory over Assumption. St. Anselm finished 4-4 in the league and defeated two of the top teams during the year. It was a major turnaround from the one-sided losses in the first five weeks of the season.
2021 Keys to Success
All their victories in 2019 were in the state of New Hampshire. The final three home games resulted in victory and their first trip to Franklin Pierce. For the Hawks to be in contention in 2021, they will need to win on the road and then be successful at home. They will be a younger team so winning on the road will be the difference for St. Anselm.
Southern Connecticut State University Owls (2-8, 2-6 NE10)

Coach: Tom Godek, 8th season (23-40)

Opening Game: September 3rd @ Central Connecticut State
Game to Watch: September 25th @ New Haven
When we last saw the Owls
Southern Connecticut dropped their final four games of the season. They upset eventual league champion Bentley on the road and looked like they were ready to finish the season above .500. But two close losses to New Haven and St. Anselm were enough to derail the positive vibes and send them to their third consecutive season at .500 or below.
2021 Keys to Success
The Owls must play consistently on both sides of the ball. They have been in a lot of games over the past several years but mistakes late in the game have cost them victories. They have some talent returning on either side of the ball, but they need to play 60 minutes without mistakes.