Six Division II Players Selected in USFL Draft
February 21st, 2023 5:00pm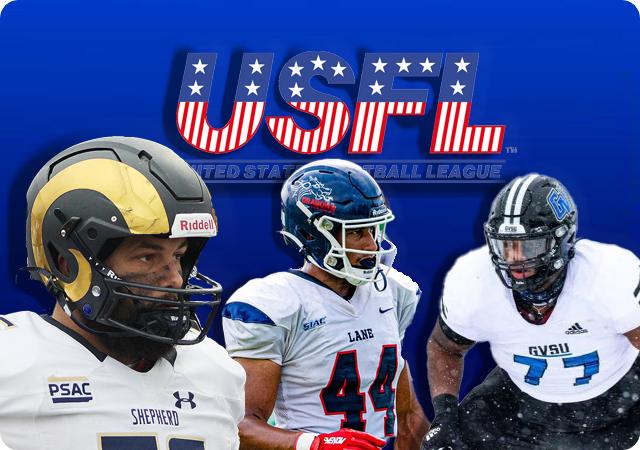 Six Division II players were selected in the USFL's 2023 draft held Tuesday afternoon. The draft consisted of 10 rounds with a total of 80 selections. Grand Valley State offensive tackle Quinton Barrow was the first D2 alumnus off the board. Barrow was selected in the second round by defending USFL champions, the Birmingham Stallions, with the 14th pick. Shepherd offensive lineman Joey Fisher was taken by the Houston Gamblers with the 18th overall pick in the third round. Virginia State running back Darius Hagans went to the New Orleans Breakers at pick number 52 in the seventh round. The Michigan Panthers led off the eighth round by selecting Lane defensive end Andrew Farmer with the 56th pick. Later in the same round, CSU-Pueblo defensive lineman Trey Botts went to the Philadelphia Stars with the 62nd pick. In the tenth and final round, Wingate kicker / punter Ethan Evans was taken by the Pittsburgh Maulers at pick number 73.
The USFL's 2023 season kicks off on Saturday, April 15.
USFL 2023 Division II selections
Round 2: Quinton Barrow, OL , Grand Valley State (Birmingham Stallions)
Round 3: Joey Fisher, OL, Shepherd (Houston Gamblers)
Round 7: Darius Hagans, RB, Virginia State (New Orleans Breakers)
Round 8: Andrew Farmer, DL, Lane (Michigan Panthers)
Round 8: Trey Botts, DL, CSU-Pueblo (Philadelphia Stars)
Round 10: Ethan Evans, K/P, Wingate ( Pittsburg Maulers)
Darius Hagans and Andrew Farmer each have one more college game to play before departing for professional football. Both will participate in this weekend's HBCU Legacy Bowl in New Orleans.
By Chuck Bitner, national columnist