Spring football kicks off in the SAC
March 3rd, 2021 3:00pm
After an extended wait of nearly 16 months, South Atlantic Conference football will be back on the field this coming weekend. Three SAC teams will be in action as a precursor to the official four game conference season, which begins next Friday night, March 12. Before looking at how the spring season is shaping up, we need to back up a few steps to revisit how we got here.
As we all know by now, there was no SAC football in the fall. But the league was hardly alone. There was almost no Division II football played during the traditional fall season of 2020. The Division II Presidents Council announced in August that all fall sport championships, football included, would be cancelled for the 2020-2021 academic year. Conferences and individual schools had autonomy to schedule games as they saw fit (and a few did), but one by one, all 16 Division II conferences that sponsor football cancelled their fall seasons and shifted focus to options for an abbreviated spring schedule.
However, with a short turnaround to summer camp and without national playoffs to aim for, interest in a spring season faded quickly. Only four conferences have opted to go forward with an official schedule. Those conferences are the Great Midwest (GMAC), Great Lakes Valley (GLVC), Mountain East (MEC) and South Atlantic (SAC). A handful of teams from other conferences have pieced together independent schedules but in total, only about one third of Division II teams will play at least one official game.
SAC Spring Football Plan
Thankfully for supporters of the South Atlantic Conference, all nine football members have committed to playing the spring season, and to allow for the creation of divisions, Barton has been added to the official schedule. Barton, entering its first season of football since 1950, remains a full member of Conference Carolinas but will play a SAC-heavy schedule as part of a multi-year scheduling agreement. The Bulldogs will not be eligible for the conference championship or individual awards.
Barton's inclusion in the spring schedule allows the conference to split into a pair of five team divisions, based on geography. The divisional alignment is as follows…
Piedmont division
Barton
Catawba
Lenoir-Rhyne
Newberry
Wingate
Mountain Division
Carson-Newman
Limestone
Mars Hill
Tusculum
UVA Wise
Over the course of five weeks, each team will play the other four in its division and have one off week. The season concludes on April 10, but the teams with the best record in each division will meet April 17 for a championship game. A few non-conference games have been added before the official season and during the bye weeks. You can find the complete SAC spring schedule here.
Erskine
D2 fans in the SAC footprint should also be aware that start-up program Erskine University is in action. Like Barton, Erskine's program is entering its first year of varsity football in 70 years. The Flying Fleet have the busiest spring schedule in D2 with eight games lined up and the opener at Barton on February 27 sure was a memorable way to start. The Fleet took the road win 30-28 in a thoroughly entertaining afternoon of football at Barton's new Truist Stadium. Erskine is in Jacksonville, Florida this weekend to face NAIA member Edward Waters in their brand new facility, and will then play four of the remaining six games on their home field at Greenwood High School. You can find their full schedule here.
What to expect
I should just insert a shrugging emoji or gif, because I really don't know what to expect. A championship is on the line so teams will play to win, but it will be interesting to see how coaches decide to approach this. When the fall was cancelled, there was a large appetite for spring ball across the country, but now that we're in the new calendar year, that same appetite does not exist. The reality that only four conferences are playing would seem to support that. I think a lot of coaches would like this spring to be as normal as possible, but this schedule is anything but normal. Will coaches really go all out to win these games and a championship, or will they possibly manage the season a little differently and emphasize process, experience, learning and repetitions? I don't think we'll really know the answer to that until a week or two into this…and it may not be the same for every program.
A few things to watch
Lenoir-Rhyne is the defending SAC champion and has not lost a conference game since the end of the 2017 season. But they have yet to go through game preparation and live action with the current coaching staff. Its hard to believe because he's been leading the program since December, 2019, but Mike Jacobs has not coached a game at LR yet. This spring presents a great opportunity to go through the normal game week processes and I have no doubts they will expect to win. But as a program with national playoff expectations, I wonder if their focus will be on learning about their team, refining how they work together and developing for the fall with eyes on another deep run in the national playoffs.
The same could be said for Carson-Newman. The Eagles have a new head coach in Mike Clowney, who took over for the retired Mike Turner. The Eagles ended the Turner era in the playoffs – which is where they expect to be every year. The infrastructure for an elite program remains in place, but the roster is quite a bit different so this spring is an opportunity for growth and talent evaluation.
Wingate has the benefit of a long-tenured staff. They know how to work together so even with a long layoff, they don't have many details to iron out with their game prep routines. I think that gives them a significant advantage in this odd scenario, but this is another team with playoff aspirations. Winning a championship this spring would be a lot of fun and would build momentum, but it wouldn't help them earn a fourth consecutive playoff invitation in the fall.
I'm not suggesting that any of those teams won't be playing to win. Of course they will. Players only know one way to play. But having a short turnaround to the fall may influence how coaches manage playing time and what they put on film. And it will surely mean taking a very conservative approach with injuries. For these reasons, it will be very interesting to watch how these coaches manage spring games.
On the reverse end of things, a program like Limestone or UVA Wise could really benefit from some momentum. If I was coaching one of those programs, I might be a little more willing to manage these games in the same way I would in the fall. How big would it be for Limestone to win their division? That would be a huge momentum and confidence builder for a program seeking its first ever winning season. That could happen. Over the course of eleven weeks, the cream inevitably rises to the top, but in a four week schedule, it might only take one upset or a short run of momentum for an underdog to do something special. UVA Wise had a rough year in their inaugural SAC campaign with only one conference victory. If they could win two out of four this spring, it would build a lot of confidence for the fall season.
Then there are some programs like Tusculum, Mars Hill and Newberry that fall in the middle. None of them have had a winning season since 2016 so this spring is a chance to seize momentum. Newberry was one of the more agressive programs with scheduling. The Wolves have six games lined up, with three at home and three on the road. Priorities for them should be depth in the defensive front and nailing down the quarterback position. They have talented players but instability at quarterback has hurt them for three years. If they come out of the spring with confidence in a full time, every down signal-caller, they'll be a good position for the fall. Mars Hill lost of ton of offensive skill talent from 2019 so getting a new group of receivers up to speed will be key to their success. The good news is that QB Jimmy Urzua, one of the better passers in the SAC, is back to lead the offense. Tusculum may turn out to be the most interesting team to watch. They made the biggest news of the D2 offseason by landing grad transfer quarterback Rogan Wells from Valdosta State. Wells won the 2018 national title and was runner-up for the Harlon Hill Trophy. He is legitimately one of the best players in the nation and he immediately fills their most urgent need. Consistent quarterback play has been one of the only things holding this team back from pushing into the top tier in the conference.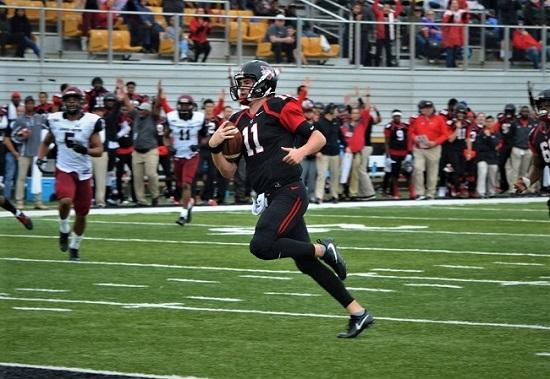 Former Valdosta State quarterback Rogan Wells is now enrolled at Tusculum. Photo by Chuck Bitner, 2018.
Catawba is a program that might be best served by approaching this season as a means of gaining experience and evaluating talent. A few wins to hang their hats on would be fantastic, but what they really need is experience. This program has been through the wringer with injuries over the past two seasons and they need to establish depth. That means getting players on the field. If they can come through the spring healthy, with a solid two-deep and a clear number one at quarterback, that would be a good setup for the fall.
Then we have Barton and Erskine. If this spring is truly good for any teams, its these two. They have been practicing for a long time, but this is their first chance to measure themselves against competition. It would be fantastic to notch a win or two (Erskine can already check that box) but for these programs, wins and losses are secondary to getting experience and evaluating where they are. They have the unique opportunity to take all the lessons learned from this short season and roll that knowledge right into preseason prep for the fall. Barton will find it tough to earn a win as part of division with experienced programs that have won the last four SAC championships, but Erskine has some good opportunties for more wins.
Spring coverage
Spring football doesn't happen every year (at least, let's hope) but its happening now and I'm totally here for it. That said, the absurd amount of time I set aside for D2 coverage in the fall is not really available to me in the spring. I will post a weekly column during the season but please forgive me if it's not on par with what I typically do in the fall. Additionally, I know some of you enjoy following my tweets at games and even supporting my hack photography, but I don't know if I will be at any games this spring. Most of the schools are being extremely cautious with attendance at this time and I don't know if I will be able to get to any games.
Nearly every SAC program has quality web streaming of home games. You can easily find links on their websites and if you happen to be a Roku user, download the SAC's Roku channel to easily find games and stream directly to your television.
This week's schedule
Limestone (0-0) at West Alabama (0-0) 2:00 LIVE AUDIO
Tusculum (0-0) at Newberry (0-0) 6:00 LIVE VIDEO
Erskine (1-0) at Edward Waters (NAIA (0-1) 1:00
Questions, suggestions, comments, complaints? Email me at [email protected]
Follow me on Twitter @D2Chuck