Spring Football Sunday Roundup (3.14.21)
March 14th, 2021 8:00am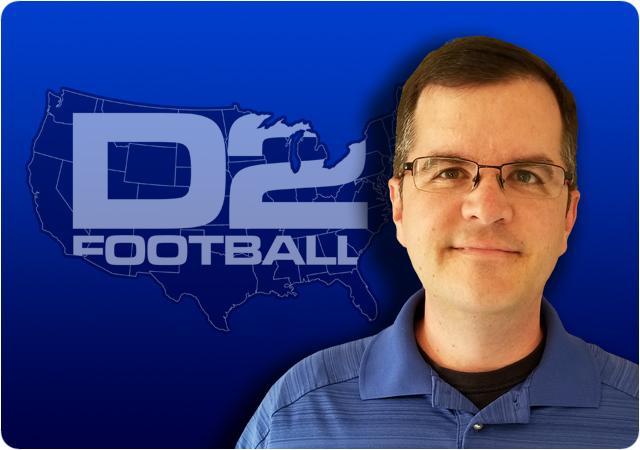 The first full weekend of spring football delivered several firsts, a few surprises or more than a little drama. Conference schedules kicked off for the Mountain East Conference, Great Midwest Athletic Conference and South Atlantic Conference. Saturdays will be even busier later this month when the Great Lakes Valley Conference gets going. Here are a highlights from this past week...
- UT Permian Basin is off to the best start in program history. In the young life of UTPB football, which played its first game in 2016, the Falcons have never been 3-0. Until now. Wins over Southern Nazarene, Lincoln (MO) and Western New Mexico have set the Falcons up for a shot at an undefeated spring slate. The road portion of the schedule wraps up this coming weekend with a visit to Texas A&M-Kingsville. The Falcons won the last meeting with TAMUK in 2019 by a lopsided final of 70-14. The spring season conlcudes on March 27 with UTPB hosting Midwestern State.
- It had been a long time since Shorter last defeated a Division II opponent. The Hawks have had a tough go of it in the Gulf South Conference since transititioning from NAIA to Division II nearly a decade ago. Wins have been few and far between and you had to go all the way back to October 3, 2015 to find the most recent win over a Division II opponent. That streak ended on Saturday with a road win at first year program Erskine. Shorter is one of the few GSC programs that managed to piece together a schedule for the spring, playing a total of four games. The Hawks should have a good shot at two in a row as they host NAIA Edward Waters this coming Saturday.
- UNC Pembroke has had success since launching the football program in 2007. The Braves even made it to the Division II playoffs three times in their first 10 years. But they've never had a home and never had an opportunity to compete for a conference championship. They do now, as associate members of the Mountain East Conference for football. UNCP kicked off the new era in memorable fashion with a dominant 30-7 win at Glenville State on Saturday. QB Josh Jones may have been the star of the day in Division II, completing 26 of 32 passes for 350 yards and four touchdowns. First MEC game, first MEC win. It was also the first road win for the Braves since September, 2017.
- The first round of divisional games delivered some major drama in the South Atlantic Conference with Lenoir-Rhyne and Carson-Newman earning road victories in multiple overtime periods. In Friday afternoon's visit to Newberry, LR used touchdowns on special teams and defense to tally enough points to take Newberry to overtime. The Bears then picked the perfect spot for their first offensive touchdown to take the win, 27-20. The Bears had to start a third string freshman quarterback with no collegiate experience in the debut of new head coach Mike Jacobs....Carson-Newman led for most of the first half at UVA-Wise but fell behind by as much as 10 points in the second. A fourth quarter rally, capped by a 49 yard field goal in the final minute of regulation extended the game into overtime. Kicker Christian Erwin scored the last 12 points of the game for the Ealges, including the 43 yard game winner on the final play of the fourth overtime. The win was the first for new head coach Mike Clowney.
-Elswhere in the SAC, Tusculum shook off a bad offensive performance a week earlier to put up 541 yards and 58 points in a road win at Mars Hill. Valdosta State transfer QB Rogan Wells looked like the player we're familiar with, passing for 296 yards and four touchdowns.
-Findlay was in a tight battle at Hillsdale for three quarters, but the Oilers erupted with three unanswered touchdowns in just over five minutes of game clock in the late stages. Quarterback Matt Winzeler threw four touchdown passes for the Oilers.
-Notre Dame College wasted no time adjusting to the flow of a game with new head coach Mickey Mental. The Falcons rolled up 63 points..in the first half. A 35 point first quarter was followed by 28 in the second. NDC then cruised home to a 70-7 final. Veteran quarterback Chris Brimm showed no rust on his passing arm, hitting 13 of 16 passes for 213 yards and a pair of TDs. The running game was a point of curiosity heading into the season, without former standout Jaleel McLaughlin, but the team tallied 303 yards on the ground, led by Virginia Union transfer Tabyus Taylor's 107 yards on nine carries.
-G-MAC preseason favorite Tiffin used a strong defense and efficient passing game to fight of Walsh. Nick Watson passed for 302 yards, 161 of which went to Devin Butler. The defense limited Walsh to just 239 total yards, allowed just four third down conversions and forced 11 punts.
-Savannah State, making one of just a few SIAC team appearances we will see this spring, led the Gulf Coast Challenge multiple times, but West Alabama outscored them 12-0 in the fourth quarter to secure a 36-28 win.
Those are just a few of the highlights from this past week. If you have some others that deserve a mention, visit the D2 message board, email me at [email protected] or mention me @D2Chuck.