Spring Football Sunday Roundup (3.21.21)
March 21st, 2021 5:00am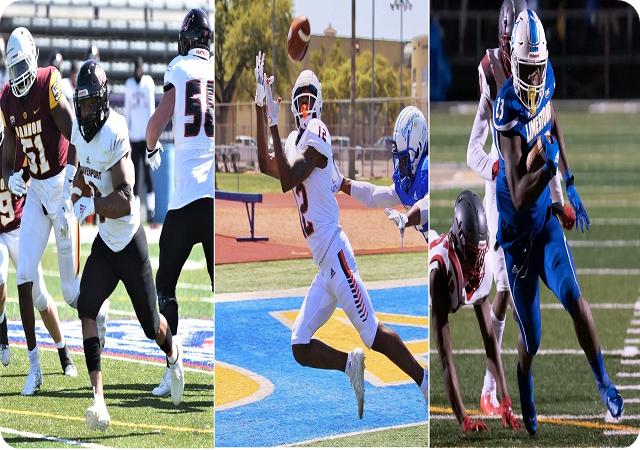 By Chuck Bitner, D2Football.com
Here are some headlines from the second full weekend of the D2 Football Spring season
Mountain East Moves Mountains
The Mountain East Conference had a busy couple of days as the conference learned that multiple teams would be unable to play due to COVID protocols. The conference office, in cooperation with its members, shifted the schedule around several times, with West Virginia State beign paired with three different opponents within a span of hours. When it was all said and done, the conference was able to get four games played. Well done by the staff of the MEC.
UT Permian Basin extends winning streak
A week after going 3-0 for the first time in program history, UTPB is now 4-0. The Falcons won their final road game of the spring with a dominant defense at Texas A&M Kingsville. The defense did not give up a point in the 17-2 win and held the TAMUK offense to just 200 total yards. The TAMUK defense was also strong, holding UTPB to just 57 rushing yards, but the 292 passing yards from first-time starter Brayden Thomas was enough to make the difference. The game as very much doubt late in the fourth quarter with UTPB holding onto an eight point lead, and backed up on their own one yard line. The game was sealed when receiver MJ Link came through with a progam record 99 yard touchdown reception. Link also scored the other Falcon touchdown as part of this 5 reception, 156 yard day.
More dramatic finishes in the SAC
In the first weekend of the season, the SAC had two multiple overtime thrillers that totaled six combined overime periods. This week, a pair of games came down to the final seconds. Newberry scored the first 21 points at Catawba, but were then held scoreless for more than 30 minutes as the Indians chipped away at the lead. Catawba came all the way back to tie the game at 21 but the Newberry offense delivered under pressure with a 7 play, 90 yard drive. Mario Anderson, who had 41 yards on the drive, scored the game winning TD with 0:11 seconds remaining. Newberry had three scoring drives of 90 or more yards...In the nightcap, Limestone and UVA Wise stayed locked in a close battle for nearly all 60 minutes but it was the Saints that came through in the end with a game winning drived capped by Jerko'ya Patton's game winner with 0:04 on the clock. High drama in in the SAC for the second straight week.
Shorter has a winning streak
The Shorter Hawks earned their second straight win with a 52-5 drubbing of NAIA member Edward Waters. It was a great day for gaining experience with eight players recording at leat one carry and eight with at least one reception. Devon Lane led a strong defensive effort with 11 tackles and two sacks. The Hawks are 2-1 in this short season, marking the first time since 2015 that they have won more than a single contest. The 55 point offensive showing was the most points in a game since November 2, 2013. Shorter has one more outing, a meeting with in-state D2 opponent Fort Valley State from the SIAC on March 27 with a chance to finish the spring with a winning record.
Notre Dame holds off Frostburg State
A week after cruising to a 70-7 win, MEC Favorite Notre Dame had to knock down a hail marry on the final play to secure a 25-19 win over visiting Frostburg State. Virginia Union transfer Tabyus Taylor had another good outing, carrying 21 times for 145 yards and 2 TDs. The unfortunate story of the day was the loss of standout QB Chris Brimm who left the game with an injury in the first quarter and did not return. The Falcons found a way to win despite being outgained by Frostburg State in total offense.
Turnovers fuel Davenport win
Davenport won the first of a home-and-home series with Gannon on Saturday afternoon in Erie. Gannon's offense scored rather easily on their first two possessions of the game to surge ahead 14-3, but the Panthers controlled the rest of the game. A late first quarter field goal started a run of 27 unanswered points for Davenport. Gannon held the statiscal edge in rushing, passing and total offense but turnovers were the difference. Four Gannon turnovers led directly to 17 points, including a 51 yard pick-six for Shaq Floyd, who had three INTs on the day.
UNC Pembroke starts 2-0 in MEC
UNC Pembroke is two for two in Mountain East Conference play. The Braves were scheuled to play West Virginia Wesleyan at home on Saturday, but learned Thursday afternoon that they would instead travel to Charleston to play West Virginia State. A tie ball game midwway through the second quarter quickly turned into a 28-14 halftime lead for UNCP, as part of 34-0 run. Quarterback Josh Jones was a model of efficiency again, completing 23 of 29 for 285 yards, 3TD and no turnovers. Masanka Kanku's three sacks led a defense that controlled the middle portions of the game in the 48-21 win.
Ohio Dominican gets to 2-0 with road shut-out
A smothering defense carried Ohio Dominican to a 17-0 win over Walsh. It was ODU's second straight shutout of Walsh, who managed only eight first downs and 151 total yards. The Panthers have allowed only three points through two games this spring. ODU will have their first home game this coming Saturday against Kentucky Wesleyan and will then face Findlay and Tiffin in consecutive weeks.
Those are just a few headlines for this Sunday's notebook. Have a great story or standout performance you want to highlight? Visit us on the messagae board, follow the official @D2Football twitter handle and you can also find me at @D2Chuck and [email protected]