Spring Football Sunday Roundup (3.28.21)
March 28th, 2021 5:00am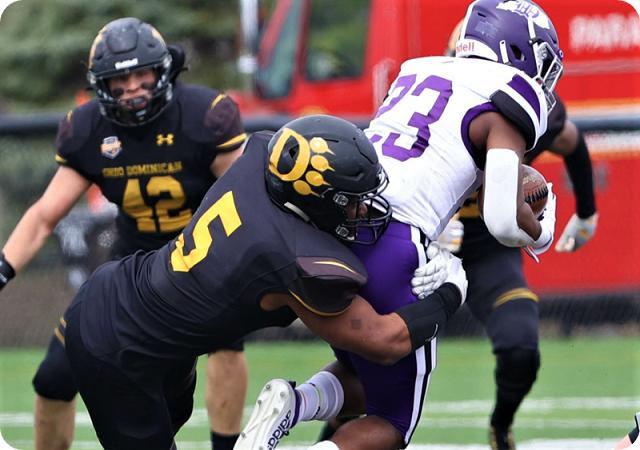 By Chuck Bitner, D2Football.com
photo from Ohio Dominican Sports Information
UT Permian Basin finishes spring season undefeated
For a program heading into its fifth full football season, undefeated is pretty special. Spring, fall or any other time of the year, 5-0 is 5-0 and three of those wins were over teams UTPB will face year after year as part of their Lone Star Conference schedule. There is no championship banner, trophy or even title, but that doesn't matter. The experience and confidence gained over the last six weeks is irreplaceable and not somehting this team could have replicated in a traditional spring practice schedule.
As for the season finale itself...wow. I could not think of a more dramatic way for it to end. UTPB held a 14-7 lead until late in the fourth quarter when a dramatic series of events unfolded. With 3:11 on the clock, MSU quarterback Derrick Ponder hit an open Kylan Harrison who streaked away from defenders and raced into the endzone which would set up a game tying PAT. However, Harrison was flagged for unsportsmanlike conduct (taunting) before the touchdown which, by NCAA rules, nullified the score. Several plays (and what seemed like about an hour) later, on 4th and 19, UTPB intercepted Ponder to seal the victory. But a holding penalty negated the turnover and MSU lived to play another down. It would still take several more plays and a 4th down conversion for MSU to tie the game, but they did. Ironically, had Harrison's scoring play stood, UTBP would have had three minutes to attempt a game winning drive in regulation, but extending the drive took nearly two more minutes off the clock and the Falcons had to settle for OT.
Midwestern State scored on the opening posession, forcing UTPB to match. Their drive came down to a 4th and 1, which they turned into a 4th and 6 with a pre snap penalty. Down to the final play, Brayden Thomas rolled to his right under pressure and threw back to his left in what appeared to be desperation, but Matt Zubiate was open and pulled in the wobbling football for six. The Falcons never hesitated in making their next move. They lined up for the win instead of the tying PAT and this time, Thomas threw a perfecly placed ball to Kobe Robinson near front the pylon to get the win. What a way to finish. Two straight do or die, win or lose plays to earn the victory and secure a 5-0 spring record. Watch the final two plays here.
Charleston takes control in MEC South
Charleston trailed visiting UNC Pembroke 17-14 at the half but surged ahead with a 21 point third quarter. The Charleston defense was immoveable for most of the second half, forcing four straight 3-and-out possessions and two turonvers. The defense harrassed UNCP standout quarteback Josh Jones all day, hurrying throws and knocking down passes. The defensive performance was highlighted by a near 100 yard pick six return for Kei Beckham. The Golden Eagles are now in control of the MEC South division with remaining games at winless West Virginia Wesleyan and home against neighor and rival West Virginia State.

G-MAC contenders remain unbeaten
Tiffin, Findlay and Ohio Dominican were projected to finish first, second and third in the G-MAC preseason coaches poll. All three were vicotorious on Saturday and all three remain undefeated in the spring campaign. Defense was the story of the day. In conference action, Findlay held Walsh to just 106 yards of offense in a 35-0 shutout, while Ohio Dominican hung on in a thrilling defensive battle to beat Kentucky Wesylan 13-9. The ODU defense has been sensational through three games, allowing a total of just 12 points and only one touchdown. Tiffin trounced Gannon 42-7 and outgained the visiting Knights 473 to 220 in a non-conference game.
The G-MAC will likely come down to the games played between these three teams. The first of those games will happen on April 10 with Ohio Dominican traveling to Findlay.
Barton falls one play short of program's first win
After a storm delayed kickoff by more than two hours, Barton put in their best performance of the spring. The Bulldogs are in their first season of football since 1950 so progress is the most important objective for this season. Based on Saturday night's effoft, the Bulldogs have come a long way in just a few weeks. Barton had a 17-10 lead for a few minutes in the third quarter, which was a landmark moment for the team. Newberry scored the game's final 10 points, but the Barton defense managed to get the ball back multiple times to give their offense an opportunity for a game winning drive. Newberry did manage to outgain Barton by more than 200 total yards, but the Bulldog defense made plays in critical situations to keep the team alive. The result is a loss, but the progress was evident and should leave the Bulldogs feeling like they can still earn a win this spring. They close the season at Catawba this coming Saturday. Catawba was trounced by Wingate Saturday night and fared no better than Barton did against that same Wingate team.
Concord impresses in spring debut
Concord had to wait out two weeks of cancellations to finally get their first shot at live football, but when the opportunity arrived, they were ready. The Mountain Lions jumped all over West Virginia Wesleyan, scoring touchdowns on five of their first seven drives. Quarterback Jack Mangle was superb, hitting 24 of 36 for 310 yards and five touchdowns. His favorite target was Tywan Pearce who hauled in 10 balls for 148 yards and a pair of scores, including a 60 yard catch and run. It may only be one game, and against a program that has struggled mightily in recent years, but it was great day and a memorable debut for new head coach Dave Walker, who is one of the most successfull head coaches in West Virginia high school history. Its unclear how or if Concord could be in play for the MEC south division because of the cancellations, but we'll see how things stand after the remaining games at home against Glenville and at UNCP.
Shorter spring season ends with loss to Fort Valley State
The spring season brought confidence and optimism to the Shorter football program, but it has also seriously depleted the quarterback room. The Hawks have gone through nearly a quarterback per game and in Saturday's loss to FVSU, the Hawks had to go with an untested freshman for most of the day. Despite those struggles, the Hawks managed to stay in the game and even entered the fourth quarter with a one point lead. For Fort Valley State, one of the few SIAC members to sign up for live football this spring, it was a fine debut with head coach Maurice Flowers. The Wildcats will play their second and final spring game on April 10 at Erskine.
Those are just few of the top stories from this past weekend. Visit the D2 Message board to discuss your favorite headlines from weekend and be sure to follow @D2Football on Twitter. You can find me @D2Chuck and [email protected]