Spring Football Sunday Roundup (4.4.21)
April 4th, 2021 6:00am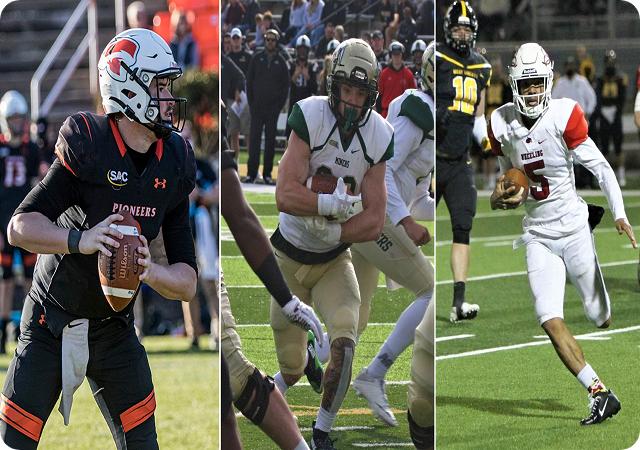 By Chuck Bitner, D2Football.com
It was a light week for the D2 Football schedule due to a long list of cancellations, and the games that did go on were, frankly, not great. But there are championships for the taking in this spring season and the results from this past weekend significantly shaped the landscape of those races. Here are a few of the headlines.
Lenoir-Rhyne dominates Wingate to secure SAC Piedmont division
Friday's meeting of LR and Wingate was easily the most anticipated game of the spring season in the SAC and possibly among all the conferences playing. Unfortunately for those of us looking for a competitive and entertaining game, it was a very one-sided affair. Lenoir-Rhyne's defense manhandled Wingate. Through the first 30 minutes, Wingate's offense was shutout, did not earn a first down and posted negative total yardage. For the game, the Bulldogs rushing total was -43 yards and their longest rush play of the day was five yards. Wingate was down a few players including one of their best linemen and they did manage to fight back a little in the second half. But LR was in control from start to finish, putting in the most impressive defensive performance I have seen in five years of covering the South Atlantic Conference. LR's regular season is now complete. The Bears await confirmation of SAC Championship game details.
Tiffin, Findlay keep pace
As discussed in the preview column last week, the G-MAC race is building up to a three-way showdown. Ohio Dominican (3-0) had the week off but Tiffin and Findlay were in action as both teams took to the road. Findlay bowled over a Kentucky Wesleyan team that was coming off a great defensive performance at ODU the week before. Findlay sprinted out to an early 20-0 first quarter lead, aided by a 50 yard scoop-and-score defensive touchdown, which was bookended by touchdowns on the Oilers' first two offensive possessions. . For the day, Findlay rushed for 257 yards, averaging 6.1 yards per carry in the dominant 54-6 victory...After a scoreless first quarter Tiffin caught fire, posting 539 yarrds of offense while holding Hillsdale to just 212. Anthony Lowe led the way offensively, hauling in 170 of Nick Watson's 371 passing yards. Tiffin will be home against Kentucky Wesleyan this coming Saturday while Findlay hosts Ohio Dominican.
Wells sets career highs in Tusculum victory
Rogan Wells has had a stellar career to date but his performance on Saturday in Tusculum's only home game of the spring was one of his best ever. Wells passed for a career-high 519 yards and accounted for six touchdowns. Running back TJ Jones was equally impressive totally 232 offensive yards and a pair of touchdowns. Tusculum's final scheduled game againts Carson-Newman will not happen as the Eagles have cancelled the balance of their season. Confirmation of the SAC championship game details are yet to come, but Tusculum is expected to represent the Mountain division.
Missouri S&T rallies for road victory in season opener
Missouri S&T allowed 21 unanswered points in the second quarter of their opener at William Jewel, which put the Miners in a 14 point hole at the break. Three S&T turnovers led direclty to 14 William Jewel points, but the second half was a completely different game. The Miners scored all 35 of the game's second half points and pulled away for a 49-28 victory on the road. The Miners ran for 302 yards, sparked by Aaron Moya's 144 and Payton McAlister's 131. The S&T defense produced five sacks in the second half shutout.
Wheeling defeats local rival West Liberty
The campuses of Wheeling and West Liberty are only 11 miles apart, making this a growing rivaly as Wheeling enters its second year of football. In just the second ever meeting between the two, Wheeling now has their first win in the series. The Cardinals held a slim 14-10 lead at the half but surged ahead in the second half for a 42-19 win, fueled by seven takeaways by the defense. The 42 points scored is a new single game high for the Cardinals.
UIndy Throttles Quincy with suffocating defense
Indianapolis got its season off to a roaring start with a shutout win at Quincy. The Greyhound defense allowed a total of just 56 (yes, fifty six) yards. The Hawks produced only 27 yards on the ground and 29 through the air. UIndy, on the other hand, had a balanced attack a 191 rushing and 275 passing. Bryce Stancombe completed 24 of 33 passes for 275 yards and 3 TD. Defensively, Clay Schulte led the swarming Greyhounds defense with 4 tackles for loss and 2 sacks.
Notre Dame rolls to 3-0
For the second time in three games, Notre Dame College had a win secured by halftime. The Falcons were never seriously challenged in the 69-10 win at Alderson Broaddus. The best news of the day for NDC was that quarterback Chris Brimm was back in the lineup. Brimm left in the first quarter of the Falcons' win over Frostburg State two weeks ago and did not return. He passed for 206 yards and three touchdowns and was complimented by Tabyus Taylor's 175 rushing yards. The Falcons finish their season at Wheeling next week and will then await details of the MEC championship game to be held April 17.
Those are just few of the top stories from this past weekend. Visit the D2 Message board to discuss your favorite headlines from weekend and be sure to follow @D2Football on Twitter. You can find me @D2Chuck and [email protected]