Spring Season Week Four Preview
April 1st, 2021 12:00pm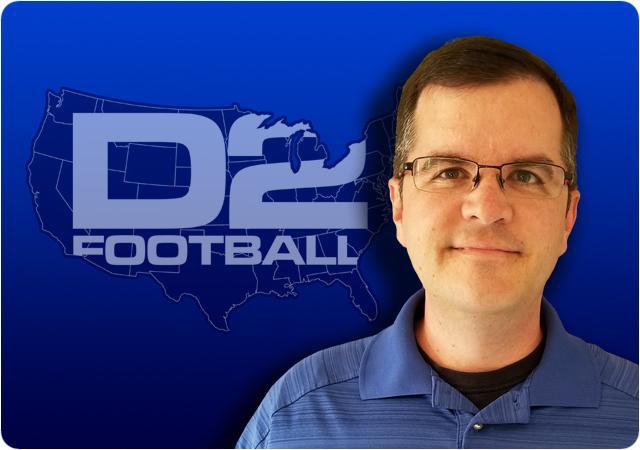 The Spring football season has been a combination of drama, enjoyment, frustration and disappointment. Especially in the past few days. First, the good…The GLVC season kicks off on Thursday, which I have been looking forward to for quite a while. That will add three more games to the schedule for the next few weeks. In addition to that, the competition at the top of the G-MAC is shaping into a really tight battle that will be fun to watch this month, and the SAC has its most highly anticipated game happening Friday night. Now the bad…around that action, there have also been cancellations, postponements, rescheduling and opt outs. The MEC has been working tirelessly to get games played but three teams have called off the season early, which in turn, ends the year for a least two other teams. In the SAC, Catawba pulled the plug on Thursday morning, ending their season and Barton's at the same time. (EDIT: After original publication of this column, fellow SAC member Carson-Newman also announced they are aborting the remainder of the season) And while its exciting that the GLVC is taking the field, they will do it without the defending conference champions.
Nonetheless, we play on. I have said from the beginning, I'm just going to enjoy what we get. We knew this spring season would be difficult going into it. Cancellations and opt-outs were expected so we just roll with it and appreciate the games we get and not judge programs for making health and safety decisions. To that end, there is a lot to look forward to with a three-night D2 Triple header. It kicks off Thursday evening with the first GLVC game of the year and then the premier game of the week – Lenoir-Rhyne at Wingate – leading us into the weekend with a Friday night main event at Irwin Belk Stadium. Bears v. Bulldogs has become one of the top rivalries in the south, if not the entire nation, over the past few years so you will want to see this one. More on that later.
Heading into this weekend's action here is a look at how things are shaping up in each conference.
GLVC
The GLVC spring season officially begins this week. The format for the league's eight teams is to split into two divisions, play three divisional games and then have a championship in the fourth and final week. The East division includes Indianapolis, Lindenwood, McKendree and Quincy while Missouri S&T, Southwest Baptist, Truman State and William Jewell make up the West. The plan was slightly upset in Late March when Lindenwood decided their program will not participate. The other seven teams are continuing with the season as it was scheduled, with the three East teams competing in a round-robin two game schedule. Action begins this week and the GLVC Championship game is still on schedule for April 24.
G-MAC
Standings
Ohio Dominican 3-0
Findlay 2-0
Tiffin 1-0 (2-0 overall)
Hillsdale 0-1
Kentucky Wesleyan 0-1
Lake Erie 0-1
Walsh 0-3
The top three teams in the G-MAC preseason poll were Tiffin, Findlay and Ohio Dominican. All three remain undefeated but there are still four weeks left on the schedule. There is plenty of room for upsets to influence the standings, but it is likely that the championship will be decided by the games played among those three teams. Here are the dates for those meetings.
April 10: Ohio Dominican at Findlay
April 17: Tiffin at Ohio Dominican
April 24: Findlay at Tiffin
Kentucky Wesleyan took the field for the first time last weekend and made their presence known in taking ODU down to the final play. They could still be a factor with upcoming games against Tiffin and Findlay. Hillsdale is back in action this weekend after a two week layoff but Lake Erie remains idle after a third consecutive postponement. Walsh was slated to be Lake Erie's opponent this Saturday but the week off may be what they need after a tough 0-3 start.
MEC
Standings
North
Notre Dame 2-0
Frostburg State 1-1
West Liberty 1-1
Wheeling 1-1
Alderson Broaddus 0-2
Fairmont State –DNP
South
Charleston 2-0
Concord 1-0
UNC Pembroke 2-1
West Virginia State 2-1
West Virginia Wesleyan 0-2
Glenville State 0-3
The MEC is situation is not good. The spring schedule has been a continuously moving target for weeks and as of Wednesday, the south division is basically done. Concord's remaining two games were cancelled, ending their season one week after it began. That also ends UNCP's season as Concord was the only game they had left. West Virginia Wesleyan announced on Wednesday that they are ending their season, which combined with Concord's cancelations, means Glenville State has nothing left. The only south division game that remains on the schedule is West Virginia State at Charleston next Saturday. Two north division games are still on for this Saturday night.
I don't know yet what the conference will do about the championship game. If I had a say, it would be to abandon the divisions, see who is able and willing to play the next two weeks, set up the games and then call it a season. The team at the MEC office has worked incredibly hard to make this spring season work and all the athletes should be grateful for their dedication. But it might be time to just play out what remains on the schedule and then look forward to the fall.
SAC
Standings
Mountain Division
Carson-Newman 1-0
Tusculum 1-0 (2-1 overall)
Limestone 1-0 (1-1 overall)
Mars Hill 0-1
UVA Wise 0-2
Piedmont Division
Lenoir-Rhyne 2-0
Wingate 2-0
Newberry 1-1 (3-1 overall)
Catawba 0-2
Barton 0-2 (0-3 overall)
Like the other leagues, the SAC has endured cancellations and its not totally clear yet how that will impact the final standings that will determine the championship participants. The Piedmont division was on track as no cancellations of divisional games had occurred…until Thursday morning when Catawba called off the final two games. The Mountain division is a little murky. As things stand today, none of the five teams will complete the four game divisional schedule and at least one team (Carson-Newman) will play only twice. Speaking of Carson-Newman, on March 26, the Eagles reported that 51 players were unavailable. That's how its been for a lot of programs this spring. (EDIT: Since the original publication of this column, Carson-Newman has they are aborting the remainder of the season).
Thankfully, the highly anticipated Lenoir-Rhyne at Wingate game is on for Friday night. The Bears have won three straight in this series, including a playoff victory, but all three were absolutely thrilling affairs. I expect this week's meeting to be the same. The two-deeps have changed quite a bit since these teams last met but what they do and how they play is very familiar. I think this will be a defensive game and I won't be surprised if it is low scoring. Other than the veteran quarterbacks, both teams are working in a lot of new talent at the offensive skill positions (successfully, I should add) but the defenses have played like they never missed a beat.
Elsewhere around the league, Newberry will play its fifth game in five weeks, the most of any team so far. The Wolves host new in-state rival Erskine in a non-conference game. The Flying Fleet are coming off their toughest outing so far, a 47-7 loss to Tusculum. The Pioneers will play at home for the first time this spring as Limestone comes to town. The Saints were idle last week due to the Carson-Newman cancellation. Mars Hill and UVA Wise meet on Friday night. Both teams were off last week due to cancellations. The Highland Cavaliers are 0-2 but heartbreakingly close to 2-0. This will be their final shot at a win as Friday night's game will complete their season. Barton's season unexpectedly ended when Catawba announced the cancellation of their final two games.
Here is the full schedule for the weekend
Thursday April 1
Truman State at Southwest Baptist 6:00
East Central at Tarleton State 7:00
Friday April 2
Lenoir-Rhyne at Wingate 6:00
UVA Wise at Mars Hill 7:00
Saturday April 3
Indianapolis at Quincy 12:00
Erskine at Newberry 1:00
Limestone at Tusculum 4:00
Tiffin at Hillsdale 6:00
Alderson Broaddus at Notre Dame 6:00
Wheeling at West Liberty 6:00
Missouri S&T at William Jewell 7:00
Findlay at Kentucky Wesleyan 7:00
Questions, suggestions, comments, complaints? Email me at [email protected] and follow me on Twitter at @D2Chuck.