Spring Season Week Three Preview
March 26th, 2021 7:00am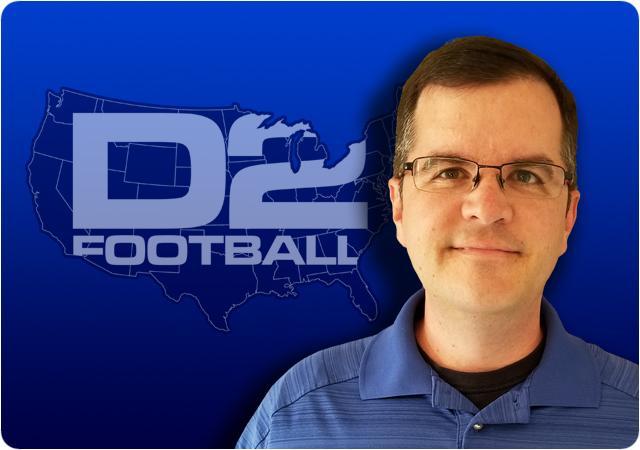 Since the D2 Football schedule is fairly light this spring, I'm changing up the column for the next few weeks. As most of you know, my normal gig for D2 is covering the South Atlantic Conference, but with only four leagues playing, may as well cover all of it…Hopefully.
The schedule is a moving target and it has been no different over the last few days with more than half a dozen changes. But things are picking up a bit with the G-MAC, MEC and SAC heading into the third full weekends of their schedules and the GLVC season semi-officially beginning. Let me explain that last part a little further.
The GLVC announced in October that the eight members would split into East and West divisions, which would facilitate a three-game divisional schedule, followed by a championship game. This was to be preceded by a "countable scrimmage" on March 27 with East teams versus West teams. I have to confess, the term countable scrimmage does not make any sense to me because in this context, the two words are contradictory. What I can say is that I reached out to a few officials around GLVC institutions, and the understanding is that the March 27 meetings will be exhibitions.
At the time it was announced, this made for a tidy format. Unfortunately, Lindenwood announced on March 18 that their football program will not compete in the spring season. The remaining seven teams will play on, but three teams (McKendree, Indianapolis and Quincy) are reduced to the aforementioned scrimmage and a two game divisional schedule, which begins next Saturday.
Here is a complete run down of who is playing this week (excluding exhibitions). We got off to a bad start with both Thursday night games cancelled, but the Saturday schedule is still looking good.
Saturday, March 27
Mountain East Conference
UNC Pembroke (2-0) at Charleston (1-0) 12:00 LIVE VIDEO
UNC Pembroke is two-for-two in Mountain East Conference play. The Braves opened the season and their MEC tenure with a dominant win over Glenville State and then pulled away for a lopsided win at West Virginia State in a game that was scheduled only 48 hours before kickoff. Charleston has just one game under their belts but gained a lot of experience in a drubbing of Glenville. There are still several games to be played, but this one will probably decide the MEC South Division. A win for UNCP would put them in a great position, with a home game against Concord being the only thing between them and the conference championship game.
West Virginia State (1-1) at Glenville State (0-2) 1:00 LIVE VIDEO
Glenville State needs a turnaround in the worst possible way. Of the teams that have played this spring, none have fared worse. The Pioneers have managed only seven points in two games and were never in contention in last week's shutout loss at Charleston. The stat sheet from that day is…well, pick your own adjectives. Three first downs, 26 rushing yards, 41 passing yards, 67 total yards, 13 punts. In 60 minutes of football. West Virginia State is licking some wounds after a 48-21 loss at home to UNCP, but the Yellow Jackets have won the last three meetings with Glenville State. WVSU needs a win to stay in the hunt for the south division title.
West Liberty (0-1) at Alderson-Broaddus (0-1) 1:00 LIVE VIDEO
This contest is a mid-week addition to the schedule. Both teams were slated to face other opponents but those games were called off so this one has been added. The good news is that this a winnable game for both teams and each needs a win badly. West Liberty will be without D1 transfer QB Jack Allison who is nursing an injury sustained in the loss at Notre Dame. The Hilltoppers have three redshirt freshman quarterbacks competing for space on the depth chart and it's possible all could see snaps on Saturday.
Concord (0-0) at West Virginia Wesleyan (0-1) 2:00 LIVE VIDEO
After two cancellations, Concord will finally make their spring debut. It will also be the program's first game under the leadership of Dave Walker, who begins his college tenure as one of the most successful high school coaches in West Virginia history. Concord and Wesleyan are both looking for fresh starts after finishing 1-10 in 2019. The Bobcats have a small advantage with a live game behind them, but it was tough day offensively with only 172 yards gained and just nine on the ground in a loss to WVSU.
Great Midwestern Athletic Conference
Kentucky Wesleyan (0-0) at Ohio Dominican (2-0) 12:00 LIVE VIDEO
Due to multiple cancellations, this will be Kentucky Wesleyan's first appearance of the spring season. It's not ideal to open against an ODU team with two games under their belts and in those two games, the Panthers' defense has allowed a total of just three points. If ODU can get a win, they will then have a week off before back-to-back meetings with Findlay and Tiffin.
Gannon (0-1) at Tiffin (1-0) 2:00 LIVE VIDEO
Tiffin will host Gannon on Saturday in one of the few non-conference games for the G-MAC. The Dragons, the preseason favorite to win the G-MAC, were idle last week after winning the opener at Walsh 21-14. Gannon, the only PSAC program in action this spring, lost at home to Davenport last Saturday despite holding the advantage in rushing, passing and total yards. Four giveaways from the Knights' offense made the difference. If they can tighten up the turnovers, this has the makings of a competitive game.
Walsh (0-2) at Findlay (1-0) 6:00 LIVE VIDEO
Walsh has had two tough games offensively averaging just 195 yards and seven points per game. The defense has played well enough to keep them alive, but will face a big challenge from a Findlay offense that scored 45 points in the opener at Hillsdale. The Oilers are led by veteran QB Matt Winzeler who looked like he was in mid-season form with four touchdown passes in the opener.
South Atlantic Conference
Limestone (1-1) at Carson-Newman (1-0) 1:00 CANCELLED
Updated March 26, 6:30PM...This game has been cancelled.
Carson-Newman had to rally from behind and then outlast UVA Wise in four overtime periods to win their opener. After a cancellation last week, they will now make their home debut against a confident Limestone team. The Eagles showed quite a few new looks offensively at UVA Wise. Elements of the traditional veer remained but the 38 pass attempts were the most by a Carson-Newman team since 1978. This spring season is a perfect time to evolve and try new schemes so it will be interesting to see if that continues. But if the Eagles struggle, Limestone is more than capable of pulling off an upset.
Tusculum (1-1) at Erskine (1-2) 4:00 LIVE VIDEO
A late addition to the schedule. Tusculum was supposed to play UVA Wise and Erskine was slated to play Edward Waters for the second time in three weeks. Both of those opponents were forced to the sidelines, so the teams with availability to play are getting together. Tusculum's offense had a big night in its last outing and this is a good opportunity to build on that, though Erskine has been pretty good defensively. Erskine also has talent at the offensive skill positions, but sustaining scoring drives has been a challenge. Tusculum is consistently good on defense so this will be a good barometer game for the Flying Fleet.
Catawba (0-1) at Wingate (1-0) 6:00
Catawba's season could not have started much worse. As the last SAC team to see the field this spring they were a little green heading into opening kickoff against Newberry and it showed. The Indians fell behind 21-0 by halftime but managed to erase the deficit and even had opportunities to take the lead in the fourth quarter. The result was not what they wanted but overall it was a good showing and gave the Indians some things to work with. QB Ken Avent saw live action for the first time since the end of the 2018 season and looked solid, especially with the rushing threat he brings to the offense. Wingate's only action so far was at Barton in week two so we don't have a completely confident read on where they are at right now, but they proved that once again, they have a very deep roster.
Newberry (2-1) at Barton (0-3) 6:00 LIVE VIDEO
First year program Barton rebounded respectably from a humbling home loss to Wingate by giving defending SAC champs Lenoir-Rhyne a good workout last Saturday. The Bulldogs changed up the offense by starting and sticking with Jaquan Lynch at quarterback. Despite a few turnovers, Lynch was impressive and may be hard to keep out of the lineup going forward. Brton should be competitive again this week but earning a first win is still going to be a huge challenge against a Newberry team that has been playing well. They have some physical runners that should be able to control the game and a dual threat quarterback that will be a huge problem for Barton's defense.
Independent
Fort Valley State (0-0) at Shorter (2-1) 2:00 LIVE VIDEO
In just three weeks, Shorter has already done something that the program had not done since 2014…win twice in the same season. A taste of winning could go a long way for this team and the finale with Fort Valley State gives them an opportunity to finish the brief schedule with a winning record. FVSU should be a more formidable opponent than Erskine or Edward Waters (Shorter's two wins this month) but the Wildcats have not played a game since November, 2019. Shorter has played three games in the last four weeks which gives them a competitive advantage. The two teams last met in September, 2019 with FVSU winning at home, 30-22.
Midwestern State (1-1) at UT Permian Basin (4-0) 2:00 LIVE VIDEO
UT Permian Basin has possibly made more of this spring than any other program. The Falcons are 4-0 for the fist time ever and have a realistic shot to finish the short spring schedule unbeaten. Although the Lone Star Conference did not officially sponsor football this spring, Midwestern State will be the third LSC rival the Falcons have faced, having already defeated Western New Mexico and Texas A&M Kingsville.
It has been a memorable month but UTPB will face their toughest challenge in Midwestern State. The Mustangs spring season to date has included a scrimmage with Southeastern Oklahoma, a win over TAMUK and a competitive effort in a loss to former LSC rival and current FCS program Tarleton State.
The UTPB defense has been exceptional, holding four opponents to an average for 10.5 points per game. That includes a defensive shutout of the same TAMUK team that scored 34 (with 21 in the fourth quarter) on Midwestern State earlier this month.
Northeastern State (0-0) at Tarleton State (4-2) 7:00
Northeastern State will play their first and only live game this Saturday at former D2 and current FCS program Tarleton State. This will be conducted as a normal football game but Interestingly, NSU has said the game will not be counted for official records and statistics. However, Tarleton State does intend to record the game as an official contest. TSU has had a busy spring so far with six games in the books. The results are highlighted by their first win as an FCS program, which happened to occur over an FBS program (New Mexico State). Overall, the Texans are 4-2 and have won three in a row. NSU will be short on game reps compared to Tarleton, but have had two recent scrimmages with GAC programs to help prepare.
I hope we got everything. Feel free to let me know if we missed any countable games and enjoy your Saturday. Follow the official @D2Football twitter account for news and updates, and you can me at @D2Chuck and [email protected]