Week Four National Roundup
September 25th, 2022 6:30am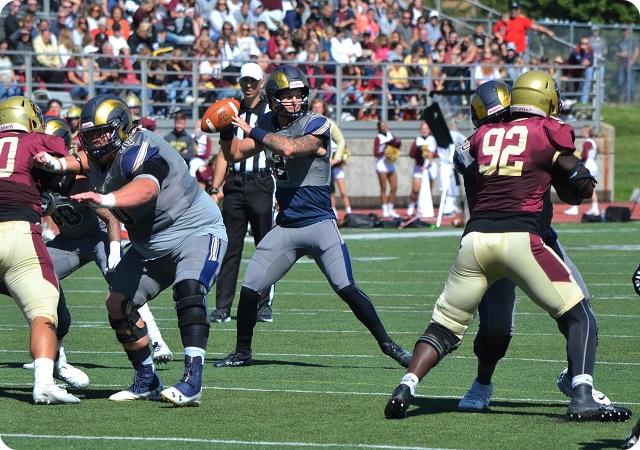 Headlines, news and notes from a thrilling week four of Division II Football.
By Chuck Bitner, National Columnist
#9 Ouachita holds off #7 Harding
Ouachita Baptist shutout Harding in the second half of Saturday night's GAC showdown in Arkadelphia and held on for a 21-13 win. It takes a good rushing offense to know how to stop a good rushing offense and that is what we saw Saturday night. The top two rushing offenses in the country were held well below their season averages. Ouachita entered the game as the nation's leader in rushing yards per game but Harding limited the Tigers to just 177. The Bisons were more successful with 272 yards, but still fell about 80 yards short of their average. One of the biggest factors in the game was Ouachita's ability to force Harding into fourth down situations. The Bisons ran a play from scrimmage on five fourth down situations and were stopped on three occasions. The Bisons also missed a PAT and a chip-shot field goal. Those four points could have changed some decision making later in the game. The defensive effort from Ouachita was led by Jax Miller who was in on 21 total tackles, the most in a single game in more than a decade. With the win, Ouachita is the last team to remain unbeaten in conference play and takes sole possession of first place in the GAC.
Cardiac-attack Rams: #5 Shepherd rallies to beat Kutztown on the road
Shepherd shook off a tough opening half to rally past Kutztown in a thrilling 42-35 road contest. Shepherd's offense was held scoreless in the opening half and may have been in serious trouble if not for a pair of touchdowns scored by special teams and the defense. As explosive as they can be, Shepherd's offense is also extremely calm and patient. Their halftime adjustments in pass protection worked to perfection as the Rams scored touchdowns on four of five second half possessions, with the fifth ending in a tournover on downs at the goal line. The Rams' second half drives covered 75, 75, 89, 68 and 75 yards, in that order. In the first half, the Rams had only three complete drives. As mentioned in the preview column last Thursday, it's really hard to prepare for this Shepherd team. Kutztown did a fantastic job taking away the rush. Shepherd finished with just 11 rushing yards and even when factoring out the sack yardage, they grossed only 39. That was a phenomenal effort from the Kutztown defense. But...Shepherd has Tyson Bagent, one the best quarterbacks in Division II history. He weathered the bad first half with coolness and came back to finish the day with 456 passing yards, completing 30 of 41 attempts. Marlon Cook was his top target, grabbing 9 of those completions for 212 yards, highlighted by a 70 yard catch and run for a TD. This was clearly the game of the year for both teams in the regular season. There are no gimmies in conference play but these two have a pretty big gap between themselves and the rest of the PSAC east. It's a long season, but Shepherd's biggest obstacle between them and the PSAC championship game has already been conquered.
Delta State outlasts #6 West Florida to stay unbeaten
In a four hour test of endurance on a humid evening in Florida, Delta State never trailed in the double-overtime upset of #6 West Florida. The Statesmen used several explosive plays, special teams, and an opportunistic defense to steal a win from the Argos. West Florida's offense went through stretches of hot and cold performance. As a team, they posted 646 yards, including 370 on the ground, but also turned the ball over four times. After erasing a 14-point fourth quarter deficit, West Florida appeared to have a little more left in reserve for Overtime. After matching Delta State's TD in the first OT period, Shomari Mason broke loose and appeared to set up the Argos with first and goal in the second OT, but lost the ball. The final turnover of the day allowed Delta State to kick the game winning field goal in the bottom half of the second OT period. Patrick Shegog was the offensive star for Delta State, passing for 294 yards with 3 TDs, and also rushing for 82 yards and a TD. Shomari Mason rushed for 214 yards and a score in the loss for the Argos. Delta State will finally have a chance to play at home next week after opening the year with four consecutive road wins.
Central Oklahoma upsets #3 Northwest Missouri State
Adam Dorrel grew up in the Northwest Missouri State program as a player and assistant coach. He went on to win three national championships as head coach. On Saturday, Dorrel's Central Oklahoma team handed the Bearcats one of their toughest regular season defeats in a few years. The game was equal parts good defense and horrendous offense. UCO won the game with just eight first downs and zero conversions on third down. Turnovers were the key. The Bearcats threw three interceptions and lost two fumbles. The first two turnovers led directly to 10 points after the Bronchos were set up in the red zone on both occasions. The defining moment of the game was an 83 yard TD run from UCO's Jaylen Cottrell in the third quarter. That TD gave the the Bronchos a two score lead and they were able to make it hold up for a 23-14 final. Cottrell's TD run was more than double the rushing yardage allowed by Northwest through the first three games.
Concord wins battle of Unbeatens in MEC play
Concord won the battle of unbeatens in the Mountain East Conference. The Mountain Lions held a two-score lead over Frostburg State late in the fourth quarter, but a furious Bobcat rally culminated in a touchdown on the final play of the game that drew them within one point. Frostburg appeared intent on going for two and the win, but a false start forced a change in direction. The Bobcats lined up for the PAT but a bad snap ended the game on the spot. Concord is 4-0 for the first time since 2014, the same year they won the MEC and Super Region One championships. The passing combination of quarterback Jack Mangle and receiver Jarod Bowie was on full display. Bowie caught 13 balls for 221 yards and a TD as part of Mangel's 354 yard day.
News and notes
William Jewell snapped a 27 game losing streak that dated back to 2019. The Cardinals beat Kentucky Wesleyan at home with a fourth quarter rally to win 24-17.
Sioux Falls and Augustana both won on Saturday to improve to 4-0. This sets up a huge match up next Saturday for the cross-town rivals in the Key to the City Game.
In other rivalry game news, Black Hills State (4-0) kept their undefeated season going with late heroics to beat Colorado Mesa. The win sets up a great matchup with rival South Dakota Mines who will enter the game with a 3-1 record.
For the second week in a row, D2 newcomer Emory & Henry took a SAC heavyweight to overtime, and this time, they won. E&H beat Wingate 17-10 in OT one week after falling in OT to SAC preseason favorite Newberry. The win is the first conference win for E&H as a SAC member.
Franklin Pierce earned the program's first ever Northeast 10 victory with a 7-3 win at American International. It was also the first win over a Division II program. Franklin Pierce played its first season of varsity football in 2019.
Truman State (3-1) handed Tiffin (2-2) their second straight loss with a two-point play in the bottom half of the first OT.
#4 Angelo State (4-0) took control of the LSC race and handed #22 West Texas A&M (2-2) a second straight loss. This was a 7-6 ball game at the half, but Angelo State blew it up with 28 second half points to pull away for a 34-14 win.
Texas A&M-Kingsville also remained perfect on the season and in LSC play. The 4-0 Javelinas beat Eastern New Mexico 43-10.
Lincoln (Pa) picked up their first CIAA road win since 2009 with a victory at Johson C. Smith. With a 2-2 record, the Lions have multiple wins in a season for the first time since 2015's 3-7 record.
Saginaw Valley State stayed perfect with a 35-13 win over Michigan Tech. The Cardinals now have Grand Valley and Ferris State in the next two weeks.
A year after a winless campaign, Southwestern Oklahoma State is now at 2-2 following an overtime win at Oklahoma Baptist.
That's a wrap for week four. Before to catch inside D2 Football Sunday night at 8pm. We will recap the big games and have a visit from Sioux Falls coach John Anderson.
Questions, suggestion, comments, complaints? Email me at [email protected] and follow me on Twitter @D2Chuck.