Week Two National Roundup
September 11th, 2022 5:00am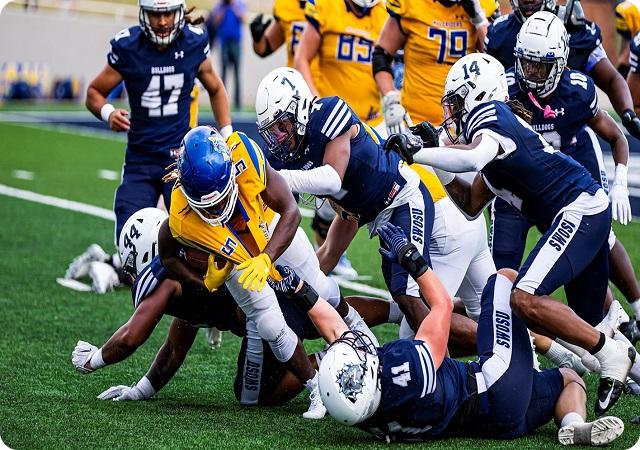 By Chuck Bitner, national columnist
Virginia Union upset Valdosta State Saturday night at Bazemore-Hyder Stadium. The Panthers' rushing attack was the key to victory, rolling up 305 yards on the ground. Jada Byers was the player of the game, rushing for 283 yards on 29 carries.
A big second quarter swung the game in Virginia Union's favor. After being held scoreless in the first period, the Panthers strung together four consecutive scoring drives to take a 24-20 lead to the half. Valdosta appeared to be ready to take control in the third period, but the Panthers responded and then reeled of a series of points to build the lead to 45-27. A late rally from the Blazers was too little and too late.
While the result is very surprising, it was not a fluke or an accident. Virginia Union out played the Blazers most of the night and beat them at the line of scrimmage. A bulk of the rushing yardage was straight at the Valdosta defense and they simply could not stop it. The Blazers have one more out of conference game at Miles next Saturday. GSC play begins on September 24 at Shorter. Virginia Union returns home to host Livingstone. The big question is, might we see Virginia Union in the Top 25 this week?
Virginia Union coach Dr. Alvin Parker is scheduled to join Inside D2 Football Sunday night at 8pm, eastern
#7 Angelo State prevails in OT at #9 Colorado Mines
Visiting Angelo State put Mines on the back foot from the opening drive of the game. The Rams did not crack the scoreboard until their second possession, but they opened the game with a 21 play drive that consumed nearly nine minutes. That came up empty, but set the tone for the game and likely had a roll in MInes inability to stop the run later in the game. Angelo rushed for an impressive 279 yards against the Mines defense, with the always explosive Alfred Greer busting loose for 81 yards on just five carries. I had Mines winning this game, but I was high on Angelo heading into the season and had them at #5 in my poll going into this game. They solidified that confidence with the performance on Saturday. For Mines, facing Grand Valley and Angelo State in consecutive weeks was a tough assignment. I have not completed my Top 25 yet but I a remain convinced they are one of the 25 best teams in the country. At 0-2, it may be hard to find a place for them in the rankings but I think they still have a very good chance of winning the RMAC. Don't count them out yet. Winning the remaining nine games and getting back to the playoffs is very doable for this team.
#4 Grand Valley goes 2-0 against the RMAC
The Lakers won the RMAC part of their schedule following up the win over Mines with a good road victory at CSU-Pueblo. In a game that was a little ugly at times due to poor weather, the Lakers rushed for five touchdowns and held Pueblo at arm's length all evening. This was a great win for Grand Valley. They dominated a Pueblo offense that put up school records in the passing game a week ago and held them to just 10 points on their home field.
#1 Ferris State defense dominates in road victory
Playing on the road against a ranked opponent without your starting quarterback is a tough assignment. The Ferris State defense was more than up for it. The Bulldogs held a ranked Lenoir-Rhyne team to just 94 total yards and just a single third down conversion. The Bulldogs' offense had some of their own challenges, playing without starting quarterback Mylik Mitchell, but they were able to do enough in rainy, foggy conditions to win. It was not an easy win by any means but I really like the trajectory of this year's Ferris State team. Winning tough games against quality opponents is good for character development of a team. They are delivering in critical situations, making the plays they need to have and relying on a lot of different players. That is what a team does. Are they as dominant as last year's team was at this point? No. Are they capable of repeating all the same successes they had last year? Absolutely.
News and notes
Colorado Mines was not the only preseason Top 25 to fall to 0-2. Bemidji State lost a heartbreaker at #16 Augustana by a single point. The Beavers trailed by 14 late in the fourth quarter but rallied for a pair of scores in the final 3:37. Trailing by a point following the second of those TDs, the Beavers went for a two point play to take the lead. Augustana broke up a pass attempt in the end zone to seal the victory. Bemidji State, a defending co-champ of the NSIC, falls to 0-2. Western Colorado, another Top 25 at the open of the season, lost in OT at UT Permian Basin. The Mountaineers led by eight points late in the fourth but UTPB was able to tie the game with about two minutes left and then win it in OT.
#25 Ashland followed up their impressive season opening win over Notre Dame with a dominant 28-3 win at preseason GMAC favorite Findlay. The Eagles held Findlay to just 141 total yards and 8 first downs. In the preseason, I noted Ashland as team that may sneak up on the GMAC favorites and steal the title. They are looking very capable of that, but won't be sneaking up on anyone after this early season form.
The prime challenger for Ashland in the GMAC at the moment is the Tiffin Dragons. Tiffin upended Ohio Dominican 28-13 on Saturday with a balanced attack of 213 passing yards and 209 rushing yards. The Dragons are 2-0 and have a critical out of conference matchup with Indianapolis this coming Saturday night.
Pittsburg State made their claim for a spot in the Top 25 with a big road win at #12 Nebraska-Kearney. The Gorillas trailed for much of the game but rallied to tie the Lopers at 28 and then stunned the home crowd with a 72 yard catch-and-run game winning TD with just 12 seconds remaining.
Saginaw Valley also made a bid for a top 25 spot knocking off #11 Bowie State 40-12. I thought the Bulldogs defense would be able to keep this low scoring and help Bowie to a big road win but the Cards' offense run through them to the tune of 323 yards on the ground. Through two games, Saginaw Valley has rushed for a total of 695 yards.
#8 Harding avenged last season's week two loss to Southeastern Oklahoma State with a dominant 38-13 win. The Bisons rushed for 389 yards and outgained Southeastern in total offense 442 to 282.
A week after an inexplicable offensive showing at Assumption that resulted in a 3-0 loss, Kutztown rebounded in a big way. The Golden Bears scored 17 unanswered in the third quarter to pull ahead of #18 California and secure a huge win at home. Kutztown evened their record at 1-1 and appear to have righted the ship ahead of the PSAC east division schedule that will begin in two weeks.
IUP, the only PSAC team that did not open their season in week one, kicked a field goal on the final play of the game to beat East Stroudsburg 38-35. Elite 100 receiver Duane Brown caught 12 passes for an even 200 yards and had one touchdown.
Southwestern Oklahoma State won at home over Southern Arkansas by a final 24-20. Following a winless 2021 campaign and the canceled 2020 season, it was Southwestern's first win since November 2, 2019. It was also the first win under new coach Josh Kirkland.
Questions, suggestions, comments, complaints? Email me at [email protected] and follow me on Twitter @D2Chuck