G-MAC Preview 2019
August 27th, 2019 12:00am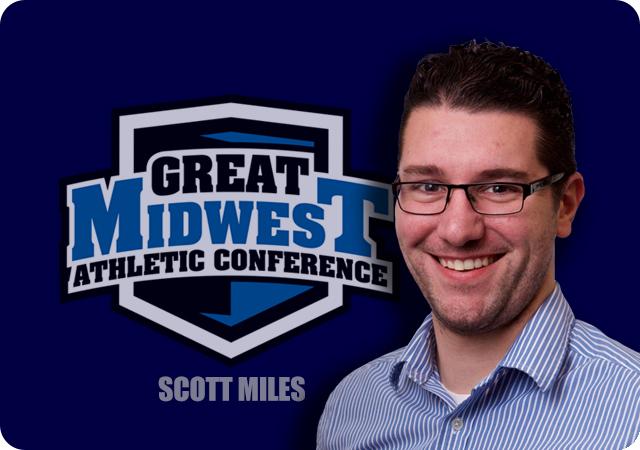 It's hard to believe that football season is right around the corner! After spending the last nine years as the sports information director at Ohio Dominican University, I'm excited to take on the role as the first blogger for the G-MAC on D2Football.com. The conference has garnered respect as four different teams have been nationally ranked over the past two years, and Findlay and Hillsdale have each earned road postseason victories.
This year is shaping up to be another interesting one in the league, as there does not appear to be much separation between the teams voted in the top four in the league's preseason poll (Hillsdale, Ohio Dominican, Findlay, Tiffin.) Both Alderson Broaddus and Walsh have been able to put some scares in teams over the past two years and are looking to take the next step forward, while Kentucky Wesleyan and Lake Erie will turn to new head coaches to turn things around with their respective programs.
Without further ado, here's a look at each of the eight teams that will be competing in the conference this fall…
Alderson Broaddus
The Battlers had some impressive talent at the skill positions in the past, and in 2018 they received solid quarterback play to go along with it in the form of Joe Czelusniak. Now a redshirt senior, he threw 25 touchdown passes against nine interceptions last season. Though the Battlers finished with a 4-7 record, they took Tiffin and Findlay down to the wire and hung with Super Region 2 playoff qualifier Bowie State as well, and Czelusniak's steady play was a big part of that. AB averaged nearly 37 points and 420 yards per game on offense.
AB will be breaking in a largely new receiving corps, though. While Zack Lake (693 yards, 10 TDs) returns, Maurice Thomas and Dante Waugh are gone, as is leading tight end Taylor Ball. The Battlers will return the bulk of its running game in Jalen Jackson (670 yards, 5.2 ypc, second team all-league), Jamil Collison-Cofie (548 yards, 7 TDs) and Nicolas Bishop (327 yards, 7.1 ypc). AB also brings back all five offensive linemen who started the season finale, with Donovan McNelis and Zach Lyons picking up all-league nods.
Defensively, AB graduated just one senior in Quade Raley, but his impact will be missed as he finished with 10.5 tackles for loss and 5.0 sacks last year. The Battlers will need to not only replace him, but improve and add depth on this side of the ball as AB surrendered 474 yards and 38 points per game.
Elsewhere on the line, Zeke Hand and Alex Riggins return on the interior. At the linebacker spots, Otis Smith (52 tackles, 11.0 TFL) is back, as are seniors Kenny Alexandre and Michael Genalo, but William Bailey (71 tackles, 11.5 TFL) has departed.
Safety Matt Jackson led the team with 85 tackles, while Ryan Smith had three picks at safety and Christopher Hill made 37 tackles from the safety position. AB will be inexperienced at corner this season, with its returners from last year's two-deep having combined for just 14 total tackles.
Specialist Austin Hampton earned all-conference honors and made nine field goals last years, and punter Jordan Slaiby also returns.
Findlay
The Oilers were an eyelash away from being in the postseason hunt again in 2018, but a tough ending against Hillsdale early in October essentially ended their bid to return to the playoffs. Findlay put up impressive statistical numbers, averaging over 40 points per game and nearly 500 yards of offense, while holding opponents to 338 yards per game defensively.
Findlay will be looking for a new signal caller this fall to replace Adam Bertke and Rhys Gervais, and the Oilers brought in JuCo transfer Jay Vanderjagt to compete for the job. Whoever wins the job will have the luxury of a veteran offensive line as the Oilers return first team all-league linemen in Logan Bailey and Neal Davis, while Andrew Dickinson earned second team all-conference honors. The new quarterback will also enjoy handing to Brian Benson (963 yards, 16 TDs, 7.4 YPC) in the backfield, a first team all-conference back.
However, a new cast of skill players must step up for Findlay in order to keep its offense rolling at a high level. Behind Benson, the next four leading rushers from last season have moved on, including talented backs Richard Wilson and Chauncey Bridges. That's roughly 2,000 yards and 20 touchdowns of production that Findlay will need to replace.
The Oilers will also need its receivers to step up to help the new quarterback. Jason Moore led the team in receiving last year – and played in just four games. Andrew Ogletree is a big target at 6-5, 245, and finished with 428 yards and five scores last season, and tight end Luke Stuffel caught five touchdowns, but there will be need for another target or two to emerge.
Defensively, the Oilers graduated their top three leading tacklers. Headlining the returners is linebacker Isaac Miles, who finished with 56 tackles, and defensive lineman Kyle Gibson, who made 51 tackles with 7.5 sacks. Both earned first team all-conference honors, while lineman Grant Kinsinger (5.0 TFL) also picked up all-league recognition. Also returning is linebacker Jack Trombetti (38 tackles), while the line will see Justin Eliis (9.0 TFL) and Maliq Carr (6.0 TFL) back as well.
The specialists will be mostly new, though kicker Chris Demler did attempt three field goals and 17 extra points last season.
Hillsdale
A talented and experienced group of upperclassmen carried Hillsdale to a G-MAC title and postseason win at Kutztown before falling to Notre Dame in the second round. Winners of 12 straight G-MAC contests, the conference's coaches have projected Hillsdale to repeat as league champs.
The Chargers are slated to return 17 starters, but Hillsdale will have to overcome some major losses, including the star quarterback-receiver tandem of Chance Stewart (3,588 yards, 28 TDs) and Trey Brock (1,422 yards, 17 TDs). Defensively, standout lineman Zach VanValkenburg (70 tackles, 14.5 TFL, 8.5 sacks) has transferred to Iowa, and leading tacklers Jay Rose (113 tackles) and G-MAC DB of the Year Wyatt Batdorff (101 tackles) graduated as well.
The cupboard is not completely bare for the Chargers, however. On the offensive side of the ball, leading rusher David Graham (939 yards, 16 TDs) is back and will be in his third year as a starter, and receiver Konnor Maloney had a breakout campaign as a sophomore, catching 59 passes for 891 yards. As importantly, the offensive line is scheduled to return four starters as well, including first team all-league pick Mark Konkle, though the Chargers will miss G-MAC OL of the Year Drew Callahan.
Redshirt freshmen Luke Keller and Joe Bentley are competing for the quarterback job and the Chargers will be breaking in some new faces at receiver and tight end. Behind Maloney, the next leading returners from last year are tight end Martin Petersen (14 catches) and receiver Alec Foos (nine catches).
The defensive line will see the return of Kyle Parran (12 TFL, 6.5 sacks) and Joe Royer (33 tackles), who saw extensive playing time as freshmen last year. Senior Nate Canterbury (32 tackles) is also back in that group. Senior linebackers Dan Shanley (68 tackles) and Nate Jones (64 tackles) will headline that group, and the secondary will see the return of seniors Drake Temple (71 tackles, four interceptions) and Jason McDonough (55 tackles).
Joe Philipp earned first team all-league honors, making 13 field goals with a long of 51, while Jack Shannon averaged 41.6 yards per punt.
Kentucky Wesleyan
Youth will be the name of the game for the Panthers this season as there are a whopping 75 players with freshmen or sophomore eligibility listed on the 2019 roster. First year head coach Craig Yeast will hope that youth movement pays dividends in the long run, though having to rely on that many inexperienced faces may continue some short-term struggles for KWC.
An offensive-minded coach, Yeast inherits a unit that did have some success putting points on the board, including 46 points against Lake Erie and 44 points against Malone. Senior quarterback Mike McGee returns after completing 58 percent of his passes last season for 1,318 yards and nine scores. Junior running back Corey Johnson ran for 581 yards and three touchdowns, averaging 5.4 yards per carry, and Landan Thomas averaged 5.7 yards per carry, totaling 399 yards.
Leading receiver Derek Barnes (524 yards, 5 TDs) has departed, so De'Ondre Boggs will carry the load after a freshman campaign in which he caught 43 passes. On the offensive line, KWC brings back four of its starters from the season finale.
Defensively, linebacker Jalen Humphrey led the team in tackles as a freshman and will be back (64 tackles, 7.5 TFL). Armand Childs and Alijah McGee headline the defensive backs, as Childs recorded 62 tackles with two picks, while McGee earned all-league honors after picking off six passes. On the line, Dalan Cofer registered a team-best 5.0 sacks.
KWC will be looking for new specialists to replace kicker Chris Logsdon and punter Taylor Soper.
Lake Erie
Like Kentucky Wesleyan, Lake Erie will look to rebuild under first year coach Reilly Murphy. There are plenty of true freshmen listed on the roster and a number of other transfers. The Storm are looking to snap a 13-game losing streak, and building up the program's numbers is the first step in the process to competing at a high level.
Murphy brought in transfer Kolston Brewster to compete at quarterback with incumbent Javarian Smith. Brewster threw 37 touchdown passes in his senior year of high school and redshirted last year at Buffalo. Smith has seen action at quarterback in all three seasons at Lake Erie and has thrown for 2,350 yards and 11 touchdowns in his career.
As a team, the Storm finished with just 475 yards rushing on 323 carries last year. Xavier Pulliam paced the team with 234 yards and is slated to return for his sophomore campaign. Corey Brooks is the leading receiver back with 16 catches for 164 yards and tight end Josh Hufstetler caught 15 passes for 189 yards.
Defensive back Elems Ukwu made 100 tackles and returns, as do defensive linemen Jaylen Johnson (53 tackles) and Justin Growel (51 tackles, 13.5 TFL). Safety Thomas Covington had 44 tackles and three interceptions and is also back.
Ohio Dominican
The Panthers have won at least seven games in every season since 2011, but haven't reached the playoffs since 2014. They return plenty of pieces from last year's team that finished 9-2 and just missed on a playoff bid yet again.
Redshirt freshman Evan Ernst emerged as the team's starting quarterback and led the country in completion percentage (74.5 percent) while tossing for 2,506 yards and 28 touchdowns against just seven picks. He was named the league's freshman of the year and second team all-conference. Though standout receiver Cory Contini (950 yards, 16 TDs) has moved on, Ernst will have other top targets in seniors David Turner (76 catches, 733 yards), Devanaire Conliffe (540 yards, 7 TDs) and Cedric Washington (419 yards, 3 TDs) back. That trio each earned all-conference accolades.
The Panthers will have their top two running backs returning in second team all-conference pick EJ Colson (781 yards, 10 TDs) and Fred Pitts (433 yards, 3 TDs), and three starting offensive linemen in Jake Garrison, Nick Vernon and Vinny Verbiar are also back. Garrison picked up all-league recognition last year, but ODU did graduate all-league linemen Robert Vargo and Andrew Lucke.
ODU's defense will need some re-tooling with the graduation of four first team all-conference picks. The defensive line lost Nick Isaacs (6.5 sacks, 9.5 TFL) and Brian Hunter (4.5 sacks, 7.5 TFL), but second team pick Aarin Smoot-Baker (6.0 sacks, 9.5 TFL) returns on the interior. At linebacker, G-MAC Defensive Player of the Year Ross Thompson (110 tackles) graduated as well, but second team all-conference pick Camren Moore (93 tackles) and Dauson Dales (45 tackles) are back, as well as Alessio Amato and Jalen Christian.
In the secondary, second team all-league safety Jayden Davis (64 tackles) returns, as does Gus Dimmerling, who missed most of 2018 with injury but was a First Team All-Great Midwest selection in 2017. Julian Linkhart (61 tackles) saw time at corner and safety while Ashton Gilkey started as a true freshman and recorded 30 tackles with two picks.
The Panthers return specialists Logen Neidhardt and Jed Quackenbush. Neidhardt has developed into one of the top punters in the nation and was a first team all-league selection last year, averaging 43.0 yards per punt. Quackenbush connected on 7-of-9 field goal attempts in 2018.
Tiffin
The Dragons raced out to a 9-0 start in 2018, but losses in its final two games against Hillsdale and Findlay derailed what looked to be a playoff season for the Dragons. Still, Tiffin returns plenty of pieces to challenge again for a conference title and postseason berth in its second season in the G-MAC and first under new head coach Cris Reisert, formerly the OC at Ohio Dominican.
Nick Watson returns for his third season as Tiffin's starting quarterback and will look to build on a campaign in which he threw for nearly 3,000 yards and 23 touchdowns with just eight picks. The Dragons should have a terrific one-two punch in the backfield with Kyle Brunson and JaQuan Hardy. Brunson picked up First Team All-Great Midwest honors, rushing for 961 yards and 10 scores last year. Hardy missed the season with injury, but in 2017 ran for 1,077 yards and eight TDs while the Dragons competed in the GLIAC.
Watson will be looking for new receiving targets following the departures of first team all-league pick Charles Holland (77 catches, 976 yards, 10 TDs), Victor Talley (48 catches, 703 yards, 7 TDs), and Tyler Denton (41 catches, 584 yards). Gavin Woods (18 catches, 208 yards) is the leading returner at that group.
On the offensive line, Jeremiah Campbell returns after picking up second team all-conference honors, but all-league linemen Jordan Fair, Logan Schneider and Ridge Tarwacki are gone.
The Dragons will bring back all-conference defensive linemen Alexander Melfe (35 tackles, 8.5 TFL) and AJ Wright (38 tackles, 2.5 TFL). The-Moor Kelly (39 tackles, 4.5 TFL) is the top returner at linebacker with the graduation of second team selection Avion Boyd (46 tackles, 4.0 TFL).
Tiffin has some experience in its secondary with Chrystian Watkins (63 tackles) and Daigien Morgan (47 tackles), but must replace first team all-league back Daijohn Isbell (44 tackles, five interceptions).
The Dragons had four kickers attempt at least one field goal and will bring their top two in terms of attempts in A.J. Nickoli (4-of-7) and Joe Harakal (6-of-8). Punter David Orlando also returns.
Walsh
Will this be the year that Walsh can take the next step forward? The Cavaliers have won four games in each of the past two seasons, and though the defense has kept them in most games, the offense hasn't been able to deliver.
Nick Gassman will return at quarterback after throwing for 1,357 yards and eight TDs last season. Junior running back Koby Adu-Poku has been the top playmaker on the Cavs. He accounted for 1,366 of the team's 3,664 all-purpose yards last season, or nearly 38 percent, and he scored 12 of the team's 22 offensive touchdowns.
Devin Kenerly did a nice job spelling Adu-Poku in the backfield with 332 yards, averaging better than five yards per carry. However, there will be a lack of experience at the wideout position. Adu-Poku led the team with 24 receptions, and the next leading returner at receiver is Aidan Tuttle, who caught eight passes in 2018.
On the offensive line, Hunter Polk returns after garnering all-conference accolades last year.
The defense will be headlined by its linebacking corps as all-conference selections Stephen Baugh (72 tackles, 9.0 TFL) and Leo Crosby (59 tackles, 9.0 TFL) are back. All-conference linebacker Nick Sanchez (50 tackles) will need to be replaced, though.
Morgan Trust was a force on the defensive line with 7.5 sacks and 11.5 TFL and will return in 2019 after being named second team all-league. The Cavaliers will look for someone else to step up on the defensive line after the graduation of all-conference pick Rikwon Moore, though.
In the secondary, Dylan Garver (51 tackles, two interceptions) will be back, as will Myles Williams (50 tackles, 5.5 TFL). Ronald Robinson (22 tackles, two interceptions, eight pass break ups) is also back. All-conference selection O'Shead Heard (37 tackles, seven pass break ups) has moved on, though.
The Cavaliers will need to replace kicker Kasey Tingler (10-of-15 field goals) but return punter Trey Crockett.