D2Football.com Players of the Week
October 3rd, 2023 8:00am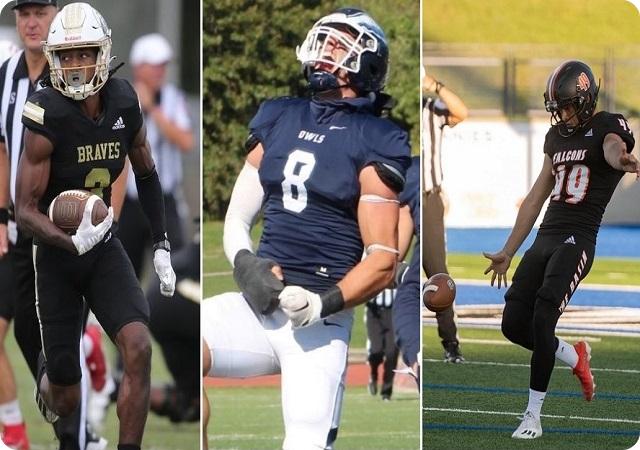 D2Football.com is pleased to announce the players of the week for week five of the Division II season.
Offense
Trey Dixon
Wide receiver, UNC Pembroke
Trey Dixon turned in a record-setting performance in UNC Pembroke's 41-20 win over Wheeling last Saturday afternoon. The graduate student receiver caught seven passes for 240 yards and four touchdowns. His day resulted in new school records for receiving yards and receiving touchdowns in a single game. Dixon's impact in the second half was critical to the outcome. The score was tied at 13 starting the third quarter. Dixon had two scoring grabs in the quarter to help the Braves take a lead they would not surrender. His touchdowns catches were from 32, 75, 18 and 73 yards.
Defense
Joe Digello
Linebacker, Southern Connecticut State
Southern Connecticut State linebacker Joe Digello was a disruptive force all day in the Owls' 6-3 win over Saint Anselm. With the offense struggling, the defense had to keep their opponent out of the end zone and Digello led the unit that made it happen. He finished the day with 10 total tackles, six solo, two tackles for loss and two sacks for loss of 10 yards. He also forced a fumble and disrupted the passing game with three credited quarterback hurries. Digello and the Owl defense limited Saint Anselm to 211 total yards, with only 59 on the ground.
Special Teams
Sergio Landeros
Punter, UT Permian Basin
Sergio Landeros had a significant impact on the field position battle in UT Permian Basin's win over Texas A&M-Kingsville. His first of four punts was the longest, traveling 50 yards and getting the Falcons out of poor field position. In the third quarter, the Falcons faced a 4th and 12 at the TAMUK 39 yard line. With an unfavorable down and distance, the Falcons elected to punt. Landeros dropped the punt at the Javelinas' one yard line. He repeated that trick in the fourth quarter with a 49 yarder downed at the one. On the following offensive play, the Falcons' defense tackled the ball carrier in the end zone for a safety. The two points and possession killed any chance of a comeback in UTPB's 29-17 win, their first ever win over a ranked opponent.