GLIAC Week 6 Preview
October 10th, 2019 10:30am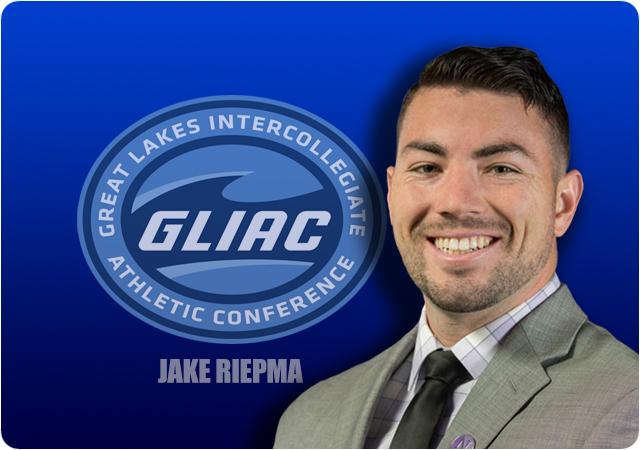 Four more GLIAC games and one nonconference game on tap for our Saturday viewing pleasures as week six on the gridiron is headlined by an unexpected battle for first place. Sure, we all expected Ferris State to be undefeated and the team to beat, but did anyone anticipate a week six matchup with Wayne State to have first place on the line? I didn't think so, but the Warriors have turned it around and won their last three games including a 2-0 start in conference play, thus setting up Saturday night's showdown in Detroit for first place in the conference.
The Battle of the Valleys in Allendale also makes for a compelling evening as this matchup of 4-1 teams will have playoff implications - Saginaw Valley State looks to keep things rolling and Grand Valley State looks to bounce back after last week's heartbreaker against Ashland.
A huge weekend in Michigan's Upper Peninsula as the annual "Miner's Cup" will kick off at Kearly Stadium on the campus of Michigan Tech when the Huskies and Wildcats do battle, a rivalry that dates all the way back to 1920.
Meanwhile, Ashland will look to keep the momentum going against Davenport who was dominated last week by Ferris State and in need of a bounce back game on the road, and last but certainly not least, Northwood will look to get into the win column with a nonconference game against former GLIAC foe Hillsdale College.
It's homecoming in Detroit for Wayne State, a place the No. 2 ranked Bulldogs have not played since 2012. Ferris State put on quite the show last weekend with their 35-7 pounding of Davenport, but they'll be road tested once again this week as this Warrior team is playing significantly better than they were to start the season. Ferris State's defense doesn't always get the credit they deserve, but they've been stifling all year, especially last game against Davenport only surrendering 62 total yards on 52 plays. If Wayne State wants to have a chance in this one, it'll be up to its offense to keep the FSU offense off the field with long, methodical drives and a ball-control approach – something WSU prides themselves on. As for the Bulldogs, as is the case with just about every game they will play, they are the more talented team on both sides of the ball, and regardless of who's calling the signals at quarterback, the offense must continue to shine the way they did against DU, and not turn the ball over the way they did against NMU. I think this one will be a game into the fourth quarter, but ultimately Ferris State's firepower will prove too much – Bulldogs get the road win.
The "Miner's Cup" is a special rivalry for many reasons, and I enjoyed learning a little more about it on this week's episode of GLIAC Football Weekly when I talked with Northern Michigan head coach, Kyle Nystrom, but it's a rivalry that has been completely one sided this decade – in fact, Northern Michigan has not beat Michigan Tech since 2009, meaning the Huskies have won the last nine contests. However, it should be noted, there was a time when NMU dominated the series having won 17 consecutive contests from 1956 to 2000. Michigan Tech is coming off a bye week for this year's contest, and in many ways, looks like the favorite on paper. Northern Michigan has lost four consecutive games after starting the season 1-0 and will have their hands full in an effort to win the first Miner's Cup for NMU this decade. The two teams played a common opponent in McKendree, the Wildcats defeated the Bearcats 30-9 while MTU won 24-19. I think the trend of Michigan Tech owning this decade of the series continues – the Huskies are at home, coming off a bye week, and will get it done – MTU in a close one.
The Battle of the Valleys is always an intriguing matchup as there's certainly no love lost between these two GLIAC enemies. Both teams check in at 4-1 on the season, with Grand Valley State needing to turn the page after last week's debacle on the final play of the game when Ashland won it with a 52-yard Hail Mary. As for SVSU, they looked impressive last week against an outmatched Northwood team, but will have a much tougher challenge this week against GVSU's talented defense. The Lakers have owned this series as of late – SVSU has not beat GVSU since 2012, including two games in 2013 where GVSU won the last week of the season and the first round of the playoffs – yikes, sorry to bring up those dark memories for Cards fans, but it's a part of the history. This game also features a matchup of the conference's two best running backs – Aryuan Cain-Veasey of Nate McCrary for SVSU and GVSU who both average more than 100 yards per game and are first and second in the GLIAC respectively in yards per game. In fact, that may be the indication of who wins this one – Whichever team can more effectively establish the run game will have the edge. I expect the GVSU dominance of this series to continue, the Lakers bounces back at home with a close win over the Cardinals.
Finally, the nonconference game of the weekend features Northwood hosting a familiar opponent in Hillsdale College. I spoke in length about the significance of this game on the podcast, but will reiterate the main points here: I always loved playing Hillsdale because of my family's connection with the school – both of my parents graduated from Hillsdale College while my father starred on the football team as the quarterback in the early 80's. That being said, when my father was the head coach at Northwood, he used to love beating Hillsdale about as much as any team – it was a very healthy rivalry rooted in respect and fierce competition between two private schools. Some of that has been lost with Hillsdale leaving the GLIAC and Northwood struggling as of late, but perhaps this Saturday will be a renewal of a once blossoming rivalry. Hillsdale enters the contest 3-2 and riding a three-game winning streak. The Chargers were ranked in the top 25 to begin the season, but after losses to Michigan Tech and Indianapolis to start the year, Hillsdale was bounced from the top 25. I expect this one to be close and down to the wire, Northwood playing at home gives them a slight edge, but again, the numbers don't lie -Northwood 0-5 and Hillsdale has won three straight games including a 30-0 thrashing of Walsh. The thought of Northwood being 0-6 is too hard to fathom right now, so I must take the Timberwolves to finally break through and get the win, Northwood in a thriller.
Another promising weekend lies ahead – after this weekend there will only be one team left undefeated in conference play and alone in first. I'll be looking forward to breaking it all down, until then, enjoy the games.