GLVC Playoff Round One Preview
November 18th, 2021 7:00pm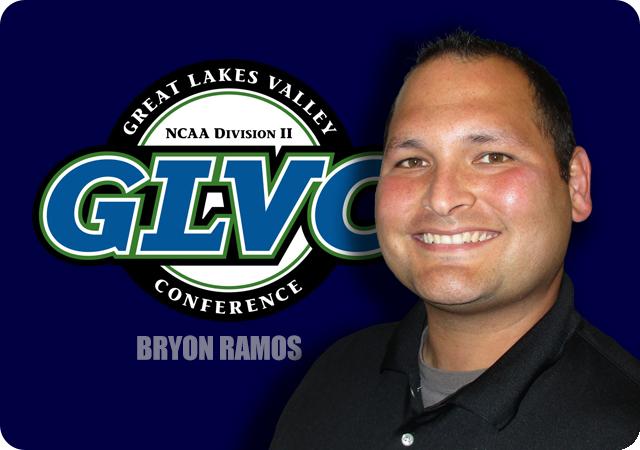 Final Conference Standings
| | | | | | |
| --- | --- | --- | --- | --- | --- |
| SCHOOL | CONF | CPCT. | OVERALL | PCT. | STREAK |
| Lindenwood | 7-0 | 1.000 | 9-2 | 0.818 | W9 |
| Indianapolis | 5-2 | 0.714 | 7-4 | 0.636 | W2 |
| Truman State | 4-3 | 0.571 | 8-3 | 0.727 | L1 |
| Missouri S&T | 4-3 | 0.571 | 6-5 | 0.545 | W1 |
| McKendree | 3-4 | 0.429 | 4-7 | 0.364 | L2 |
| Southwest Baptist | 3-4 | 0.429 | 4-7 | 0.364 | L1 |
| Quincy | 2-5 | 0.286 | 4-7 | 0.364 | W1 |
| William Jewell | 0-7 | 0.000 | 0-11 | 0.000 | L11 |

Super Region 3 NCAA Championship Bracket

Week Eleven Recap
Indianapolis 13
Truman 10
The offense was tough to come by in the battle of the Great Lakes dogs. Cody Schrader continued his mission to claim the D2 rushing title with 202 yards on 30 carries. The Greyhound defense harassed Nolan Hair for three sacks and held him to 7 of 18 passes for only 68 yards. Meanwhile the Bulldog defense effectively shut down a depleted UIndy rushing attack, holding them to only 2.6 yards per carry, and forcing super senior QB Bryce Stancombe into three interceptions. However, with the game knotted at 10, Stancombe engineered a 15-play, 72-yard drive to set up with 40-yard game winning field goal by GLVC special teams' player of the week Paul Buisman with 19 seconds left on the clock. Stancombe was clutch on the drive, completing five of six passes for 45 yards including a clutch third down conversion to Ethan Hand.
Quincy 51
William Jewell 17
A huge second quarter in which the Hawks put up 24 points helped propel them over the Cardinals. Quincy's defense and special teams forced four Cardinal turnovers and held them to only 60 yards on 26 carries. Tionne Harris ended his season with a bang by going 20 of 36 for 318 yards and two touchdown passes. Bart Harris led the Cardinals to their best day through the air of the season with 333 passing yards.
Missouri S&T 42
Southwest Baptist 41
As Bryce Cabrera crossed into the endzone with just over 20 minutes of game clock left to put the Bearcats up by 27 points, the SBU sideline had to be feeling comfortable they would send the Miners home with a loss. Perhaps they were a little too comfortable. The Miners scored 28 straight points, taking their first lead of the game with 33 seconds left. Included in the 28-point onslaught was a pair of touchdown passes from Luke Hetzler, a 32-yard sprint by Payton McAlister, and a 30-yard interception returned for a touchdown by Cameron Clemons. Clemons later added another interception in his endzone to stop an SBU scoring threat. Ben Straatmann took home conference defensive player of the week honors by recording 13 tackles, 4.5 TFLs, 2.5 sacks, and one forced fumble. The Miner defense held the Bearcats to 21 yards rushing on 21 attempts.
McKendree 30
Lindenwood 45
The Lions had their offense clicking on their way to racking up 516 total yards thanks in large part to GLVC player of the week Alex Faddoul who recorded 387 yards of total offense and four touchdowns. The Bearcat defense did not go quietly as they got to Faddoul for four sacks, two from defensive linemen Sidney Houston. McKendree's Narkel Leflore had a big day with 217 all-purpose yards and a touchdown. Faddoul, who has now assumed the full time QB duties for the Lions will enter the playoffs completing 40 of 64 passes for 576 yards and three touchdowns in his last two games. He's also rushed for 186 yards on 28 carries and four touchdowns.
Playoffs Round One
Saturday 11/20/21
Lindenwood at Grand Valley State
For the second straight season, the Lindenwood Lions will hit the road in the first round of the playoffs to face off against a top 10 opponent. This year, they'll have to contend with one of the most storied programs in D2 football history, Grand Valley State, who boast four national championships and 17 conference championships. The Lakers have the highest winning percentage (74%) in division two history. Even though the Lions did not have to squeeze into the playoffs this year like they did in 2019, their task did not get any easier. Considering four of the top six teams in division two reside in region 3, it's pretty much impossible for any lower seed to luck into a favorable matchup. This region is the shark tank of D2.
About Lindenwood
Best Defensive Performance: Held a Findlay team that average 31 point and 426 yards of offense per game to only 16 points and 308 yards.
Best Offensive Performance: Scored 56 points and gained 519 yards of total offense against a Kentucky Wesleyan team that gave up on average 29 points per game and 349 yards of total offense.
Best Overall Performance: 31-21 victory over 8-3 Truman State. Totaled 445 yards of total offense against a defense that gave up 341 yards on average. Held a Bulldog offense that scored 34 points per game to only 21 points.
Offensive players to watch
Alex Faddoul, QB: 45-80 passing, 4 TDs, 1 INT, 189 yards rushing on 32 attempts, 4 TDs.
Robert Giamo, RB: 737 yards rushing on 114 attempts, 11 TDs.
Nash Sutherlin, RB: 369 yards rushing on 107 attempts, 4 TDs
Payton Rose, WR: 40 rec, 625 yards, 9 TDs
Clint Sigg, TE: 40 rec, 465 yards, 3 TDs
Glen Gibbons, WR: 36 rec, 613 yards, 2 TDs
Defensive players to watch
Drew Seers, LB: 118 tackles, 8 TFLs, 5 INTs
Grady Daniels, DB: 77 tackles, 1 TFL, 1 INTs, 2 PBUs
Kai Ross, DB: 51 tackles, 6 INTs, 2 PBUs, 2 FRs
Arsante Conners, DL: 24 Tackles, 5 TFLs, 3.5 Sacks
Special Teams players to watch
Spencer Redd, WR/KR: 12.2 yards per punt return, 1 TD, 29.8 yards per kick return, 1 TD
Logan Seibert, K: 8-12 FGs, 48-51 PATs
Jared Stangler, P: 37.8 average, 64 yard long, 17 FCs, 11 inside 20
Reid Williams, LS: My guy don't miss
About Grand Valley State
Best Defensive Performance: Held a CSUP team that average 27 point and 361 yards of offense per game to only 14 points and 162 yards.
Best Offensive Performance: Scored 49 points and gained 400 yards of total offense against a SVSU team that gave up on average 23 points per game and 278 yards of total offense.
Best Overall Performance: 34-14 victory over 6-5 CSUP. Totaled 347 yards of total offense against a defense that gave up 308 yards on average. Scored 34 points on a Thunderwolves defense that gave up 18 points per game on average.
Offensive players to watch
Cade Peterson, QB: 143 of 220 for 1827 yards, 23 TDs, 6 INTs. 660 yards rushing on 80 carries, 7 TDs.
Tariq Reid, RB: 554 rushing on 91 carries, 6 TDs
Bryce Young-Walls, RB: 469 rushing on 56 carries, 5 TDs
Aryuan Cain-Veasey, RB: 433 rushing on 65 carries, 6 TDs
Hunter Rison, WR: 29 rec, 406 yards, 5 TDs
Cody Tierny, WR: 27 rec, 325 yards, 2 TDs
Jacob Miller, WR: 21 rec, 298 yards, 5 TDs
Defensive players to watch
Abe Swanson, LB: 87 tackles, 7 TFLs, 2.5 sacks, 1 INT, 3 PBUs, 1 FR
Jake Hlava, DL: 26 Tackles, 8.5 TFLs, 3 sacks
Damonte McCurdy, DB: 47 Tackles, 4.5 TFLs, 1 sack, 1 PBU
Ian Kennelly, DB: 30 Tackles, 0.5 TFL, 2 INT, 4 PBUs
Special Teams players to watch
Juwan Johnson, WR/PR: 13 yards per punt return, 1 TD
Jacob Miller, WR/KR: 27.9 yards per return, 49-yard long
Josh Gorball, K/P: 22-23 PATs, 2-3 FGs, 41.7 punt average, 55 yard long, 6 FCs, 8 inside 20
Grand Valley likes to run the ball. They like to run the ball a lot, and they do it well. To date, Lindenwood's two toughest tests defending the run have been against Truman State and UIndy. GVSU is a different animal, in that they don't have one single player they rely on to chew up yards. The Lakers have leaned on four different players to amass 2116 yards rushing and 24 touchdowns on the year. Pick your poison. Unfortunately for the Lions, this gameplan points directly towards exploiting their biggest defensive weakness: stopping the run. Lindenwood has given up on average 189 yards per game on the ground this year. What they have been able to do is force turnovers, including 16 interceptions. The GLVC overall is a pass heavy league, and the Lakers are certainly not a pass heavy team. Even when GVSU is forced to throw the ball, Cade Peterson does a good job of being efficient and careful with only six picks on the year. As overlooked as this defense has been in Lindenwood's nine game winning streak, I think they are going to struggle in slowing down the GV offensive attack.
When Lindenwood has the ball, they're going to be matched up against a different monster than they've seen all year. The GLIAC overall plays a lot more defense than we're used to seeing in the GLVC. In fact, seven out of the eight GLIAC teams would rank in the top half of the GLVC in scoring defense. No team in the GLVC held teams to less than 20 points per game, while three GLIAC teams were able to do that. GVSU is especially effective at stopping the run, only giving up 97 yards per game on the ground. Usually when you see a stat like that coupled with a potent offense, you'd see a defense that gives up a lot of yards through the air as teams abandon the run and try to keep up on the score board. On the contrary, GVSU is just as stingy against opposing QBs, limiting production to only 163 yards per game. The Lakers aren't a splash big play defense in that they don't have a lot of sacks or interceptions, but they have managed 12 fumble recoveries on the year. Over the past two games, Faddoul has turned back the clock to his QB days in Columbia, Missouri using his arm and legs to make things happen. If the Lions are going to put points on the scoreboard, they'll need the senior to step up in a big way.
As a GLVC fan, and a Lindenwood fan, I want so bad to see a rational way towards a Lions victory. But all signs point towards the Laker cruising in this one. However, that's what many of us thought in 2019 when Lindenwood traveled to Arkadelphia as well. If LU is going to have a chance in this one, they'll have to continue to start hot like they have been doing for the past three games. GV is capable of shortening the game if LU gets too far behind.
I hope crow is on the menu for Saturday night.
Lindenwood 21
Grand Valley State 38
Final Power Rankings
Lindenwood- The Lions have yet to lose a GLVC game
UIndy- A season derailed by injuries and adversity; and yet they sit second in the conference and only a few scores from being in the hunt for a playoff spot towards the end of the year.
Truman- It wasn't long ago that an eight-win season was reason to celebrate. While it's still nothing to sneeze at, the fact if feels a little bit disappointing for the Bulldogs speaks volumes on the job Head Coach Greg Nesbitt has done with the program.
Missouri S&T- Five straight winning season. It feels like it's time for the Miners to take the next step.
McKendree- Head Coach Mike Babcock has several young defensive players he can build a foundation on.
SBU- With Cooper Callis back again next year, the Bearcats could be lethal on offense.
Quincy- It looks like the Hawks will be going in a different direction defensively next year. If they can get some support from that side of the ball for their dangerous offense, Quincy will be a thorn in the conference side.
William Jewell- Now the work begins for the red birds. A full normal offseason of training, recruiting, and spring ball will hopefully help Head Coach Mike McGlinchey hit the reset button on the William Jewell football program.
Influence Performance Ratings
Total IPR
| | |
| --- | --- |
| Uindy | 0.19 |
| LU | 0.16 |
| Truman | 0.12 |
| MoST | -0.04 |
| SBU | -0.07 |
| McK | -0.08 |
| Quincy | -0.17 |
| WJC | -0.35 |

UIndy's stellar defensive performance against Truman secures their spot at the top. Truth be told, when looking around the region the top of the conference's scores are pretty mediocre.
Offensive IPR
| | |
| --- | --- |
| LU | 0.20 |
| Uindy | 0.14 |
| Quincy | 0.08 |
| MoST | 0.07 |
| Truman | 0.04 |
| SBU | 0.02 |
| McK | -0.01 |
| WJC | -0.37 |
Jed Stugart and Dusty Hvorka deserve a lot of credit for keeping this offense going despite losing a player that was getting Harlon Hill mentions in the preseason.
Defensive IPR
| | |
| --- | --- |
| Uindy | 0.24 |
| Truman | 0.19 |
| LU | 0.12 |
| MoST | -0.15 |
| McK | -0.15 |
| SBU | -0.16 |
| WJC | -0.33 |
| Quincy | -0.42 |
UIndy's defense has been the steady rock the hounds have been able to lean back on during this adversity filled season.
SR3 Influence Performance Ratings
Total IPR
| | | | |
| --- | --- | --- | --- |
| | Conference | School | Total IPR |
| 1 | MIAA | NWMSU | 0.43 |
| 2 | GLIAC | Ferris | 0.39 |
| 3 | GLIAC | GVSU | 0.38 |
| 4 | GAC | Harding | 0.36 |
| 5 | GAC | Henderson | 0.21 |
| 6 | MIAA | UNK | 0.19 |
| 7 | GAC | Ouachita | 0.19 |
| 8 | GLVC | Uindy | 0.19 |
| 9 | MIAA | PITT | 0.16 |
| 10 | GLVC | LU | 0.16 |
| 11 | MIAA | FHSU | 0.15 |
| 12 | GLIAC | SVSU | 0.15 |
| 13 | GAC | SEO | 0.15 |
| 14 | MIAA | Wash | 0.14 |
| 15 | GLVC | Truman | 0.12 |
| 16 | GAC | OBU | 0.07 |
| 17 | MIAA | ESU | 0.05 |
| 18 | MIAA | MWSU | 0.04 |
| 19 | GLIAC | MI-Tech | 0.02 |
| 20 | GAC | EC | -0.01 |
| 21 | GLVC | MoST | -0.04 |
| 22 | MIAA | UCO | -0.04 |
| 23 | GLIAC | WSU | -0.04 |
| 24 | MIAA | UCM | -0.06 |
| 25 | GLVC | SBU | -0.07 |
| 26 | GLVC | McK | -0.08 |
| 27 | GAC | SoArk | -0.09 |
| 28 | GAC | Ark-T | -0.10 |
| 29 | MIAA | MOSO | -0.11 |
| 30 | GAC | Ark-M | -0.13 |
| 31 | GLIAC | NoMI | -0.14 |
| 32 | GAC | SWOSU | -0.14 |
| 33 | GLVC | Quincy | -0.17 |
| 34 | GLIAC | DU | -0.17 |
| 35 | GAC | NWOSU | -0.25 |
| 36 | GAC | SoNaz | -0.26 |
| 37 | GLIAC | Northwood | -0.33 |
| 38 | GLVC | WJC | -0.35 |
| 39 | MIAA | NSU | -0.41 |
| 40 | MIAA | Lincoln | -0.56 |
Offensive IPR
| | | | |
| --- | --- | --- | --- |
| | Conference | School | Offensive IPR |
| 1 | GLIAC | Ferris | 0.59 |
| 2 | GLIAC | GVSU | 0.45 |
| 3 | GAC | Henderson | 0.33 |
| 4 | MIAA | NWMSU | 0.26 |
| 5 | GAC | Harding | 0.26 |
| 6 | MIAA | UNK | 0.24 |
| 7 | GAC | OBU | 0.23 |
| 8 | GLVC | LU | 0.20 |
| 9 | GAC | SEO | 0.19 |
| 10 | GLVC | Uindy | 0.14 |
| 11 | MIAA | MWSU | 0.13 |
| 12 | GLIAC | SVSU | 0.11 |
| 13 | GAC | Ouachita | 0.11 |
| 14 | MIAA | Wash | 0.11 |
| 15 | MIAA | PITT | 0.10 |
| 16 | MIAA | FHSU | 0.09 |
| 17 | MIAA | UCM | 0.08 |
| 18 | GLVC | Quincy | 0.08 |
| 19 | GLVC | MoST | 0.07 |
| 20 | MIAA | ESU | 0.06 |
| 21 | GLVC | Truman | 0.04 |
| 22 | GLVC | SBU | 0.02 |
| 23 | GLIAC | WSU | 0.01 |
| 24 | GAC | SoArk | 0.00 |
| 25 | GLVC | McK | -0.01 |
| 26 | GLIAC | NoMI | -0.09 |
| 27 | GAC | EC | -0.10 |
| 28 | GLIAC | MI-Tech | -0.13 |
| 29 | GAC | NWOSU | -0.13 |
| 30 | GAC | Ark-T | -0.15 |
| 31 | GAC | Ark-M | -0.16 |
| 32 | MIAA | UCO | -0.17 |
| 33 | MIAA | MOSO | -0.18 |
| 34 | GAC | SWOSU | -0.21 |
| 35 | GLIAC | Northwood | -0.23 |
| 36 | MIAA | Lincoln | -0.30 |
| 37 | GAC | SoNaz | -0.37 |
| 38 | GLVC | WJC | -0.37 |
| 39 | MIAA | NSU | -0.43 |
| 40 | GLIAC | DU | -0.48 |
Defensive IPR
| | | | |
| --- | --- | --- | --- |
| | Conference | School | Defensive IPR |
| 1 | MIAA | NWMSU | 0.59 |
| 2 | GAC | Harding | 0.47 |
| 3 | GLIAC | GVSU | 0.30 |
| 4 | GAC | Ouachita | 0.28 |
| 5 | GLVC | Uindy | 0.24 |
| 6 | MIAA | PITT | 0.23 |
| 7 | MIAA | FHSU | 0.21 |
| 8 | GLIAC | SVSU | 0.19 |
| 9 | GLVC | Truman | 0.19 |
| 10 | GLIAC | Ferris | 0.18 |
| 11 | MIAA | Wash | 0.18 |
| 12 | GLIAC | MI-Tech | 0.16 |
| 13 | MIAA | UNK | 0.15 |
| 14 | GLIAC | DU | 0.14 |
| 15 | GLVC | LU | 0.12 |
| 16 | GAC | SEO | 0.11 |
| 17 | GAC | Henderson | 0.09 |
| 18 | MIAA | UCO | 0.09 |
| 19 | GAC | EC | 0.07 |
| 20 | MIAA | ESU | 0.04 |
| 21 | MIAA | MOSO | -0.03 |
| 22 | GAC | Ark-T | -0.06 |
| 23 | MIAA | MWSU | -0.06 |
| 24 | GAC | SWOSU | -0.07 |
| 25 | GAC | OBU | -0.09 |
| 26 | GAC | Ark-M | -0.10 |
| 27 | GLIAC | WSU | -0.10 |
| 28 | GLVC | MoST | -0.15 |
| 29 | GLVC | McK | -0.15 |
| 30 | GAC | SoNaz | -0.15 |
| 31 | GLVC | SBU | -0.16 |
| 32 | GLIAC | NoMI | -0.18 |
| 33 | GAC | SoArk | -0.19 |
| 34 | MIAA | UCM | -0.19 |
| 35 | GLVC | WJC | -0.33 |
| 36 | GAC | NWOSU | -0.37 |
| 37 | MIAA | NSU | -0.40 |
| 38 | GLVC | Quincy | -0.42 |
| 39 | GLIAC | Northwood | -0.42 |
| 40 | MIAA | Lincoln | -0.81 |