GLVC Week Eight
October 22nd, 2021 9:00am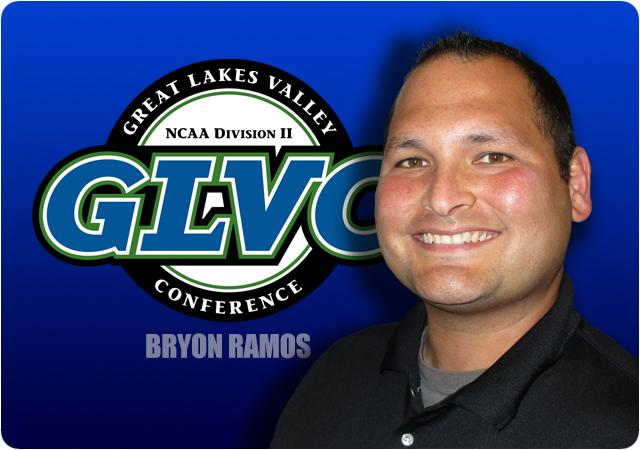 Week Seven Recap
Lindenwood 28
Indianapolis 20
In the biggest game of the GLVC season so far, UIndy came out primed and took advantage of a Lindenwood team that's been prone to slow starts. Lindenwood's first two possessions resulted in a turnover and a three and out. Meanwhile on UIndy's first two possessions, they found a way to put points on the board. It was apparent early on the Lion defense was going to have a tough time stopping star running back Toriano Clinton who ended the night with 229 yards rushing and one touchdown as the Hounds would take a 20-7 lead into the locker room. Lindenwood's defense tightened up in the second half and managed to shut out Clinton and the dangerous UIndy offense. Cade Brister led the Lion comeback with several Houdini-like escapes from a crowded pocket to extend drives. Early in the fourth quarter, Brister found Alex Faddoul in the back of the endzone for the go ahead score. Brister had to leave the game later in the quarter after and awkward tackle from behind, but freshman QB Cole Dugger filled in nicely as he went 4-4, with two crucial completions to extend third and long situations, and a perfectly placed ball to Payton Rose for the final score of the game. The stat of the night has to go to the Lindenwood defense, who held the potent Greyhound attack to only 97 yards of total offense in the second half.
Truman State 21
Southwest Baptist 27
While Truman State was able to hold the SBU running game in check to the tune of 14 yards on 24 attempts, what might be more impressive is that SBU held Cody Schrader and the Bulldogs to under four yards per carry for only the second time this year. Until this game, the Bearcat defense had shown very little in the ability to slow down higher-powered offenses this season. The fact that they figured it out against the Bulldogs was the difference in this game.
Despite virtually no running game, the Bearcats were not without offensive fire power as Cooper Callis continued his stellar season going 27 for 38 and breaking the 400-yard barrier for the third time this season. Coleton Smith snagged GLVC defensive player of the week honors leading the Bearcat defense by racking up 21 total tackles, two TFLs, one sack, and two pass break ups.
William Jewell 16
Missouri S&T 37
After three straight losses, the Miners found their way back into the win column by handing William Jewell their 20th straight program loss. Missouri S&T got a big first half from quarterback Max Conrad who tossed four touchdowns before halftime and ended the game with five total. The Miner's defense did their part by shutting down the Cardinal running game who finished the game with -3 yards rushing. They were also able to sack the Jewell quarterback nine times. Ben Straatman had a huge day totaling 12 tackles and 2.5 sacks.
McKendree 51
Quincy 48
Without a doubt this was the wildest game of the weekend. The Hawks appeared poised to cruise to an easy victory building a 31-7 lead early in the third quarter. The Bearcats however were determined not to go quietly. Powered by Turner Pullen's legs and arm, McKendree posted a 30-point fourth quarter to edge out the Hawks. Ryan Kastl hit a 39-yard field goal with 25 seconds left to put the Bearcats ahead. His clutch performance helped earn him GLVC special teams' player of the week honors. Quincy still had a chance to tie the game as time expired with a 48-yard field goal, but the attempt was blocked sealing the Bearcat victory. In addition to combining for 101 points, both teams also combined for 1,009 offensive yards, 58 first downs, 92 pass attempts, and 257 yards in penalties. Turner Pullen finished the game with 440 yards of offense and six touchdowns. Pullen earned GLVC and D2football.com offensive player of the week honors for his effort.
Week Eight Preview
Saturday 10/23/21
*Game of the Week*
Missouri S&T at McKendree
This gets my game of the week nod because it has the potential to be the most competitive contest on the slate. After an 0-3 start where they averaged 15 points per game, McKendree is 3-1 in their last four games and averaging 39 points per game. While most of the turnaround was aided by an effective and efficient running attack, Turner Pullen showed in their comeback victory against Quincy that he's still a force to be reckoned with in the GLVC. Meanwhile the Miners' have struggled in their last four games, going 1-3 with their lone victory against a struggling William Jewell team. But the Miners are still a very dangerous team with talent on both sides of the ball. Offensively, S&T still likes to lean on the tandem of Aaron Moya and Payton McAlister to establish the run, but their passing game has been a bit of revolving door of QBs, with Brennan Simms, Luke Hertzler, and Max Conrad all getting significant snaps. Whoever gets the nod to call the signals will have the luxury of throwing to the conference's leading receiver Breon Michel (46 rec, 829 yards ,11 touchdowns). Defensively, Ben Straatman has been in opposing offensive backfields all season long with a league leading 13 TFLs and nine sacks.
This game is a blank slate in terms of what type of contest we'll see. It could be a blowout or a close game in either direction. Both offenses have potential to be dangerous but have also shown they're capable of stalling out at times; same goes for their defenses. However, I think McKendree is trending in the right direction with a boost of confidence after their fourth quarter performance last week. I think this ends up being an exciting game with plenty of scoring, likely coming down to who has the ball last. I'm giving the nod to the Bearcats by a touchdown at home.
Missouri S&T 32
McKendree 39
Southwest Baptist at Lindenwood
SBU probably opened some eyes last week in their upset win over the Bulldogs. While I'm sure the conference is well aware of their ability to score in bunches, the fact that their defense showed up in a big way makes the game plan of simply outscoring the Bearcats a little trickier. The Lions will also have to manage questions surrounding the health of their star quarterback Cade Brister. Brister is the heart and soul of the Lion attack. While he's listed on the Lions' depth chart, if he's slowed down it makes the LU offense a lot more one dimensional. The Lions will likely need to rely on an improving defensive unit to pull out this game. Fortunately for them, their defensive strength matches up well against what SBU does best; throw the ball. The Lions rank third in the conference against the pass and have a league leading nine interceptions. This will be a strength vs. strength match up as Cooper Callis and the SBU passing attack have protected the ball well this year, only throwing three interceptions.
I think LU will have to lean more on Robert Giamo and Nash Sutherlin to chew up yards and limit the time that Callis has the ball.
Southwest Baptist 21
Lindenwood 30
Indianapolis at Quincy
Both teams are coming off losses in which the gave up big leads, and both will be eager to get the nasty taste out of their mouth. The Hawks will find the endzone against almost anyone, but their defense has consistently struggled to help them. Toriano Clinton will likely put up big numbers once again, but this week he'll most certainly find the endzone more than once. I think the Hounds jump out to a big lead before putting it in cruise control. QU will somewhat keep pace with big plays from Harris and Witherspoon.
Indianapolis 52
Quincy 31
William Jewell at Truman State
The Jewell offensive struggles have been well documented, and against a stout Bulldog defense, I think this game has potential to be a shutout. Cody Shrader and the Truman State offense should get back on track this week. Unfortunately for the Cardinals, I expect the Bulldogs to take out the frustrations of last week's loss on them. This one will likely be over by halftime.
William Jewell 6
Truman State 49
Power Rankings
Lindenwood- The Lions are in the driver's seat for the conference championships after not one, but two come from behind victories over Truman and UIndy.
UIndy- Overall, the Hounds are playing good football, especially against lesser competition.
Truman- The loss to SBU is a little bewildering, more so in that their offense only scored 21 points against an SBU defense that's giving up 40 per game.
SBU- Cooper Callis is the top QB in the conference, and the Bearcat defense is riding high after its best performance of the year.
McKendree- Turner Pullen's efforts in leading a 30-point fourth quarter earned him both conference and national recognition.
Missouri S&T- With half of the conference at 3-4, it's a game of what have you done lately. Miners didn't lose, but their win was less impressive than SBU's or McKendree's
Quincy- The Hawks can score some points, but so can most of the teams in this league. They'll need to find a way to improve on defense to take the next step.
William Jewell- The Cardinal football program is in desperate need of a normal end of season transition into off season. Going through a season with an interim HC, followed by the pandemic season with a new HC isn't a recipe for success.
Influence Performance Ratings
Total IPR
| | | |
| --- | --- | --- |
| 1 | Uindy | 0.21 |
| 2 | LU | 0.14 |
| 3 | Truman | 0.09 |
| 4 | McK | -0.06 |
| 5 | MoST | -0.08 |
| 6 | SBU | -0.08 |
| 7 | Quincy | -0.15 |
| 8 | WJC | -0.31 |
Strong performances against SBU and McKendree, who are both playing better as of late gives the Greyhounds the boost to stay atop the Ratings. While LU's rating is solid, they have shown themselves to be a club that tends to play to the level of their competition.
Offensive IPR
| | | |
| --- | --- | --- |
| 1 | Uindy | 0.23 |
| 2 | LU | 0.20 |
| 3 | Quincy | 0.13 |
| 4 | Truman | 0.12 |
| 5 | MoST | 0.06 |
| 6 | McK | 0.01 |
| 7 | SBU | -0.01 |
| 8 | WJC | -0.33 |
While most of the conference has positive IPR's, LU and UIndy are at a different level from the rest of the league. SBU being in the negative seems surprising, but their lack of a run game and poor offensive performances against the tougher competition on their schedule drags them down.
Defensive IPR
| | | |
| --- | --- | --- |
| 1 | Uindy | 0.19 |
| 2 | LU | 0.09 |
| 3 | Truman | 0.07 |
| 4 | McK | -0.13 |
| 5 | SBU | -0.16 |
| 6 | MoST | -0.22 |
| 7 | WJC | -0.29 |
| 8 | Quincy | -0.42 |
UIndy still boasts the best defensive IPR thanks to their efforts in shutting down Tiffin and SBU, and slowing the LU's offensive production.