Meet the Faces of the SIAC
August 24th, 2022 12:00am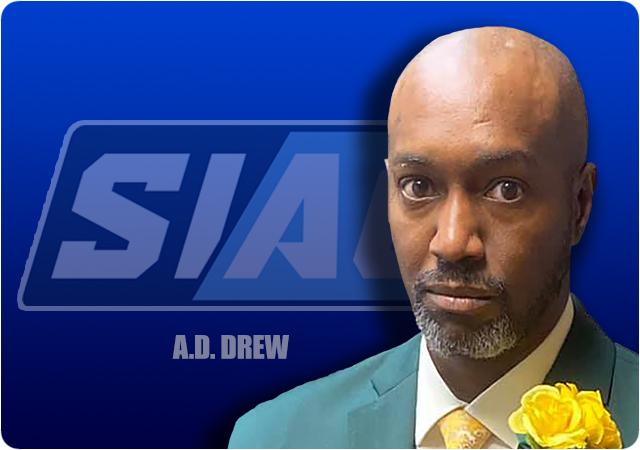 The 2022 football season in the SIAC has plenty of changes in store for its football fans. Over half of the conference's teams will have new head coaches. There are some familiar head coaching names in new places such as Kevin Porter of Central State (formerly Fort Valley State), Willie Slater of Clark-Atlanta (formerly Tuskegee), and Reginald Ruffin of Tuskegee (formerly Miles). While the teams of the former will play the new head coaches of the latter, there will be no welcome home celebration on their former campus, as all the new coaches will host their former teams. The SIAC West will have four of their five teams with new leaders. The SIAC East will have three new head coaches and two additional new teams. Two of the new coaches to the conference(one East, one West) played in the NFL.
SAME FACES, NEW PLACES
Anthony Holloman was named the 11th Commissioner of the SIAC on August 2, 2022, and will assume his new role on September 1. Since 2018, Holloman has served as Director of Athletics at Fort Valley. He is the current Chair of the SIAC Athletics Directors Council. Holloman has previously served as the Athletic Director at Tuskegee University.
Kevin Porter took over at Central State in December. In his previous position as head coach at FVSU, Porter had early success, leading the Wildcats to the 2016 SIAC Championship and returned to the title game in 2017. During his time coaching at FVSU, Porter earned SIAC Coach of the Year. Porter was a third-round pick by the Kansas City Chiefs in 1988 and made the NFL All-Rookie Team at Safety. He spent six years in the National Football League, ending his career in 1993 with the New York Jets.
Reginald Ruffin returns to Tuskegee, where he was defensive coordinator and linebacker coach from 2006-2010. During Ruffin's nine years at Miles, he led the Golden Bears to five SIAC Championship Games, winning four, and earned two NCAA Division II playoff berths. Ruffin went 59-39 at Miles and earned SIAC Coach of the Year honors twice. Ruffin's first victory will be the 700th win for the Golden Tigers, the winningest HBCU in history.
Wille Slater moves over to Clark-Atlanta after 16 years leading Tuskegee. Slater is the second winningest coach in Golden Tiger history with a 123-47 record, only trailing Cleve Abbott in Tuskegee history. Slater led the Golden Tigers to seven SIAC Championships and five Black College National Championships, three Pioneer Bowl victories, and four NCAA Division II Playoff appearance, including advancing in 2015 to the quarterfinals.
NFL FACES
Kevin Porter ,of Central State, is only one of the two new new coaches with NFL playing experience.
Sam Shade takes over Miles College after an eight-year NFL playing career with the Cincinnati Bengals and Washington Commanders. Shade has also coached for the Cleveland Brown in 2018. His most recent coaching position was as Head Coach at powerhouse Pinson Valley (AL). Shade was a 4th round draft pick out of the University of Alabama.
FRESH FACES
Shawn Gibbs is the new leader at Fort Valley State. He has spent time as an assistant coach at North Carolina A&T State, North Carolina Central, and Grambling State. Gibbs was member of coaching staff for all four North Carolina A&T's Celebration Bowls and North Carolina Central's CIAA Championships and NCAA DII Playoff berths in (2005-2006).
Ramon Johnson takes over his alma mater for the season. He has served as a football coach at multiple schools and levels. Johnson played football and ran track at Kentucky State. Johnson is currently the interim athletic director for the Thorobreds, a role he has had since June 2021.
Aaron Kelton took over Savannah State in April of this year. Kelton was the former defensive back coach and recruiting coordinator for Howard University.In 2019, Kelton served as the interim head coach for the Bison. He has also served as the co-defensive coordinator at Morgan State and head coach at Shorter University.
FAMILIAR FACES
Chennis Berry starts his second season at Benedict College. Berry has coached at Southern, Howard University, North Carolina A&T, Morris Brown, Kentucky State and Fort Valley State, and also completed internships with six different NFL teams. The Tigers finished 5-5 (2-4) in Berry's first season in Columbia, SC.
Vyron Brown begins his second season at Lane. Previously, he was the offensive coordinator and running backs coach for the Dragons. He has also served as the associated head coach/offensive coordinator at Texas Southern, offensive coordinator at Grambling State, coached at Alabama State, and offensive coordinator/running backs coach at Shaw. Brown is a graduate of Grambling State.
Rich Freeman is the most tenured coach in the SIAC with the same institution, beginning his 15th year at Morehouse. Freeman has coached at Tennessee State, Alabama State, Miles, Concordia College-Selma, and Lane. Freeman coached the Maroon Tigers to the NCAA DII playoffs in 2010.
Gabe Giardina is second on the SIAC seniority list with the same institution, having been the head coach at Albany State since 2017. After going 6-4 in his first season, Giardina has reeled off three consecutive SIAC East titles, winning the SIAC championship in 2021 and achieving a number four seed in Super Region 2 of the NCAA Division II playoffs. The Golden Rams are 17-1 over the past three seasons in SIAC regular season play.
Teddy Keaton has been at Allen University since 2018. The Yellow Jackets are currently transitioning to NCAA Division II from the NAIA. Prior to Allen, Keaton was the head coach at Stillman College. He has served as an assistant coach at Miles College, Webber International and previously at Stillman, in addition to being an assistant coach for three indoor football teams.
Toriano Morgan begins his second season at Edward Waters. Prior to joining Edward Waters, Morgan was the Assistant Head Coach/Offensive Coordinator/Quarterbacks Coach at Virginia State. Morgan has also previously coached at Virginia Union. Morgan leads a Tiger team that is also transitioning from NAIA to NCAA Division II. Edward Waters has played an SIAC schedule for the past two seasons.