SIAC Recap - Week One
September 5th, 2022 8:00am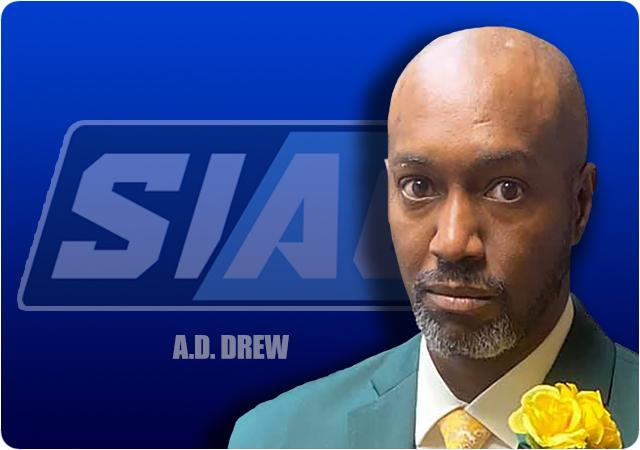 SIAC Recap - Week One
With all SIAC teams in action to open the season, the SIAC saw its teams have fantastic finishes, blowout victories and loss, close calls, and almost victories. The most thrilling victory was a conference matchup between Clark-Atlanta and Edward Waters. Morehouse, Lane, and Miles saw their comeback fall just short. Benedict had an impressive victory. Finally, Albany State had a statement win against a Super Region 2 opponent. As a conference, the SIAC went 2-0 versus the CIAA, 1-2 versus the GSC, 0-1 versus the SAC, 0-2 versus the FCS's SWAC, and 0-1 versus the NAIA.
Saturday, September 3
Delta State 33 Kentucky State 10
The Delta State Statesmen (1-0, 0-1 GSC) jumped out to an early 13-0 versus the Kentucky State Thorobreds (0-1, 0-0 SIAC) before KSU was able to put any points on the board, via a Kendon Walker 49-yard touchdown run in the middle of the first quarter. DSU would score an additional 20, unanswered, points before the Thorobreds added a late field goal in the fourth quarter to close out the scoring for the game. KSU won the turnover battle 2-to-1, dominated time-of-possession 43:39 to 16:21 and were even 9-for-17 on third and fourth downs, but were only 1-of-3 in the red zone and had nine penalties for 64 yards.
Clark-Atlanta 39 Edward Waters 34
A scramble drill, on a field goal on the final play of the game, gave Clark-Atlanta (1-0, 1-0 SIAC) the victory versus Edward Waters (0-2, 0-1 SIAC) in the SIAC opener. With the Panthers trailing by one point, the crowd in Jacksonville, FL saw a bad snap to holder, Sean Stephens force him to roll-out in desperation. Stephens, subsequently, found Malachi Williams in the back of the end zone for the game-winning touchdown. That play negated the three touchdown performance of Ferante Cowart for the Tigers. Cowart scored on kickoff returns of 98-yards and 95-yards, and a 43-yard reception from David Johnson. EWU turner the ball over twice and committed 11 penalties for 105 yards. CAU had 331 yards of total offense.
Allen 6 Newberry 40
The Allen Yellow Jackets (0-1, 0-0 SIAC) lone score came on a Jamal Jones 100-yard kickoff return, for a touchdown, with just under three minutes remaining in the third quarter. The #19 Newberry Wolves (1-0, 0-0 SAC) out-gained the Jackets 460 yards to 197 yards. Allen did not turn the ball over, but did allow the Wolves to go 7-of-10 on third downs and also go 4-for-5 in the red zone. The Yellow Jackets forced three Wolves turnovers, but were only 3-of16 on third and fourth downs.
Miles 13 Alabama State 21 (Labor Day Classic)
The Miles Golden Bears (0-1, 0-0 SIAC) held the FCS Alabama State Hornets (2-0, 0-0 SWAC) scoreless for three quarters, with only 168 yards of offense. However, during the first quarter, MC gave up 21 points and 166 yards of total offense to ASU. Miles scored by way of field goals in the second and third quarters. In the fourth quarter, Coliln Woods caught a 15-yard touchdown pass from Jacob Millhouse, with 2:54 remaining. On ASU's next possession, Miles forced a fumble to give themselves a final chance, but the clock ran out on the Golden Bears.
Lane 42 Arkansas Pine-Bluff 48
Lane (0-1, 0-0 SIAC) gave FCS Arkansas Pine-Bluff (1-0, 0-0 SWAC) all it could handle, but could not overcome the Golden Lions. The Dragons scored on their first drive of the game with a 70-yard touchdown strike to Jacquez Jones from Michael Huntley. After 17 unanswered points by UAPB, Ike Brown scored the first of his three touchdowns for Lane on a one-yard run. Brown later added a 30 yard pass from Huntley and another one-yard rush for touchdowns two and three. Trailing 48-35 going into the fourth quarter, the Dragons' Huntley completed his third touchdown pass (49 yards) of the day, this time to O'Joshua Bunton, with 12:53 remaining. Lane did get one final chance, but Huntley was sacked on a fourth down with 1:49 remaining in the game. Lane gained 511 yards of total offense. Jeremiah Brown finished the game with 14 tackles and Andrew Farmer added 12 tackles and a sack.
Southeastern (FL) 34 Savannah State 14
After giving up two early field goals, Savannah State (0-1, 0-0 SIAC) gave up 21 points in the final 1:10 of the second quarter to the Southeastern Fire (2-0, 0-0 SUN). Southeastern added another touchdown, early in the fourth quarter, to increase their lead to 34-0. Savannah State added two touchdowns and a safety, on a blocked punt, to close out the scoring in the game. The Tigers turned the ball over twice, en route to their loss.
West Alabama 24 Morehouse 16
Morehouse (0-1, 0-0 SIAC) scored a field goal on their opening drive of the game, but could not find pay dirt the remainder of the half and trailed West Alabama (1-0, 0-0 SIAC), 21-3. The Maroon Tigers scored in the third quarter on a 30-yard pass from Derrach West to Keenan Anunay, to cut the lead to 21-10. After another UWA field goal, Delan Tolliver caught a touchdown pass from West, with 3:53 remaining. After forcing a punt, the Maroon Tigers were looking to tie the game, when quarterback, West, was tackled at the UWA 5-yard line as time expired. Morehouse was only 3-for-14 on third downs but 2-for-2 on fourth downs. Daylon Land led the Maroon Tigers with 13 tackles, 3 tackles-for-loss, and a sack.
Mississippi College 14 Albany State 28
After being shut out in 2021, the Mississippi College Choctaws (0-1, 0-0 GSC) scored on their opening drive of the game. Albany State (1-0, 0-0 SIAC) quickly answered with a touchdown, of their own, on a 40-yard touchdown pass from Dionte Bonneau to Joe Shorter. The Choctaws scored, again, two drives later to retake the lead, 14-7, at the end of the first quarter. Kam Ward scored on a eight-yard run in the second quarter to tie the score at 14 each at halftime. Marcuis Fulks rushed for a touchdown, early in the fourth quarter. The a Jeree Turner 52-yard scoop and score increased the Golden Rams lead to 28-14. Albany State held Mississippi College to 1-for-10 on third down conversions.
Elizabeth City State 14 Benedict 58 (Carolina Classic)
Benedict (1-0, 0-0 SIAC) accumulated 569 yards of total offense and gave up only 249 yards of offense to Elizabeth City State (0-1, 0-0 CIAA), in a dominating performance. The Vikings scored on their opening drive of the game, before the Tigers reeled of 58, unanswered, points. Jabari Tucker scored three touchdowns (two receiving and one rushing) for Benedict. Eric Phoenix passed for two touchdowns and rushed for two scores for Benedict. Reginald Harden caught two passes for 106 yards and one touchdown. The Tiger defense held Elizabeth City to 1-for13 on third and fourth down conversions.
Sunday, September 4
Winston-Salem State 21 Central State 41 (Black College Hall of Fame Classic)
Central State (1-0, 0-0 SIAC) scored on their second play from scrimmage to take a 7-0 lead, 31 seconds into the Black College Hall of Fame Classic, against the Winston-Salem State Rams. A pick-6 by Anthony Mack, midway through the first quarter, put the Maurauders up 14-0. With 2:37 left in the first quarter, Central State threw a pick-6 of their own, and their lead was cut in half. After WSSU tied the score in the second quarter, CSU scored a touchdown in the final two minutes of the half. Central State added two touchdowns in the third quarter, and a final touchdown in the fourth quarter. For CSU, Twon Hines had 7 catches for 104 yards, and one touchdown. Jalil Lenore accumulated 12 tackles, 1.5 tackles-for-loss, one sack, one forced fumble, and one fumble recovery.
Fort Valley State 21 Tuskegee 6 (Red Tails Classic)
Fort Valley State (1-0, 0-0 SIAC) rushed for 325 yards versus Tuskegee (0-1, 0-0 SIAC), in this battle of SIAC foes in non-conference matchup. Emanuel Wilson rushed for 262 yards and two touchdowns for FVSU. The Wildcats scored on their first drive of the game to take a 7-0 lead, on a Kelvin Durham run. Fort Valley would add another touchdown, this one by Wilson, to increase their lead to 14-0 in the second quarter. Jordan Ogletree caught a pass from Ryan Nettles, as Tuskegee cut the lead to 14-6, midway through the second quarter. Both teams were scoreless in the third quarter. In the fourth quarter, Wilson sealed the game on a 87-yard run to paydirt, with 11:34 remaining in the game. The two teams combined for 23 penalties for 246 yards.
About A.D. Drew
In addition to covering the SIAC for d2football.com, Drew is a member of the Black College Sports Network, co-host of the BCSN SportsWrap podcast, a producer of Dr. Cavil's Inside the HBCU Sports Lab with Michael Washington and Charles Bishop, and a producer of Thee Pregame Show with Bishop and Neely. Drew is also an executive board member of the HBCU-Pro Sports Media Association and the Black College World Series.