SIAC Week Two Preview
September 8th, 2022 2:00pm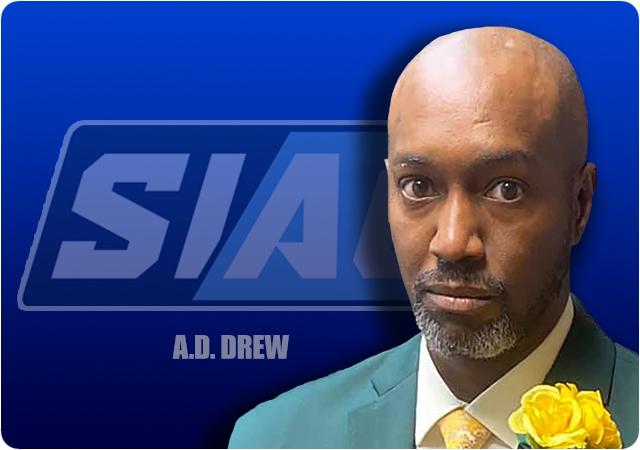 SIAC Preview - Week Two
The SIAC enters week two of the college football season with some intriguing games. There will be three conference match-ups that will take place. The Kentucky State-Fort Valley State game has been moved back to campus, from a neutral site game, and will see an old-fashioned, ground-and-pound match-up. The Battle of the Tigers in Jacksonville, FL will see two teams, Edward Waters and Savannah State, looking for their first victory. Benedict will travel to Jackson, TN to battle Lane, in a battle that will determine who may be able to challenge Albany State for the SIAC crown. Albany State will ride to Tallahassee, FL to take on a Florida A&M team that is not only frustrated with their performance last week, but also frustrated with their administration the past month. Allen and Central State will try to keep the SIAC undefeated versus the CIAA. Clark-Atlanta will look to even the conference record against the SAC. Miles and Morehouse will look to give the SIAC an advantage versus the GSC. Tuskegee will travel to Hampton, VA to renew a rivalry in which both institutions have Booker T. Washington in common: Washington graduated from Hampton Institute and was also the first president of Tuskegee Institute.
Saturday, September 10 (All Times Eastern)
Lincoln (PA) at Central State
1pm, McPherson Stadium, Wilberforce, OH
Video: https://maraudersports.com/watch/?Live=235&type=Live
The Marauders (1-0, 0-0 SIAC) come off a victory, in the Black College Hall of Fame Classic, against Winston-Salem State of the CIAA. Central State will need to tighten up its run defense, cut down on the penalties, and take care of the ball better, this week, against another CIAA opponent, Lincoln-PA (0-1, 0-0 CIAA). CSU gave up 193 yards rushing to WSSU, while committing 15 penalties for 129 yards, and turned the ball over four times (3 interceptions, 1 fumble). The Marauders were 4-of-5 on red zone opportunities. Lincoln-PA loss last week to FCS Delaware State, 34-0, in a game where they turned the ball over, twice, and had only 195-yards of total offense. Central State should be able to keep the SIAC undefeated versus the CIAA for the season.
Kentucky State at Fort Valley State
1pm, Wildcat Stadium, Fort Valley, GA
Video: https://team1sports.com/fvsu/
This game, originally scheduled to be played in Chattanooga, TN, was moved back to campus, in an announcement made this past Monday. In the Red Tails Classic, Fort Valley(1-0, 0-0 SIAC) rushed the ball 37 times for 328 yards against Tuskegee, while holding the Golden Tigers to 78-yards. FVSU will need to clean up their penalties, as they committed 13 of them for 146 yards. The Wildcats were only 6-for-17 passing for 51-yards.
Kentucky State (0-1, 0-0 SIAC) won the time-of-possession battle against Delta State, 43:39 to 16:21; ran 68 plays, compared to 52; rushed 58 times for 235 yards; passed at 80% efficiency, and converted 9-of-17 third and fourth downs. Despite these accomplishments, KSU lost 33-10, in part, due to only going 1-for-3 in the red zone, one turnover, and nine penalties for 64 yards.
This will be an old-school, ground-and-pound, football game. This game may be a quick game, timewise, because both teams will try to control the game on the ground. With steady rain expected this weekend in that part of Georgia, it will be a benefit, competitively, that both teams focus on their run games. Expect fewer than 25 pass attempts, combined, between these two teams.
Benedict at Lane
3pm, Lane Field, Jackson, TN
Video: https://www.youtube.com/c/LaneAthletics
This may be the best match-up of the week in the SIAC. Benedict (1-0, 0-0 SIAC) comes in after a dominating performance versus Elizabeth City State. The Tigers put up over 550 yards of offense and defensively, held ECSU to 0-for-11 on third down. Lane (0-1, 0-0 SIAC) gave FCS Arkansas Pine-Bluff all it could handle, scoring first, and often, racking up 42 points in a losing effort. The Dragons produced over 500 yards of offense, themselves. Expect a lot of offense in this game, as both teams can attack with the run and the pass. A special teams play or an untimely turnover may be the difference in this battle.
Erskine at Clark-Atlanta
4pm, Panther Stadium, Atlanta, GA
Clark-Atlanta (1-0, 1-0 SIAC), will have to tighten up their kickoff coverage team this week. Last week, they gave up two kickoff returns for touchdowns against Edward Waters to open conference play. Those two special teams plays helped EWU to have the lead in the closing moments of the game, leading to the CAU miraculous victory. The Panthers went 5-for-6 in the red zone. The Panthers will take on the Erskine Fleet (1-0, 0-0 SAC), who dominated the University Fort Lauderdale, an NCCAA program, by a score of 49-2, in a game that was suspended after two quarters. Erskine forced three turnovers against UFL. Clark-Atlanta will even the conference record against the SAC.
#15 Albany State at Florida A&M
6pm, Bragg Memorial Stadium, Tallahassee, FL
Video: https://hbcugo.tv/
Radio: https://famuathletics.com/sports/2021/8/23/rattler-sports-network.aspx
These two campuses are separated by only 91 miles. Florida A&M (0-2, 0-1 SWAC) comes into this game after being blown out by conference foe Jackson State, 59-3. The Rattlers were only able to muster 155 yards of total offense while giving up nearly 500 yards. Albany State (1-0, 0-0 SIAC) defeated Mississippi College, 28-14, and shut the Choctaws out for three of the four quarters. But the Golden Rams were outgained on offense, especially in the run game. ASU will come to play defense and FAMU will try to right the ship on offense. Albany State will rely on their running game to control the clock and shorten the game for one of the top defenses in Division II. The game will, definitely, be a tough challenge for the Golden Rams, but if FAMU sleeps, ASU can sneak out of Tallahassee with a victory.
#10 West Georgia at Morehouse
6pm, B.T. Harvey Stadium, Atlanta,GA
Audio: https://streamdb6web.securenetsystems.net/cirrusencore/WCKS
Morehouse (0-1, 0-0 SIAC) will take on their second consecutive opponent from the GSC, losing last week to West Alabama 24-16. The Maroon Tigers were only able to gain 254 yards offensively, went 3-for-14 on third down conversions, had their quarterback sacked three times, and turned the ball over three times, and still had an opportunity to tie the game on their final drive. West Georgia (1-0, 0-0 GSC) tallied 461 yards of offense, went 4-for-4 in the red zone, forced two fumbles, and held their opponent, Carson-Newman, to 3-for-15 on third down conversions. Morehouse will have to clean-up their performance to remain competitive against this top rated team.
West Alabama at Miles
6pm, Sloan-Alumni Stadium, Fairfield, AL
Video: https://boxcast.tv/channel/lb5n5fattqdytsswvevq?b=ybvpnlnypowbrn8rjgrv
Miles (0-1, 0-0) turned the ball over twice in the first quarter, but the defense shut out Alabama State for the final three quarters in Week One, and had an opportunity to tie the score versus this FCS on their final drive. West Alabama (1-0, 0-0 GSC) forced three turnovers versus Morehouse and poured in over 300 yards of offense. The Golden Bears will have to utilize their running game and take care of the ball to allow their dominant defense to control this game.
Johnson C. Smith at Allen
6pm, Westwood High School, Blythewood, SC
Video: https://www.jockjive.com/
Allen (0-1, 0-0 SIAC) comes off of a lack-luster performance against #14 Newberry. The Yellow Jackets had less than 200 yards of offense and were only 3-of-16 on third and fourth down. Johnson C. Smith lost in overtime to D-II Independent Bluefield State, 35-34, in overtime. JCSU had just under 500 yards of offense and BSU had 376. The Golden Bulls turned the ball over three times. The bright spot for Allen, defensively, was the fact that they forced three turnovers. The Yellow Jackets will have to protect the ball and forced turnovers to keep the SIAC perfect against the CIAA.
Savannah State at Edward Waters
6pm, Nathaniel Glover Community Field and Stadium, Jacksonville, FL
Video: https://www.espn.com/espnplus/player/_/id/5127e3fa-940e-45d2-a4fd-302eb64d3365
Savannah State (0-1, 0-0) lost to NAIA Southeastern (FL) 34-14, in a game that was not as close as the score indicated. Two fourth quarter touchdowns and a safety help make the score respectable. Savannah State made key mistakes, especially to close out the first half, that broke last week's game open for their opponent. Statistically, with the exceptions of the turnovers, SSU either won or was even in most categories. SSU has been a running team the past two years, but seem to be searching for their identity in the early portion of the season.
Edward Waters (0-2, 0-1 SIAC) could easily be 2-0 this season. EWU has gotten off to a slow start in both games, trailing at halftime in both games, but out-scoring their opponent in the second half in each. EWU has a solid running game and their kick/punt returns have created scores and opportunities. The EWU defense is also good at creating turnovers.
These two campuses are 95 miles apart. In this battle of the Tigers, Edward Waters will use their ground attack to get off to a fast start and score early. Savannah State will look to hold on to the ball so that their offense and finish drives to put points on the board.
Tuskegee at Hampton
6pm, Armstrong Stadium, Hampton, VA
Video: https://my.flosports.tv/partner/caa?utm_campaign=caa&utm_medium=partner&utm_source=teams&utm_content=teams&rtid=hampton&coverage_id=
Audio: https://www.iheart.com/live/881-whov-5599/
In a game that should be named the "Booker T. Washington Classic", Tuskegee looks to better their "older brother". The Golden Tigers (0-1, 0-0 SIAC) narrowly cracked 200 yards of offense, while going 3-of-12 on third downs, and gave up over 300 yards rushing to Fort Valley State. Hampton (1-0, 0-0 CAA) piled up over 400 yards of offense, but also gave up over 400 yards of offense, and threw three interceptions. TU wil have to find their running game, take care of the ball, and force turnovers in order to compete in this game.