SIAC Recap - Week Two
September 11th, 2022 11:00am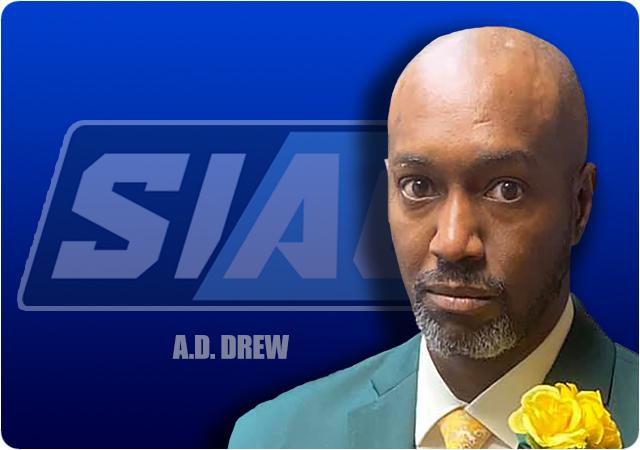 The SIAC was unable to win any games versus non-conference foes this week.
While Albany State held their own versus Florida A&M of the FCS's SWAC Conference, Tuskegee was soundly defeated by FCS Hampton of the CAA.
Miles and Morehouse lost big to GSC opponents. Clark-Atlanta played Erskine of the SAC close.
Central State lost at home against the CIAA and Allen had a no contest against another CIAA foe.
Overall, the SIAC West was 0-5, including 0-2 against the SIAC East. Savannah State picked up a victory over Edward Waters, who lost another game by less than one touchdown.
All games played Saturday, September 10
Lincoln (PA) 26 Central State 21
The Central State Marauders (1-1, 0-0 SIAC) dropped their home opener to the Lincoln (PA) Lions (1-1, 0-0 CIAA). After a first half with little scoring, CSU scored a touchdown with 36 seconds remaining, on a KR Brandon Brock 54-yard punt return to put the Marauders up 7-0 at intermission. A bad snap on a punt and subsequent touchdown helped LU dominated the scoring in the third quarter, and into the fourth quarter, to take a 20-7 lead. Central State cut into the lead with a QB Brandon Kyles pass to WR Twon Hines for a 64-yard catch and run, bringing CSU within 6. Lincoln put the game away with another touchdown with only 1:23 on the game clock. A late touchdown with 14 seconds gave Central State a chance, but the Marauders were unable to recover the onside kick.
Next Game: At Bluefield State, Saturday, 12pm ET
Kentucky State 7 Fort Valley State 9
This non-conference match-up of SIAC foes, originally scheduled to be played in Chattanooga, TN, was moved back to Fort Valley's campus. Old school football was played in Central Georgia, in a game that featured a combined 83 rushing attempts, 29 pass attempts, and a gametime of 2 hours and 29 minutes. Neither team turned the ball over in this defensive battle. Fort Valley State (2-0, 0-0 SIAC) opened the scoring on a 15-play, 75-yard drive, consuming 9:07 of game clock. QB Kelvin Durham capped the drive off with a one-yard touchdown run, but the PAT failed. FVSU kept Kentucky State (0-2, 0-0 SIAC) out of the endzone with a goal line stand at the end of the half. FVSU's LB Ethan Manns stopped KSU's RB Dontrell Childs on a fourth down run, from the three-yard line, with less than five seconds remaining in the first quarter.
Fort Valley took the opening kick of the second half and scored a field goal to end a 64-yard drive. After a 71-yard kickoff return on the ensuing play, Kentucky State got on the board on a four-yard run from RB Shaquan Oliver, to make the score 9-7. Late in the fourth quarter, KSU had an opportunity drive for a potential game winning field goal, but the FVSU defense stopped the Thorobreds on their own 42-yard line with 1:35 remaining. The Wildcats were able to take three kneel downs to secure the victory. Fort Valley State only gave up 170 yards of total offense and held the ball for 36:18. Kentucky State was only 3-of-13 on third and fourth downs.
KSU Next Game: At Dayton, Saturday, 1pm ET
FVSU Next Game: Vs. Allen, Saturday, 2pm ET
Benedict 14 Lane 0
Benedict (2-0, 0-0 SIAC) remained undefeated on the season, defeating Lane (0-2, 0-0 SIAC) on a muddy field, in a non-conference match-up of SIAC competitors. The game was filled with turnovers by both teams, as Lane turned the ball over eight times, (six fumbles, two interceptions) and Benedict turned the ball over three times (fumbles) and had a field goal blocked. Lane turned the ball over on five of its first eight offensive possessions (two interceptions, three fumbles). Benedict held Lane to 92 total yards of offense, while only gaining 202, themselves.
BC Next Game: Vs. Savannah State, Thursday, 7:30pm ET (ESPNU)
LC Next Game: Vs. Clark-Atlanta, Saturday, 2pm CT
Erskine 23 Clark-Atlanta 13
Clark-Atlanta (1-1, 1-0 SIAC) won every major statistical category versus the Erskine Flying Fleet, except turnovers and red zone efficiency. Erskine was only able to muster seven points off the three CAU miscues and Erskine did not turn the ball over. The Panthers reached the red zone four times, but only managed a touchdown and two field goals. As a comparison, Erskine reached the red zone twice and scored one touchdown. Erskine used a 54-yard pass and a 38-yard touchdown run to score against the, otherwise, stingy Panther defense. Erskine added a safety on the final play of the game, to add insult to injury. Clark-Atlanta generated 424 yards of offense, including 172 on the ground, versus 273 total for Erskine.
Next Game: At Lane, Saturday, 3pm ET
#15 Albany State 13 Florida A&M 23
There is usually not a whole lot of good that can come out of a game for a DII versus an FCS, but in this case, Albany State (1-1, 0-0 SIAC) has some positives from their loss. ASU scored first, with a 12-play, 81-yard drive on their opening possession of the game. Florida A&M scored 23 unanswered throughout the remainder of the game, until the Golden Rams were able to get a late touchdown to make the score close to end the game. Although FAMU was 5-for-6 in the red zone, ASU forced the Rattlers to make field goals on three of those trips. Albany State gained 155 yards rushing, had three sack and eight tackles for loss versus Florida A&M.
Next Game: At Shorter, Saturday, 12pm ET
#10 West Georgia 42 Morehouse 0
Morehouse (0-2, 0-0 SIAC) trailed #10 West Georgia only 7-0 at the half. However, during the second half, West Georgia scored five times, including four times in the third quarter, to blow out the Maroon Tigers 42-0. Morehouse only managed 115 yards of total offense, including only 36 yards passing. Morehouse managed only seven first downs and was 3-of-18 on third and fourth downs.
Next Game: Vs. Howard in East Rutherford, NJ, Saturday, 3pm
Johnson C. Smith at Allen: NO CONTEST
This game was delayed by 90-minutes to start due to rain and lightning. Then, a violent thunderstorm at halftime forced the contest between Allen (0-1, 0-0 SIAC) to be declared a no contest. Allen was leading 27-20 when the game was called.
Next Game: At Fort Valley State, Saturday, 2pm ET (ESPN+)
Savannah State 31 Edward Waters 28
The Savannah State Tigers (1-1, 1-0 SIAC) survived three turnovers, by forcing two of their own, against the Edward Waters Tigers (0-3, 0-2 SIAC), to survive for the victory. The most critical turnover by EWU was a fumble with 1:33 remaining in the game, a drive where EWU could have either tied the score or taken the lead. SSU was able to recover and run out the clock. Savannah State never trailed in the contest, but Edward Waters was within one score for most of the game. The game was essentially even, statistically, with Edward Waters having a slight advantage in total offense: 378-yards vs. 339-yards. Savannah State turned the ball over three times, compared to one for Edward Waters. The victory for Savannah State evens the all-time series at 12-12-4, including five consecutive for Savannah State.
SSU Next Game: At Benedict, Thursday, 7:30pm ET (ESPNU)
EWU Next Game: Bye
Tuskegee 10 Hampton 42
Both teams turned the ball over early, but Hampton capitalized on the second Tuskegee (0-2, 0-0 SIAC) turnover to score a touchdown to take an early 7-0 lead. The next Golden Tiger turnover would also lead to another Hampton touchdown, put the Golden Tigers down 21-0 in the second quarter. Tuskegee capped off a 11 play, 75-yard drive with a touchdown pass to Keynon Webb from Bryson Williams to cut the Pirates lead to 21-7 at halftime. Hampton scored another three touchdowns in the second half to wrap up the game against the Golden Tigers. TU only managed 175 yards of total offense. Webb finished the night with 10 catches for 103 yards.
Next Game: At West Alabama, Saturday, 3pm CT
West Alabama 31 Miles 0
The Miles Golden Bears (0-2, 0-0 SIAC) averaged just 2.4 yards per play, accumulated only 161 yards of total offence, and went 1-for-18 on third and fourth downs, while being shut out by West Alabama. West Alabama totaled 590 yards on offense, including 444 yards in the air.
Next Game: Vs. #2 Valdosta State, Saturday, 6pm CT