Bob Eblen's National Column
November 6th, 2018 9:00am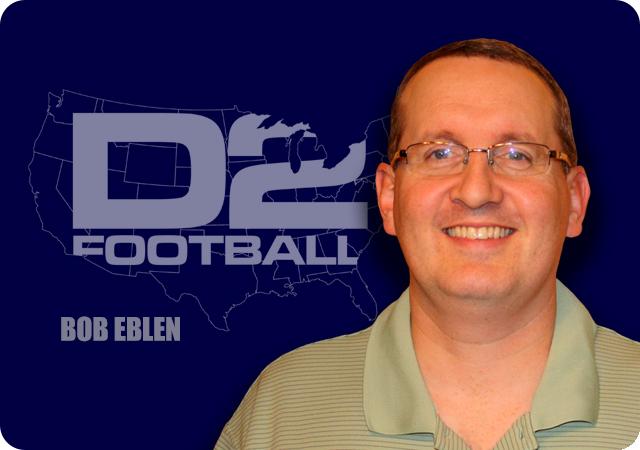 We have reached the final week of the regular season and it's time to take a look at the playoff possibilities in each of the four regions. Please refer to the regional rankings on the front page of our site to help follow along.
Super Region One
Eight teams in this region have zero or one loss. However, a few of these teams will be playing each other which makes things quite interesting and difficult to predict.
Notre Dame College, the winner between West Chester and Slippery Rock, and the winner between LIU-Post and New Haven will all be in the playoffs.
That leaves four open spots and many possibilities. Hillsdale (vs Indianapolis), Kutztown (vs Edinboro), and Tiffin (vs Findlay) all play tough games on Saturday. It's very possible that at least one two-loss team could get into the playoffs. There are so many moving parts that I expect a big shakeup in the final rankings. However, I do expect the seven playoff participants to come from the current top eight spots in the rankings. The order could be the part that is most interesting.
Bob's Prediction:
Notre Dame College

LIU Post

Slippery Rock

West Chester

Kutztown

Tiffin

New Haven
Super Region Two
Valdosta State and West Georgia play each other. I believe the winner will get the top spot in the region and the loser will be seeded second. Lenoir-Rhyne should be locked into the three seed.
Current #4 Bowie State plays #10 Fayetteville State in the CIAA title game. Virginia Union from the CIAA is currently ranked 9th. With a conference only needing to place a team in the top eight in a region to get in via earned access at least one CIAA team will be making it.
Albany State is the only SIAC team in the top ten and should be a heavy favorite to beat Miles in the conference title game on Saturday.
It's likely the last couple of spots will come down to 3-loss teams Florida Tech, West Alabama and Wingate. FTU has an easy game on Saturday against winless Shorter, but UWA (vs West Florida) and Wingate (vs Tusculum) will have their hands full.
Bob's Prediction:
Valdosta State

West Georgia

Lenoir-Rhyne

Bowie State

West Alabama

Florida Tech

Albany State
Super Region Three
Ferris State will likely name the score at William Jewell on Saturday. However, the Bulldogs are also likely to receive a nullification penalty for playing an ineligible player in the first four games. I'm guessing this drops FSU out of the top spot, but exactly how far is anyone's guess.
Fort Hays State will also name the score against winless Northeastern State and with a head to head win over Northwest Missouri, the Tigers will be in the postseason.
Ouachita Baptist will be in the playoffs but has a tough rivalry game with Henderson State.
Indianapolis (vs Hillsdale), Northwest Missouri (vs Central Missouri) and Southern Arkansas (vs Arkansas-Monticello) all have games that could be tough this weekend. A loss by any of those teams could open the door for Harding to get into the top seven. However, wouldn't it be ironic if Harding missed the playoffs this year as a 2-loss team after reaching the national semifinals with three regular season losses a year ago?
Bob's Prediction:
Ouachita Baptist

Ferris State

Grand Valley

Indianapolis

Fort Hays

Northwest Missouri

Southern Arkansas
Super Region Four
Minnesota State, Minnesota-Duluth, Tarleton State and CSU-Pueblo are all heaving favorites on Saturday and will be in the playoffs. After that things get interesting.
Colorado Mines will get in with a win but must beat Chadron State (currently ranked 10th). Texas A&M-Commerce is in a similar position needing to knock off Angelo State.
Where things may get really interesting is for the final spots in the region. Central Washington and Azusa Pacific play each other. Will it be possible for the winner to catapult over Midwestern State in to the seventh spot? If Chadron State beats Colorado Mines could the Eagles somehow get into the top seven in the region?
Bob's Prediction:
Tarleton State

Minnesota-Duluth

Colorado Mines

CSU-Pueblo

Texas A&M-Commerce

Central Washington
Top Games this Week
CIAA Championship Game
Bowie State (8-2) versus Fayetteville State (6-2)
FSU comes into this game on a sour note after suffering a 51-21 loss to Winston-Salem State last Saturday. BSU is not quite the juggernaut offensively it was a year ago, but the Bulldogs still have standout Amir Hall at quarterback and a defense that has played much better over the last month. Bowie State 31 Fayetteville State 18
SIAC Championship Game
Albany State (7-3) versus Miles (5-6)
Miles started the season on a five-game losing streak, including a 30-24 loss to ASU during that stretch. But the Golden Bears got hot at the right time and rallied from 17 points down to defeat rival Tuskegee 31-27 last week to earn the right to play in this game. The Golden Bears struggled to stop the ASU running game in the first meeting and unless that changes I expect the result to stay the same. Albany State 30 Miles 20
PSAC Championship Game
West Chester (9-0) at Slippery Rock (9-1)
These two teams have been the class of the PSAC all season so it's fitting that they meet in this game. The Rams allow just 2.0 yards per rush attempt and have forced 24 turnovers. Plus they have a balanced offense. However, SRU has played its best football of the season over the last two weeks, they have the home field and are in a must win situation as far as the playoffs go. Slippery Rock 27 West Chester 23
New Haven (8-1) at LIU-Post (9-0)
Both of these teams are unbeaten against D2 competition and 8-0 in Northeast 10 play so this game is obviously huge. These two teams are similar offensively, but the Pioneers have given up just 70 points over eight conference games as opposed to 135 allowed by the Chargers. Combine that with home field advantage and I'm going with the Pioneers. LIU-Post 24 New Haven 16
Chadron State (7-2) at Colorado Mines (9-1)
The Mines defense has not been good the last two weeks, yielding 1188 yards and 94 points. This will be a problem against a CSC team that is more than capable of moving the ball and scoring points. Of course, offense is the Orediggers' forte as well so expect a shootout. Colorado Mines 48 Chadron State 45
Hillsdale (9-1) at Indianapolis (8-1)
This is a rare non-conference game that will have playoff implications in two different regions. The two programs have some familiarity with each other since they both played in the GLIAC before going in different directions. I have to give the Greyhounds a slight advantage since they are better defensively. The match up to watch here is an Indy defense that allows just 133 passing yards per game against Charger senior quarterback Chance Stewart, who throws for about 275 yards per game. Indianapolis 20 Hillsdale 17
Azusa Pacific (7-3) at Central Washington (8-2)
CWU won 45-31 when these two teams played on October 6th. In the four games since then, the Wildcats have scored 48, 60, 62 and 74 points. Meanwhile, APU has been struggling to score many points against the same opponents. I think the Cougars are running into a buzz saw. Central Washington 50 Azusa Pacific 30
West Georgia (10-0) at Valdosta State (9-0)
What a match up. These two teams will be battling for the GSC title, the top seed in Super Region Two and supremacy in the state of Georgia. I feel that this is probably the first of two meetings between these teams, with a likely rematch coming in the playoffs. To take it a step farther, I like one of these two teams to reach the national championship game.
VSU has a great offense, led by standout quarterback Rogan Wells (27 TD, 4 INT) and a many faceted running game that averages 7.8 yards per carry. The Blazers have not scored fewer than 44 points in a game this season and have not had a game closer than 21 points.
UWG is not as prolific offensively, but still very good. Quarterback Willie Candler has thrown 20 touchdown passes against just two interceptions and standout running back Devontae Jackson has rushed for 1160 yards and 11 touchdowns. The Wolves have the best defense in the GSC, allowing about 275 yards per game.
I like the Blazers in this game. The home field and the fact that they have been so unstoppable offensively gives them the advantage. Valdosta State 37 West Georgia 28