Conference updates for spring football
November 17th, 2020 12:00pm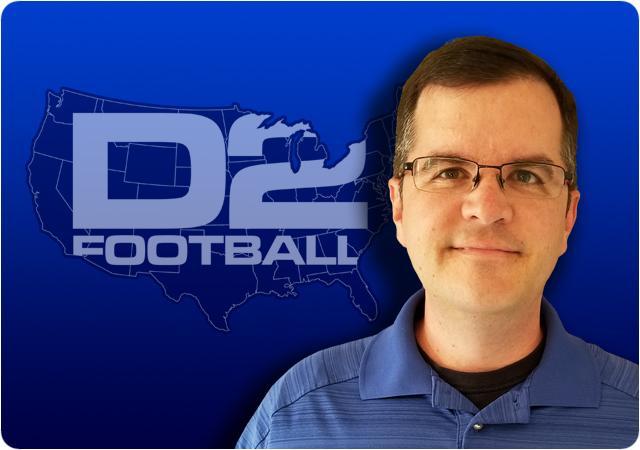 Mid-November is normally when we close the book on the regular season for D2 football and start looking forward to playoffs, crowning a new champion and recognizing a Harlon Hill Trophy winner. We would also be welcoming the start of the basketball seasons. This year, for obvious reasons, none of that is happening. It's been a difficult fall to say the least and as we head into the final stretch of the 2020 calendar year, there is still a lot of uncertainty surrounding college athletics.
Plans for spring football seasons have begun to unfold and I wish I could say it's all exciting news, but the stone-cold reality is that it isn't. To date, only four of sixteen Division II football conferences have announced definitive plans to play football in the spring semester. Five others have yet to announce a direction, while seven have confirmed that they will not sponsor football in the spring semester. In most of those leagues, schools will have options to schedule games independently but since the decisions to not sponsor a conference season were (in most cases) approved by majority vote, it would appear that most will schools will not play again until next fall.
Here is a rundown of what we know about each conference as of November 17.
Spring schedule announced
GLVC The GLVC announced plans for a spring football season on October 13. The eight conference members will be split into two divisions. The season will begin March 27 with each team facing an opponent from the other division in a scrimmage format. This will be followed by three weeks of divisional games. After all the divisional games have been played, teams will be paired with their counterpart in the standings in the fifth and final week of the season. The first place teams will meet in the GLVC's first ever conference championship game.
GMAC The GMAC announced a six game spring schedule for its seven members that will begin March 13 and conclude April 24. Each team will play three games at home, three away and have a bye week during the season. The team with the best record will be declared the champion. If multiple teams are tied for the best record, co-champions will be declared.
LSC The LSC announced plans for shifting fall sports to the spring semester, including an abbreviated football season. Five teams will participate in a four-week schedule. Each team will have two home games and two away games. Contests will begin on Saturday, February 27. Teams participating in the spring season are Eastern New Mexico, Midwestern State, Texas A&M Kingsville, UT Permian Basin and Western New Mexico. West Texas A&M and Angelo State were able to play abbreviated fall schedules and might not play in the spring. Texas A&M Commerce has opted for no outside competition until the fall, 2021 season.
SAC The SAC announced plans for a four-game spring schedule, followed by a conference championship game. For this format, the conference has created two divisions of five teams, including D2 newcomer Barton College, which has a scheduling alliance with the SAC. Each team will play the other four in its division, with the two first place teams facing each other in a championship game on April 17. Schools may schedule additional games if desired, but the full schedule cannot exceed seven games.
Independent New D2 program Erskine College, located in Due West, South Carolina, announced an eight-game schedule beginning on February 27. The Fleet will play three SAC programs, two GSC schools, one NAIA and one club team.
No conference activity for the spring semester
CIAA On October 2, the CIAA announced that it will not sponsor football during the 2020-2021 academic year.
GAC The GAC announced a return to sports plan on 11.16. The fall sports of soccer and volleyball will play abbreviated spring semester schedules. The only mention of football in the published released is the start date for the fall, 2021 season, slated to kick off Sept. 2.
GNAC The GNAC will not contest a conference football schedule in the spring. The league is going forward with spring schedules for the fall sports of soccer and volleyball but the members opted to focus football efforts on the fall of 2021. Members do have options to schedule spring football games independently if they desire.
GSC The GSC announced on 11.17 that the conference will not sponsor a spring football season. Members may pursue independent football schedules. The fall sports of women's volleyball, men's soccer and women's soccer will play abbreviated schedules in the spring semester.
MIAA On October 1, the MIAA announced that it will not stage a spring football season. Members may independently schedule up to four joint practices, scrimmages or games with other teams. Any games contested will be considered non-conference. A small handful of games have been played in the fall involving Pittsburg State, Missouri Western and Nebraska-Kearney.
PSAC On November 11, the PSAC announced there will be no conference scheduled activity for fall sports in the 2020-2021 academic year. Members are free to schedule contests independently, if they wish. If six or more schools elect to participate in a spring schedule, the conference might reconsider its position and facilitate a championship for that sport. At this time, it is unclear if any schools will attempt to go forward with a football schedule.
SIAC On November 3, the SIAC announced its return to sports plan, which will begin in January with men's and women's basketball. However, the league also announced that it will not sponsor football during the 2020-2021 academic year. As in other conferences taking this same direction, members are free to schedule football games independently.
No decisions made
GLIAC, MEC, NE10, NSIC, RMAC
Decisions are still pending for five conferences. The RMAC was able to pull off a limited schedule this fall with four of eleven teams participating but there has been no news yet on a possible spring season...The MEC hinted at a possible announcement for fall sports in early October, but that has not yet occurred...Most of the GLIAC, NSIC and NE10 members are located in areas currently seeing high surges in COVID-19 cases and hospitalizations, so announcements on their plans may still be a few weeks away. The GLIAC did recently announce spring schedules for men's and women's soccer, but no news for football yet….The NSIC recently unveiled plans for basketball and wrestling, but offered no updates for fall sports. The league has been very cautious with communications during the past eight months, but it looks like a formal spring football schedule is unlikely.
That's how the picture looks for now but as has been the case since early March, the situation is very fluid. If your favorite team is in a conference that is not sponsoring football this year, don't give up all hope. Based on some conversations I've had,I think many teams are interested in scheduling scrimmages or non-countable games with opponents to get their teams ready for next fall. There may yet be opportunities to see your team take the field. Regardless, keep supporting them and as always, please remember that the decision to not play is the hardest decision most of those administrators have ever had to make. No one wants this and everyone wants to play. But health and safety come first and the responsiblity that university presidents and administrators have for the safey of everyone that steps onto their campus is greater than most of us can imagine.
Questions, suggestions, comments, complaints? Email me at [email protected] and follow me on Twitter @D2Chuck.