NCAA Independents Week 1 Recap and Week 2 Preview
September 9th, 2021 7:46am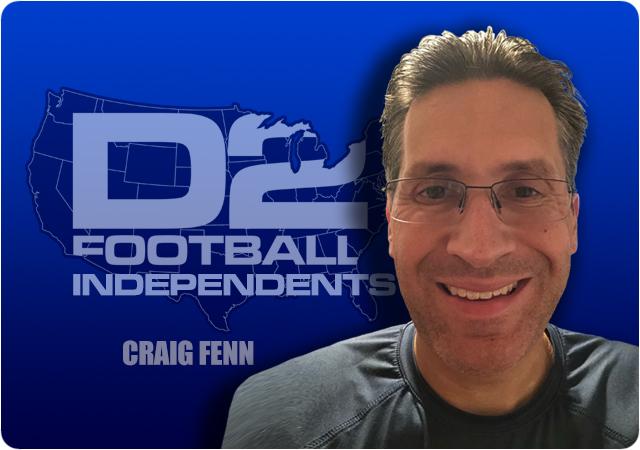 Overall, not the best week for the NCAA Independents and GNAC squads, finishing the week with a 1-5 record. GNAC favorite Central Washington was the only winner, 66-24 over Eastern New Mexico. Bluefield State had the closest of the losses and was driving for a potential game-tying touchdown but was stopped at the end of their game against NAIA member Lawrence Tech, and Simon Fraser dealt with the largest mismatch of the weekend, losing to an Idaho team that was an FBS member as recently as 2018.
Highlights from Week 2 include two Independents going against each other and two GNAC teams visiting nationally ranked opponents.
Now, about last week:
Barton loses at home to Newberry 31-7
Barton began their SAC preview tour by hosting Newberry in Week 1. Barton rallied late in the Spring season and nearly pulled the upset, losing 20-17, but this time the Bulldogs were unable to rally, losing 31-7. A second quarter touchdown made the score 13-7, but that was the closest Barton would come as Newberry scored the last 18 points of the game. Barton could only manage 80 yards passing from Jaquan Lynch but they gained a total of 180 yards on the ground, with Jordan Terrell leading the way with 108 yards. Barton's Jack White caught the Bulldogs' only touchdown. Newberry's Mario Anderson led all running backs with 171 yards.
Erskine loses at Catawba 37-27
After three quarters Erskine was tied with Catawba at 24. But 10 Catawba points in the first 8 minutes of the fourth quarter but the game out of reach for the Flying Fleet, who lost 37-27. Erskine outgained Catawba in the air 334 to 125 yards, but Catawba dominated on the ground, gaining 325 yards to Erskine's 70. Craig Pender and Senika McKie were the stars for Erskine. Pender completed 19 of 32 passes for 334 yards, three touchdowns, and one interception. McKie led all receivers with 7 catches for 176 yards and a touchdown. Yong Lee and JC Correll also caught touchdown passes for Erskine. Ken Avent was the leading passer and rusher for Catawba, accounting for 276 total yards and three touchdowns and Jyrie Martin added 102 yards on the ground. Brandon Lane, Jaden Jenkins, and Wilbur Ramos were the leading tacklers for the Flying Fleet, who kept it close for three quarters but ran out of gas late having to play from behind for most of the game.
Bluefield State loses at home to Lawrence Tech 21-14
Bluefield State and NAIA member Lawrence Tech of Michigan went back-and forth for 60 minutes in Week 1. The big blue took their first lead in decades with a Kentavious Jefferson touchdown catch in the third quarter to give the Big Blue a 14-7 lead. But Lawrence Tech would score the next two touchdowns, including a Matthew Ransome catch with 3 and a half minutes left in the game to give Lawrence Tech a 21-14 lead. The Big Blue, after stopping Lawrence Tech on a fourth down at their own 30-yard line and time running out, drove to the Lawrence Tech 30-yard line with hopes of a game-tying touchdown. But the Big Blue couldn't get any further, and Lawrence Tech held on for a 21-14 win. The standout player for Bluefield State was quarterback J'Rell Joseph, who completed 17 of 34 passes for 159 yards and led the team in rushing with 80 yards. His favorite target was Kentavious Jefferson, who caught six passes for 119 yards and both Big Blue touchdowns. Lawrence Tech's Tyler Kulka led all passers with 183 yards.
Central Washington wins at Eastern New Mexico 66-24
The Wildcats looked every bit the GNAC favorites, making easy work of Eastern New Mexico in their first trip to the state of New Mexico this season. CWU got out to a 21-0 lead in the first quarter, and while Eastern New Mexico got back in the game at 21-14, they had no answers for the Wildcats' offense, which put up 501 total yards and 66 points and led 35-17 at halftime. JJ Lemming was the star of the game, completing 14 of 22 passes for 322 yards and 5 touchdowns and ran for one more touchdown. Tyler Flanagan led a balanced rushing attack with 84 yards and a touchdown. Eight Wildcats caught at least one pass, led by Darius Morrison, who had 4 catches for 88 yards and two touchdowns. Jahleel Breland and Donte Hamilton were the leaders on defense for CWU. Justin Manyweather caught five passes for 144 yards and a touchdown for ENMU.
Western Oregon loses at #10 Colorado School of Mines 42-3
Ryan Worthley's first start as Wolves quarterback was a mixed bag. He completed 20 of 32 passes for 222 yards but was sacked 3 times, threw one interception, and did not throw a touchdown. His counterpart for CSM, John Matocha, also completed 20 of 32 passes, had an interception, and was sacked 3 times, but he had 4 touchdown passes. The Orediggers got out to a 14-0 start in the first quarter and kept going from there, winning 42-3. The big differences were in turnovers, where CSM turned WOU over three times while CSM only turned the ball over once, and in the rushing game, where CSM outgained WOU in net rushing yards 160 to 1. Omari Land led the Wolves with 30 rushing yards and Marquis Sampson led with six receptions. Justice Murphy led WOU in receiving yards with 70 on four catches. Ryan Minniti led the way on defense for WOU with 6 solo tackles and 10 total tackles.
Simon Fraser loses at Idaho 68-0
365 to 5.
If I gave you these numbers without knowing anything else about the game (or even what these numbers were) and asked you how you thought the game went, you would probably think that one team completely dominated the other. Well, those numbers were the halftime yardage totals for the Idaho/Simon Fraser game. Sadly, Simon Fraser wasn't the team with 365 yards. Idaho, a team just three years removed from competing as a Division I FBS team, dominated SFU, outgaining SFU by 593 yards to 90 and not punting once in a 68-0 win. Brandon Niksich threw for just 77 yards on 9 of 16 passes with an interception. Two quarterbacks, including former West Florida and Saskatchewan native Mike Beaudry, combined for 277 passing yards and two touchdowns. Idaho outgained SFU by 316 to 13 net yards on the ground with seven touchdowns. Mason Glover led SFU with 40 yards rushing.
Week 2 Preview
All games are on Saturday, September 11.
FYI-I'm not going to try to pick exact scores, but approximate margins of victory.
Barton (0-1) at Erskine (0-1), 1:00 PM Eastern time
Series History: Erskine leads 2-0
Last meeting: Spring 2021 (Erskine won 30-28)
This will eventually be a league game, as both Barton and Erskine will join the SAC. Barton is still looking for their first win since 1950, and Erskine plays the team they beat for their first win since 1951.
I expect this game will be close and back-and-forth like the game they had this past Spring. However, in this battle of brand-new teams, it seems that Erskine is just a slight bit ahead of Barton right now, especially the Pender-McKie connection, so I think Erskine wins by 3 to 6 points. Barton will need to rely on their ground game to keep the ball out of the Flying Fleet's air attack and keep the game close.
Bluefield State (0-1) at Elizabeth City State (0-1, CIAA), 1:30 PM Eastern time
Series History: First meeting
For the next two weeks, the Big Blue play a CIAA schedule. They were a CIAA member (Bluefield State is a Historically Black College) starting in 1932 and played a CIAA schedule until the 1961 season, when they joined the WVIAC. They remained a WVIAC member until dropping football in 1980. This is the first meeting between the Big Blues and the Vikings.
Elizabeth City State was picked seventh in the 11-team CIAA. They were never in the game against Fayetteville State, picked to finish second in the CIAA behind unanimous choice Bowie State. ESCU only gained 101 total yards and had negative-4 yards rushing in the 47-6 loss. ECSU was down 28-0 before they scored their only points of the game on a Zion Riddick touchdown reception. Kevin Caldwell leads ESCU in passing with 60 passing yards on 7 of 14 passes, Wynton Rush in rushing with 30 yards, and Cameron Saunders leads in receiving with 5 catches for 38 yards.
I expect this game and next week against Johnson C. Smith (picked eighth in the CIAA) will both be very close, but the lack of experience for the Big Blue will be a deciding factor this week. ECSU by a field goal, but Bluefield State gets closer and closer to that first win.
Central Washington (1-0) at #11 Division I FCS Eastern Washington (1-0, FCS-Big Sky), 1:00 PM Pacific time (Game on ESPN+)
Series History: Eastern Washington leads 27-21-2
Last meeting: 2018 (Eastern Washington won 58-13)
In the only meeting in Week 2 between two 1-0 teams, Central Washington is coming off a blowout win at Eastern New Mexico. Eastern Washington went to Las Vegas and bet on red, beating the FBS UNLV Rebels 35-33 in double overtime. EWU outgained UNLV 471 yards to 339, with quarterback Eric Barriere accounting for 406 of those yards, throwing for 374 yards and three touchdowns against two interceptions. Dennis Merritt led EWU with 58 rushing yards. Ten Eagles caught at least one pass, with three receivers leading the team with 6 catches each. Linebacker Ty Graham led the team in tackles.
Both CWU and EWU are solid teams. For EWU, you just don't go onto an FBS team's home field and win, even if it is a legitimately bad UNLV team. EWU is looking to make a deep playoff run this year and CWU wants to gain playoff consideration by winning the GNAC, and their first win against EWU since 2006 (by a 21-14 score) would be a significant message. The main question is then "How long can CWU stay in the game?" They will need to play mistake-free football and cause EWU to make some mistakes. Being 2 or 3 ahead in the turnover count and maybe getting a pick-six would do wonders for the Wildcats' chances. Maybe EWU is a little hung over from their weekend in Vegas?
I think CWU stays in the game in the first half, and I think the Wildcats will be far from being shut out, but EWU's depth will take over in the third quarter. EWU by 15 to 20 points.
(A big thank you to GNAC board member Runnin' Cat for the heads-up on the CWU/EWU series history.)
Western Oregon (0-1) at Texas A&M-Kingsville (0-1, LSC), 5:00 PM Pacific time
Series History: Western Oregon leads 4-1
Last meeting: 2019 (Western Oregon won 26-14)
First, a biology lesson (I'm a biology professor, so old habits die hard). You might be wondering, "What is a Javelina?" Javelinas (the Kingsville mascot) are wild boar-like animals native to the Southwest, Central America, and South America. They are mainly plant eaters and very rarely attack animals but are known to attack dogs from time to time. So, what does this have to do with the game? Well, wolves are canines like dogs, right? OK, I'll get back to sports. Western Oregon has won the last four meetings with Kingsville since 2006, with the only loss coming in their first matchup back in 1975 when they met in the NAIA playoffs. Kingsville traveled to Michigan in Week 1 and lost a close one to Saginaw Valley State of the GLIAC, 13-9. The Javelinas scored all their points in the second quarter, getting out to a 9-0 lead, but Saginaw Valley's defense didn't yield after that, stopping Kingsville on two fourth down and goal plays later in the game to preserve the win. Shane Johnson led Kingsville with 138 yards passing and Josh McGowan led a balanced rushing attack that gained 175 yards with 53 yards rushing and the lone Kingsville touchdown. Five Kingsville rushers had at least 30 yards on the ground. Ryan Martinez was their leading rusher with 59 yards on 6 catches.
If Kingsville's first game is any indication, their defense is a bit ahead of their offense, and combined with their ground game, that could indicate a lower-scoring game. The teams seem evenly matched and this may possibly the best game of the group this weekend. The Wolves have a bit more on offense, so I think they'll win by 3 to 6 points.
Simon Fraser (0-1) at D3football.com #12 Linfield (0-0, Division III-NWC), 1:00 PM Pacific time
Series History: Linfield leads 10-0
Last meeting: 1994 (Linfield won 30-6)
In Week 1 SFU went to Division I Idaho, this week they go to Division III Linfield. Linfield is an old rival from SFU's NAIA days, with their last matchup back in 1994 when both were NAIA members. Linfield has had a strong run of success, making the NCAA Division III playoffs every season since 2010 except the 2018 season when they finished with a 7-2 record. They won the Division III football championship in 2004. Their last game was in 2019, a three-overtime, 68-65 loss to Chapman University in the first round of the Division III playoffs. Don't let the words "Division III" fool you, this is a very good football team. They are the preseason favorites to win the Division III Northwest Conference and have won the NWC 10 of the last 11 seasons. Wyatt Smith leads the offense, coming off a season where he ranked second out of all Division III quarterbacks with 353 passing yards per game. Tyler Bergeron and Chase Lydig are the anchors on defense for the Wildcats.
SFU needs to continue to develop their team and gain experience, and a game like this will help them far more than playing at Idaho did last week (I'm talking about on the field…I know that games like SFU had at Idaho are those "pay" games with higher-level opponents).
Linfield is a school that from its years of success could possibly field a competitive team in the GNAC, although their enrollment of barely over 1300 is tiny compared to the GNAC's current (and former) football schools. For example, see what Frostburg State has done in the MEC, being immediately competitive after moving up from Division III. SFU needs something, anything, to go their way this week. Get a few points on the board to get their offense confidence or make a defensive play. I think SFU will do a bit better than they did against Idaho, maybe staying in the game for a quarter or two, but I still think Linfield will win handily. Linfield by 21 to 25 points.