2019 NSIC Preview
August 30th, 2019 12:00am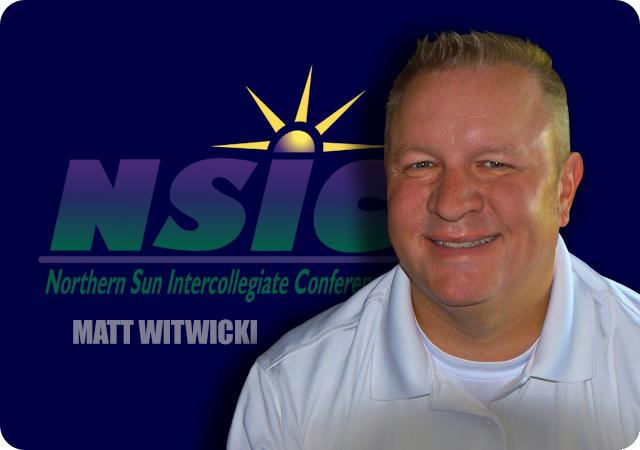 2019 NSIC Preview
The Northern Sun looks to have a clear-cut favorite this fall but should have a handful of teams right on the heels of the top dog. The last two seasons have seen less than stellar quarterback play, but I'd expect a few signal callers assert themselves during the '19 campaign.
After speaking with all 16 head coaches and taking a hard look at rosters, stats, previous results, and schedules…..here's my projected finish for all 16 teams for the 2019 NSIC season.

16. Minnesota-Crookston
2018 Record: 1-10
2018 Points Scored Per Game: 10
2018 Points Allowed Per Game: 42
Returning Starters (OFF/DEF): 6/7
The Golden Eagles have been trying to dig their way out of the NSIC cellar for several years. Last year they up-ended Minot State for their lone trip to the pay window. Outside of that contest, Crookston stayed within 1 score of just one opponent en route to a 1-10 campaign.
Jalin Scott (QB) showed promise at times but completed just 45% of his throws, netting 3 touchdown passes and six interceptions. He also scored 4 touchdowns on the ground. Playmaking wideout Rod Stewart has run of out time at Crookston, so they'll have to find another guy to fill his void with the offense and special teams.
Mark Dufner (Head Coach) will continue to focus on the process with his squad and look to get the Eagles out of the bottom of the conference, but wins will likely not come easy for the Golden Eagles in 2019.
Prediction: 0-11
15. Mary
2018 Record: 1-10
2018 Points Scored Per Game: 16
2018 Points Allowed Per Game: 40
Returning Starters (OFF/DEF): 7/5
In 2018, rookie head coach Craig Bagnell had the task of transitioning a triple option offense to a conventional offensive approach. A year later the Marauders are looking to take their next step and Bagnell is expecting more from his offense. Currently they have a 3 man race for the starting quarterback job, with 2018 opening day starter Jordan Velarde returning from injury after missing nearly the entire season. Luke Little (WR) is a very bouncy player at wideout and offers Mary an explosive weapon offensively.
On the defensive side of the ball Bagnell knows 40ppg isn't going to get them many wins and linebacker Gray Blewett (70 tackles, 2.5 sacks) will lead a unit that'll look to keep Mary in more games than a season ago.
I think the Marauders might have the biggest upside of any of the 1-win squads from a year ago, but they are still very young, so it might take time. I praised the offensive approach and playcalling of Bagnell when he was at Bemidji and I think it's just a matter of time before that translates into the win column at his alma mater.
Prediction: 1-10
14. Minot State
2018 Record: 1-10
2018 Points Scored Per Game: 16
2018 Points Allowed Per Game: 45
Returning Starters (OFF/DEF): 9/8
When looking at Minot versus the other teams at the bottom of the NSIC, I think they are a little bit better than those other teams due to experience. Don't get me wrong, the Beavers still need to figure out how to stop opposing offenses, something that eats away at the defensive-minded head coach Mike Aldrich.
Aldrich enters his 3rd season at the helm and now has more than half the team being his recruits. He's done a good job of wrapping his arms around North Dakota and surrounding states, getting more of a local/regional footprint than in the past in Minot. Starting quarterback Ben Bolinske is a local Minot star who possesses very good athleticism and adds a playmaking element to the Beavers offense. Veteran pass-catcher Lavante Bushnell gives Bolinske a good weapon but Minot needs to figure out things with the running game.
Defensively MSU returns much of their front 6 but will be young in the back half.
Prediction: 1-10
13. Southwest Minnesota State
2018 Record: 4-7
2018 Points Scored Per Game: 25
2018 Points Allowed Per Game: 26
Returning Starters (OFF/DEF): 6/4
SMSU is in the unenviable position of having to replace standout quarterback Blake Gimbel who finally graduated. Senior signal-caller Boyer Bouman (nephew of former Minnnesota Viking Todd Bouman) is first up to see if he can maintain the Mustangs offensive productivity. Part of the challenge will come from a relatively unproven offensive line. Bouman has some nice weapons in returning playmaking wideout Daniel Davis (1,113 yards and 9 touchdowns) and running back Max Simmons (543 yards and 3 scores).
The Mustang defense was improved a season ago, allowing 26 points per game. With only 4 returning starters they'll be leaning on Lucas Fisher (JR/DB) and Onte Burns (SO/LB) to lead a young defense.
In 2018 SMSU had a defense that netted more respectable numbers than in the past along with a record setting QB. Even so, the Mustangs were only able to muster 4 wins. I'm not sure that's a good sign when playing in a very strong South Division of the NSIC.
Prediction: 1-10
12. Upper Iowa
2018 Record: 3-8
2018 Points Scored Per Game: 23
2018 Points Allowed Per Game: 31
Returning Starters (OFF/DEF): 6/7
The 2018 Peacocks pulled off a pair of big upset wins over Winona State and Bemidji State in what was otherwise a lost season. Jake Schuman (JR) steps in at Quarterback for the departed Brent Lammers, which are large shoes to fill. Lammers gave UIU good production on the ground and his battering ram running back Ryan Parmely has graduated as well. The offensive line was young a season ago but returns 4 starters and should be more seasoned for the '19 campaign. Wideout Alex Stevens (808 yards, 6 scores) gives the new signal-caller a target in the passing game.
The Peacocks graduated their top tacklers, but linebacker Mitchell Siech returns to lead the defense. Siech recorded 74 stops a year ago, 10.5 for loss.
Similar to SMSU, UIU graduated a top quarterback from a squad that won just 3 contests a year ago. It's hard to see them much better this fall, all things considered. With the Peacocks North schedule weaker than a year ago, I have them staying at 3 victories.
Prediction: 3-8
11. Wayne State
2018 Record: 3-8
2018 Points Scored Per Game: 19
2018 Points Allowed Per Game: 28
Returning Starters (OFF/DEF): 6/6
The good news is WSC returns 4 starting offensive linemen. The bad news is the Wildcats have to figure out who gets the carries in the backfield, who'll win the quarterback competition ongoing and how do they replace 1,000-yard pass-catcher Nate Rogers. At signal-caller former USD Coyote Andy McCance (5'11/R-FR) is a fierce competitor the coaches really like. Alex Thramer (6'4/SO) is also well thought of but having watched McCance win state titles in SD, I have a feeling he'll be the guy and could do big things. Junior College transfer Anthony Watkins should give the Wildcats a playmaker in the backfield, while Mason Lee will likely be the target in the passing game.
Defensively the Wildcats have been middle of the pack the last handful of years. They return their corners and edge rushers, along with league-leading tackler Tyler Thomsen at linebacker.
Considering all the new parts at the offensive skill positions, I fear WSC will have mixed success in a tough South Division. I do think they'll be a squad to watch as the young offense starts to gel.
Prediction: 3-8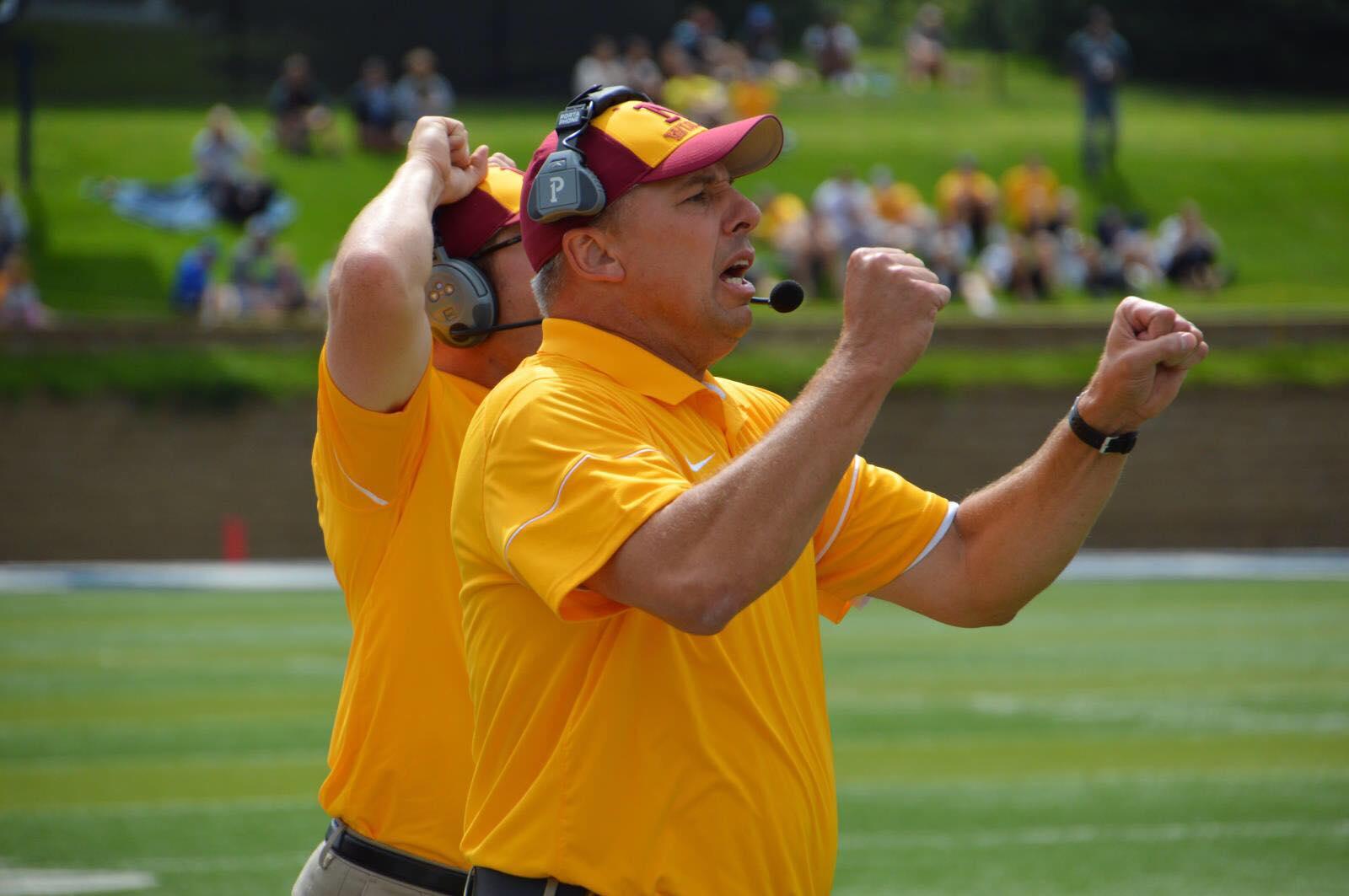 10. Northern State
2018 Record: 4-7
2018 Points Scored Per Game: 22
2018 Points Allowed Per Game: 27
Returning Starters (OFF/DEF): 7/7
Last year the Wolves dropped to 4 wins after a series of 6-5 seasons. There's hope in Aberdeen that Coach Dosch and his crew will return to winning campaigns with a squad featuring more weapons than in the recent past. Hunter Trautman (QB) played through late season injuries in 2018 and should be ready go come week one, paired with the Wolves exciting young wide receiver tandem of Dakota Larsen (SO) and Jacob Streit (SO). The pair combined for over 1,500 yards and 15 scores a season ago. Trautman completed just 54% of his throws in '18 but had 24 touchdowns passes with 9 interceptions.
Coach Dosch likes the depth at offensive line and he's looking for Western Illinois transfer Isaiah Cherrier (SO) to add some immediate punch in the running game, along with a pair of local redshirt freshmen, Preston Barr and Jack Anderson.
Defensively the line is deep but linebacker and secondary positions will be figured out in camp. The Wolves return former Coach Austin Flyger to the defensive sidelines after a seven-year stint with Southern Illinois.
With the building of a new football stadium (2021 season) and a highly successful basketball program grabbing a lot of the headlines in Aberdeen, pressure's building to have a football winner at NSU. QB Trautman can make plays with his arm and his feet so if he can stay healthy, I like the chances for Northern to climb in the North. That said, the defense will also need to take a step forward from a year ago.
Prediction: 5-6
9. MSU-Moorhead
2018 Record: 8-4
2018 Points Scored Per Game: 27
2018 Points Allowed Per Game: 30
Returning Starters (OFF/DEF): 7/7
The Dragons had a storied season in 2018, making a trip to the Mineral Water Bowl en route to an 8-win campaign. This was especially encouraging considering MSUM was a young squad a year ago.
Looking back at the Dragons '18 campaign, they didn't have the typical makeup of an 8 win squad. Their four losses were by an average score of 51-15, while winning every close game they played in (4-0). I'm not saying MSUM was lucky, because a squad makes its own breaks, but I'll say the Minnesotans were fortunate.
The 2019 season didn't get off to a great start as 1,100-yard wideout Jake Richter (JR) was injured in the spring, lost for this fall. The Dragons return playmaking quarterback Jakup Sinani (JR), but he'll be without one of his top weapons. Returning receiver Grady Bresnahan actually lead the conference with 80 grabs and the often-injured running back Herman Gray is back as well. Gray has packed on some additional size (now 190lbs) and could give MSUM a shot in the arm in the running game if he can stay healthy. The point of attack has always been a challenge for MSUM, and this year the offensive line is serviceable but probably a year or two away as depth will likely be an issue.
The Dragons feel like they're strong at corner and in the defensive line but will lack depth at linebacker. A year ago, the Dragon-D was able to keep things close with most opponents but were overwhelmed against the top squads.
Once again MSUM is young and has just 6 seniors. I think it'll be hard for Moorhead to match last year and is probably a year away from contention.
Prediction: 5-6
8. Concordia St. Paul
2018 Record: 5-6
2018 Points Scored Per Game: 21
2018 Points Allowed Per Game: 24
Returning Starters (OFF/DEF): 9/9
From 2015-2017 the Golden Bears won a total of 5 games. CSP took a positive step forward by earning the same number of victories in 2018. Coach Shannon Currier has seemingly resurrected the Bears program and with 9 returning starters on each side of the ball they are now one of the more interesting squads heading into this fall.
Concordia returns plenty of talent at the skill positions with running back Shaq Johnson and Lajuan Preston, along with wideouts MJ Williams and longtime star Marcus Gustaveson. Coach Currier is also excited about a pair of transfers, Jabril Clewis (Tulane-WR) and Kevin Ventura-Cortes (Abilene Christian-TE). The Golden Bears return 4 starters on the line. One would think with the offensive talent CSP has it should be able to score more than 21 points per game, but the Bears struggled to get consistent quarterback play a year ago and the position is now up for grabs. Maxon Hutton has started before but is a career 46% passer. Either Hutton will need to improve on his career numbers for his final season or the Bears will need a transfer like Jared Olsgaard to step up and take the job. If CSP can get good quarterback play, it could be a dangerous team in the South.
On defense the Bears return All-American D-End Chris Garrett. The Junior pass-rusher came on strong in the back half of 2018, finishing with 16.5 sacks. His 6'4 and 230lb frame coupled with speed around the edge will make for a tough matchup for opposing offensive tackles. A key departure for CSP was Marcus Haskins (DB) and his league leading 9 interceptions. Haskins is at Iowa Western hoping for a D1 chance. The Golden Bears do return their top two tacklers, Jake Portz (LB) and Dez Bassett (DB).
I think Concordia takes another step forward, getting over the .500 mark. If CSP played in the North I could see them moving up a bit more, but in the South wins are harder to come by and I can't see the Bears beating the top squads just yet. Quarterback play will play a large factor in how high the ceiling is for this budding squad.
Prediction 6-5
7. St. Cloud State
2018 Record: 7-4
2018 Points Scored Per Game: 23
2018 Points Allowed Per Game: 23
Returning Starters (OFF/DEF): 7/8
The last five season have seen the Huskies become a .500 squad, so a 7-win campaign in 2018 was a step in the right direction. That said, SCSU still endured setbacks against North foes Duluth, Bemidji, and Moorhead. In one of the odder stats from 2018, St. Cloud allowed more points than it scored yet still finished 7-4.
The Huskies graduated 1,000 yard rusher Greg Lewis but return former starter Joe Blando, who had given up football due to injury concerns. If Blando can stay healthy, he should be a steady runner as shown by his 500 yards and 7 scores as an underclassman. SCSU has good depth on the offensive line, returning 4 starters. Quarterback Dwayne Lawhorn returned from injury a season ago and is looking to build on a solid 2018 season (200 yards a game, 16 scores). He needs to improve on his 51% completion rate. Lawhorn occasionally made plays with his feet and my assumption is he'll make more plays this season with his continued maturation.
At wideout SCSU is especially strong returning budding star John Solberg (848 yards, 8 touchdowns) along with up and coming sophomore Nathan Gizma.
The SCSU-D is led by a strong front 7 featuring linebacker Graham Miller (SR) who had 11.5 tackles for loss a season ago along with 3.5 sacks. Matthew Lechner (SR) was 2nd in tackles and leads a secondary that needs to improve on just 7 interceptions in 2018.
SCSU's fortunes will depend on quarterback Dwayne Lawhorn who could the Huskies a step above their 7-4 season in 2018. With plenty of tough games against the South on the schedule, I'm keeping them at 7 wins.
Prediction: 7-4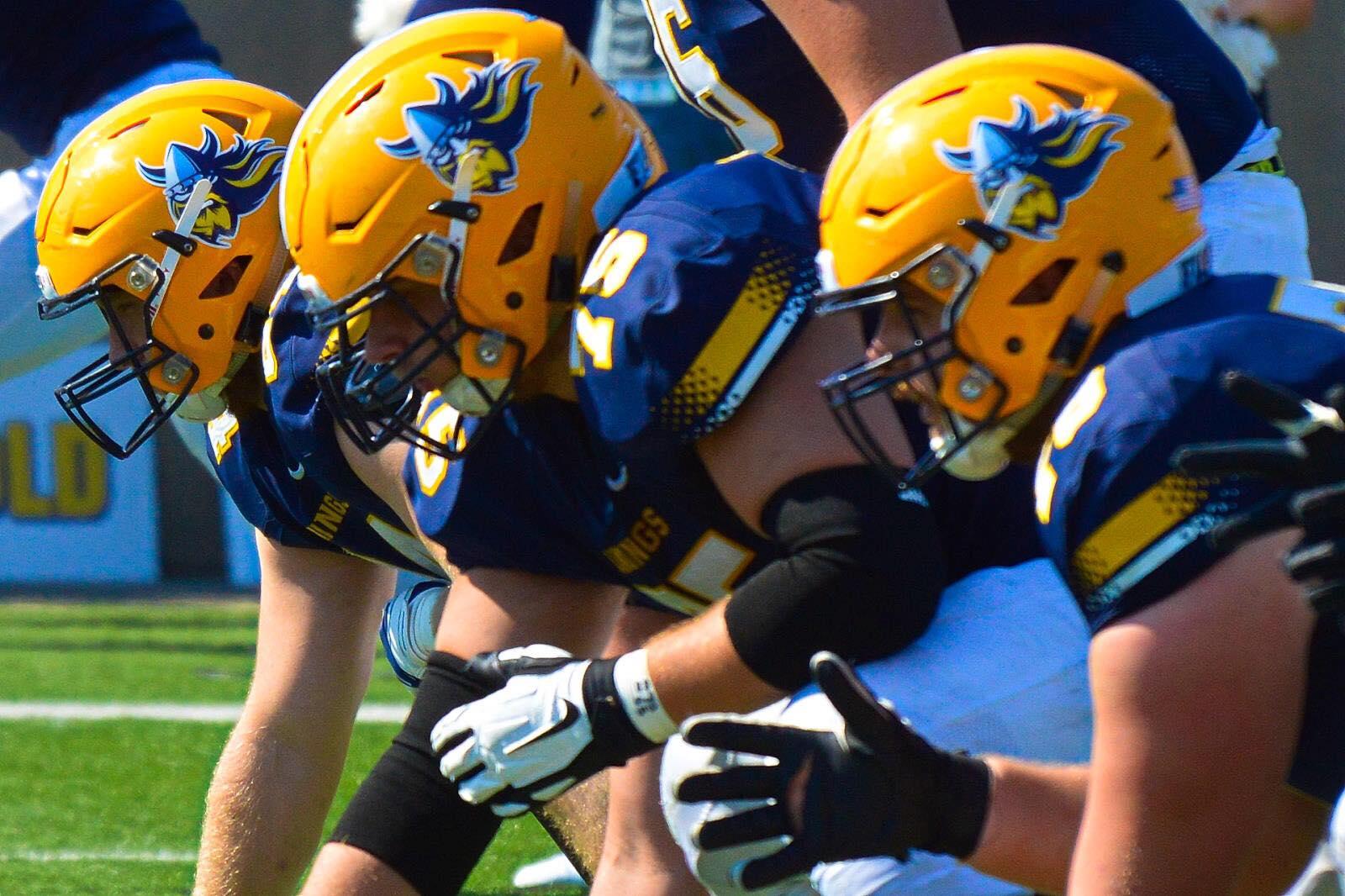 6. Augustana
2018 Record: 7-4
2018 Points Scored Per Game: 34
2018 Points Allowed Per Game: 27
Returning Starters (OFF/DEF): 8/8
The Vikings were 6-0 on the road a season ago but went 1-4 at home. Much of this was due to playing top teams in Sioux Falls. The '18 campaign was a rebound year after the only losing season for Coach Olszweski during his tenure at Augie.
In visiting Kirkeby-Over Stadium a few weeks ago it was quite apparent the Vikings return a lot of their offensive firepower. The Vikings were slinging the ball around the yard and quarterback Kyle Saddler looked to be embracing the starter role. Saddler threw for a league-high 311 yards per game in 2018, but was also at the top of the league in turnovers with 16 interceptions. I said it much of last year, but Saddler must improve on his 52% completion rate if the Vikings are going to take that next step.
Saddler has a pair of towering wideouts in Nickel Meyers (994 yards, 13 scores) and Sean Engel (398 yards, 2 touchdowns) plus a slew of other pass-catchers. Downhill running back Ryan Bradberry will miss yet another season due to a lingering knee injury but the Vikings return one of the top tandems in the league with Rudy Sinflorant (905 yards, 7 touchdowns) and the speedy Braiden Petersen (376 yards, 5 scores). The Augie line counts a few starters and should have a fair amount of depth, led by center, NFL prospect Jake Lacina.
Defense is where the questions arise. It was very apparent during my time at practice that Michael Kloza (SR) was the leader of the defense. Kloza has been a top performer from his safety position, but I wouldn't be surprised if they rolled him up into a nickel spot to help defend strong running teams like USF and Mankato. Alec Blonquist is the leader upfront and will be aided by underrated tackler Kyle Theis (LB), who finished with 79 stops a year ago. The Vikings lost tackling machine Kirby Hora to graudation. Hora could be counted on for 100 stops a year, season after season.
I believe Augie has the firepower to make a return to form offensively, reminiscent of the aerial attack days of Trey Heid to Matt Heller. The Vikings might even have greater diversity of offensive weaponry than those squads. Saddler, though loaded with potential, hasn't matched the playmaking ability of Heid just yet. Defensively, if the Vikings can get themselves into the top 5 of the conference, they could move up from where I have them. If most games turn into fire-fights, they'll have a hard time outlasting teams like Winona or Sioux Falls.
Prediction: 7-4
5. Minnesota-Duluth
2018 Record: 11-1
2018 Points Scored Per Game: 41
2018 Points Allowed Per Game: 12
Returning Starters (OFF/DEF): 6/6
The 2019 campaign sees some significant changes for UMD. The Bulldogs hired former star signal-caller Chase Vogler to run the offense after Noah Pauley departed for NDSU. They also promoted fellow UMD star Garth Heikkinen to offensive line coach, moved longtime defensive coordinator John Steger to associate head coach (special teams/linebackers), which allowed for his understudy Trey Dill to become defensive coordinator.
Last year UMD went through Northern Sun play unscathed before running into a very athletic Texas A&M Commerce team and an early departure in the postseason. Expectations are always high for a program that's won a pair of national titles at the end of the 2000's.
The UMD offense has also experienced change with the graduation of star wideouts Jason Balts and Nate Ricci. The Dogs do return a promising star at running back in Wade Sullivan, and a healthy John Larson at quarterback. A year ago, Larson was the top signal-caller in the NSIC, a player who can make plays in the passing game but is especially effective as a sneaky rusher. Larson did get hurt late which didn't help UMD's postseason chances. A challenge Duluth will face this year is the lack of quarterback depth. Both Mike Rybarczyk and Ben Everhart gave the Bulldogs quality starts and production but are no longer playing football. Ben graduated early and Mike has chosen to stop playing ball. Since Larson is a quarterback who runs a fair amount, the lack of depth is a concern. Similar to when Drew Bauer was a UMD senior signal-caller, you wonder if the Bulldogs will be more careful with Larson and possibly run him less to keep him healthy. The offensive line experiences attrition and returns 1 true starter but others with experience.
The 2018 UMD defense was simply fantastic, playing the role of a no-name unit that simply got off the field quickly. Some would attribute this to not facing some of the league's better offenses a year ago, but I think having a squad with over 20 seniors was a huge factor in the strong season. The Dogs lost some of the key defensive playmakers and leaders such as Dre Greer (NT) and Gus Wedig (LB) but do return plenty. Expect for Bill Atkins (SR) to lead the secondary and for Nate Pearson to lead things upfront with his 9 tackles for loss and 6.5 sacks a year ago.
While I expect UMD to have virtually the same approach defensively, it'll be interesting to see if the Bulldogs move back to the run-based attack that new OC Vogler was accustomed to during his Bulldog playing days or if they continue to become more balanced.
UMD has both USF and MSU-Mankato this year. The Dogs have dropped 4 straight between the two and with the loss of a large senior class and the number of changes the program's seen, I figure it's unlikely the Dogs will have another unbeaten conference season.
Prediction: 9-2
4. Bemidji State
2018 Record: 7-4
2018 Points Scored Per Game: 38
2018 Points Allowed Per Game: 19
Returning Starters (OFF/DEF): 9/7
Bemidji State was a very strong 7-4 ballclub a year ago that once again seemed to be on the cusp of moving into the NSIC top shelf discussion. Then the Beavers typically drop a game they shouldn't. Last year it was a setback at Upper Iowa.
This year BSU brings back a lot of the 2018 squad, minus the very workman running style of Andrew Lackowski. Speedster Jalen Frye doesn't have the frame of Lackowski but will be tasked to be 'the guy' and does possess more big play ability. The offensive line returns all 5 starters, so this should help stabilize things. Brandon Alt (R-FR) is a much-heralded signal-caller. He was the starter a year ago until injury struck in the second game. Alt has dual threat capabilities and should be a year better after seeing live action in '18. Alex Ogden played much in Alt's absence but has since transferred to Middle Tennessee State. This does bring quarterback depth into question. Alt has Jake Anderson returning at wideout. Anderson leads a young but talented receiving corps.
Like USF and Winona listed above, expect the Beavers to shine on defense. The Beavers are led by emerging star at linebacker, Gabe Ames. The junior lead the squad in tackles a season ago and will flank a very good front 7. However, BSU does need to replace the production of many of last year's top tacklers along with defensive backs Gunner Olszewski and John Vogler.
I have Bemidji State slightly ahead of Duluth this fall, but I don't have either ahead of the top squads in the South. BSU should the top squad in the North.
Prediction: 9-2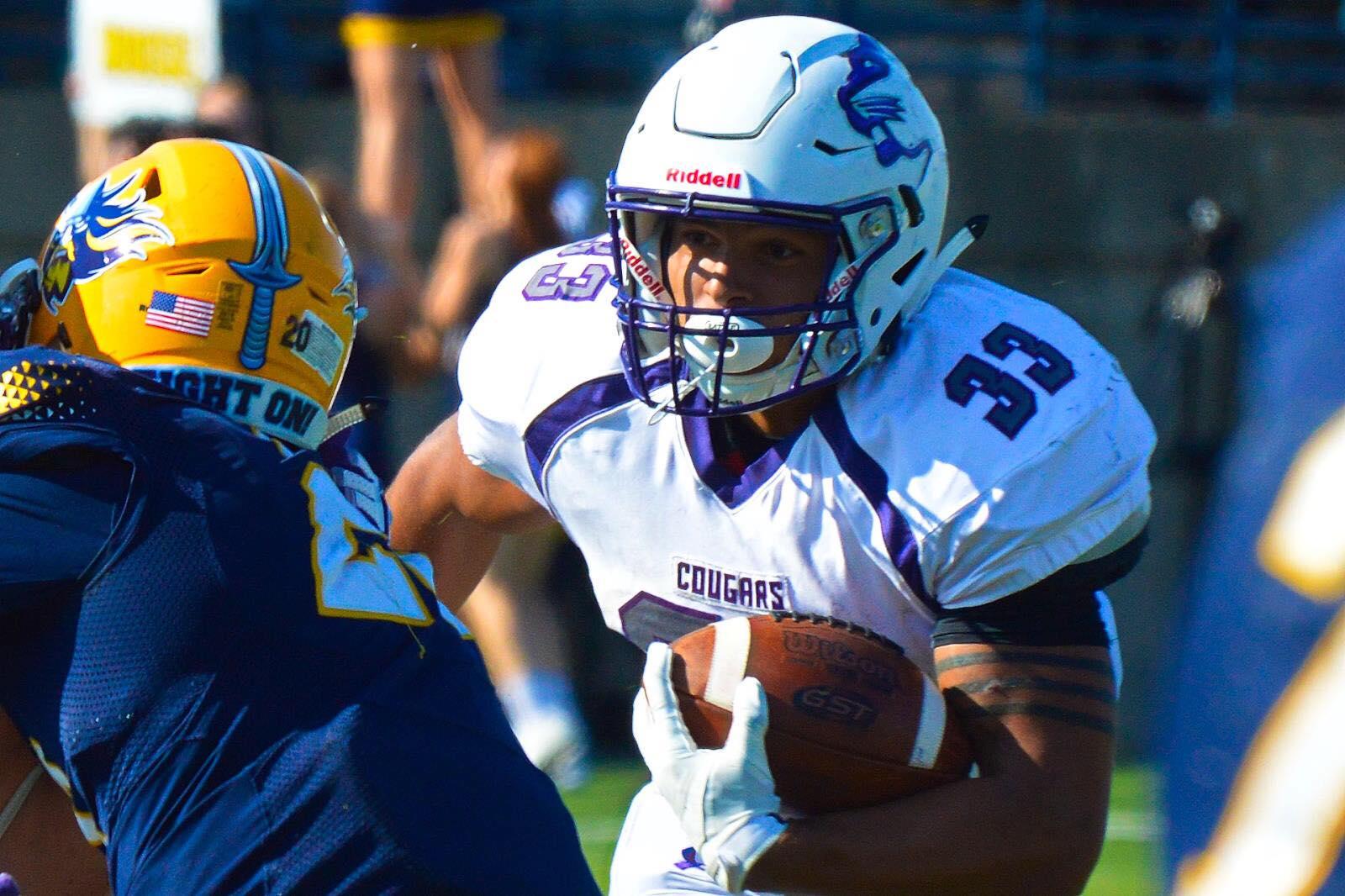 3. Sioux Falls
2018 Record: 7-4
2018 Points Scored Per Game: 34
2018 Points Allowed Per Game: 19
Returning Starters (OFF/DEF): 8/9
The Cougars missed postseason play for the first time in four seasons. USF was probably a bit better than the 7-4 record suggests, The Cougars 4 setbacks came by a total of 18 points. The encouraging news for Coo supporters is that they didn't lose much production to graduation and return most of their starters. The challenge will be getting others outside of superstar running back Gabe Watson to step up and have standout campaigns.
The Coo defense should be solid again and now a year older. Hakeem Johnson (CB/JR) has proven that he's as good as any corner in the league, routinely holding top wideouts to low production. Depth could be an issue for the Cougars in the secondary, but the front 7 should be among the best in the conference, led by leading tackler Brody Grantham (LB/SR) and defensive ends Joey Wehrkamp (JR) and Logan Dykstra (SR-returning from injury). The USF defensive line wasn't as strong in 2018 as years past and expect a return to getting after the quarterback in 2019.
Offensively USF was very dependent on Gabe Watson last season, understandably so. Watson lead D2 in rushing yards and scores. He fell just short of 2,000 yards (1,957) in netting more than 100 yards in all eleven contests. Watson was not only dynamic but consistent. The problem for the USF offense came when it needed to throw the ball late in tight games. The Cougars had mixed results at best. USF must advance the offense to the point in which it can count on the passing game. This will open things up more for Watson as defenses won't be able to stack 8 in the box. USF lost two outstanding tackles so a 2,000-yard season seems unlikely this time around. Most USF fans have been desperately hoping for a more potent air attack. That responsibility falls on the shoulders of returning signal-caller Caden Walters. The senior quarterback plays with a certain swagger that'll need to turn into leadership. Walters completed a league best 65% of his tosses but the Coo wasn't dynamic in the passing game. Walters finished with just 14 touchdowns (vs 7 interceptions). USF has some quality targets in the passing game so it'll be interesting to see if Walters is turned loose a bit more or if the Coo stays a ground and pound squad that passes only opportunistically.
The lack of a consistent kicking game hurt USF in 2018. It remains to be seen if that area has been shored up enough to depend on a big kick in a close contest.
I think USF is going to look very similar to a year ago, but better upfront causing havoc for opposing offenses. I have the Cougars beating Duluth, but behind Mankato. I think a healthy Winona team is still about a score better. USF hosts the Warriors in week 2 and that game is immense for both squads.
Prediction: 9-2
2. Winona State
2018 Record: 8-3
2018 Points Scored Per Game: 32
2018 Points Allowed Per Game: 23
Returning Starters (OFF/DEF): 6/8
The 2018 Warrior football campaign was plagued with injuries right from the start. WSU lost pre-season defensive player of the year Nick Pridgeon (LB), Michael Gomez (DE), Jake Balliu (KR), and others. Yet Winona State forged ahead and finished 8-3. This speaks to the depth of the Warriors, the only team currently in the NSIC at 36 scholarships.
WSU returns 3 starting offensive lineman along with starting quarterback Owen Burke. The junior signal-caller had a good, but not great 2018 season. Burke completed 55% of his passes for 22 scores and 10 interceptions. WSU averaged 222 yards passing. Star receiver Isaiah Frandsen has graduated and he stretched the field for the Warriors, giving them an aerial homerun threat. A host of wideouts will be tasked with replacing his production, but nobody on the roster has caught more than 25 balls in a season.
In the running game WSU returns Javian Roebuck, a hard charging back who would be among league's top producers if he could stay healthy. Sam Santiago-Lloyd gives the Warriors some additional punch in one of the NSIC's better backfield tandems.
The Warriors had a good defense in 2018 but are expecting to return to the top form of of 2017 with the star players they have returning, along with the emergence of playmaking corner Isaiah Hall (5 INT, 1 TD). Hall is also a threat in the return game. The WSU-D has its top 5 tacklers back from a season ago, including linebacker Devon Moore (LB) who netted 11 tackles for loss and 3.5 sacks in 2018. With Pridgeon and Gomez healthy and added to an already strong unit, expect the defense to be the strength of the squad.
All told I'm expecting 2019 Winona to be pretty similar to 2017 Winona, a top defensive squad that is more than merely capable on offense. If Owen Burke can reliably find targets down the field, the Warriors are one of the top squads in the Northern Sun.
Prediction: 9-2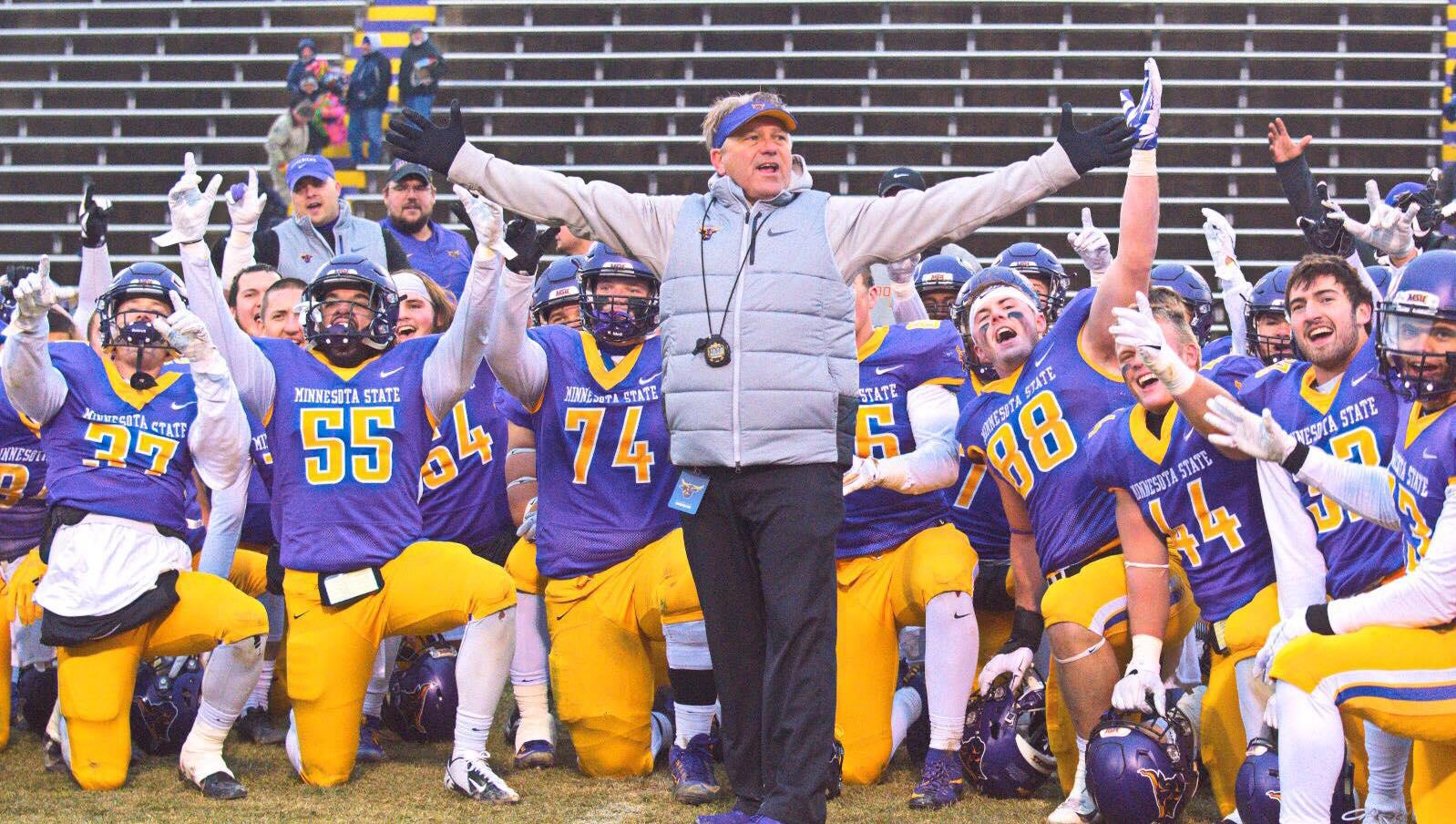 1. MSU-Mankato
2018 Record: 13-1
2018 Points Scored Per Game: 40
2018 Points Allowed Per Game: 17
Returning Starters (OFF/DEF): 10/7
I mentioned to Todd Hoffner when we chatted that this '19 MSU team looks nearly identical to the one I covered in the 2018 playoffs. He chuckled and agreed. This is real good thing if you're a Mavs fan, seeing as they were just 1 win short of playing in the national title game.
It's easy to see why MSU is ranked in the top 5 of virtually any D2 poll out there. The Mavs return star wideout Shane Zylstra and workhorse back Nate Gunn. Mankato always has a huge offensive line that out-pushes the opposing defense and that's no different this year as a young offensive line a year ago is now a seasoned group. The unit has also added CSU Pueblo tight-end grad transfer Morgan Smith (6'5, 260lbs).
Quarterback is always interesting with the Mavs. They typically split series between 2 players and often go with the 'hot hand'. The Schlichte/Ekowa duo returns but coach Hoffner says if one really asserts himself he could take the bulk of the snaps this fall. Either way MSU needs to get the passing game to the point where it can count on it come the postseason, as that was a pain point a year ago.
MSU does have key defensive losses in lineman Zach Dodge and nickel-backer Michael Palme, but players like Alex Goettl (LB), Zach Robertson (LB), and Cole Schroedermeier (S) help stabilize what should still be a leading NSIC defense.
With their returning star-power and experience and the supreme confidence the Mavericks play with (not losing a conference game since 2016), I have MSU-Mankato as the clear cut favorite in the Northern Sun and a squad that should compete for a national title.
Prediction: 11-0