SAC Preview 2019
August 24th, 2019 6:00pm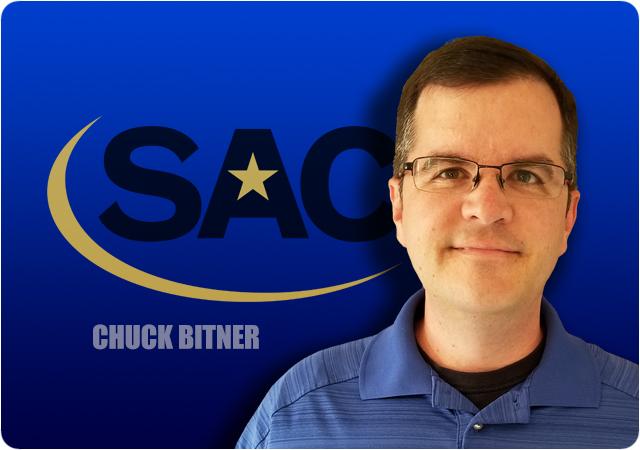 2019 SAC Football Preview
As I say every August, the greatest time of the year is upon us. Time to forget our jobs, shirk adult responsibilities and kiss our loved ones good bye until Thanksgiving. College football is back!
Every new season brings enthusiasm and optimism, but this really is a great time for SAC football. One could argue that the conference has never been in better shape. The competition within the league is as good as its ever been. We've had four different champions in the last four years and there are a couple of teams with a realistic shot to make five for five in 2019. Two teams made the playoffs last year and earned three combined post season wins – the first for the conference since 2013. Both LR and Wingate defeated GSC teams in the first round, which was a nice rebound from allowing the GSC to sweep the region in 2017. Lenoir-Rhyne is a pre-season top 5 team in some polls and Carson-Newman and Wingate are getting attention as potential playoff teams.
There were plenty of success stories to celebrate, but the bottom half of the conference was not nearly as strong. Only three teams finished above .500 overall and three of eight teams finished with a losing record. Hopefully we'll see mid-pack records improve this year.
Some offseason notes for SAC football:
Limestone is transitioning to full SAC membership, which will be a great thing in many sports. The Saints were already an associate member for football.
UVA-Wise joins the SAC as a full member after spending the last several years in the Mountain East Conference.
UNC Pembroke replaces UVA Wise in the MEC, ending the scheduling alliance that put the Braves on the schedule for many SAC teams over the years.
Barton College and the SAC have agreed to a two year scheduling alliance beginning in Barton's inaugural season in 2020.
There are many story lines we'll looking at through the year but as opening weekend approaches, lets take look at each team's prospects for the upcoming season. In reverse order, here is how I rank the SAC programs heading into the seasons.
9. Limestone
In a few words…Limestone is heading into its sixth year of varsity football and the program is already on its fourth head coach. That's not a good situation, but Brian Turk has deep roots in South Carolina and Limestone faithful are counting on him to provide much-needed stability.
Head Coach: Brian Turk (1st year)
Five players to watch
#23 RB Jerko'ya Patton
#2 RB Malik Brooks
#7 QB DJ Phillips
#26 LB Dalton Yates
#73 OL Kenneth Glover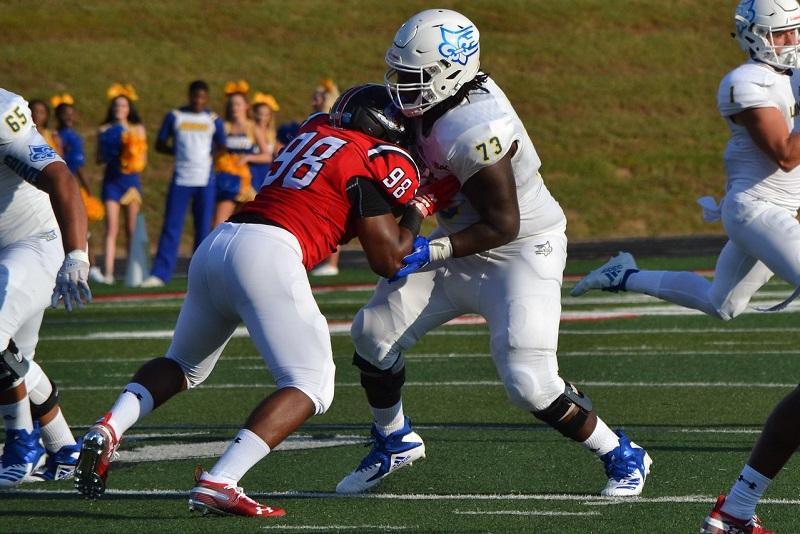 OL Kenneth Glover (photo credit: Chuck Bitner)
2019 Outlook
The Saints are re-booting the program once again, but from a roster point of view, things could certainly be much worse. Despite last year's fiasco, the program had been recruiting well and even though all three All-SAC players graduated, there are playmakers coming back. I would not be shocked if Limestone ends up having one of the best offensive backfields in the league. Quarterback DJ Phillips was inconsistent last year, but still has a huge upside. He is a D1 talent and if he hits his stride in year two as a starter, he has the potential to be elite. Jerko'ya Patton was slowed by injuries last year and limited to less than 500 rushing yards, but I am a big believer in his talent. He'll share time with Malik Brooks, who stepped up in a big way (5.2 yards per carry) as a freshman, including a Limestone single game rushing record (169 yards) in the finale. The offensive line will need a new Center, but otherwise, should be a strength in 2019. Kenneth Glover is an anchor at LT and right side starters Desmond Thomas and Cameron Thomason should be stronger after earning playing time as freshmen a year ago. Depth will also be less of a concern this year. Establishing the receiver positions will be a priority when camp opens.
Defensively, it will be hard to replace NFL prospect Joshua Simmons in the secondary, but they got some big plays (and three INTs) from DJ Witherspoon last year. Linebacker should be a deep position on the roster with most of the two-deep from last year returning, including D'Mecko Pryor and Tallon Campbell who finished second and third in total tackles. A huge boost comes with the return of graduate Dalton Yates, who was very productive despite missing most of las year. Yates is the defensive leader and although Campbell will only be a sophomore, he may emerge as a solid compliment. Depth along the defensive line has been a challenge for the past few years and that has to change for the Saints to improve the rush defense. A year ago Limestone allowed 294 rushing yards per game, which ranked 165th out of 166 D2 programs.
Schedule notes: The losing streak may extend with the opening games against GSC heavyweights West Alabama and West Georgia, but there are some opportunities for wins in weeks 3-5.
Final word: It's hard to put expectations on a team coming off a winless season, but I will say I think Limestone can win some games this year. With the depth coming back, I expect the offense to be much better. A lot will depend on if - and how quickly - the defense can come together. The program's first winning season is not realistic but a repeat of last year is also unlikely.
8. UVA-Wise
In a few words…UVA Wise begins a new era with the athletics department as the Highland Cavaliers move from the Mountain East Conference to the South Atlantic Conference in 2019. Changing conferences can be a tough transition at any level, and it certainly will not be easy for the Cavs football program. Familiarity with opponents will be a disadvantage as there are no holders from 2018 to 2019. The last time UVA Wise played a team from the SAC was in the 2016 season opener (defeated Tusculum 13-10).
Head Coach: Dane Damron (4th season, 15-17)
Five players to watch
#1 DB Marcus Tarrer
#2 DB Marquis Hamilton
#5 LB Buster Hamilton
#11 DE Bryce Harty
#26 RB Terrance Lambert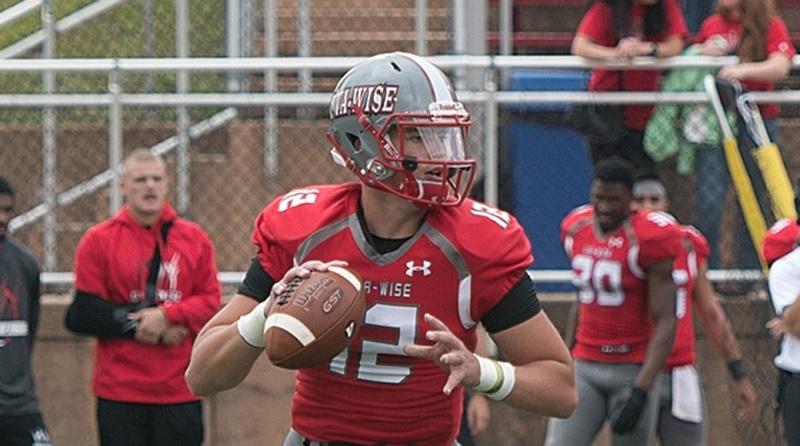 QB Tanner Bernard (photo credit: UVA-Wise Athletics)
2019 Outlook
It's going to be hard to prepare for an entire schedule of new opponents, but the Highland Cavs do have some momentum on their side and it may just be the perfect time for a change. The Cavs are heading into year four under Dane Dameron and the team has slowly and steadily been moving in the right direction. In the three seasons prior to Damron's arrival, the Cavs had won a combined total of just five games. They tripled that number in Damron's first three years, including a winning season in 2016 (their first since 2008). Last season ended at 4-6, but they did win three of the last five and closed out the year with the biggest win of their MEC tenure with a 21-16 upset of national power, Shepherd.
Like many teams in the SAC, the Cavs will be looking to the defense to set the tone. UVA Wise had a top 25 defense in many statistical categories in 2018 (24th in scoring, 19th in total defense, 23rd in 3rd down defense) and many of the key players that made that happen will be back. The Cavs are especially strong in the secondary with All-Conference players Marcus Tarrer and Marquis Hamilton. The linebacker position has holes to fill but Buster Henderson returns after finishing second on the team in total tackles (73) and third in tackles for loss (10). The Cavs used a bevy of linebackers last year so even though there will be some new starters, they will hardly be inexperienced. The defensive line is in a similar position with a few very productive starters to replace. Bryce Harty will be the leader up front and the Cavs will be counting on Rondre Knowles-Tener, Veronta Jones and Keishon Jarrett to play bigger roles.
On the other side of the ball, the Cavs have a lot of work to do if they are going to be competitive with the top half of the SAC. There will be a lot of competition at quarterback. Tanner Bernard is the incumbent but will battle with several others for the job, including Garrett Cropp who entered last season as the starter. Cropp was lost to injury early in the opening game and missed the remainder of the season. They will compete with fellow sophomore Sage Haun and a pair of freshmen. The Cavs lost their top three receivers from last year, one to graduation and two underclassmen for unknown reasons. The group will be rebuilt with Eli Marks and Matt Felton as the go to guys. They combined for 41 catches a year ago, but only 1 touchdown. D1 transfer Terrance Lambert could a difference maker for a unit that rushed for only 121 yards per game last year.
There will be a lot of development work for the Cavs on offense but one thing they absolutely must do in 2019 is protect the football. UVA Wise lost more fumbles (19) than any other team in the country last year.
Schedule notes: The Cavs' first ever SAC game will come in week three, at home against Mars Hill. They have a few favorable home dates, but face Lenoir-Rhyne, Newberry, Wingate and Carson-Newman on the road.
Final word…There are so many new things for UVA Wise in 2019. Defense should give them a chance in several games and should carry them to a few wins. If the offense exceeds expectations they'll be a competitive team. Transitioning to a new conference and facing a whole new schedule will be tough. A winning season would be a huge accomplishment but they'll have to pull a few upsets to get there.
7. Catawba
In a few words: This upcoming season will be about rediscovering the identity of Catawba Football. The strengths of the program have been defense and a strong running game, but neither lived up to expectations last year.
Head Coach: Curtis Walker (7th season, 39-28)
Five players to watch
#5 RB Demonte Good
#7 LB Jeremiah Ferguson
#11 WR Will Sweeper
#34 LB LJ Melvin
#95 DL Cameron Davis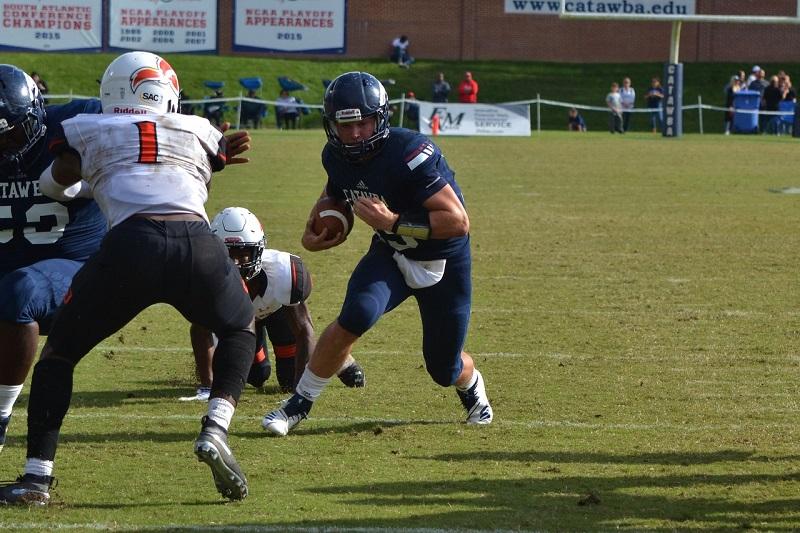 QB Ken Avent (photo credit: Chuck Bitner)
2019 Outlook
Consistency has been a problem for Catawba over the last several years, but if patterns continue, 2019 should be a rebound year. The Indians are coming off a 4-7 campaign that was full of challenges and no small number of injuries to overcome. The Indians' defense allowed exactly 32 points per game last year which was a departure from their standard. The defensive woes were underscored by 233 rushing yards they surrendered each week.
Getting back on track defensively will be a focus for this fall and there should be a lot of competition for starting roles. They have several graduating players to replace, but there are some key spots they will be able to depend on. Catawba defense relies on having All-Conference caliber linebackers and they will have that in 2019. Jeremiah Ferguson had a big season as a freshman, finishing second on the team in total tackles (84). He should be a leader and will be joined by veteran LJ Melvin, who was just as productive (83 total tackles). The defensive line will have a different look, but Cameron Davis is one the best returning lineman in the SAC. Davis led the team in sacks (7.5) and tackles for loss (17) and finished in the top five of the SAC in both categories. The secondary has some question marks, but Trey Murray and Brenden Westbrook showed well in the spring. Both played in ten games last season but the team will be counting on them to play much larger roles this year.
Offensively, the Indians will be in good shape as long as they can lock down the quarterback position. Injury thrust Ken Avent into the starting role early last season. He showed his toughness and competitiveness in the ground game, but passing efficiency was a struggle. Avent was a 50% passer and had a TD to INT ratio that was almost even. Avent worked out all spring as the starter and will be a much better position to lead the team in 2019, but he will face competition from Brandon Stewart and Kendall Davis. Regardless of who is under center, RB Demonte Good will should be the focal point of the offense. He had just 80 carries a year ago, but showed the potential to be the latest in a long line of standout running backs at Catawba. Finding depth behind him will be important, and you may see some true freshmen get a chance to perform early in the season. Coach Walker believes there are a few players in the incoming freshmen class that can add speed to the backfield. The Indians must develop receiver talent to support Will Sweeper who will be one of the top big-play threats in the SAC. Sweeper averaged more than 23 yards per catch in 2018.
Schedule notes: Catawba opens at home against West Georgia and then travel to Winston-Salem State. Week four begins a run of eight straight conference games.
The final word: Catawba has enough returning talent to win games, but also enough unknowns to make me think they're a year away from challenging for a championship again.
6. Mars Hill
In a few words…Mars Hill has not had a winning season since 2015 but there is a lot to feel good about for the Lions. They finished well in 2018 and a new era begins this fall with the opening of the beautiful new field house at Meares Stadium.
Head Coach: Tim Clifton
Five players to watch
#2 WR Craig Rucker
#15 DB Carl Robertgeau
#22 WR / KR / PR Dawson Williams
#70 OL Travis James
#90 DL Earl Adams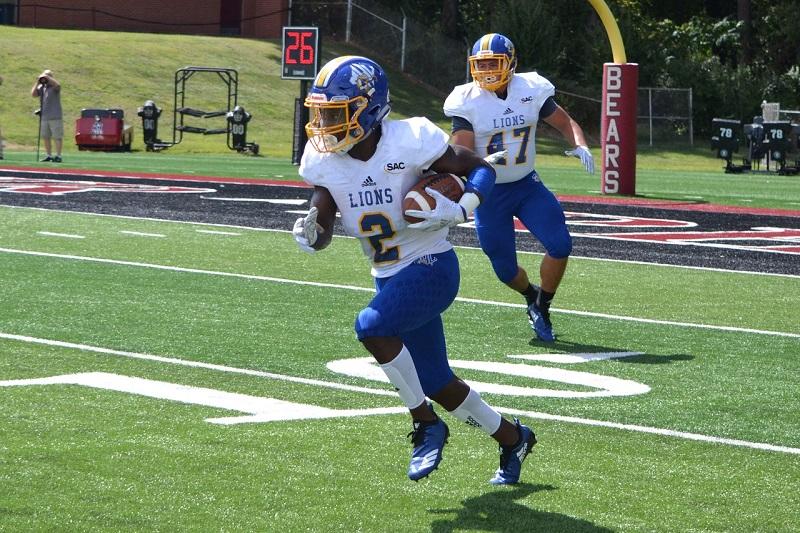 WR Craig Rucker (photo credit: Chuck Bitner)
2019 Outlook
This is pivotal year for Mars Hill football. The SAC has evolved a lot in the last couple of seasons but the Lions haven't been able to rise above mid-pack status amid the comings and goings of full members, associates and scheduling partners. As the SAC solidifies its long-term future with full time additions of UVA-Wise and Limestone, and scheduling partner Barton, it's time for Mars Hill to re-affirm their presence as a SAC mainstay.
The Lions have some known quantities to count on as they build up a stronger defense and more balanced offense. Everything begins with reigning SAC offensive player of the year, Craig Rucker. Post-season accolades came in abundance for Rucker, who led the SAC in most receiving categories and finished 7th in the nation in total receiving yards (1234) and 5th in total receptions (82) in just 10 games. Rucker will be the key to their success, but it is important that they find some ways to distribute the ball this year. In terms of total offense, Rucker had 1,000 yards more than his next closest teammate in 2018. It really shouldn't be that way and the Lions need a few play makers to step up this fall. Number 2 and 3 receivers Tyler Ferguson and Clarenton Cowart should also be back and I will be curious to see if KR / PR Dawson Williams sees more playing time on offense. Williams showed his athleticism several times on kick returns last year. At running back, the Lions have a pair of seniors in Elijah Jett and Javon Harbison but expect to see some freshmen in the rotation as well. Jett missed most of last season with an injury.
Obviously, the big question is who will take the snaps? Sophomore James Urzua saw action in six games as a back up and is the only quarterback on the roster that took snaps for Mars Hill last year. He is competing with three others for the starting job, but his primary challenger will be Division 1 transfer Kyle Gallup, who has spent time in the programs at Marshall and Hawaii. Gallup was in the running for playing time at Hawaii before stepping away from football to focus on completing his degree and becoming a husband. After a year away from the game, he is ready to close out his college career with one last shot at leading an offense. Whoever starts will have reliability up front from All-SAC selection Travis James and fellow senior Michael Foster. There are a few starting spots up for grabs in the line, but the Lions have a handful of veterans with playing experience to draw from.
The Lions defensive line should improve this year after soldiering through most of 2018 with sophomores and freshmen filling out the two-deep. Earl Adams will be one to keep an eye on in the interior of the line. Unfortunately, the back seven has some rebuilding to do. Four of the Lions' top five tacklers from 2018 (two linebackers and two DBs) have graduated. DB Carl Robertgeau should be the leader of the revamped group. Heled the team with three INTs and 46 solo tackles last year. Aundreas Hill and Tyson Daniels are the most experienced linebackers but expect to see younger players compete for playing time. Establishing the linebacker positions is one of the most important boxes they have to check in the preseason.
Schedule notes: The Lions open with an FCS opponent again, this time at VMI. Upsetting the Keydets is not impossible. Lenoir-Rhyne, Carson-Newman and Wingate are all at home. That's a great chance for the Lions to pull off an eye-opening upset.
The final word: Priority number 1 will be to nail down the quarterback position. If that works out, the offense should be fine. Defense was a big part of the two game win streak at the close of last year so hopefully that is a sign of good things to come. The last month of the season will be challenging but I think a winning season is within reach.
5. Newberry
In a few words. Since winning the SAC with a perfect 7-0 record in 2016, the Wolves have won a total of just six conference games. Offensive inconsistency has been a problem that they must overcome if they are going to make their way back to the top half of the standings.
Head Coach: Todd Knight (11th season, 65-56)
2019 Roster
Five players to watch
#1 QB Dre Harris
#9 DB Anthony Blue
#11 K/P Shea Rogers
#18 DB Alex Smith
#55 DE Keito Jordan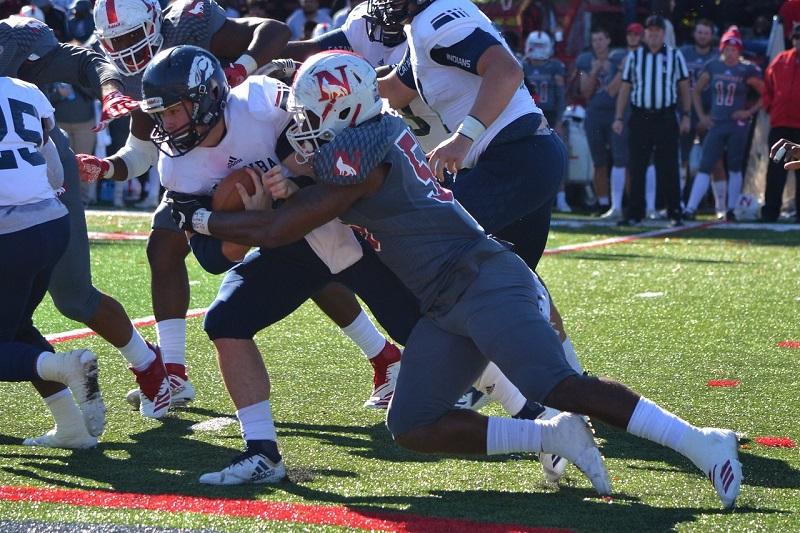 DL Keito Jordan (photo credit: Chuck Bitner)
2019 Outlook
There have been a lot of ups and downs for Newberry over the past two years but one thing that has been consistent is defense. Living up to the high standard they've set will not be easy, especially without departed seniors Joe Blue and Jamarcus Henderson, two of the program's best defensive players in recent memory. They will be hard to replace, but the defense has plenty of returning talent to rely on. Linebacker will continue to be a strength, with Darryl Foster, Kardeem Hines and Alex Smith returning. Smith was a pleasant surprise as a freshman last year, playing in all 11 games. Many players competed for reps in the spring, including a few transfers that could be impact players. Starting spots will still be up for grabs when camp opens, but the Wolves have no shortage of players vying for playing time. The same is true in the secondary, where Anthony Blue and David Vereen are experienced starters, and several players will be in the mix for other starting spots. The defensive line looks strong with Keito Jordan an explosive player on the outside and Ty'Ran Dixon anchoring the interior.
The defense has some big holes to fill but this program knows defense and I think they'll be fine on that side of the ball. The offense is the key to success in 2019. They have to work on running the ball in the red zone and improving on the nine rushing TDs from a year ago. Another point of emphasis should trying to stretch the field a bit more. The Wolves averaged just 11.8 yards per catch in 2018.
Offense really comes down to one thing. Do the Wolves have a quarterback they can rely on week in and week out? That has been their problem in the last two years. The Wolves seem set to open the season with Dre Harris as the guy. Harris played in nearly every game last year and started twice. He showed flashes of big time potential with over 1,000 yards of offense and 58.0 completion percentage. Coach Knight believes he has progressed a lot during the offseason and is ready to lead the team in 2019. A lot is riding on that. The Wolves cannot afford to fall back into the routine of shuffling quarterbacks in and out. Harris will have RB Austin Barnes to help carry the load. Barnes is as big of running back as you'll find in D2 and I'd like to see him be a factor in the red zone. The offensive staff is also anticipating a bigger role for Catriez Cook. The junior had just 26 carries in ten games last year but had a good spring and should see a lot more action as a compliment to Barnes. Also look for him to be used in the passing game. The Wolves need to fill out the receiver spots in camp and a receiving threat out of the backfield could help that group develop. Bobby Irby and Deshaun Kitching should be the starters but there are lot of young players behind them. Expect to hear a lot of new names in the passing game.
Schedule notes: Newberry opens the SAC schedule at LR, but have a three week home stand against Tusculum, Mars Hill and UVA Wise, then travel to Catawba. This a great opportunity to get the season moving in the right direction before road games at Carson-Newman and Wingate in the final month.
The final word: Of all the teams in the SAC, Newberry is the one I am most curious about. If they put the pieces together on offense, they have a talented enough roster to be a contender. If they don't, then things will be no different than last season.
4. Tusculum
In a few words… Tusculum might be poised to make the biggest jump forward in 2019. The Pioneers have not had a winning season since 2014 but this should the year they get over .500.
Head Coach: Jerry Odom (4th year, 14-17)
Five players to watch
#1 LB Ivan Hogans
#4 DB Dee Alford
#38 RB Jordon Shippy
#53 DL Colton Strickland
#65 OL Keveon Broadwater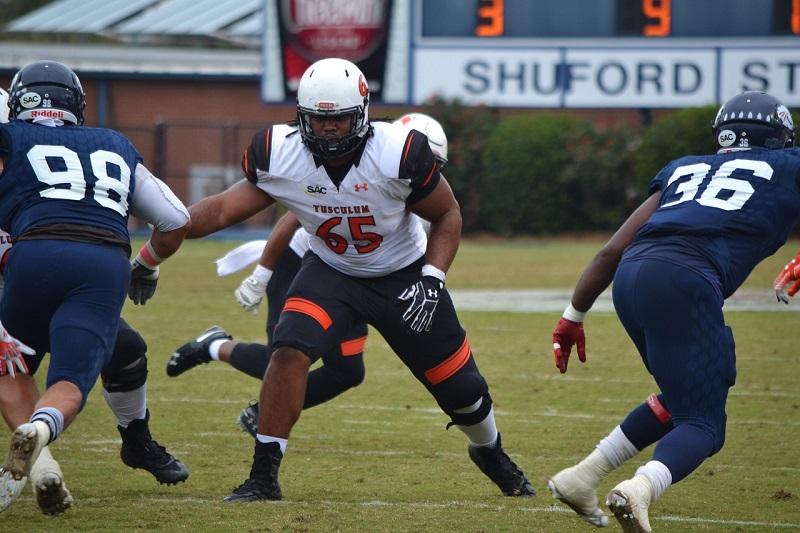 OL Keveon Broadwater (photo credit: Chuck Bitner)
2019 Outlook
Tusculum has been very close to breaking through as a legit challenger in the SAC. If they're going to get there in 2019 it will be on the strength of the defense. The Pioneers have had one of the stronger defensive units in the SAC in the past few seasons and most of the two-deep from last year will be back. Of the top 15 tacklers on the team a year ago, 13 were underclassmen. The secondary should be among the best in the SAC with Dee Alford and Malik Goodman (both preseason All-SAC selections) returning and being supported by David Johnson and Isaiah Dunn. This group helped the Pioneers to a top 15 ranking in pass defense last year, allowing only 158 yards per game. In front of them will be Ivan Hogans, Tusculum's leading returning tackler (92 total tackles). Hogans is one of the most explosive defensive players in the SAC. His emotional intensity sometimes gets him in trouble, but its part of the drive that makes him exceptional. If he can keep that in balance, he has the potential to be a defensive player of the year candidate.
The defensive line returns nearly every player that saw reps last season. Several of those returning players will be seniors, and if there is one place I like to see a rotation of seniors, it is in the defensive line. Four to five years of college level weight training and conditioning makes a big difference in line play. Colton Strickland, Devin Woodson and Josh Forrest may have exactly what Tusculum needs to own the line of scrimmage and swing the tide against the powerful rushing attacks they will see throughout the year. They will have help from CJ Bartley and Xavier Clemmons, who excelled as redshirt freshmen a year ago.
Offensively, there are two critical factors to be worked out in preseason camp. The Pioneers lost two of their best offensive linemen to graduation, including the critical center position. Suring up that spot will be very important but the line does have All-Region player Keveon Broadwater to lean on for leadership. The other top priority is, of course, the quarterback position. This team desperately needs someone to step up and be the man at quarterback. Its been several years since they've had that and it has prevented them from being a winning team. Some new faces will by vying for the job. Three players who were on the team a year ago will compete for time, led by Hunter Weismore who is the only QB on the roster to have taken a live snap in a Tusculum uniform. The offense will have reliability at running back with Jordan Shippy and incoming D1 transfer Julian Robinson. Ajay Belanger is an under the radar weapon at receiver, if they can find more ways to get the ball in his hands.
Schedule notes: The Pioneers open the season with a pair of GSC powers in Delta State and West Alabama. That's a tough way to start but we'll know right away what kind of team they have. The two target games – Wingate and Lenoir-Rhyne - are both at home in weeks five and six.
The final word: Tusculum could have the best defense in the SAC this year, but the offense must be more productive. Many of the pieces are in place. A lot is riding on how much productivity they can get from the quarterback position.
3. Wingate
In a few words…The last three seasons have raised the bar for Wingate football. The Bulldogs' record over that time is 26-9 with a SAC championship, two second place finishes and a pair of NCAA playoff appearances. It's a been a great run for this year's senior class but with success comes expectations, and the Bulldogs are expected to deliver another championship caliber season.
Head Coach: Joe Reich (19th season, 119-79)
Five players to watch
#5 QB Shaw Crocker
#9 RB Nijere Peoples
#10 LB Robbie Wallace
#11 WR / PR / KR BJ Muckelvene
#71 OL Connor Baroniunas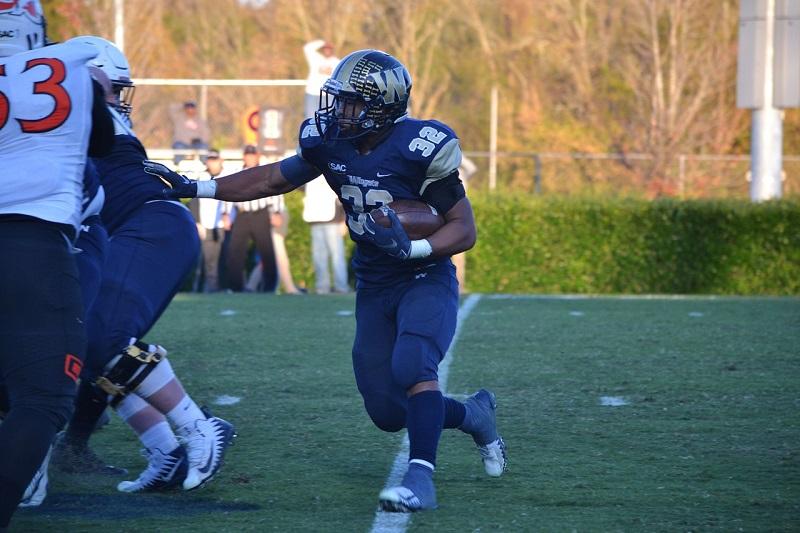 RB Nijere Peoples (photo credit: Chuck Bitner)
2019 Outlook
Living up to high expectations will not be easy. The Bulldogs will have a lot of top players to replace on defense, most notably Cardell Rawlings, Auntrell Mack and Cameron Mattison. If they can get a few younger players to step in at key positions, they can still have a very good unit. They will be young on the defensive line but they have a pair of seniors to rely on in Cal Hanford and Colton Beard. Hanford was second on the team with 6.5 sacks a year ago. They have a lot of youngsters that will be redshirt freshmen and sophomores this season so there should be more competition for playing time at D line than any other position on the field. At linebacker, Robbie Wallace and Elijah Gilmore were both honored as All-SAC selections last year. A pair of All-SAC selections also return in the secondary with Davion Washington and Matthew Ellis-White. The pair combined for an impressive 25 pass breakups last year. Kam Johnson is expected back as a grad student, which would be a huge bonus.
Offensively, Wingate should be in really good shape. The backfield is set with Shaw Crocker entering his second year as a starter. Crocker's performance as a freshman was probably not praised as much as it should have a been. Taking over the starting job for a conference championship team is not an easy task, and leading the team through a mid-season slump is equally difficult. Through it all, Crocker was calm, methodical and very smart with the football. He started all 13 games for the Bulldogs and led the conference in QB efficiency(149.4), total passing yards (2380) and passing touchdowns (26). Its fairly common for quarterbacks who excel as freshmen to suffer through a sophomore slump, generally because of the expectations of a player entering a second full year as a starter. But Crocker has the mental makeup to be an exception to that trend and continue to progress as a starting quarterback. And he'll have plenty of help carrying the offense. Running back Nijere Peoples turned heads around the SAC when we took over the starting job at mid-season and rushed for over 1,100 yards. Dom McNeill will once again be a major contributor after finishing last year with 753 yards (5th in the SAC). They will operate behind an offensive line that has some key spots to fill but should remain among the best in the league. Connor Baroniunas was the only preseason All-SAC selection but along with Hunter Jolly, Jonathan Black and Bruce Dalton, they have impressive starting lineup. There is depth behind them as well. Receiver is really the only position they need to develop. They have one of the SAC's top playmakers in BJ Muckelvene but need some support around him. Jalen Brooks was a factor in the post-season, so look for him to be in the starting lineup.
I generally keep the focus of these blogs on the players, but it is worth noting that one of Wingate's strengths as a program is stability in the coaching staff. Joe Reich is heading into his 19th season as head coach. OC Mike Long has been at Wingate as long as Reich, DC Rashaan Johnson is in year 14, defensive assistant Travis Knight is starting his ninth year with the Bulldogs and offensive assistant Greg Keziah is now in year seven. Keeping a core group of coaches together is definitely a big part of Wingate's success.
Schedule notes: Four of the first five are on the road, but the Bulldogs are likely to be favored in all four. A huge trip to Lenoir-Rhyen on the first Saturday of November could be one of the games of the year in the SAC.
The final word: They may need a little time for the defense to fid its stride, but the offense should hit the ground running. There is no reason why this team shouldn't be right in the middle of the conference championship fight for a fourth year in a row.
2. Carson-Newman
In a few words: Carson-Newman was the overwhelming favorite to win the SAC title in 2018, so the third place finish at 7-4 was a disappointment. This year, the preseason spotlight is in Hickory, NC and that's just fine with the Eagles as their veteran team prepares for what could be a big season.
Head Coach: Mike Turner (3rd season, 15-7)
Five players to watch
#2 DB Desmond Fairell
#6 RB Antonio Wimbush
#14 QB Derrick Evans
#74 DL Brian Bembry
#76 OL Phillip McDowell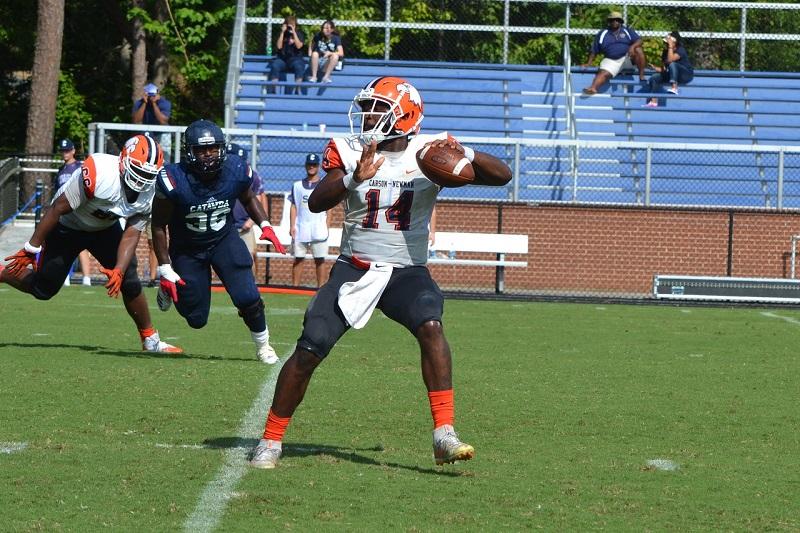 QB Derrick Evans (photo credit: Chuck Bitner)
2019 Outlook
Carson-Newman was picked to win the SAC in 2018 mostly because they had lost only a handful of starters from their 2017 squad that finished 8-3. They have more holes to fill heading into camp this year but still have as much returning talent as any team in the league. The roster is loaded with pre-season all conference selections, including a league-leading eight first teamers.
Carson-Newman is built to run the football. Everyone knows that, but the numbers back up how well they do it. The Eagles led the nation a year ago with 347 rushing yards per game. The backfield will be loaded once again, led by the SAC's leading returning rusher Antonio Wimbush. As a junior (and coming back from a major knee injury) Wimbush rushed for an astounding 7.99 yards per carry. Only one player on Division II bested that number and it was a matter of inches. Wimbush will be the spark plug and as he goes, the offense goes. But he will not be the only weapon in the arsenal. Sheron Jackson and Toot Johnson will be in the rotation again. Both were major contributors a year ago, combining for nearly 900 yards and 10 touchdowns.
One of the more impressive things about Carson-Newman's rushing style is that they very rarely lose yardage on the ground. Adjusting for sacks, the Eagles lost less than 90 yards last season. That's impressive for a team that ran 604 rushing plays. The offensive line gets a lot of credit for that statistic and the Eagles will have a good one. All-American Phillip McDowell has started every game the last two years and earned first team All-SAC after 2017 and 2018. He will be one of the top linemen on either side of the ball in the SAC. Fellow senior Jordan Seal is the most experienced linemen on the roster, appearing in more than 30 games in his career, and will lead the group from the center position. Reese Fain and Nick Parsons will be in line for starting roles after seeing significant playing time a year ago. Fain started – and impressed – in seven games after moving over from tight end. Parsons looked set to earn a starting job full time before an injury took him out of the lineup at mid season. Overall, the line should be very deep and well equipped to overcome injuries in 2019.
Senior Derrick Evans returns for his final season and third as the Eagles' starting quarterback. He will be essential in the run game again and his veteran decision making will be a huge bonus for this offense. As a passer, he does need to work on getting the completion percentage over 50. The Eagles don't throw much, so when they do, they must maximize the productivity. The entire receiving corps returns, with Quinton Phillips as the established leader. They have the experience to get more out of the passing game and it would be a big if they could get more than six TD catches out of the group.
Defensively, the Eagles have a little rebuilding to do in the front seven, having lost their most productive lineman and linebacker. The rotation in the 3-4 is still looking really solid though with Montel Presley and Brian Bembry as veterans in the D line. Both are preseason first team All-SAC players and Bembry led the team with 5 sacks a year ago. Antonio Henderson should step into the leadership role as the team's leading returning tackler. The secondary will most likely be the best and most experienced in the SAC and could end up being one of the best in the nation. Darius Williams earned All-America honors for his 2017 season and will be looking to get back to that level in 2019. Desmond Fairell is an All-Region and All-SAC player that has started all 33 games of his career and has accumulated 12 career interceptions. He is also one of the best in league at defending and breaking up passes. Ja'Quan Smith adds to the experience in the secondary with more than 20 starts in his career. He finished last season with the 6th most tackles on the team.
Schedule notes: The Eagles open with West Florida for the second year in a row. This time, it will be at Burke-Tarr. The Eagles then have an unusually long layoff of 16 days until game number 2 – at Wingate. The Eagles also face Lenoir-Rhyne on the road in late October.
The final word: Carson-Newman has a roster built to make a championship run. They are loaded with seniors at nearly every position. This should be one of the most veteran teams in Division II this year. Many thought their time had come last year, but they were not this experienced. They will lose as many as 28 seniors from this team, so now is the time.
1. Lenoir-Rhyne
In a few words…The Bears have all the right pieces in all the right places to make another run a championship, but they won't be underdogs this year.
Head Coach: Drew Cronic (2nd year, 12-2)
Five players to watch
#2 DB/PR Kyle Dugger
#8 RB Jaquay Mitchell
#9 LB Sherrod Williams
#16 QB Grayson Willingham
#90 DT Dan Louba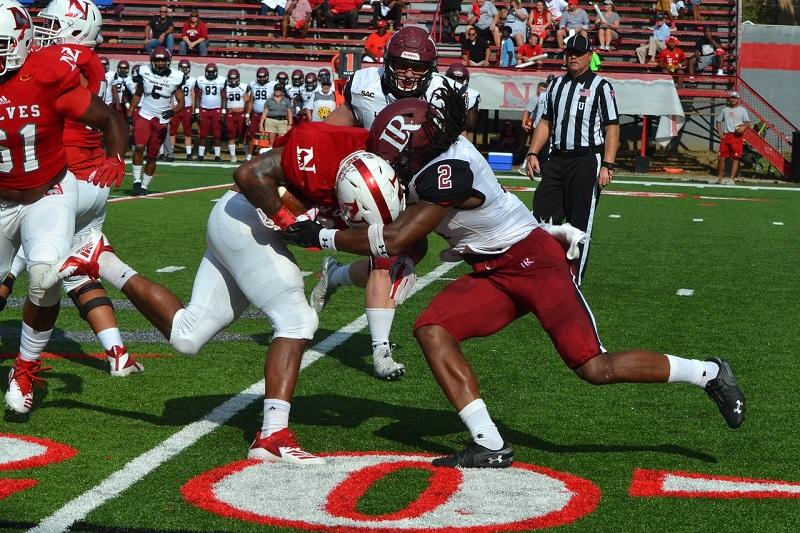 DB Kyle Dugger (photo credit: Chuck Bitner)
2019 Outlook
What a difference a year makes. Just twelve months ago, Lenoir-Rhyne was perceived to be in rebuilding mode with even modest expectations of a winning season seeming very unlikely. Now we head into the new year with the Bears as the favorites to repeat as SAC champions and make another deep run in the playoffs. Some national preseason polls have the Bears ranked as high as #3 .
But last year certainly proved that preseason polls, opinions and expectations don't mean a thing. No one – myself included – thought the Bears would be contenders and they ended up going 7-0 through conference play. The situation is reversed but this year's LR team must prove itself on the field exactly like last year's team did. Defending a championship is a hard thing to do, and LR will be a target for every team on the schedule.
All that said, the Bears certainly deserve the lofty rankings and expectations of repeating in the SAC. Last year's team won 12 straight games, including all seven SAC contests and made it to the national quarterfinals, losing to eventual national champion Valdosta State. That team had three seniors. Three. The Bears had just enough veterans in key positions to fill in gaps with freshmen, and it worked like magic. This year's team will be infinitely more experienced. One would think that makes them even more dangerous.
The Bears offense led the SAC in scoring, total offense and first downs last year. While they did not lead in passing yards or yards per game, they were the league's most efficient passing attack and led in yards per attempt, yards per completion and touchdowns. From that effort, one very large piece will be missing in 2019, that being wide receiver TJ Smith. Smith accounted for more than a third of all pass receptions and 40% of receiving yards. Someone will have to step into the role of go-to receiver. There are no shortage of numbers at the position, but the Bears should be looking to Demarius Hampton, Dareke Young and Ryan Carter. Hampton is the leading returning wide receiver. Tight End Drake Starks will be a big weapon in the passing game as well. Starks had 14 catches a year ago and nearly all were for crucial first down pick ups or touchdowns.
Redshirt junior Grayson Willingham will be calling the shots at quarterback again. Willingham's performance last year was probably the single most impactful one on the team. He enabled the offense to operate a sophisticated run game, while also moving the ball down field with big passing plays. That element was missing in what LR had been trying to do in previous seasons. It was a little surprising to me that Willingham was overlooked in the All-SAC preseason team. I expect a big season from him in year two as a starter. He will have a much more experienced backfield this year with Ameen Stevens and Cain Crews heading into their sophomore seasons and Jaquay Mitchell heading into his second year as a running back. There are gaps to fill as a few top rushers from last year are no longer on the active roster. Look for some youngsters to fill out the depth chart. The offensive line lost its most spirited leader in Center Jalen Soto, but otherwise is in very good shape from an experience stand point. Junior Jason Poe has been earning All-America attention after winning the SAC's Jacobs Blocking Trophy (best offensive lineman) in 2018.
The Bears have big time All-America talent on defense as well. Senior safety and punt returner Kyle Dugger is getting NFL attention and in the opinion of some experts, is the top pro prospect in Division II this year. Dugger is a complete package at safety, with size, speed, athleticism and a willingness to hit. I haven't seen any one else in the SAC with his closing speed on defense, and as a returner, the man is a terrorist. Eyes will be on Dugger, but that works to the Bears' advantage because the real focal point of the defense is in the front seven. Sherrod Williams is the best linebacker in the league. He's coming off a monster season of 105 total tackles (most in the SAC), 8 sacks and 3 INTs. Fellow linebacker Clayton Horn is also back. In front of them, the defensive line has a couple TFL machines in Jaquan Artis, Dan Louba and Amari Houston. The trio combined for 39 tackles for loss in 2018. Safety Eric Jackson seems to go unmentioned but had more total tackles, solo tackles and sacks then his DB mate Dugger. He also led the SAC with 6 INTs last year. How was he not a first team All-SAC player? Watch out for him.
If the Bears get into tight games, they have a difference maker in the kicking game as well. Chase Allbaugh set the LR and SAC single-season record for points by a kicker with 114.
Schedule notes: The schedule sets up nicely for the Bears. They have Newberry, Carson-Newman and Wingate at home, and spread out through the season. Don't overlook the week two out of conference trip to Virginia Union. The Panthers are a good team, and tough at home.
The final word: The two-deep hasn't changed much from last year's 12-2 team. They've earned the preseason accolades. They are the benchmark this year and that is a new position for this group of players. If they stay focused, humble and hungry, they will be an elite team.
If you read all that, thanks for hanging in there! I hope you are as excited for the season as I am.
As always, you send questions or comments to me at [email protected] and you can connect with me on Twitter @D2Chuck. Follow my SAC Football photos page for updates and check out games from the past three seasons.