National Championship Primer
December 17th, 2021 8:00pm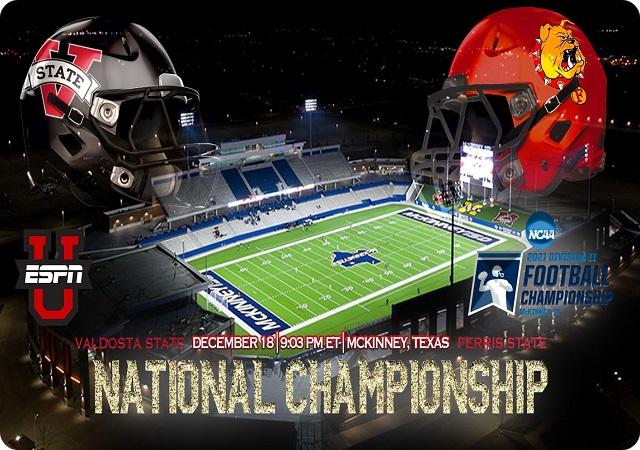 The 2021 Division II National Championship will be decided Saturday night in McKinney, Texas. Here is the essential information you need.
Championship Game Details
Game date: Saturday, December 18
Kickoff time: 9pm, eastern
Television: ESPNU
Location : McKinney, Texas
Stadium: McKinney ISD Stadium
Ferris State Team Profile
Record: 13-0 (GLIAC Champions, Super Region 3 Champions)
Nickname Bulldogs
Location: Big Rapids, Michigan
Conference: Great Lakes Intercollegiate Athletic Conference (GLIAC)
Coach: Tony Annese (9th season, 100-16)
Twitter: @FerrisFootball
Five players to watch
#2 DE Caleb Murphy
#7 RB / KR Taylor Minor
#12 QB Jared Bernhardt
#24 LB Cyntell Williams
#78 OL Dylan Pasquali
Championship history
Ferris State is in the national championship game for the second time in program history. Their first appearance was in 2018 against the same Valdosta State program they will face this weekend. Valdosta won that matchup, 49-47. A win on Saturday night would deliver Ferris State's first national championship.
Road to title game
Ferris State got to McKinney by winning their third consecutive GLIAC championship. The Bulldogs also completed the regular season undefeated for the third straight year. The undefeated season secured the number one seed in the Super Region three playoff bracket, and the first round bye that goes with it. The Bulldogs then defeated GLIAC rival Grand Valley State in the second round (54-20) and claimed the regional title with a home win over Northwest Missouri State (41-20). In the national semifinals, Ferris State hosted Shepherd and ran over the Rams with 453 rushing yards on their way to a 55-7 victory.
Valdosta State Team Profile
Record: 12-1 (GSC Co-Champions, Super Region Two Champions)
Nickname: Blazers
Location: Valdosta, Georgia
Conference: Gulf South Conference (GSC)
Coach: Garry Goff (2nd season, 22-2)
Twitter: @valdostastatefb
Five Players to Watch
#0 WR Bryan Saunds
#5 LB Nick Moss
#9 QB Ivory Durham
#30 RB Seth McGill
#94 DL Brian Williamson
Championship History
Valdosta State is in the championship game for the sixth time and will be playing for the school's fifth national title. The Blazers' first appearance in the championship game was in 2002. They lost that title bout to Grand Valley State (the Lakers' first D2 championship) but have won their last four appearances. The Blazers' first championship came in 2004 with a victory over Pittsburg State in a result that was considered an upset. That championship was delivered by former coach and former Harlon Hill winning quarterback at VSU, Chris Hatcher. Valdosta State won a pair of titles under coach David Dean in 2007 (Northwest Missouri State) and 2012 (Winston-Salem State). The most recent title was earned in 2018 (Ferris State) under Kerwin Bell. A fifth national championship would tie North Dakota State for the second most in Division II history. Northwest Missouri State is the leader with six Division II titles.
Road to the Title game
The Blazers started the year by winning their first nine games against the toughest schedule in Division II. They entered the final week of the season with a chance to win the GSC outright and secure the number one seed in Super Region Two if they could defeat defending national champs, West Florida. On that day, the Argos were the better team, posting an incredible 62 points and giving the Blazers their only loss of the season. The Blazers still earned a share of the GSC championship and held on to the top seed in Super Region Two because of their record and strength of schedule. The number one seed gave Valdosta State the bye into the second round where they beat GSC foe West Georgia 66-35. Bowie State then came to town for the regional championship game and the Blazers won that matchup 41-17. The national semifinal meeting with Colorado School of Mines turned into a battle when the Orediggers rallied with two late touchdowns, but the Blazers closed it out with an onside kick recovery for a 34-31 win.
Will Valdosta State win the program's fifth ring, or will it be a first for Ferris State? Watch the 2021 National Champion be crowned Saturday night on ESPNU.