2022 Draft Recap
May 1st, 2022 8:00am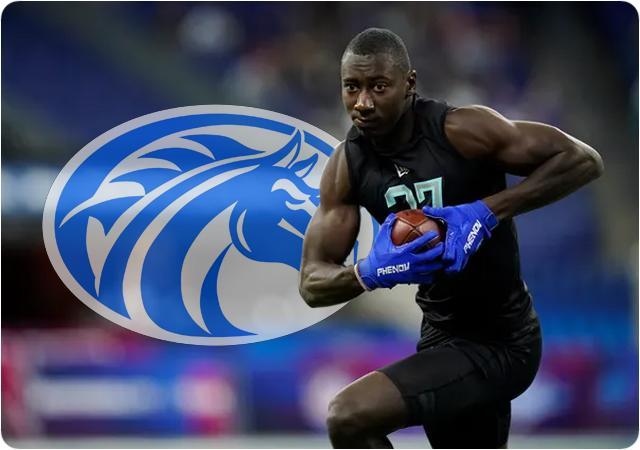 By Chuck Bitner, D2Football.com
Five former Division 2 players were selected in the 2022 NFL draft this weekend. Fayetteville State's standout cornerback Joshua Williams was the first player selected from a non-Division 1 institution. Williams was drafted in the fourth round by the Kansas City Chiefs, with the 135th pick. Williams is the first Fayetteville State player to be drafted since 1976.
In the sixth round, cornerback Gregory Junior made history by becoming the first ever Ouachita Baptist player to be selected in the draft. Junior went to the Jacksonville Jaguars with the 197th pick. Moments later, Northwest Missouri State defensive lineman Sam Roberts became the Bearcats' seventh draft pick in school history. Roberts was taken at pick #200 by the New England Patriots.
In the seventh and final round of the draft, two more Division 2 athletes heard their names called. Lenoir-Rhyne wide receiver Dareke Young was chosen by the Seattle Seahawks at pick #233. Young was the only offensive player to be drafted from a Division 2 school and is also the second Lenoir-Rhyne athlete to be drafted in the last three years. Valdosta State defensive back Christian Matthew closed out the Division 2 draft day with his selection by the Arizona Cardinals at pick #244. Matthew is Valdosta State's sixth NFL draft selection.
Here is the complete list of Division 2 selections in the 2022 NFL draft
#135 DB Joshua Williams, Fayetteville State (Kansas City Chiefs)
#197 DB Gregory Junior, Ouachita Baptist (Jacksonville Jaguars)
#200 DL Sam Roberts, Northwest Missouri State (New England Patriots)
#223 WR Dareke Young, Lenoir-Rhyne (Seattle Seahawks)
#244 DB Christian Matthew, Valdosta State (Arizona Cardinals)
Immediately following the conclusion of the draft, many Division 2 players were signed to undrafted free agent contracts, highlighted by Ferris State's national championship winning quarterback Jared Bernhardt, who was signed as a WR / KR by the Atlanta Falcons.
Here is the latest update to Josh Buchannon's top 25 D2 prospects (last updated 5/2/2022, 8pm, ET). Many more D2 prospects have also signed contracts or accepted rookie camp invitations. We will do our best to compile a complete list when possible.
| | | | | | | | | | | | |
| --- | --- | --- | --- | --- | --- | --- | --- | --- | --- | --- | --- |
| | | Pos | | Name | | School | Draft Status | | Team | | |
| 1 | | CB | | Josh Williams | | Fayetteville State | 4th Round | | Kansas City | | |
| 2 | | CB | | Gregory Junior | | Ouachita Baptist | 6th Round | | Jacksonville | | |
| 3 | | OT | | Sebastian Gutierrez | | Minot State | UDFA | | Denver | | |
| 4 | | CB | | Dallis Flowers | | Pittsburg State | UDFA | | Indianapolis | | |
| 5 | | CB | | Sam Webb | | Missouri Western | UDFA | | Las Vegas | | |
| 6 | | WR | | Dareke Young | | Lenoir-Rhyne | 7th Round | | Seattle | | |
| 7 | | CB | | Kader Kohou | | Texas A&M-Commerce | UDFA | | Miami | | |
| 8 | | SS | | D'Anthony Bell | | West Florida | UDFA | | Cleveland | | |
| 9 | | CB | | Christian Matthew | | ValdostaState | 7th Round | | Arizona | | |
| 10 | | DT | | Sam Roberts | | Northwest Missouri | 6th Round | | New England | | |
| 11 | | OT | | Tanner Owen | | Northwest Missouri | UDFA | | Buffalo | | |
| 12 | | OLB | | Marvin Terry | | Delta State | UDFA | | NY Jets | | |
| 13 | | WR | | Lio'undre Gallimore | | Valdosta State | | | | | |
| 14 | | CB | | Cory Batie | | Harding | Camp Invite | | New Orleans | | |
| 15 | | DT | | Keyshawn James | | Fayetteville State | | | | | |
| 16 | | WR | | Henry Litwin | | Slippery Rock | UDFA | | Chicago | | |
| 17 | | FB | | Ian Fryday | | Adams State | | | | | |
| 18 | | WR | | L'liott Curry | | Henderson State | Camp Invite | | NY Giants | | |
| 19 | | OLB | | Trevor Philio | | CSU-Pueblo | Camp Invite | | Denver | | |
| 20 | | RB | | Tyreik McAlister | | Charleston | UDFA | | Denver | | |
| 21 | | FB | | Devanaire Conliffe | | Notre Dame College | | | | | |
| 22 | | FS | | A'Brae Booker-Currin | | Adams State | | | | | |
| 23 | | QB | | Jared Bernhardt | | Ferris State | UDFA | | Atlanta | | |
| 24 | | WR | | Breon Michel | | Missouri S&T | Camp Invite | | Kansas City | | |
| 25 | | RB | | Kingston Davis | | Miles | | | | | |
| | | | | | | | | | | | |
| NR | | WR | | Kaden Davis | | Northwest Missouri | UDFA | | Denver | | |
| NR | | OL | | Dylan Pasquali | | Ferris State | Camp Invite | | Atlanta | | |
| NR | | DL | | Dennis Johnson | | Grand Valley | Camp Invite | | NY Giants | | |
| NR | | OL | | Zein Obeid | | Ferris State | UDFA | | Detroit | | |
| NR | | DB | | David Vereen | | Newberry | UDFA | | Baltimore | | |
| NR | | WR | | Shemar Bridges | | Fort Valley | UDFA | | Baltimore | | |
| NR | | WR | | Luke Little | | Mary | Camp Invite | | Chicago | | |
| NR | | DB | | Junior Faulk | | Delta State | UDFA | | Cleveland | | |
| NR | | DE | | Lucky Oyovwi | | Charleston | Camp Invite | | Indianapolis | | |
| NR | | WR | | Rodney Coates | | West Florida | UDFA | | Seattle | | |
| NR | | DL | | Matthew Gotel | | West Florida | UDFA | | Seattle | | |
| NR | | TE | | Zaire Mitchell | | Notre Dame College | UDFA | | Cleveland | | |
| NR | | DB | | Shahman Moore | | West Florida | UDFA | | San Francisco | | |
| NR | | WR | | Dwight Blakey | | Colorado Mesa | Camp Invite | | Arizona | | |
| NR | | WR | | Will Adams | | Virginia State | Camp Invite | | Miami | | |
| | | | | | | | | | | | |