Preseason Conference Rundown
August 20th, 2022 3:00pm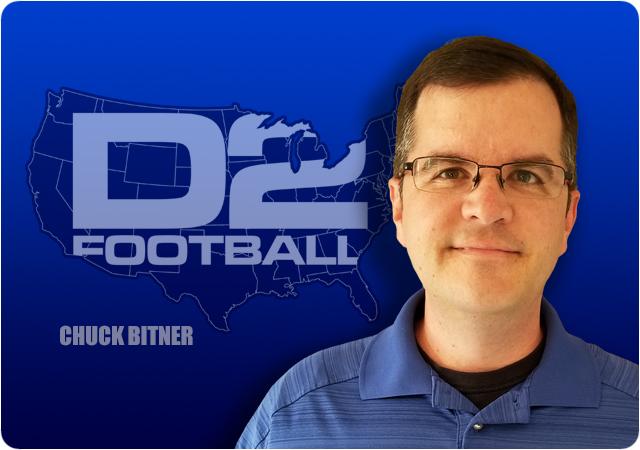 Welcome back, D2 football fans. The 2022 season is just days away and it is time to get primed for another fall chock full of football Saturdays. The D2Football presason Top 25 will be revealed via video very shorty, along with the Elite 100 watch list. Remember to subscride to the D2Football YouTube channel to catch the live streams of Inside D2 Footabll every Sunday night at 8pm, eastern.
If you have been around the D2football.com universe for a while, you may be aware that I have covered multiple conferences over the past decade. This year, at the urging of our team, I am switching my focus to a national perspective. Each week I will be posting a column (sometimes more than one) to put the spotlight on the most interesting stories and matchups from around the country.
To kick us off, here is my overview of each of the fifteen conferences with some notes on what it is new, a recap of how last year finished and some thoughts on preseason coaches' polls. The focus is on the teams expected to contend for championships. Our team of columnists will have much more to say about each of these conferences and all the participating teams so watch for their content over the next several days.
Here is a rundown of all 15 D2 Football conferences…
CIAA
Defending champion: Bowie State
What's new: New coaching staffs at defending champ Bowie State and traditional power Virginia State, as well as Johnson C. Smith.
Bowie State has owned the CIAA in recent years, winning three straight championship games and accumulating a conference record of 19-1 during that time span. Along the way, the Bulldogs have elevated the profile of the CIAA with impressive out of conference wins over programs like New Haven, West Alabama, Lenoir-Rhyne and Newberry. After last season, the Bulldogs were looking like a top 10 team heading into 2022 but that was before the coaching staff and roster went through an exodus of talent and experience. A handful of impact players were able to take advantage of NCAA transfer rules to move up to higher levels and long-time coach Damon Wilson departed for a Division I opportunity at Morgan State. A few top assistants are joining him. There is still a lot of talent in Bowie and the Bulldogs will be the favorite as the season kicks off but expect a challenge in the north division from Virginia Union. Fayetteville State, winner of three consecutive south division titles, is picked to be back in the title game. A sleeper team to watch for is Shaw. The Bears finished 6-4 overall in 2021 but were competitive in every game, with three losses coming by a combined nine points. I would not be shocked to see Shaw in the championship game for the first time since 2010.
Games to circle on the calendar
Sept. 17: Bowie State at Shaw
Oct. 15: Virginia Union at Bowie State
Oct. 29: Shaw at Fayetteville State
Nov. 5: Virginia Union at Virginia State
GAC
Defending champion: Harding
What's new: After a winless season, Southwestern Oklahoma State hired Josh Kirkland to lead the program. He previously served as head coach at New Mexico Highlands…Brad Smiley takes over at Southern Arkansas.
Of the 16 conferences sponsoring D2 Football in 2021, The GAC may have had the most interesting championship battle from start to finish. Harding and Ouachita Baptist were projected as the frontrunners, with Henderson State in the mix as well. Southeastern Oklahoma State served notice in week two with an upset of Harding that resulted in no fewer than five teams having a shot at the conference title for most of the season. It may be a little much to ask for an encore, but I will not be surprised if it happens. Harding and Ouachita will be the favorites again. Harding's offense is built to run the ball but we'll see how they replace the GAC's all-time leading rusher Cole Chancey. I don't expect them to struggle, but Chancey's production will be hard to reproduce. Harding's defense may have been slightly overlooked a year ago, but they were among the best in the nation in points allowed and a lot of experience returns to that side of the ball. Ouachita won't have many gaps to fill. They have a good group back in the offensive line and their top four rushers, led by 1500-yard rusher TJ Cole and quarterback Grant Allen are back.
Southeastern Oklahoma was one of the biggest surprises of the 2021 season, going from 1-10 the year before (2019) to 9-3 with a bowl game win. That will be a tough act to follow, but nearly all the talent that made that turnaround possible will be back, with leadership from veteran QB Daulton Hatley. Henderson State has won nine games in each of the last two seasons but they do have a lot of gaps to fill in their offense. Oklahoma Baptist was in the mix last year as well and if they find a suitable successor at quarterback, their offense should be explosive again with standout receiver Keilahn Harris leading the unit.
Games to circle on the calendar
Sept. 10: Southeastern Oklahoma State at Harding
Sept. 24: Harding at Ouachita Baptist
Oct. 15: East Central at Oklahoma Baptist
Nov. 12: Ouachita Baptist at Henderson State
GLIAC
Defending champion: Ferris State
What's new: Unfortunately, the GLIAC football membership continues to slowly dwindle. Northwood is the latest in a long line of defections to the GMAC, leaving the GLIAC with just seven members this fall.
After coming close on multiple occasions, Ferris State broke through in 2021 with the school's first national championship in football. Although they did absorb losses in the offensive line and the quarterback position due to graduation, the overall depth of talent has the Bulldogs right back at the top of the mountain as we kick off 2022. Mylik Mitchell enters his first season as a full-time starter at quarterback, but he played in every game last year and led the team to victories in relief starts. The Bulldogs physical defense will be a force again this year as well. Four-time national champion Grand Valley State may have the best team they've had in a few years and will enter the season as a top 5 program. The Lakers have not won a GLIAC title since 2016 and last appeared in the national championship game in 2009. With the bulk of last year's playoff team returning, this may be the year for GVSU to update those stats. Saginaw Valley and Michigan Tech should be the best of the rest and will be around to take advantage if Ferris or Grand Valley slip up (as Ferris nearly did against SVSU last year) but the GLIAC championship will likely be decided on October 15 when the Lakers travel to Big Rapids for the Anchor-Bone Classic.
Games to circle on the calendar
Sept. 1: Colorado Mines* at Grand Valley State
Sept. 10: Ferris State at Lenoir-Rhyne*
Sept. 24: Saginaw Valley State at Michigan Tech
Oct. 15: Grand Valley State at Ferris State
*out of conference opponent
GLVC
Defending champion: Lindenwood
What's new: Defending league champion Lindenwood has reclassified to Division I…Missouri S&T is the only GLVC program with a new head coach. Staffer Andy Ball was hired in March to lead the program.
With Lindenwood's reclassification to Division I, Indianapolis enters 2022 as the coaches' unanimous pick to win the GLVC. The Greyhounds are no strangers to being the target, having won seven of the last nine GLVC titles. Last year's 7-4 campaign didn't quite live up to expectations and the back-to-back losses to GMAC foes Tiffin and Ohio Dominican had a lot do with it. The Greyounds have a shot at redemption this year facing those same opponents in weeks three and four. A healthy Toriano Clinton returns to the UIndy backfield and he will enter the season as a Harlon Hill Trophy candidate. Truman State is projected second in the preseason GLVC poll and they will have a lot of offensive talent returning, including quarterback Nolan Hair, but excluding standout running back Cody Schroeder who transferred to Missouri. Southwest Baptist was slotted 4th in the coaches' poll but if they can build out just a little more talent around quarterback Cooper Callis, they may have something. Callis was under the radar all year because SBU had a losing record, but he was near the top of the QB charts, passing for 337 yards per game with 35 TDs.
Games to circle on the calendar
Sept. 17 Indianapolis at Tiffin*
Oct. 15 Southwest Baptist at Truman State
Oct. 22 Mckendree at Missouri S&T
Nov. 12 Truman State at Indianapolis
*out of conference opponent
GMAC
Defending champion: Findlay
What's new: Defending champs Findlay have a new head coach, as does Lake Erie…Northwood joins the league after departing the GLIAC…Walsh brings football to campus this fall as they christen their new home turf, Larry Staudt Field.
Last year's GMAC title came down to a showdown between Tiffin and Findlay in the final week of the season. Findlay prevailed to become the fifth program to earn a GMAC championship in the sixth year of the league's existence. The preseason coaches' poll picked Findlay to repeat, with Tiffin right behind. The pair were separated by only two voting points. Findlay has a new head coach in Kory Allen, but he is no stranger to the players and staff. 2022 will be his 17th season with the program. Ohio Dominican was picked fourth by the coaches, but the Panthers are always a tough out. They have a difficult first month of the season, opening with Findlay and Tiffin, then Indianapolis in week four. I have my eyes on Ashland as a team that may upset everyone and take the big prize. The Eagles finished just 5-5 in 2021 but return a solid nucleus on both sides of the ball, including the GMAC defensive player of the year Michael Ayers, and veteran quarterback Austin Brenner who missed the second half of 2021. The GMAC's out of conference schedule is full of interesting matchups. On top of the conference slate, the GMAC scheduling alliance with the GLVC will pit programs from each conference against each other in weeks three and four. Other out of conference opponents throughout the year include Notre Dame, Ferris State, North Greenville, Michigan Tech, Northern Michigan and Saginaw Valley.
Games to circle on the calendar
Sept. 3: Findlay at Ohio Dominican
Sept. 10: Ashland at Findlay
Oct. 22: Tiffin at Ashland
Nov. 12: Findlay at Tiffin
GSC
Defending champion: Valdosta State / West Florida
What's new: After a run to the national championship game, Valdosta State coach Garry Goff accepted the call-up to D1 McNeese State. Former Colorado Mesa coach Tremaine Jackson takes over in titletown ...West Florida will play all home games on campus for the first time in the program's short history.
Four-time national champ and 2021 runner-up Valdosta State was tabbed as the favorite to repeat by the GSC preseason poll. With the exceptional Ivory Durham returning at quarterback, along with a host of other offensive skill players and an influx of defensive talent, there is more than enough justification for that. The coaching change is a variable but the offense shouldn't miss a beat and the defense looks to be upgraded with an emphasis on size and depth in the line. West Florida will have a new starting quarterback, following Austin Reed's move to FBS Western Kentucky, but the offensive line depth and talent at receiver should help for a smooth transition. The Argos have one of the most talent-rich rosters in the country with more than two dozen players that have spent time in Division I programs.
West Georgia will be a little unproven at running back and receiver, but they have tons of talent vying for playing time. Harrison Frost was quietly one of the best quarterbacks in the nation last year, setting a UWG single season record with over 3,600 passing yards. The Wolves have West Florida and Valdosta State at home in October. A team that piques my interest is Delta State. The Statesmen usually have a solid roster, but have been inconsistent over the past decade. Their 2021 season had its moments, but was defined by a five game losing streak. They must rebound in a big way to avoid back-to-back losing seasons.
Games to circle on the calendar
Oct. 8: West Florida at West Georgia
Oct. 15: West Alabama at Delta State
Oct. 22 Valdosta State at West Georgia
Nov. 5 West Florida at Valdosta State
LSC
Defending champion: Midwestern State
What's new: Texas A&M Commerce ended their Division II era last year and have reclassified to Division I….The three remaining football schools from the GNAC (Central Washington, Western Oregon and Simon Fraser) have joined the Lone Star Conference as associate members for football. This move will involve some long trips, but boosts the football membership to a healthy 10 teams.
Angelo State made a late season run through the LSC and into the playoffs last year, winning seven straight games before a loss to Colorado Mines in the regional final. The Rams won 11 ball games, but it was Midwestern State that hoisted the LSC championship trophy with the best record in conference, along with a 35-17 win over Angelo State. Despite that, Angelo State enters the new season as the favorite to win the conference and potentially make another deep playoff run. On paper, the Rams should have the team to do it. The offensive side of the ball is loaded with talent, including preseason player of the year Nathaniel Omayebu III and Alfred Greer who might be the most explosive player in the country. Experienced quarterback Zach Bronkhorst returns to lead the unit.
I agree with the coaches poll, Angelo State is the team to beat, but I also have West Texas A&M in my preseason Top 25. After a tough 2-3 start in 2021, the Buffs finished the season on a 5-1 run, including wins over Angelo State and Midwestern State. A lot of raw talent returns for WT, including all five starters on the offensive line and depth at the linebacker positions.
The biggest variable in the LSC is Central Washington. The Wildcats are a strong program every year and it will be fascinating to see how they perform playing LSC opponents weekly. FWIW, Central Washington beat LSC champs Midwestern State last year and lost to Angelo in a low scoring affair, 14-9.
Games to circle on the calendar
Sept. 10: Angelo State at Colorado Mines*
Sept. 24: West Texas A&M at Angelo State
Oct. 15: Midwestern State at Central Washington
Nov. 12: Angelo State at Midwestern State
MEC
Defending champion: Notre Dame / Frostburg State
What's new: The top three programs from 2021 (Notre Dame, Frostburg State and Charleston) all have new head coaches.
Coaching changes were a trend in D2 football this past offseason and its possible that no conference was impacted more than the Mountain East. The top three programs from 2021 all lost their head coaches to D1 opportunities. Frostburg State's DeLane Fitzgerald accepted the head coaching position at Southern Utah while Notre Dame's Mickey Mental and Charleston's Pat Kirkland took coordinator positions at Weber State and Jacksonville State, respectively. Does this mean there will be a change in the pecking order? I doubt it. Notre Dame will still be the most talented team in the conference and has the benefit of senior leadership to help with the coaching transition. Chris Brimm is among the best players in the nation and could become one of college football's winningest quarterbacks if the Falcons are in playoff contention again. NDC is currently 41-5 with Brimm under center. The Falcons did lose some exceptional players at receiver and linebacker but leading rushers Tyris Dickerson and Idris Lawrence are back. The duo accounted for 1800 rushing yards and 16 TDs a year ago. DB Antoine Holloway may be the best returning defensive player in the MEC.
Frostburg State was not eligible for playoffs last year so it's easy to forget that they were a 10-win team and conference co-champion. With the transition to Division II now complete, the Bobcats will be hungry to be in playoff contention this year. They graduated some elite talent on defense and lost a good bit of their receiver room but starting quarterback Graham Walker was a redshirt freshman last fall.
Under the radar, watch for UNC Pembroke. The Braves were 6-5 in their first season the MEC. With that experience behind them, they may be ready to challenge for the top spot. Wheeling was a commendable and competitive 5-6 in just their second full season fielding a team. I think they have enough pieces in place to be a winning team this year.
Games to circle on the calendar
Sept. 17: Frostburg State at Charleston
Sept. 24: UNC Pembroke at Fairmont State
Oct. 1: Charleston at Notre Dame
Oct. 8: Notre Dame at Frostburg State
MIAA
Defending champion: Northwest Missouri State
What's new: Three-time national champion head coach Adam Dorrell returns to the MIAA as the new coach at Central Oklahoma…Josh Lamberson takes over at Central Missouri, Jermaine Gales takes the reigns at Lincoln…The MIAA will be the first non-D1 conference to use video replay in regular season games.
Northwest Missouri State is the defending conference champ and the preseason pick to repeat. The same statements apply nearly every year, but that doesn't mean things are stale in the MIAA. The Bearcats remain the standard but Nebraska-Kearney was a breakout team in 2021, and with Harlon Hill finalist TJ Davis back to lead the offense, the Lopers may be in an even better position to challenge the establishment. Davis rushed for more than 1,000 yards and passed for more than 2,000 while accounting for 39 total touchdowns. He will be among a short list of preseason candidates for the Harlon Hill Trophy. Washburn was a playoff team in 2021 but they've lost a bit of talent from that team and slotted behind Pittsburg State in the coaches' poll. The Gorillas were a solid 8-3 in 2021 with all three losses at the hands of the MIAA's playoff participants. They must win some of those games this fall to get back to the playoffs for the first time since 2014. A lot of starting experience returns for Pitt but they will have a new quarterback and must replace their leading rusher and receiver.
In the bottom half of the preseason rankings, a couple of high profile new-hires will attempt to rebuild the programs at Central Missouri and Central Oklahoma. At UCO, Former Northwest Missouri player and coach Adam Dorrell is back in the MIAA after five years at Division I Abilene Christian. Dorrell led Northwest to three of its six national championships. He takes over a program that has had two straight losing seasons, but has a proud history. UCO has the fourth most wins (644) among current Division II members. Fellow Northwest Missouri alum and former Nebraska-Kearney head coach Josh Lamberson was hired to reinvigorate the Central Missouri program. The Mules were a preseason top 25 team in 2021 but finished with just four wins.
Games to circle on the calendar
Sept. 17: Nebraska-Kearney at Washburn
Oct. 8: Northwest Missouri at Pittsburg State
Oct. 29: Fort Hays at Emporia State
Nov. 12: Central Missouri at Central Oklahoma
NE10
Defending champion: New Haven
What's new: Stonehill, a founding member of the Northeast 10, departed in the spring after accepting an invitation from the Northeast Conference to reclassify to Division I…Bentley coach Bill Kavanaugh unexpectedly resigned in March. Assistant Alvin Reynolds was promoted to take over the program.
New Haven was the undisputed class of the league in 2021, defeating the closest challenger (Bentley) twice on the way to the NE10 championship and a playoff invitation. The Chargers came within a play of making it to the regional final, suffering a 10-7 defeat at Kutztown in the second round. New Haven has high expectations with Connor Degenhardt back at quarterback and looking much more comfortable in his second preseason camp with the program. The team's top two receivers from 2021 are back as well. Bentley also made it to the post season in 2021, for the first time in 18 years. The Falcons' only two losses on the season were to their rivals from West Haven. The program has had a change in leadership with the departure of Bill Kavanaugh and were picked third in the preseason poll, behind in-state rival Assumption. Bentley will undoubtedly look at that with a curious eye considering they beat Assumption twice in 2021. The Greyhounds may have more starting experience returning, earning them the second place slot, but they finished a modest 5-5 in 2021.
Games to circle on the calendar
Sept. 3: New Haven at Bowie State*
Sept. 23: New Haven at Bentley
Oct. 15 Bentley at Assumption
NSIC
Defending champion: Augustana / Bemidji State
What's new: Scott Underwood, former coach at of the defunct St. Cloud State program, is back in the NSIC coaching ranks at Southwest Minnesota State…Wayne State and Winona State will also have new coaches this fall.
Augustana and Bemidji State ended the 2021 regular season as the divisional champs and shared the overall NSIC title. Both are projected to do the same this season. Augie will need a solution at quarterback but 1,000 yard rusher Jarod Epperson is back along with leading receiver Logan Utecht. The Viking defense, which was one of the best in the nation against the rush, looks very promising again and will have leadership from four first-team All-NSIC players. Bemidji's passing offense should be one of the best in the nation again with Harlon Hill Trophy finalist Brandon Alt back at quarterback throwing to All-American Brendan Beaulieu. Alt established a new conference record with 46 touchdown passes last year.
I agree with the coaches' picks to win the divisions but there isn't a lot of separation in the top 5-6 teams heading into the season. Minnesota Duluth was a playoff team in 2021 and Sioux Falls was right on the edge of possibly making the post season. Northern State is building a good program as well and I don't think Minnesota State will be average for very long. The Mavericks were 6-5 last fall, leaving them off the radar through spring and summer. It's been a decade or longer since we kicked off a new season without The Mavs in the top 25. Further back, U Mary may be around a .500 team, but the Marauders are worth watching to see 2021 offensive player of the year Danny Kittner who led all of college football in receptions (128) and receiving yards (1723) last fall.
Games to circle on the calendar
Sept. 10: Minnesota Duluth and Minnesota State
Oct. 1: Sioux Falls at Augustana
Nov. 5: Northern State at Bemidji State
Nov. 12: Bemidji State at U Mary
PSAC
Defending champion: Kutztown
What's new: Former Kutztown coach Raymond Monica returns to the PSAC as the new coach at Clarion…Longtime Mercyhurst Coach Marty Schaetzle retired after last season and was succeeded by staff member Ryan Riemedio...Lock Haven has a new coach for the second straight fall. Dan Mulrooney takes over on the heels of leading D3 Anna Maria to its first conference championship.
Last fall was a good one for the PSAC. The conference put three teams in the playoffs, won the region and saw one its players named Harlon Hill Trophy winner for the sixth time in conference history. The preseason coaches' polls are split by division. In the east, Shepherd and Kutztown split the first-place votes evenly with four each. Shepherd had slightly more overall votes and earned the first-place nod, with Kutztown a close second. None of this is surprising as Shepherd returns Harlon Hill Trophy winner Tyson Bagent at quarterback and Kutztown has a good looking defensive unit back. Coming off a 9-2 season, Shippensburg should not be overlooked but they do need to replace standout quarterback Brycen Mussina.
In the west division, Slippery Rock and IUP finished in a tie for first place in the voting. The Rock has had the deepest roster in the PSAC for the past several years, but they do have a lot of starting talent to replace. IUP may be a little further head when the season starts in terms of starting experience. Duane Brown is among the best wide receivers in the nation and the Hawks might have the best offensive and defensive lines in the conference. But don't forget about California. The Vulcans were 9-1 a year ago but did not make the playoffs. They have one of the most experienced quarterbacks in D2 this year with Noah Mitchell entering his fourth season as a starter and sixth year overall within the program.
Games to circle on the calendar
Sept. 24 Shepherd at Kutztown
Oct. 1: Slippery Rock at IUP
Oct. 8: IUP at California
Oct. 15: Kutztown at Shippensburg
RMAC
Defending champion: Colorado Mines / Western Colorado
What's new: Coaching changes at Colorado Mines, Colorado Mesa, Fort Lewis
Colorado Mines, a national semi-finalist in 2021, was unanimously selected by opponent coaches as the preseason pick to win the RMAC. The Orediggers have a ton of talent returning from last year's elite team, most notably quarterback John Matocha, Harlon Hill Trophy finalist running back Michael Zeman and Rimmington Award winner (nation's top Center) David Armendariz. Mines' only RMAC loss a year ago was at Colorado Mesa but the top challenger this year is expected to be CSU Pueblo. It's a bit of an interesting vote from the coaches considering The Thunderwolves struggled with offensive consistency last year and finished with a disappointing 6-5 record. That may have been an aberration for the 2014 National Champs, but there is still a lot to prove in 2022. They do have a bulk of the starting talent back, including the entire offensive line. We'll find out pretty quickly of Pueblo is deserving of the second place vote. The Thunderwolves may have the most challenging opening month of the season, with a four-week gauntlet of Midwestern State, Grand Valley, Western Colorado and Colorado Mines. Western Colorado might feel a bit slighted in the preseason poll. The Mountaineers won 10 games in 2021 and shared the RMAC championship with Mines. Offensively, starting QB Connor Desch and leading running back Josh Cummings are back. A lot of starting talent returns on defense as well.
As a league, the RMAC might have the best slate of out of conference games. Just looking at the projected top three teams, Mines will face Grand Valley and Angelo State, Pueblo plays Midwestern State and Grand Valley and Western Colorado faces off with West Texas A&M and UT Permian Basin.
Games to circle on the calendar
Sept. 1: Colorado Mines at Grand Valley State*
Sept. 3: CSU Pueblo at Midwestern State*
Sept. 24: CSU Pueblo at Colorado Mines
Oct. 29 Colorado Mines at Western Colorado
*out of conference opponent
SAC
What's new: The SAC enters 2022 with an expanded membership. Emory & Henry, reclassifying from Division III, joins the league as a full member. Barton and Erskine are also in the fold as associate members for football...Limestone re-hired Mike Furrey as coach. He previously served as head coach of the Saints in 2016 and 2017.
Defending champion: Newberry
It wasn't that long ago that the South Atlantic Conference was the smallest in Division II. For several years, SAC football membership stood firmly at eight teams. Due to the creation of new conferences, mostly in the Midwest, many conferences have gotten smaller. But the SAC has been growing and as this season kicks off, football membership stands at 12 institutions, allowing for the creation of the Mountain and Piedmont divisions.
Newberry was chosen by the coaches as the favorite to repeat as conference champs and with the return of most of their offensive playmakers, that's a reasonable pick. Quarterback Dre Harris is back, along with leading rusher Mario Anderson and receivers Bryson Woodruff and Deshun Kitchings. The Wolves have some holes to fill defensively, but assembling a solid defense is rarely a problem for this program. Lenoir-Rhyne was picked second overall. They have a big gap to fill at quarterback but Dwayne McGee will be one of the top returning rushers in D2 and they have depth at receiver. But as members of the same division, its not possible for Newberry and LR to meet in the championship, and you can include Wingate as well. The Bulldogs, a consistent top 25 program in recent years, are also in the Piedmont Division with Newberry and LR. And don't overlook Barton. 2021 was their first season of football and they finished a remarkable 6-5. They have a good quarterback and one of the best running backs in D2 with Jordan Terrell. If just a few more pieces fall into place, they might have what it takes to win the division.
The Mountain division may not be quite as stacked but should still be very competitive. Mars Hill should be looked at as the favorite, but if Tusculum finds an answer at quarterback, they'll be a contender. Carson-Newman is among the most interesting programs to keep an eye on. After a shocking 1-10 campaign, few programs have more to prove than they do.
SIAC
Defending champion: Albany State
What's new: Longtime Tuskegee coach Willie Slater is now at Clark Atlanta…Slater was replaced by Miles head coach Reginald Ruffin, who will also serve as AD at Tuskegee…New SIAC Commissioner Anthony Holloman will officially assume his role on September 1.
Albany State was head and shoulders above the competition in 2021. The Golden Rams boasted one of the top defenses in Division II, posting six shutouts, including 31-0 victory in the conference championship game. With a lot of talent coming back, including SIAC defensive player of the year Stephan Pierre, the Rams were an unsurprising pick to repeat. The defense should be outstanding again, but if they are going to contend for post season victories, they need to take some steps forward on offense. They will have stability at quarterback with Dionte Bonneau, who is projected as the top offensive player in the league heading into the season. Savannah State, a team that missed the post season by the slimmest of margins, should be a contender in the east division. The coaches poll nominated Benedict as the second-place team in the preseason poll. An interesting vote, considering the Tigers were 5-5 a year ago. I'm not sure Morehouse is ready to challenge for the division yet, but they had one of the best second half rebounds in the nation last year. After a dreadful 0-5 start, they won four of the next five with the lone loss a slim 14-10 decision against Albany State. The West division should be wide open, with new coaching staffs at Miles, Tuskegee and Central State.
Games to circle on the calendar
Oct. 1 Miles at Albany State
Oct. 22 Albany State at Savannah State
Nov. 5 Miles at Tuskegee
Thanks for reading. I hope you're as excited as I am for the new season. If you have questions for me throughout the fall, you can email me at [email protected] and follow me on Twitter @D2Chuck.