Around the Nation - Week Four
September 21st, 2023 7:00am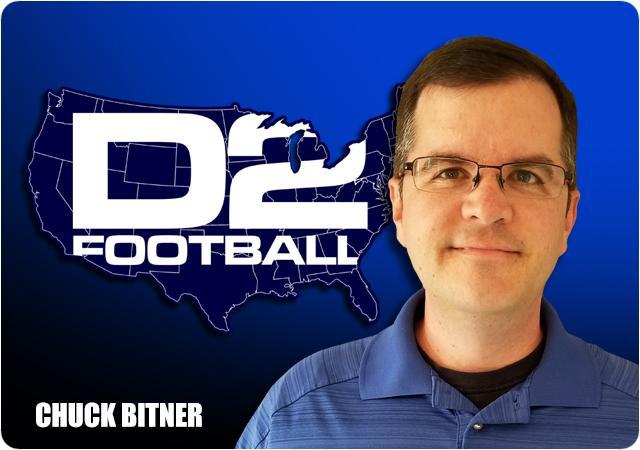 Before I head into the week four schedule, I want to chat about the Top 25 poll for a moment. Week four is about the time of year we start seeing increased discussion and debate about who is ranked and who isn't. As such, I am seeing and receiving a lot of questions like why isn't my team ranked, they're 3-0?, or why is this team ranked, they lost this week? Fair questions. If your team is 3-0 they're off to a great start and probably playing very good football. But the first thing we need to know is that being undefeated at this stage of the year is not an automatic qualifier for being ranked. There are still 33 unbeaten teams in D2. I wasn't a math major but I don't think 33 teams can make the top 25 poll. The second thing is, just because a team has a loss (or even two) doesn't mean they are not a top 25 team. We saw this last year with Colorado Mines. They started 0-2 but remained in our top 10 and ultimately won 13 straight games enroute to a national runner-up finish. We're putting similar faith in Angelo State this year. At 1-2 their ranking and playoff hopes are at risk, but if I put Angelo State on the field with any of the 3-0 teams that are currently unranked, I'll take Angelo State in every matchup. Now that doesn't mean they get a pass. Results matter and if they don't start winning again, they won't stay in the poll. Lastly, the Top 25 poll is meant to be exclusive. It recognizes only the top 15% of D2 teams.
Alright, enough poll talk. A couple of weeks ago we started doing a stock up / stock down segment on Inside D2Football. It's been a fun way to acknowledge some teams that we may not be talking about a lot from a national perspective, so I thought I'd expand on that concept in the weekly column. There are a lot of teams that would fit into these categories but I'm going to try to spotlight a few that haven't been talked about much to date.
Let's start with a few teams trending upwards…
Missouri Southern: The Lions' season opener against Northwest Missouri State was not an aberration. Since that heartbreaking one-score loss, Missouri Southern has beaten Washburn and Nebraska-Kearney. Both were winning teams in 2022.
Frostburg State: The Bobcats followed up the impressive OT win at New Haven with a close win over Wheeling and a dominant win over West Liberty. They now have an extra week to prepare for Notre Dame on Sept. 30.
Colorado Mesa: The Mavericks lost the opener to Texas A&M-Kingsville but rebounded with a huge win over FCS San Diego and a great opener to the conference schedule at South Dakota Mines.
Eastern New Mexico: Three weeks in, the Greyhounds are at the top of the LSC standings at 1-0 in conference and 3-0 overall. Exactly what they were hoping for with the re-hiring of coach Kelley Lee.
North Greenville: The Crusaders opened with a close loss at D1 Charleston Southern and then claimed wins over Newberry and West Alabama. They can make a big splash this weekend with a win over 3-0 Valdosta State.
Upper Iowa: After back to back 1-10 seasons, two wins is progress.Two in a row is a winning streak.
And a few that are looking to reverse fortunes soon…
Washburn: The Ichabods had a get-right game against Lincoln after an 0-2 start. They did score 17 in the first quarter but were outscored 10-7 the rest of the way. Not real inspiring against a team Washburn should out-talent by leaps and bounds.
Shippensburg: The Raiders were hoping to improve on last year's 5-6 record, but things haven't gone well in the opening weeks. The 0-3 Raiders need a win against a 1-2 Bloomsburg team that is struggling for consistency.
Fayetteville State: The defending CIAA champs are off to a rough start. They lost to UNCP and Lenoir-Rhyne, which is forgivable but salvaging a home win over Lincoln with a fourth quarter rally was unexpected.
Southwest Baptist: A year ago, the Bearcats earned a 41-17 win at UT Permian Basin. This year, they turned the ball over five times and could not make a single defensive stop in the 86-7 loss at home to the Falcons.
Now a peek at some of the top games in week four…
Fairmont State (2-1) at Notre Dame (2-1) 12:00
When I started looking at this game a week ago, I was charting it as a possible showdown of 3-0 teams. Alas, it was not to be. Notre Dame fell behind in the first half at Glenville State and never completely recovered. Fairmont State gave up a 20 point lead to Wheeling and ultimately fell in overtime. Notre Dame has struggled with offensive consistency against teams that aren't West Virginia Wesleyan. On top of that, they may be without starting quarterback Isaiah Murphy who was injured in the loss at Glenville State. I'm still going with NDC because Fairmont State has not played good defense in the second half. They're 2-1 but have given up leads in all three games.
Kutztown (1-2) at #14 Shepherd (3-0) 12:00
It's a shame this game isn't happening later in the year because it's become the most important matchup in the PSAC east division. For all the conversations we had about the talent Shepherd lost from its record setting offense, they're coming along just fine on that side of the ball. Seth Morgan is fifth in the nation in passing yards per game and as a unit, they're posting more than 400 yards per game. They'll be fine. My concerns for Shepherd are on defense. The Rams rank 15th out of 16 teams in the PSAC in yards allowed per game. They've given up long scoring drives all year and allowed a pair of 90+ yard scoring plays at Cal last week. I think they're going to have problems with Kutztown. I really liked what I saw from the Golden Bears with new starting QB Judd Novak. He stepped in for his first start at Cal and made play after play. That continued last week against Mercyhurst. Ram Stadium is always a tough place to play as a visitor but Kutztown has won their last two trips to Shepherdstown. I can see Shepherd winning another close one, but I think Kutztown gets the win this Saturday.
Barton (3-0) at Mars Hill (2-0) 1:00
Sometimes games don't play out the way we think they will, but this one should be all about rush offense versus rush defense. Barton running back Jordan Terrell is not only one of the best overall players in D2, but also one of the most consistent and reliable. Even when the defense knows what's coming, he's still hard to stop. He is so dangerous and commands so much attention that even when the Barton passing game is not working particularly well, they can still rip off big plays. In last week's win over UVA-Wise, Barton completed only 3 passes but that included gains of 69 and 50 yards. All that said, I think Mars Hill has a defense that won't allow Terrell to completely take over the game. He also won't be the only good back in the game. Mars Hill's Jon Gullette is averaging 6.5 yards per carry this year. This is a toss up, but I like Mars Hill at home.
#17 UIndy (2-0) at Saginaw Valley State (2-1) 2:00
Can the GLVC go 2-0 against Saginaw Valley State? The Cards lost on the road at Truman State last week in a result that was mildly surprising. Not so much that Truman won, but how they did it. Saginaw is a running team and the Bulldogs shut them down. Did they layout the blueprint for their conference rival to do the same thing? Maybe. But they may have done their rivals a disservice. Saginaw beat UIndy 38-14 last year, but any possibility of them overlooking the Greyhounds would have disappeared on the bus ride home last week. They have to regroup and figure out why they could not run the ball at Truman. They also must play with a sense of urgency because we know what is still ahead of them in the conference schedule. A loss here may doom playoff hopes before they play their first GLIAC game. I think Saginaw has it in them to recover and claw out a win, but I don't think Indy will make the same mistakes they made last year, turning the ball over four times. They also played that game with a backup quarterback. I'm struggling with which way to go, but Indy looks like the more balanced team.
#2 Colorado Mines (3-0) at CSU-Pueblo (1-2) 3:00
On last Sunday's Inside D2Football I reminded the panel that CSU-Pueblo started 1-3 last year and ended up making the playoffs. The bad news is, I think they'll have to aim for that again. Mines has looked like a team that hasn't missed a step since last December and in fact, they may be better. Pueblo will have to get the offense back on track to have a chance in this one. The Thunderwolves put up 37 points in the opener and 49 at Grand Valley but stumbled badly last week, posting just 218 total yards and only one offensive scoring drive. Chance Fuller had a tough day, completing less than 50% of his throws. The Thunderwolves' performance looked a bit like Grand Valley beat them twice, meaning they weren't over that one yet. If that is the case, they need to shake off the last two weeks. They won't beat Mines with anything less than their best football and even that might not be good enough. Mines is a complete team and all their top players are in mid season form. I think the Orediggers win by two scores.
Ashland (1-2) at Tiffin (3-0) 4:00
Don't be fooled by 1-2 versus 3-0. If Ashland and Tiffin swapped schedules I am confident the results would be the same. We also have to remember that Ashland's two losses were out of conference games so they are still in the conversation for the Great Midwest championship. Both teams are 1-0 in conference play, with Ashland earning a convincing win over Hillsdale and Tiffin struggling much more than expected with Northwood. Tiffin got a lot of attention for putting up big offensive numbers and it made it easy to overlook their defense playing very well. Ashland will need success throwing the ball but Tiffin has the best pass D in the G-MAC. They've only allowed three passing TDs and have snagged eight INTs. Ashland will be the most talented team the Dragons have faced so far, but Tiffin has a lot of things working for them. I expect this to be close but I think Tiffin gets it done.
West Texas A&M (2-1) at UT Permian Basin (2-1) 7:00
We have some really interesting games this week, but this might be the one I am most curious about. Not so much for the final result, but how it plays out. I think we're going to learn a lot about both teams. Both are 2-1 and the loss is to the same opponent: Western Colorado. Evaluating based on the transitive properties of football is always dangerous, but the common opponent aspect is relevant here. Also, I'm just not that interested in diving into UTPB's lopsided wins. We know how outmanned Texas College was and Southwest Baptist played all kinds of bad football. And to be fair, I think Midwestern State and Adams State are not real barometers of where West Texas is. The Buffs defense did great last week but Midwestern is a long way from sorting out their offensive identity. The Western Colorado games are much closer to where these teams stack up. Defensively, their performances were similar. UTPB had much more success offensively. In short, that's about how I see this. Defenses are about equal but the Falcons have the better offense.
West Georgia (2-1) at #8 West Florida (2-1) 7:00
West Georgia played their first conference game a week ago, rallying in the fourth quarter to beat Mississippi College on the road. West Florida stayed out of conference for one more week, playing at D1 Florida A&M. That was a tight game for a half, but the Argos couldn't find anything that worked against a good FAMU defense. That's a little troubling because we know West Georgia has athletes on defense. They had trouble with the option last week, but played well against Limestone and TAMUK. I think this could come down to whether or not West Florida can find a rhythm early in the game. If West Georgia keeps this low scoring in the first half I think the defense can outlast the Argos like FAMU did. On the other hand, West Georgia's offense is still figuring things out. They've tried two different quarterbacks but lost Cameran Brown to injury last week and we don't know if he'll be able to go. I like West Florida in this one.
Game of the Week
#11 Harding (3-0) at #23 Henderson State (3-0) 7:00
With all due respect to the other nine members of the GAC, the conference title will be decided by the games played involving Harding, Henderson State and Ouachita Baptist. The first of those games is this weekend when Harding makes the trip to Arkadelphia. Harding is a little more battle tested at this point as the three opponents they've faced are all undefeated against teams that aren't Harding. Henderson State struggled a bit in the past two games against winless teams. But how they played against other teams is never a perfect indication of how they measure up with each other and it's worth remembering that Henderson State won this matchup last year, 15-14. The Reddies were able to do that with a herculean defensive effort, holding Harding to just 294 total yards. If they can keep Harding under 300 yards rushing, they'll have a chance. I do expect the Reddies offense to have success, especially with the efficiency of quarterback Andrew Edwards. Something to watch for is turnovers. Edwards has yet to throw an interception this year. Harding is second in the nation in turnovers created (13) and third in interceptions (7). Harding is my pick.
Off the grid game of the week
Each week I try to shine some light on a game that may not have national rankings relevance but deserves some attention This week's game is game is Thomas More at Walsh.
Thomas More (2-1) at Walsh (2-1) 12:00
A couple of feel good stories here. Walsh was nipped in the final seconds at Kentucky Wesleyan last week, falling a play short of a 3-0 start. Nonetheless, we love to see how competitive they've been in the early part of the season. Same for Thomas More. The Saints got their first ever D2 win two weeks ago against UVA-Wise and pulled off an upset of Ohio Dominican last week for their first conference victory. I think the Saints make it three wins in a row. They have a little more offense than the Cavaliers.
Remember to watch Inside D2Football for the weekend recap on Sunday night at 8pm, eastern.
Questions, suggestions, comments, complaints? Email me at [email protected] .Follow me on X @D2Chuck, and just in case that all goes down the tubes, I am on threads under the same handle.