Around the Nation - Week One
August 29th, 2023 8:00am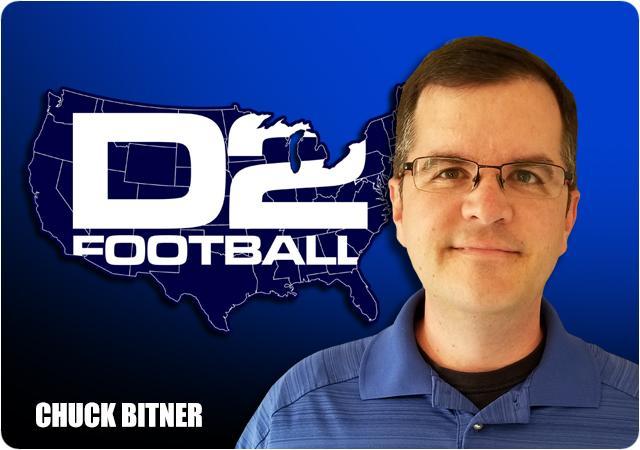 We made it through another off season. Welcome to week one! As usual, week one offers the most high-profile non-conference games that we'll see until the playoffs. Following recent tradition, many of the top teams will open on Thursday night. In fact, we'll have more games on Thursday (48) than Saturday (39). Before we dive into it, here are few things to you catch up on if you haven't already…
D2Football.com Preseason Top 25
Inside D2Football Top 25 breakdown
D2Football.com Elite 100 Watch list
Inside D2Football Week One Preview
Off we go for week one…
Thursday
Since we have games spread across four days to open the season, let's mix it up and lead with our game of the week, which is a Thursday nighter in Golden, Colorado.
#2 Grand Valley State at #4 Colorado Mines 8:00
The most anticipated game of week one is also the most high profile out of conference game we will see in the regular season. In case you missed it, these same teams played an instant classic in the 2022 opener. Mines rallied from a 17-0 third quarter deficit, scoring 22 unanswered. The Lakers responded with a 9 play, 80 yard drive that culminated in the game winning score with under a minute to play. Mines had a shot at the very end, with Michael Zeman catching a hail mary, but being tackled inside the five as time ran out. I don't know that we'll see the same thing, but it will be a battle. I am really interested in seeing the offensive approaches for both teams. Grand Valley had an exceptional defense a year ago and indications are they may be better this fall. That will be a handful for the Mines offense. Four offensive linemen are back, along with Harlon Hill winner John Matocha and Elite 100 receiver Max McLeod. But the Orediggers did lose leadership in Center Matt Armendariz and Zeman. That is a factor that's hard to account for. I do expect their offense to be very effective and they will have a better idea of how to game plan to match up with Grand Valley in this second meeting. Grand Valley's offensive game plan will be very interesting as well. A year ago, Mines really struggled to cover Jahdae Walker and without him stretching the field a few times and commanding attention, the outcome would have been different. The Lakers have a strong running game with Tariq Reid and they aren't short on receiver talent, but Walker isn't there.
I can see this going either way, just like last year's meeting. I've underestimated Mines a couple of times in the last few years but this week, I believe they can use the home field to their advantage and knock off one of the elite teams in the country and re-solidify themselves as a national contender.
Frostburg State at New Haven 6:00
The first home night game in New Haven's history should be a memorable one. The Chargers were favored by the NE10 coaches to win the conference while Frostburg State was picked second in the MEC. New Haven has great support and everyone will be excited for the first game under the lights at DellaCamera Stadium, but I think Frostburg State may be the better team this early in the season. New Haven will have a taltented team, as they always do, but it is made up of many freshman and transfers who are new to the program. Frostburg State has a lot of expereicne back, including some players that missed last year. QB Graham Walker had modest numbers while battling through an injury and I think he will be back to form in a big way. West Haven is a tough environment for visitors but I think the Bobcats can get it done.
Albany State at #18 Wingate
Edit: this game has been moved from Thursday evening to Friday afternoon at 4pm, due to expected weather impact in the Carolinas from hurricane Idalia.
This will be the toughest season opener the Bulldogs have had in a few years. Wingate has a history of early season success going out of conference against CIAA neighbors, but this year they'll open with one of the top guns from the SIAC. Both teams have outstanding defenses and average offenses. Wingate will have some newness to work through offensively but at home, they'll have a couple of scoring drives in them and the Bulldog defense should take care of the rest. I'll take Wingate in a low scoring game.
Winona State at Saginaw Valley State 6:00
Thank you, Upper Iowa. This game was made possible by the Peacocks' defection from the NSIC to the GLVC. With 11 holes to fill in the schedule, NSIC teams that were set to face Upper Iowa were allowed to look out of conference for the first time in a long time. As a result we get what may be one of the most competitive and interesting matchups in week one. Neither team comes into this with a ranking but both were in my first five out. The winner will most likely be in the polls next week. Saginaw has some holes to fill at skill positions but they're deep in the offensive line and should be very good on defense again. Winona is a well-rounded team but the offense didn't show enough against good teams late last year. The Cardinals' defense should be the deciding factor.
#14 Ashland at #12 IUP 7:00
Ashland opens the new season exactly where the last season ended. IUP's Miller Stadium. When they last met, Ashland nearly rallied for an upset victory before falling 19-13 in the second round of the playoffs. This year's opener marks the beginning of a four year series so these two will become very familiar with each other. Both enter as the preseason favorites to win their respective conferences. Ashland should be a team that steadily gets better as the year progresses, but there are a lot of different faces in new places for the Eagles. I expect IUP to be further ahead in week one. Transfer QB Karst Hunter appears to have settled into IUP's offense seamlessly and that was the only position the Crimson Hawks didn't locked down heading into this past off season.
#6 Angelo State at West Alabama 7:00
This is a tough opening night game for visiting Angelo State. The Rams will have some new things to break in offensively and they'll have to do that against a very good West Alabama defense. I won't be surprised if this is a struggle for ASU and an upset would not be shocking. I have faith in the Rams' defense though. They lost a few pieces, but they were possibly the best defense in D2 last year. West Alabama still has a lot to prove offensively. We may be in for a low-scoring defensive battle, but I do like Angelo State to get out of town with a hard-earned win.
Limestone at #19 West Georgia 7:00
Limestone is coming off the best season in their brief history, fishing 8-2 against D2 opponents and landing the program's first playoff invitation. It was an earned position, but a few teams behind them in the rankings undoubtedly felt like they were more qualified. West Georgia would have been at the top of that list. The Wolves also went 8-2 but the homecoming loss to Mississippi College doomed their conference championship and playoff aspirations. The other loss was to eventual regional champ, West Florida. All that adds up to West Georgia having something to prove. They must win this game for playoff positioning later in the fall. But it won't be easy. The Wolves' defense was underwhelming in the second half of 2022 and the offense has more unknowns than Limestone's. The Saints should be a much further ahead of where they were this same time one year ago so don't underestimate them. I think West Georgia wins but it may be a battle.
East Central at Henderson State 8:00
Ouachita and Harding are regarded as the favorites in the GAC but the result of this game will establish the top challenger behind them. Henderson was given the nod in the GAC coaches' poll at #3 while East Central was a distant #6. The Tigers have six All-GAC players returning but the offense will have a new look. Regardless, the Tigers have a great chance to prove the coaches wrong on Thursday night. I do think Henderson State will win with the home crowd behind them and GAC freshman of the year Andrew Edwards under center. I expect him to emerge as one of the best passers in D2 as long as their two-deep at receiver falls into place.
Washburn at #3 Pittsburg State 8:00
The Gorillas are the favorites to win the MIAA for a second year in a row but the title defense kicks off with a challenge from a solid Washburn team projected to finish fourth in the league. Last year, they didn't meet until week 10. Washburn made a game of it, trailing by just a touchdown heading into the fourth. But it was a massive struggle for their offense. The Pitt defense had the Ichabods' run game totally shut down and minimized their passing game after being burned a few times early. I think it will be similar this year, except James Letcher isn't there to command attention from the Pitt secondary. Opening night at home in the jungle, I like the Gorillas by double digits.
Saturday
Kutztown at Assumption 12:00
Kutztown and Assumption have their conference loyalties. Kutztown in the PSAC and Assumption in the Northeast 10. But this pair have a nearly decade-long affair going. They've opened the season together every year since 2015. Assumption won the first three meetings, Kutztown won the next three. The tide swung in favor of Assumption last year with a head-scratching 3-0 win that included 15 punts, four turnovers and a combined total of just 355 yards of offense. No idea what we're in for this year with both teams having some pieces to fill in. The Assumption defense is legit and being at home for the second year in a row helps too. Kutztown didn't play their best football on multiple occasions last year and it started in this meeting. I think they will be hungry to rectify that and win a close one in Worcester.
Ohio Dominican at Notre Dame 12:00
These two are only 150 miles apart in the state of Ohio, yet they are not conference rivals. Ohio Dominican has been in the Great Midwest since 2017 while Notre Dame was a founding member of the Mountain East in 2013. That makes this a very interesting out-of-conference matchup and one that could have an influence on regional rankings later this fall. It is also a meeting of two of the most consistent programs in D2. Notre Dame has won or tied for five straight MEC championships while ODU has won 7 or more games every year since 2011. Notre Dame will have a new starting quarterback for the first time in many years, but the defense remains very strong and the running game should still be on-form. I like the Falcons at home but this could come down to the last play.
Newberry at Shippensburg 12:00
Interesting out of conference game for both teams. The SAC and PSAC don't have a lot of history with each other, so seeing the defending SAC champ head north to take on a super region one team is a little different. We like that. Off paper from last year, this heavily favors Newberry, but I'm not so sure. Ship had a down year in 2022 but Seth Grove Stadium can be a tough place to travel too. Newberry's offensive attack will be a challenge, but it will be different from last year. The Wolves lost their quarterback, Harlon Hill finalist running back and top two receivers. I think that levels the field in this matchup. Ship has a lot of unknowns as well, so I'll take Newberry's proven defense on the road.
Truman State at Findlay 12:00
One of the highlights of the early season GLVC v. G-MAC matchups. Findlay is my preseason pick to win the G-MAC and Truman is basically tied with UIndy as the favorite in the GLVC, in my opinion. I like Findlay in part because all the toughest games they must win are in the final month of the season. That gives them an opportunity to peak at the right time. But heading into week one, Truman State should be closer to mid-season form. The Bulldogs bring back most of last year's 9-2 team, headlined by four year starter Nolan Hair at quarterback.
Shaw at #20 Benedict 6:00
Benedict opens their SIAC title defense season with an out of conference meeting with Shaw. The Bears were just 4-6 last year but five of those six losses were within one score. Benedict will be the more complete team and I do think their strengths favor them, especially the defensive front. Shaw has a tough running game led by one of the CIAA's top returning rushers, Sidney Gibbs. But Benedict has a strong defensive front that won't give up much on the ground. Benedict will have a new starting QB and a lot of new faces in the O-line so a few early struggles won't be surprising. I expect a defensive game in this one with Benedict having the depth to pull away in the fourth.
Sunday
Fort Valley State v. Tuskegee 7:00
TV alert: This game will be televised nationally on ESPNU
The weekend won't conclude until Sunday night when Fort Valley State and Tuskegee meet in the Red Tails Classic in Montgomery, Alabama. Fort Valley won last year's opener over 'Skegee by a final of 21-6. The Wildcats gashed the Golden Tigers for 328 rushing yards. 262 of that came from Emanuel Wilson, who has since graduated. That's a lot of production to compensate for, but Kelvin Durham is regarded as the top returning quarterback in the league and I think he'll have the Wildcats offense in good form. It's only week one, but I picked Fort Valley to win the SIAC and to do that, they must win this game. Fort Valley wins in what should be a fun finale to the opening weekend of D2 Football.
Off the grid game of the week
Fort Lewis at William Jewell
Readers seem to have enjoyed this feature last year so I am going to continue it. Fort Lewis was lapped by the field in 2022. They averaged only 8 points per game and gave up 60. We're not looking for giant leaps forward for a program that hasn't won since 2019. Closing the gap is what we want to see. The opener against William Jewell, a 2-9 team from the GLVC, probably presents the Skyhawks' best chance to compete and will give us a read on where they stand.
Questions, suggestions, comments, complaints? Email me at [email protected] and follow me on Twitter @D2Chuck. Don't forget to tune in for Inside D2Football, Sunday night at 8pm.