Around the Nation - Week Three
September 14th, 2023 6:00am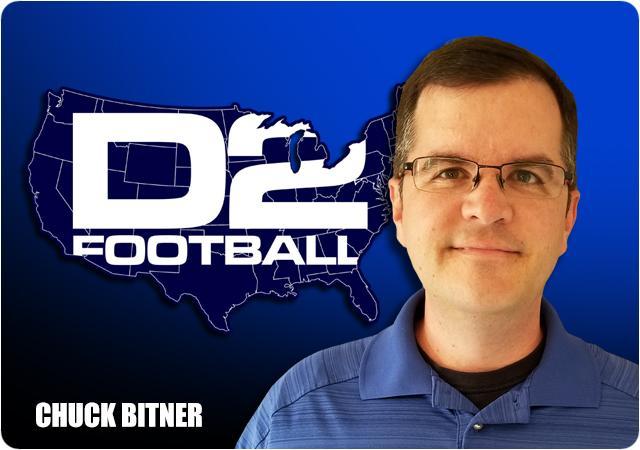 A week ago, I talked about how enjoyable opening weekend was, even though it did not deliver a ton of drama. Week two made up for any absence of drama or upsets. Just to recap a few of the top stories…
(note: in this section rankings listed are from prior to week two competition)
#15 Emporia State earned their first win over #5 Northwest Missouri State since 1994 with a dominant 33-13 win in Maryville. The Hornets had six interceptions in the win.
#2 Colorado Mines traveled to San Angelo, Texas and came from behind in the second half to beat #6 Angelo State.
Unranked East Stroudsburg upset #12 IUP on the road, 13-12. IUP thought they were setting up for the game winning field goal inside the five yard line but, seemingly unaware they were out of timeouts, failed to get the unit on the field before the clock expired.
#20 CSU-Pueblo launched a late rally at #4 Grand Valley, capped by a TD pass to tie the game on the final play of regulation. Grand Valley would prevail in double OT.
#1 Ferris State overcame 193 yards in penalties and an 11 point halftime deficit to win at Ashland.
Unranked Mars Hill defeated #17 Wingate in a defensive game that was delayed multiple times by weather.
Barton, Colorado Mesa and Miles added three more wins for D2 programs over D1 FCS teams.
Sadly, we also had one very negative storyline coming out of the weekend. The Delta State at Chowan game was ended early by officials following a despicable incident that involved Chowan players and some fans throwing blows at Delta State players on the Chowan sideline. Chowan and the Gulf South Conference issued a statement explaining actions taken and it includes suspensions for six Chowan athletes, one being for the remainder of the season. An individual not associated with the team is banned from stadium events for the remainder of the year. The statement from the Chowan Athletics Director is written with humility and contrition, which I am sure is appreciated by Delta State and the GSC. It says all the right things and promises the right next steps.
You can watch the video and make your own judgements. I am not an administrator and do not have access to all the information the University does, but I know what I can see on video. Suspensions are not enough for some of those involved. Some of the actions are unforgivable and the consequences should be unforgiving.
Those were just a few of the headlines. We're going to look ahead to week three, but if you need to catch up on the rest of week two, catch up with news on the home page and check out the week two recap edition of Inside D2Football, featuring Emporia State head coach Garin Higgins.
For the first time this season, the entire schedule is on Saturday. Here are some of the top games on the radar...

#16 Shepherd (2-0) at California (1-0) 12:00
It's easy to be a little down on Shepherd right now. The Rams of 2019-2022 would not have required a last minute game saving TD to beat Southern Connecticut and would not have been played within a TD by Edinboro. But its a new year and a new team and just because they've had closer calls than a year ago doesn't mean they aren't good. It's entirely possible that they are still the best team in the PSAC. At the moment, only Slippery Rock looks better. But…California might be ready to make their argument. The Vulcans took some time to find their footing in their season opener against Kutztown last week. They came to life in a big way, shocking Kutztown with 24 unanswered fourth quarter points and stealing the win, 31-20. That makes it very tempting to pick the Vulcans here, but I think Shepherd is going to continue learning and improving. I'm less concerned about their offense after a good showing last week, but a little worried that the defense had a rough outing. They gave up four long scoring drives to Edinboro. If the Rams correct a few things defensively, I think they will win a very competitive game at Cal.
Wheeling (1-1) at Fairmont State (2-0) 1:00
It's been a minute since Fairmont State was mentioned in the national column, but the Fighting Falcons are sitting at 2-0 and looking like a legit challenger for the MEC championship. After a couple of Thursday nighters to open the year, they're back at home for their first Saturday game against a good looking Wheeling team that had a fourth quarter lead over Frostburg State last week. The teams are pretty evenly matched and I could see this going either way, but I like Fairmont State to run their record to 3-0. The offense has shown big play ability and QB Michael Floria has a talent for escaping pressure and making something out of nothing.
Assumption (2-0) at #4 Grand Valley State (1-1) 1:00
When this game was announced a couple of years ago, it sounded like a fun experience. Mostly for Assumption to have an opportunity to test themselves against a top 10 team. But this is also a good game for the Lakers to have on the calendar because it's a match up that heavily favors them, but an asset in the strength of schedule department. Assumption is likely to finish the regular season with a very good record. That will come in handy for the Lakers at playoff rankings time. I do not expect Assumption to have the athletes to match up with Grand Valley but they are a well coached team that knows how to win. They're not coming to Allendale for an experience, they're coming in expecting to win. I don't see that happening, but Grand Valley cannot afford to underestimate them. Assumption's defense is good against the rush but has been vulnerable to the pass. That makes me really curious about what Grand Valley's game plan will look like. I think they could have a lot of success with their speedy receivers, but with a questionable quarterback situation, a straightforward rushing attack might be the way they go. Regardless, I see this as a game that Grand Valley will want to get out of as fast as possible and not worry about what it looks like.It may be a blow out, it may be closer than we expect. As long as it's a win, that's all Grand Valley fans need to worry about heading into conference play. If you are unaware of the common link between these programs, Brian Kelly, who coached Grand Valley State for 13 years and won two national championships, graduated from Assumption in 1983.
#3 Pittsburg State (2-0) at Central Missouri (2-0) 2:00
Central Missouri has been one of the most positive stories of the young season. It took the Mules five weeks to earn their first win a year ago, but they've started the 2023 campaign 2-0 with impressive wins over Missouri Western and Central Oklahoma. New starting quarterback Zach Zebrowski has quickly established himself as one of the top guns in D2. He's averaging just under 400 yards per game, with ten touchdowns and zero interceptions. Top target Arkell Smith has already snagged 20 catches for a total of 300 yards. I can't wait to see how the Mules offense can do against one of the best defenses in D2. Pitt State played shut-down D in the opener against Washburn and dominated the second half at Fort Hays last week. Fort Hays' second half drives resulted in five punts and a turnover. I think Central Missouri can make some noise with the offense, but not enough against an outstanding Pitt defense. Offensively for Pitt State, watch out for tight end Devon Garrison who looks more like an NFL player every week. He's good for more than 19 yards per catch.
Western Colorado (2-0) at #21 CSU-Pueblo (1-1) 3:00
I felt good about CSU-Pueblo coming into the season and they have backed up that confidence with two impressive performances. They fell in OT at Grand Valley last week but that did nothing to dissuade me from thinking the Thunderwolves have the chops to contend for an RMAC championship. I was less certain about Western Colorado, but turns out they haven't missed a beat and may actually be a bit stronger than they were a year ago. The Mountaineers aren't flashy. They play physical defense and the offense is good at taking advantage of opportunities.The Mountaineers are averaging just 250 yards per game, but 31.5 points. They will need more from the offense at Pueblo this week. Overall, the Thunderwolves look like a more balanced team and I like them to bounce back from the tough loss at Grand Valley.
#25 Saginaw Valley (2-0) at Truman State (2-0) 3:00
Saginaw Valley jumped into the rankings this week at No. 25 but Truman State has a chance to steal that spot if they can beat the Cardinals at home this Saturday. I was expecting a little more from an experienced Truman State offense so far, but to be fair, they've played two good teams and won both games. In this matchup, I think Saginaw Valley will have more athleticism and more depth to bring to the table and that may present some problems for the Bulldogs. I do like that Truman has two running backs picking up more than five yards per carry and I'm not convinced Saginaw's stats are totally reflective of what they have defensively because Northwood (one of their two opponents) is completely impotent offensively. I think the game will be decided by how well Truman State's defense can hold up against Saginaw's rush. The Bulldogs have been tough against the run so far but I think Saginaw has the advantage in that Rush O v. Rush D matchup. I like Saginaw to hold onto the ranking.
Millersville (2-0) at #14 Slippery Rock (2-0) 6:00
Name the 2-0 teams in the PSAC east division. I'll give you a second…A decade ago, it would have been Bloomsburg and West Chester, maybe Shippensburg too. More recently, Kutztown and Shepherd. This year, it's Shepherd, East Stroudsburg and, for the first time since 2005, Millersville. The Marauders are well on the way to their first winning season since 2000 but will face their toughest test so far in a road trip to Slippery Rock. The Ville defense has played well but I think they will struggle with the Rock's passing game, which was extremely efficient against a decent West Chester team last week. Kyle Sheets being back in the lineup after missing all but one play of the opener made a huge difference. This is a good measuring stick game for Millersville. It's been a long time since they could compete with the elite teams in the PSAC. I think they will be much closer than they've been in the past 20 years, but still expect a Rock win by double digits.
Southern Arkansas (2-0) at #9 Ouachita Baptist 7:00
Southern Arkansas was picked fourth in the GAC preseason coaches' poll, behind the big three of Ouachita, Harding and Henderson State. So far, they have backed up that vote of confidence with wins over Southeastern Oklahoma and East Central. The competition goes up a notch with the visit to Arkadelphia this weekend. Ouachita hasn't been challenged yet. They rather easily disposed of Southwestern and Northwestern, outscoring them by an average of 52-7. The Muleriders are going to give Ouachita a fight and dual threat quarterback OB Jones is a lot to account for. But he's been the bulk of SAU's offense and Ouachita has the athletes to keep in him in check. The Muleriders need to get running back Jariq Scales more involved. He's had just 14 touches per game so far. Southern Arkansas can make this a very competitive game but Ouachita is the more complete team. The Tigers are well rounded with few weaknesses. Ouachita pulls away in the fourth quarter.
Game of the Week
#1 Ferris State (2-0) at FCS #12 Montana (2-0) 8:00
The coaching staff at Montana has to be wondering how in the world this game landed on their schedule. In all seriousness, what were they thinking? This is an everything to lose and nothing to gain scenario for Montana. It's a Division II opponent so they are supposed to win and their fan base will show up unaware of who Ferris State is and why they need to be worried about them. This isn't just a D2 opponent, it's the best D2 opponent. In most seasons, I am convinced the best team in D2 would be a Top 20 team in the FCS. Some years maybe closer to a top 15 or even top 10. Ferris might be that team and that would probably land them right around where Montana is currently. No. 12. This is very much like Appalachian State playing at Michigan in 2007. Michigan was ranked higher than Montana currently is, but App State was the two-time defending FCS champ and ranked #1 going into the season. Very similar conditions to what we have with Ferris State going to Montana.
As I said on Inside D2Football last Sunday, I'm not going to over analyze this because I really just want to see how they match up. We've seen several D2 over FCS results in the past two weeks, but nothing matching the level of a program like Montana. Like D2, there is a big gap between the teams at the top and the teams in the middle of the FCS. The gap between the teams at the top and the teams at the bottom has multiple time zones. Montana is in the top tier and beating them won't be like beating Delaware State or Mississippi Valley. So, how well can the best team in Division II stack up with a good FCS program? That's what we want to see.
Ferris State is a lot better than the two opponents Montana has faced so far (Butler and Utah Tech). I actually think that helps Montana get up for this game. They will know Ferris is good and they should be excited about playing a good team that will have a lot of fight in them. Montana has had a lot of success running the ball through two games, but Ferris doesn't allow much in the running game. Definitely something to keep an eye on. But I am most curious about how the speed and athleticism of the Bulldogs' offense will fare. I think the talent level will surprise Montana.
All that said, it's still asking a lot to go on the road and beat a good team with 63 full scholarship players. I'll take Montana, but I am very confident Ferris State will compete. Pulling off a win is within their reach.
Off the grid games of the week
I couldn't find a good candidate for the off the grid spotlight, so I'll add in a couple more D2 v. FCS games. We can consider them off the grid because they don't count towards conference standings or playoff rankings criteria. Anyway, here you go…
Miles at Arkansas-Pine Bluff 6:00
Miles travels to an FCS opponent for the second straight week. The Golden Bears took down Alabama State last Saturday night, scoring two fourth quarter TDs to win 21-17. It will be tough to do that two weeks in a row but Miles might be able to pull it off. UAPB is 0-2 and has struggled to finish drives.
#6 West Florida at Florida A&M 6:00
These programs scrimmaged each other a couple of years ago and reports from those on-site were that the Argos looked like the better team. But that was a couple years ago and this Argos team, while still elite, is not yet at that level. That said, I don't believe the Argos have shown their full hand yet. They've won both games 35-3 but could have scored more points if they really wanted to. But they didn't need to and I like that they've managed their games that way. We'll see what they really have when they get into GSC play. I expect a competitive game and a West Florida win would hardly be surprising, but I think this FAMU team is pretty good.
Mississippi Valley State at #8 Delta State 7:00
In a rare occurrence, the FCS opponent travels to the D2 school for this one. Delta State won this matchup a year ago 28-17. They were clearly the better team and led by as much as 22 before a late rally drew it closer. MVSU already has a D2 loss on the board, falling 24-21 to Central State in the opener. Statesmen should win by double digits again.
That's all for week three. Remember to watch Inside D2Football for the weekend recap on Sunday night at 8pm, eastern.
Questions, suggestions, comments, complaints? Email me at [email protected] and follow me on Twitter @D2Chuck